Abstract
With the increasing rate of species being introduced to areas outside of their native ranges, non-natives are likely to interact in ways that influence each other's populations. The high densities of invasive coqui frogs (Eleutherodactylus coqui) in Hawaii have been hypothesized to increase non-native mongoose (Herpestes auropunctatus) and rat (Rattus spp.) abundances, and in turn increase bird nest depredation rates. We compared the relative abundances of rats and mongooses and artificial bird nest predation rates at 12 sites that had plots with similar habitat invaded and not invaded by coqui frogs across the island of Hawaii. We interpret our results considering mongoose and rat stomach analyses and camera trap data collected to monitor coqui scavengers. We found that coqui presence was associated with 30% greater mongoose abundance and 17% lower Pacific rat (R. exulans) abundance. Based on our diet analyses and scavenging data, both mongooses and rats consume coquis, but mongooses were the most important consumers of coquis, which may have contributed to their increase in coqui plots. We speculate that coquis are competing with rats for invertebrate prey due to reduced Pacific rat abundance and greater amounts of fruit in rat stomachs collected in coqui-invaded compared to uninvaded plots. We did not observe any difference in bird nest predation rates in coqui-invaded and uninvaded plots. Our results suggest that the coqui invasion may increase or decrease non-native mammal populations, and non-native amphibians may serve as both novel prey and competitors to non-native mammals.
Access options
Buy single article
Instant access to the full article PDF.
USD 39.95
Price excludes VAT (USA)
Tax calculation will be finalised during checkout.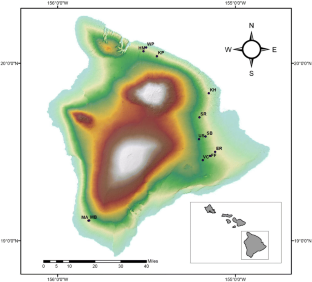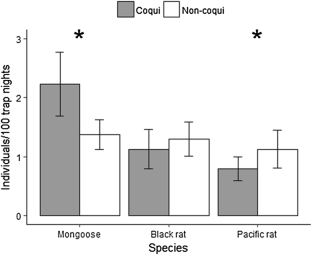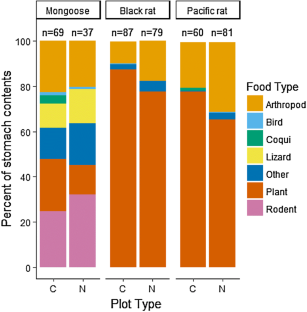 References
Abernethy E, Turner K, Beasley J, DeVault TL, Pitt WC, Rhodes OEJ (2016) Carcasses of invasive species are predominantly utilized by invasive scavengers in an island ecosystem. Ecosphere 7:e01496. https://doi.org/10.1002/ecs2.1496

Atkinson IAE (1977) A reassessment of factors, particularly Rattus rattus L., that influenced the decline of endemic forest birds in the Hawaiian Islands. Pac Sci 31:109–133

Atkinson IAE (1985) The spread of commensal species of Rattus to oceanic islands and their effects on island avifaunas. ICPB Tech Publ 3:35–81

Baldwin P, Schwartz C, Schwartz E (1952) Life history and economic status of the mongoose in Hawaii. J Mamm 33:335–356. https://doi.org/10.2307/1375771

Barbour T (1930) Some faunistic changes in the Lesser Antilles. Proc New Engl Xool Club 11:73–85

Barnum C (1930) Rat control in Hawaii Hawaii Plant Rec 34:421–443

Barun A, Simberloff D, Budinski I (2010) Impact of the small Indian mongoose on native amphibians and reptiles of the Adriatic islands. Croatia Anim Conserv 13:549–555. https://doi.org/10.1111/j.1469-1795.2010.00374.x

Barun A, Simberloff D, Tvrtković T, Pascal M (2011) Impact of the introduced small Indian mongoose (Herpestes auropunctatus) on abundance and activity time of the introduced ship rat (Rattus rattus) and the small mammal community on Adriatic islands. Croatia NeoBiota 11:51–61. https://doi.org/10.1111/j.1469-1795.2010.00374.x

Bates D, Maechler M, Bolker B, Walker S (2015) Fitting linear mixed-effects models using lme4. Stat Softw 37:1–48. https://doi.org/10.18637/jss.v067.i01

Beard KH (2007) Diet of the invasive frog, Eleutherodactylus coqui, in Hawaii. Copeia 2007:281–291

Beard KH, Pitt WC (2006) Potential predators of an invasive frog (Eleutherodactylus coqui) in Hawaiian forests. J Trop Ecol 22:345–347. https://doi.org/10.1017/s0266467406003154

Beard KH, Price EA, Pitt WC (2009) Biology and impacts of Pacific Island invasive species. 5. Eleutherodactylus coqui, the coqui frog (Anura: Leptodactylidae). Pac Sci 63:297–316. https://doi.org/10.2984/049.063.0301

Beckmann C, Shine R (2011) Toad's tongue for breakfast: exploitation of a novel prey type, the invasive cane toad, by scavenging raptors in tropical Australia. Biol Invasions 13:1447–1455. https://doi.org/10.1007/s10530-010-9903-8

Bernard RF, Mautz WJ (2016) Dietary overlap between the invasive coquí frog (Eleutherodactylus coqui) and the Hawaiian hoary bat (Lasiurus cinereus semotus) on the Island of Hawai'i. Biol Invasions 18:3409–3418. https://doi.org/10.1007/s10530-016-1232-0

Buckland ST, Anderson DR, Burnham KP, Laake JL, Borchers DL, Thomas L (2001) Introduction to distance sampling: estimating abundance of biological populations. Oxford University Press, Oxford

Choi RT (2011) Invertebrate community changes along coqui invasion fronts in Hawai'i. M.S. Thesis, Utah State University

Choi RT, Beard KH (2012) Coqui frog invasions change invertebrate communities in Hawaii. Biol Invasions 14:938–948. https://doi.org/10.1007/s10530-011-0127-3

Davis M (2003) Biotic globalization: does competition from introduced species threaten biodiversity? Bioscience 53:481–489. https://doi.org/10.1641/0006-3568(2003)053%5b0481:bgdcfi%5d2.0.co;2

Doty RE (1945) Rat control on Hawaiian sugar cane plantations. Hawaii Plant Rec 49:71–239

Fiske IJ, Chandler RB (2011) Unmarked: an R package for fitting hierarchical models of wildlife occurrence and abundance. J Stat Softw 43:1–23. https://doi.org/10.18637/jss.v043.i10

Gangoso L, Zar JAD, Scholz S, Palacios CJ, Hiraldo F (2006) Contradiction in conservation of island ecosystems: plants, introduced herbivores and avian scavengers in the Canary Islands. Biodivers Conserv 15:2231–2248. https://doi.org/10.1007/s10531-004-7181-4

Gorman ML (1975) The diet of feral Herpestes auropunctatus (Carnivora: Viverridae) in the Fijian Islands. J Zool 175:273–278. https://doi.org/10.1111/j.1469-7998.1975.tb01401.x

Grosholz ED (2005) Recent biological invasion may hasten invasional meltdown by accelerating historical introductions. PNAS 102:1088–1091

Hadfield MG, Miller SE, Carwile AH (1993) The decimation of endemic Hawai'ian tree snails by alien predators. Am Zoo 33:610–622. https://doi.org/10.1093/icb/33.6.610

Holmes RT, Schultz JC (1988) Food availability for forest birds: effects of prey distribution and abundance on bird foraging. Can J Zool 66:720–728

Holt RD (1977) Predation, apparent competition, and the structure of prey communities. Theor Popul Biol 12:197–229. https://doi.org/10.1016/0040-5809(77)90042-9

Hoshide H, Price A, Katahira L (1990) A progress report on Nene, Branta sandvicensis, in Hawaii Volcanoes National Park from 1974–89. Wildfowl 41:152–155

Kaiser B, Burnett K (2006) Economic impacts of E. coqui frogs in Hawaii. Interdiscip Environ Rev 8:1–11. https://doi.org/10.1504/ier.2006.053951

Kalnicky EA, Beard KH, Brunson MW (2013) Community-level response to habitat structure manipulations: an experimental case study in a tropical ecosystem. For Ecol Manag 307:313–321. https://doi.org/10.1016/J.FORECO.2013.07.015

Kalnicky E, Brunson M, Beard K (2014) A social–ecological systems approach to non-native species: Habituation and its effect on management of coqui frogs in Hawaii. Biol Conserv 180:187–195. https://doi.org/10.1016/j.biocon.2014.09.044

Kraus F, Campbell EW (2002) Human-mediated escalation of a formerly eradicable problem: the invasion of Caribbean frogs in the Hawaiian Islands. Biol Invasions 4:327–332. https://doi.org/10.1023/A:1020909205908

Kraus F, Campbell EW, Allison A, Pratt T (1999) Eleutherodactylus frog introductions to Hawaii. Herpetol Rev 30:21–25

Lindsey G, Mosher S, Fancy S, Smucker T (1999) Population structure and movements of introduced rats in an Hawaiian rainforest. Pac Conserv Biol 5:94–102. https://doi.org/10.1071/PC990094

Loope LL, Mueller-Dombois D (1989) Characteristics of invaded islands, with special reference to Hawaii. In: Drake JA, Mooney HA, di Castri F, Groves RH, Kruger FJ, Rejmanek M, Willaimson M (eds) Biological invasions: a global perspective. Wiley, Chichester, pp 257–280

Mielke PW, Berry KJ, Brier GW (1981) Application of multi-response permutation procedures for examining seasonal changes in monthly mean sea-level pressure patterns. Mon Weather Rev 109:120–126. https://doi.org/10.1175/1520-0493(1981)109%3c0120:AOMRPP%3e2.0.CO;2

Morley CG, Winder L (2013) The effect of the small Indian mongoose (Urva auropunctatus), island quality and habitat on the distribution of native and endemic birds on small islands within Fiji. PLoS One 8:e53842. https://doi.org/10.1371/journal.pone.0053842

O'Dowd DJ, Green PT, Lake PS (2003) Invasional 'meltdown' on an oceanic island. Ecol Lett 6:812–817. https://doi.org/10.1046/j.1461-0248.2003.00512.x

O'Loughlin LS, Green PT (2017) Secondary invasion: when invasion success is contingent on other invaders altering the properties of recipient ecosystems. Ecol Evol 7:7628–7637. https://doi.org/10.1002/ece3.3315

Oksanen J, Blanchet FG, Friendly M et al (2017) vegan: community ecology package. R package version 2.4-6. https://CRAN.Rproject.org/package=vegan

Olson CA, Beard KH, Koons DN, Pitt WC (2012) Detection probabilities of two introduced frogs in Hawaii: implications for assessing non-native species distributions. Biol Invasions 14:889–900. https://doi.org/10.1007/s10530-011-0125-5

Pimentel D (1955) Biology of the Indian mongoose in Puerto Rico. J Mamm 36:62–68. https://doi.org/10.2307/1375723

Pitt W, Sugihara R, Berentsen A (2015) Effect of travel distance, home range, and bait on the management of small Indian mongooses, Herpestes auropunctatus. Biol Invasions 17:1743–1759. https://doi.org/10.1007/s10530-014-0831-x

Puan CL, Goldizen AW, Zakaria M, Hafidzi MN, Baxter GS (2011) Relationships among rat numbers, abundance of oil palm fruit and damage levels to fruit in an oil palm plantation. Integr Zool 6:130–139. https://doi.org/10.1111/j.1749-4877.2010.00231.x

R Core Team (2016) R: a language and environment for statistical computing, Veinna, Austria. https://www.R-project.org/

Reed J, DesRochers D, VanderWerf E, Scott J (2012) Long-term persistence of Hawaii's endangered avifauna through conservation-reliant management. Bioscience 62:881–892. https://doi.org/10.1525/bio.2012.62.10.8

Rodriguez LF (2006) Can invasive species facilitate native species? Evidence of how, when, and why these impacts occur. Biol Invasions 8:927–939. https://doi.org/10.1007/s10530-005-5103-3

Savidge JA (1987) Extinction of an island forest avifauna by an introduced snake. Ecology 68:660–668. https://doi.org/10.2307/1938471

Sax D, Gaines S, Brown J (2002) Species invasions exceed extinctions on islands worldwide: a comparative study of plants and birds. Am Nat 160:766–783. https://doi.org/10.1086/343877

Seaman G, Randall J (1962) The mongoose as a predator in the Virgin Islands. J Mamm 43:544–546. https://doi.org/10.2307/1376922

Shiels AB (2010) Ecology and impacts of introduced rodents (Rattus spp. and Mus musculus) in the Hawaiian islands. Ph.D. Dissertation, University of Hawai'i

Shiels AB, Flores CA, Khamsing A, Krushelnycky PD, Mosher SM, Drake DR (2013) Dietary niche differentiation among three species of invasive rodents (Rattus rattus, R. exulans, Mus musculus). Biol Invasions 15:1037–1048. https://doi.org/10.1007/s10530-012-0348-0

Simberloff D, Gibbons L (2004) Now you see them, now you don't! Population crashes of established introduced species. Biol Invasions 6:161–172

Simberloff D, Von Holle B (1999) Positive interactions of nonindigenous species: invasional meltdown? Biol Invasions 1:21–32. https://doi.org/10.1023/A:1010086329619

Sin H, Beard KH, Pitt WC (2008) An invasive frog, Eleutherodactylus coqui, increases new leaf production and leaf litter decomposition rates through nutrient cycling in Hawaii. Biol Invasions 10:335–345. https://doi.org/10.1007/s10530-007-9133-x

Smith RL, Beard KH, Koons DN (2018) Invasive coqui frogs are associated with greater abundances of non-native birds in Hawaii. Condor 120:16–29. https://doi.org/10.1650/CONDOR-17-109.1

Sugihara R (1997) Abundance and diets of rats in two native Hawaiian forests. Pac Sci 51:189–198

Tuttle NC, Beard KH, Pitt WC (2009) Invasive litter, not an invasive insectivore, determine invertebrate communities in Hawaiian forests. Biol Invasions 11:845–855. https://doi.org/10.1007/s10530-008-9298-y

VanderWerf EA (2001) Rodent control decreases predation on artificial nests in O'ahu'elepaio habitat. J Field Ornithol 72:448–457. https://doi.org/10.1648/0273-8570-72.3.448

VanderWerf EA, Smith DG (2002) Effects of alien rodent control on demography of the O'ahu'Elepaio, an endangered Hawaiian forest bird. Pac Conserv Biol 8:73–81. https://doi.org/10.1071/pc020073

Vitousek P, Loope L, Stone C (1987) Introduced species in Hawaii: biological effects and opportunities for ecological research. Trends Ecol Evol 2:224–227. https://doi.org/10.1016/0169-5347(87)90026-7

Walker L (1945) The Hawaiian mongoose—friend or foe. Nat Hist 54:396–400

Wallis A, Smith R, Beard K (2016) Temporal foraging patterns of non-native Coqui Frogs (Eleutherodacytlus coqui) in Hawaii. J Herpetol 50:582–588. https://doi.org/10.1670/15-170

Watari Y, Takatsuki S, Miyashita T (2008) Effects of exotic mongoose (Herpestes javanicus) on the native fauna of Amami-Oshima Island, southern Japan, estimated by distribution patterns along the historical gradient of mongoose invasion. Biol Invasions 10:7–17. https://doi.org/10.1007/s10530-007-9100-6

Weller S et al (2018) The effects of introduced ungulates on native and alien plant species in an island ecosystem: implications for change in a diverse mesic forest in the Hawaiian Islands. For Ecol Manag 409:518–526. https://doi.org/10.1016/j.foreco.2017.11.023

Wilcove DS, Rothstein D, Dubow J, Phillips A, Losos E (1998) Quanitfying threats to imperiled species in the United States. Bioscience 48:607–615. https://doi.org/10.2307/1313420

Woolbright LL (1985) Patterns of nocturnal movement and calling by the tropical frog Eleutherodactylus coqui. Herpetologica 14:1–9

Yamada F (2002) Impacts and control of introduced small Indian mongoose on Amami Island, Japan IUCN SSC Invasive Species Spec Gr:389–392
Acknowledgements
We thank the USDA APHIS NWRC and the USU Ecology Center for funding; the NWRC Hilo field station and technicians, A. Grant, J.J. Cieslewics, and J. Gardner for assistance; J. Young for comments on earlier versions of this manuscript and S. Durham for statistical help. We thank C. Lepczyk for his editorial assistance and two anonymous reviewers for comments that greatly improved the manuscript. This research was supported by the Utah Agricultural Experiment Station, Utah State University, and approved as journal paper number 9102. This research was conducted under access permits from the Hawaii Division of Forestry and Wildlife, Natural Area Reserves System, State Parks Department, and Injurious Wildlife Export Permit #16-05 and was conducted in compliance with USU's IACUC guidelines as protocols #2519 and #2753.
Ethics declarations
Conflict of interest
The authors have declared that no competing interests exist.
Additional information
Publisher's Note
Springer Nature remains neutral with regard to jurisdictional claims in published maps and institutional affiliations.
Electronic supplementary material
Below is the link to the electronic supplementary material.
About this article
Cite this article
Hill, S.A., Beard, K.H., Siers, S.R. et al. Invasive coqui frogs are associated with differences in mongoose and rat abundances and diets in Hawaii. Biol Invasions 21, 2177–2190 (2019). https://doi.org/10.1007/s10530-019-01965-3
Received:

Accepted:

Published:

Issue Date:

DOI: https://doi.org/10.1007/s10530-019-01965-3
Keywords