Abstract
We surveyed the occurrence of three emergent alien aquatic plants, Gymnocoronis spilanthoides, Alternanthera sessilis, and Alternanthera philoxeroides, in Lake Kasumigaura from 2013 to 2017. To determine the effects of shoreline modification on the expansion of alien aquatic plants, we compared the relative occurrence of alien aquatic plants in varying shoreline conditions modified by shoreline hardening and wave breakers. The distribution of alien aquatic species increased continually in Lake Kasumigaura over the study period, although the rate of expansion differed among years. Furthermore > 64.6% of the vegetative fragments were found within 2 km of the nearest patch. The construction of artificial wave breakers, which were installed parallel to the shoreline, had a positive influence on alien aquatic plant patch establishment. Especially, parallel wave breakers increased the patch establishment of G. spilanthoides by about 2.27-fold compared to the natural environment. Perpendicular wave breakers increased alien patch establishment by about 1.63-fold. For lakeshore management, it is important to consider both alien plant suppression and levee protection. We further suggest prompt action to prevent the expansion of alien aquatic species around pumping stations, which can also result in the relocation and expansion of invasive species.
Access options
Buy single article
Instant access to the full article PDF.
USD 39.95
Price excludes VAT (USA)
Tax calculation will be finalised during checkout.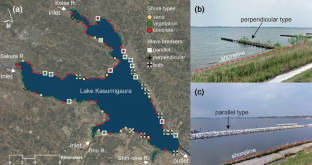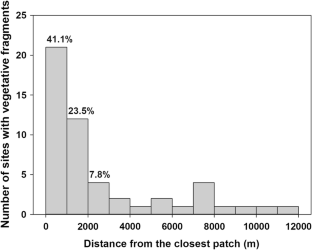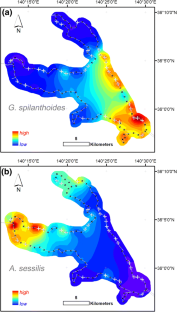 References
Azza N, Koppel J, Denny P, Kansiime F (2007) Shoreline vegetation distribution in relation to wave exposure and bay characteristics in a tropical great lake, Lake Victoria. J Trop Ecol 23:353–360. https://doi.org/10.1017/S0266467407004117

Bertrin V, Boutry S, Jan G, Ducasse G, Grigoletto F, Ribaudo C (2017) Effects of wind-induced sediment resuspension on distribution and morphological traits of aquatic weeds in shallow lakes. J Limnol. https://doi.org/10.4081/jlimnol.2017.1678

Brundu G (2015) Plant invaders in European and Mediterranean inland waters: profiles, distribution, and threats. Hydrobiologia 746:61–79. https://doi.org/10.1007/s10750-014-1910-9

Capers RS, Selsky R, Bugbee GJ, White JC (2007) Aquatic plant community invasibility and scale-dependent patterns in native and invasive species richness. Ecology 88:3135–3143. https://doi.org/10.1890/06-1911.1

Catford JA, Downes BJ, Gippel CJ, Vesk PA (2011) Flow regulation reduces native plant cover and facilitates exotic invasion in riparian wetlands. J Appl Ecol 48:432–442. https://doi.org/10.1111/j.1365-2664.2010.01945.x

Chapman MG, Underwood AJ (2011) Evaluation of ecological engineering of "armoured" shorelines to improve their value as habitat. J Exp Mar Biol Ecol 400:302–313. https://doi.org/10.1016/j.jembe.2011.02.025

Crooks JA (2005) Lag times and exotic species: the ecology and management of biological invasions in slow-motion. Ecoscience 12:316–329. https://doi.org/10.2980/i1195-6860-12-3-316.1

de Winton MD, Clayton JS (1996) The impact of invasive submerged weed species on seed banks in lake sediments. Aquat Bot 53:31–45. https://doi.org/10.1016/0304-3770(95)01010-6

Downing JA, Prairie YT, Cole JJ et al (2006) The global abundance and size distribution of lakes, ponds, and impoundments. Limnol Oceanogr 51:2388–2397. https://doi.org/10.4319/lo.2006.51.5.2388

Estévez RA, Anderson CB, Pizarro JC, Burgman MA (2015) Clarifying values, risk perceptions, and attitudes to resolve or avoid social conflicts in invasive species management. Conserv Biol 29:19–30. https://doi.org/10.1111/cobi.12359

Evangelista HB, Michelan TS, Gomes LC, Thomaz SM (2017) Shade provided by riparian plants and biotic resistance by macrophytes reduce the establishment of an invasive Poaceae. J Appl Ecol 54:648–656. https://doi.org/10.1111/1365-2664.12791

Findlay SEG, Strayer DL, Smith SD, Curri N (2014) Magnitude and patterns of change in submerged aquatic vegetation of the tidal freshwater Hudson River. Estuar Coast 37:1233–1242. https://doi.org/10.1007/s12237-013-9758-1

Gabriel AO, Bodensteiner LR (2012) Impacts of riprap on wetland shorelines, upper Winnebago Pool Lakes, Wisconsin. Wetlands 32:105–117. https://doi.org/10.1007/s13157-011-0251-y

Gianni F, Bartolini F, Airoldi L, Mangialajo L (2018) Reduction of herbivorous fish pressure can facilitate focal algal species forestation on artificial structures. Mar Environ Res 138:102–109. https://doi.org/10.1016/j.marenvres.2018.04.007

Gilioli G, Schrader G, Carlsson N et al (2017) Environmental risk assessment for invasive alien species: a case study of apple snails affecting ecosystem services in Europe. Environ Impact Asses 65:1–11. https://doi.org/10.1016/j.eiar.2017.03.008

Gittman RK, Scyphers SB, Smith CS et al (2016) Ecological consequences of shoreline hardening: a meta-analysis. Bioscience 66:763–773. https://doi.org/10.1093/biosci/biw091

Hsu T-J, Sakakiyama T, Liu PL-F (2002) A numerical model for wave motions and turbulence flows in front of a composite breakwater. Coast Eng 46:25–50. https://doi.org/10.1016/S0378-3839(02)00045-5

Hulme PE, Bacher S, Kenis M, Klotz S, Kühn I, Minchin D, Nentwig W, Olenin S, Panov V, Pergl J, Pyšek P, Roques A, Sol D, Solarz W, Vilà M (2008) Grasping at the routes of biological invasions: a framework for integrating pathways into policy. J Appl Ecol 45:403–414. https://doi.org/10.1111/j.1365-2664.2007.01442.x

Hussner A (2009) Growth and photosynthesis of four invasive aquatic plant species in Europe. Weed Res 49:506–515. https://doi.org/10.1111/j.1365-3180.2009.00721.x

Hussner A, Stiers I, Verhofstad MJJM, Bakker ES, Grutters BMC, Haury J, van Valkenburg JLCH, Brundu G, Newman J, Clayton JS, Anderson LWJ, Hofstra D (2017) Management and control methods of invasive alien freshwater aquatic plants: a review. Aquat Bot 136:112–137. https://doi.org/10.1016/j.aquabot.2016.08.002

Ishioka Daichi (2017) Agricultural water supply information of Ishioka Daichi. http://ishiokadaichi.jp/jigyo_101.html. Accessed 21 Mar 2018 (in Japanese)

Ito K (2010) Spatial distribution and expansion process of the golden mussel, Limnoperna fortunei in Kanto region, Japan. Sess Org 27(1):17–23. https://doi.org/10.4282/sosj.27.17

Ito A, Obata K, Yoshikawa N, Uchiyama H, Nishihiro J (2017) Records of Ludwigia Grandiflora (Michx.) Greuter et Buret Subsp. grandiflora (Onagraceae) collected in Lake Kasumigaura, Ibaraki prefecture, Central Japan. Bull Ibaraki Nat Mus 20:39–41 (in Japanese)

Jellinek S, Te T, Gehrig SL, Stewart H, Nicol JM (2016) Facilitating the restoration of aquatic plant communities in a Ramsar wetland. Restor Ecol 24:528–537. https://doi.org/10.1111/rec.12355

Johnson PT, Olden JD, Zanden MJV (2008) Dam invaders: impoundments facilitate biological invasions into freshwaters. Front Ecol Environ 6:357–363. https://doi.org/10.1890/070156

JWRC (2008) A photographic guide to the invasive alien species in Japan. Heibonsha, Tokyo

Kuntz K, Heidbüchel P, Hussner A (2014) Effects of water nutrients on regeneration capacity of submerged aquatic plant fragments. Int J Limnol 50:155–162. https://doi.org/10.1051/limn/2014008

KWMS (2018) Water supply information of Kasumigaura. http://www.water.go.jp/kanto/kasumiy. Accessed 21 Mar 2018

Lorenz S, Pusch MT, Blaschke U (2015) Minimum shoreline restoration requirements to improve the ecological status of a north-eastern German glacial lowland lake in an urban landscape. Fund Appl Limnol 186:323–332. https://doi.org/10.1127/fal/2015/0647

Manny BA, Schloesser DW, Brown CL, French III JRP (1985) Ecological effects of rubble-mound breakwater construction and channel dredging at West Harbor, Ohio (Western Lake Erie). U.S. Army Corps of Engineers

Mason TJ, French K, Jolley D (2013) Arrival order among native plant functional groups does not affect invasibility of constructed dune communities. Oecologia 173:557–568. https://doi.org/10.1007/s00442-013-2628-5

Michelan TS, Thomaz SM, Bini LM (2013) Native macrophyte density and richness affect the invasiveness of a tropical Poaceae species. PLoS ONE 8:e60004. https://doi.org/10.1371/journal.pone.0060004

Michelan TS, Thomaz SM, Bando FM, Bini LM (2018) Competitive effects hinder the recolonization of native species in environments densely occupied by one invasive exotic species. Front Plant Sci. https://doi.org/10.3389/fpls.2018.01261

MLIT (2010) Guideline for conservation and restoration of lakeshore vegetation in Lake Kasumigaura. Kasumigaura River Office, Ministry of Land, Infrastructure, Transport and Tourism, Tokyo (in Japanese)

MoE (2010) List of alien species. https://www.env.go.jp/en/nature/as.html. Accessed 21 Mar 2018

Morris PA, Hill NM, Reekie EG, Hewlin HL (2002) Lakeshore diversity and rarity relationships along interacting disturbance gradients: catchment area, wave action and depth. Biol Conserv 106:79–90. https://doi.org/10.1016/S0006-3207(01)00231-2

Morris RL, Konlechner TM, Ghisalberti M, Swearer SE (2018) From grey to green: efficacy of eco-engineering solutions for nature-based coastal defence. Glob Change Biol 24:1827–1842. https://doi.org/10.1111/gcb.14063

Nishihiro J, Washitani I (2007) Restoration of lakeshore vegetation using sediment seed banks; studies and practices in Lake Kasumigaura. Jpn Glob Environ Res 11:71–177

Nishihiro J, Nishihiro MA, Washitani I (2006) Assessing the potential for recovery of lakeshore vegetation: species richness of sediment propagule banks. Ecol Res 21:436–445. https://doi.org/10.1007/s11284-005-0133-y

Panetta FD (2010) Seed persistence of the invasive aquatic plant, Gymnocoronis spilanthoides (Asteraceae). Aust J Bot 57:670–674. https://doi.org/10.1071/BT09187

Panetta FD (2015) Weed eradication feasibility: lessons of the 21st century. Weed Res 55:226–238. https://doi.org/10.1111/wre.12136

Patrick CJ, Weller DE, Ryder M (2016) The relationship between shoreline armoring and adjacent submerged aquatic vegetation in Chesapeake Bay and nearby Atlantic Coastal Bays. Estuar Coast 39:158–170. https://doi.org/10.1007/s12237-015-9970-2

Pimentel D, Zuniga R, Morrison D (2005) Update on the environmental and economic costs associated with alien-invasive species in the United States. Ecol Econ 52:273–288. https://doi.org/10.1016/j.ecolecon.2004.10.002

R Development Core Team (2017) R: A language and environment for statistical computing. https://www.R-project.org/. Accessed 21 Mar 2018

Riffe KC, Henderson SM, Mullarney JC (2011) Wave dissipation by flexible vegetation. Geophys Res Lett 38:L18607. https://doi.org/10.1029/2011GL048773

Riis T, Hawes I (2003) Effect of wave exposure on vegetation abundance, richness and depth distribution of shallow water plants in a New Zealand lake. Freshw Biol 48:75–87. https://doi.org/10.1046/j.1365-2427.2003.00974.x

Rousset F, Ferdy JB (2014) Testing environmental and genetic effects in the presence of spatial autocorrelation. Ecography 37(8):781–790. https://doi.org/10.1111/ecog.00566

Schutten J, Dainty J, Davy AJ (2004) Wave-induced hydraulic forces on submerged aquatic plants in shallow lakes. Ann Bot 93:333–341. https://doi.org/10.1093/aob/mch043

Scyphers SB, Powers SP, Heck KL (2015) Ecological value of submerged breakwaters for habitat enhancement on a residential scale. Environ Manage 55:383–391. https://doi.org/10.1007/s00267-014-0394-8

Shiga prefecture (2018) Invasive species in Biwa Lake. http://www.pref.shiga.lg.jp/d/shizenkankyo/oobana-nagae.html. Accessed 21 Mar 2018

Squires DF (1992) Quantifying anthropogenic shoreline modification of the Hudson River and Estuary from European contact to modern time. Coast Manage 20:343–354

Strayer DL (2010) Alien species in fresh waters: ecological effects, interactions with other stressors, and prospects for the future. Freshw Biol 55:152–174. https://doi.org/10.1111/j.1365-2427.2009.02380.x

Thomaz SM, Agostinho AA, Gomes LC et al (2012a) Using space-for-time substitution and time sequence approaches in invasion ecology. Freshw Biol 57:2401–2410. https://doi.org/10.1111/fwb.12005

Thomaz SM, Silveira MJ, Michelan TS (2012b) The colonization success of an exotic Poaceae is related to native macrophyte richness, wind disturbance and riparian vegetation. Aquat Sci 74:809–815. https://doi.org/10.1007/s00027-012-0264-5

Thouvenot L, Haury J, Thiebaut G (2013) A success story: water primroses, aquatic plant pests. Aquat Conserv 23:790–803. https://doi.org/10.1002/aqc.2387

Trebitz AS, Taylor DL (2007) Exotic and invasive aquatic plants in Great Lakes coastal wetlands: distribution and relation to watershed land use and plant richness and cover. J Great Lakes Res 33:705–721. https://doi.org/10.3394/0380-1330(2007)33%5b705:EAIAPI%5d2.0.CO;2

Ulrich E, Perkins L (2014) Bromus inermis and Elymus canadensis but not Poa pratensis demonstrate strong competitive effects and all benefit from priority. Plant Ecol 215:1269–1275. https://doi.org/10.1007/s11258-014-0385-0

Van Zuidam BG, Peeters ETHM (2015) Wave forces limit the establishment of submerged macrophytes in large shallow lakes. Limnol Oceanogr 60:1536–1549. https://doi.org/10.1002/lno.10115

Wang T, Hu J, Miao L, Yu D, Liu C (2016) The invasive stoloniferous clonal plant Alternanthera philoxeroides outperforms its co-occurring non-invasive functional counterparts in heterogeneous soil environments—invasion implications. Sci Rep UK 6:38036. https://doi.org/10.1038/srep38036

Wensink SM, Tiegs SD (2016) Shoreline hardening alters freshwater shoreline ecosystems. Freshw Sci 35:764–777. https://doi.org/10.1086/687279

Wu H, Carrillo J, Ding J (2017) Species diversity and environmental determinants of aquatic and terrestrial communities invaded by Alternanthera philoxeroides. Sci Total Environ 581–582:666–675

Yang F, Matsushita B, Fukushima T (2010) A pre-screened and normalized multiple endmember spectral mixture analysis for mapping impervious surface area in Lake Kasumigaura Basin, Japan. ISPRS J Photogramm 65:479–490. https://doi.org/10.1016/j.isprsjprs.2010.06.004

Zedler JB, Kercher S (2004) Causes and consequences of invasive plants in wetlands: opportunities, opportunists, and outcomes. Crit Rev Plant Sci 23:431–452. https://doi.org/10.1080/07352680490514673
Acknowledgements
Ji Yoon Kim is a JSPS (Japan Society for the Promotion of Science) International Research Fellow (ID No: P17387). JSPS is a nonprofit organization. This work was supported by JSPS KAKENHI Grant Number 17F17387 and the Environment Research and Technology Development Fund (4-1705) of Environmental Restoration and Conservation Agency. We also thank two anonymous reviewers and associate editor for their valuable comments and suggestions.
Electronic supplementary material
Below is the link to the electronic supplementary material.
About this article
Cite this article
Kim, J.Y., Yano, T., Nakanishi, R. et al. Artificial wave breakers promote the establishment of alien aquatic plants in a shallow lake. Biol Invasions 21, 1545–1556 (2019). https://doi.org/10.1007/s10530-019-01915-z
Received:

Accepted:

Published:

Issue Date:

DOI: https://doi.org/10.1007/s10530-019-01915-z
Keywords