Abstract
Fish herding (driving fish into nets) is used by commercial fishers to increase harvest of invasive bigheaded carp (Hypophthalmichthys spp.), yet has not been widely adopted for fisheries monitoring purposes. We conducted an experiment to assess whether fish herding using percussive sound or electrical stimuli can enhance catch rates and detection of bigheaded carp and other fishes in surface-to-bottom gill nets. Catch rates (fish net set−1) from traditional gill net sets where no herding method was applied were compared to sets combined with either sound stimuli (physical impacts to the boat hull and water surface to produce percussive sound) or electricity produced from a pulsed-DC electrofisher to manipulate fish movements. For most species, herding increased catch rates and detection probability compared to control sets. Sound stimuli increased catch rates of Silver Carp (Hypophthalmichthys molitrix) by over three times, whereas electrical stimuli increased catch rates by over six times. Catch of Bighead Carp (Hypophthalmichthys nobilis) was highest in nets paired with sound stimuli. Herding methods also reduced the number of samples required to attain target detection probabilities for bigheaded carp. Herding techniques combined with gill netting may be a valuable option for targeted bigheaded carp sampling, especially when electrofishing or netting alone is ineffective for these evasive fishes. Synergistic methods may provide a cost effective means of improving detection probabilities for bigheaded carp at their invasion front or other locations where densities are low and uncertainty of capture is high.
Access options
Buy single article
Instant access to the full article PDF.
US$ 39.95
Tax calculation will be finalised during checkout.
Subscribe to journal
Immediate online access to all issues from 2019. Subscription will auto renew annually.
US$ 79
Tax calculation will be finalised during checkout.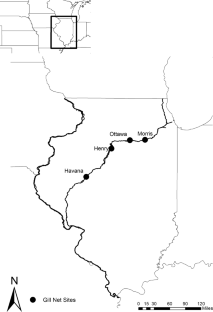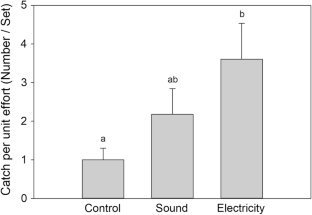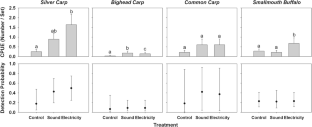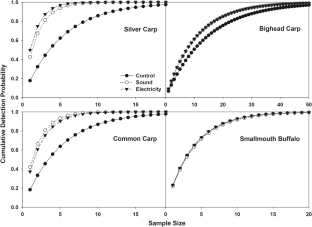 References
Acosta AR (1994) Soak time and net length effects on catch rate of entangling nets in coral reef areas. Fish Res 19:105–119

Bonar S, Vecht S, Bennett C et al (1993) Capture of grass carp from vegetated lakes. J Aquat Plant Manage 31:168–174

Bonar SA, Hubert WA, Willis DW (2009) Standard methods for sampling North American freshwater fishes. The American Fisheries Society, Bethesda, MD

Bouska WW, Glover DC, Bouska KL et al (2017) A refined electrofishing technique for collecting Silver Carp: implications for management. N Am J Fish Manage 37:101–107

Burnham KP, Anderson DR (2003) Model selection and multimodel inference: a practical information-theoretic approach. Springer, Berlin

Chick JH, Pegg MA (2001) Invasive carp in the Mississippi River basin. Science 292:2250–2251

Collins SF, Butler SE, Diana MJ et al (2015) Catch rates and cost effectiveness of entrapment gears for Asian carp: a comparison of pound nets, hoop nets, and fyke nets in backwater lakes of the Illinois River. N Am J Fish Manage 35:1219–1225

Collins SF, Diana MJ, Butler SE et al (2017) A Comparison of sampling gears for capturing juvenile Silver Carp in river–floodplain ecosystems. N Am J Fish Manage 37:94–100

Conover G, Simmonds R, Whalen M (2007) Management and control plan for bighead, black, grass, and silver carps in the United States. Asian Carp Working Group, Aquatic Nuisance Species Task Force, Washington, DC

Crall AW, Newman GJ, Jarnevich CS et al (2010) Improving and integrating data on invasive species collected by citizen scientists. Biol Invasions 12:3419–3428

Dolan C, Miranda L (2004) Injury and mortality of warmwater fishes immobilized by electrofishing. N Am J Fish Manage 24:118–127

Erickson KE (1973) Effectiveness and commercial potential of the whip-set trammel net in various Oklahoma reservoirs. Proceedings of the Oklahoma Academy of Science 53:41–44

Field SA, O'Connor PJ, Tyre AJ et al (2007) Making monitoring meaningful. Austral Ecol 32:485–491

Gabriel O, Lange K, Dahm E et al (2008) Fish catching methods of the world. Wiley, Hoboken

Garvey J, Sass G, Trushenski J, et al (2012) Fishing down the Bighead and silver carps: reducing the risk of invasion to the Great Lakes. Research summary. http://asiancarp.us/documents/CARP2011.pdf. Accessed 19 June 2013

Hines JE (2006) Software to establish patch occupancy and related parameters. U.S. Geological Survey, Patuxent Wildlife Reserch Center, Laurel, MD

Irons KS, Sass G, McClelland M et al (2007) Reduced condition factor of two native fish species coincident with invasion of non-native Asian carps in the Illinois River, USA Is this evidence for competition and reduced fitness? J Fish Biol 71:258–273

Irons K, Sass G, McClelland M, et al (2011) Bigheaded carp invasion of the La Grange Reach of the Illinois River: insights from the long term resource monitoring program. In: American Fisheries Society symposium

Keller RP, Lodge DM, Finnoff DC (2007) Risk assessment for invasive species produces net bioeconomic benefits. Proc Natl Acad Sci 104:203–207

Leung B, Lodge DM, Finnoff D et al (2002) An ounce of prevention or a pound of cure: bioeconomic risk analysis of invasive species. P Roy Soc Lond B: Biological Sciences 269:2407–2413

Lodge DM, Williams S, MacIsaac HJ et al (2006) Biological invasions: recommendations for US policy and management. Ecol Appl 16:2035–2054

Mack RN, Simberloff D, Lonsdale WM et al (2000) Biotic invasions: causes, epidemiology, global consequences, and control. Ecol Appl 10:689–710

MacKenzie DI, Bailey LL (2004) Assessing the fit of site-occupancy models. J Agric Biol Environ Stat 9:300–318

MacKenzie DI, Nichols JD, Lachman GB et al (2002) Estimating site occupancy rates when detection probabilities are less than one. Ecology 83:2248–2255

MacKenzie DI, Nichols JD, Royle JA et al (2017) Occupancy estimation and modeling: inferring patterns and dynamics of species occurrence. Elsevier, Amsterdam

MacNamara R, Glover D, Garvey J et al (2016) Bigheaded carps (Hypophthalmichthys spp.) at the edge of their invaded range: using hydroacoustics to assess population parameters and the efficacy of harvest as a control strategy in a large North American river. Biol Invasions 18:3293–3307

McClelland MA, Sass GG (2008) The long-term Illinois River fish population monitoring program. Project F-101-R-19 Annual Report to the Illinois Department of Natural Resources

Mensinger GC (1971) Oklahoma commercial fisheries harvest summary 1961–1969. Proceedings of the Oklahoma Academy of Science 51:23–28

Minns CK, Hurley DA (1988) Effects of net length and set time on fish catches in gill nets. N Am J Fish Manage 8:216–223

Moyle PB, Cech JJ (1982) Fishes. Prentice-Hall, Upper Saddle River

Pyšek P, Richardson DM (2010) Invasive species, environmental change and management, and health. Annu Rev Env Resour 35:25–55

Rakowitz G, Tušer M, Říha M et al (2012) Use of high-frequency imaging sonar (DIDSON) to observe fish behaviour towards a surface trawl. Fish Res 123:37–48

Reynolds JH, Knutson MG, Newman KB et al (2016) A road map for designing and implementing a biological monitoring program. Environ Monit Assess 188:1–25

Sass GG, Cook TR, Irons KS et al (2010) A mark-recapture population estimate for invasive silver carp (Hypophthalmichthys molitrix) in the La Grange Reach, Illinois River. Biol Invasions 12:433–436

Starrett WC, Barnickol PG (1955) Efficiency and selectivity of commercial fishing devices used on the Mississippi River. Illinois Natural History Survey, Champaign, IL, pp 323–366

Stuck JG, Porreca AP, Wahl DH et al (2015) Contrasting population demographics of invasive silver carp between an impounded and free-flowing river. N Am J Fish Manag 35:114–122

Thompson W (2013) Sampling rare or elusive species: concepts, designs, and techniques for estimating population parameters. Island Press, Washington

Vetter BJ, Cupp AR, Fredricks KT et al (2015) Acoustical deterrence of silver carp (Hypophthalmichthys molitrix). Biol Invasions 17:3383–3392

White CE Jr (1959) Selectivity and effectiveness of certain types of commercial nets in the TVA lakes of Alabama. T Am Fish Soc 88:81–87

Williamson CJ, Garvey JE (2005) Growth, fecundity, and diets of newly established silver carp in the middle Mississippi River. T Am Fish Soc 134:1423–1430

Wintle BA, McCarthy MA, Parris KM et al (2004) Precision and bias of methods for estimating point survey detection probabilities. Ecol Appl 14:703–712
Acknowledgements
This study was supported by the Great Lakes Restoration Initiative (CAFWS-93), with funding administered through the Illinois Department of Natural Resources. We thank K. Irons, M. O'Hara, D. Wyffels, J. Mick, and V. Santucci for their assistance with this project. We are grateful to the numerous individuals who provided the field and laboratory assistance to make this project possible, including the staff of the Kaskaskia, Sam Parr, and Illinois River Biological Stations, and graduate students at the University of Illinois and Eastern Illinois University. All fishes were sampled and handled in compliance with federal, state, and university regulations. This study was conducted under University of Illinois Institutional Animal Care and Use Committee protocol #11053.
About this article
Cite this article
Butler, S.E., Porreca, A.P., Collins, S.F. et al. Does fish herding enhance catch rates and detection of invasive bigheaded carp?. Biol Invasions 21, 775–785 (2019). https://doi.org/10.1007/s10530-018-1857-2
Received:

Accepted:

Published:

Issue Date:
Keywords
Asian carp

Detection probability

Electrofishing

Gill nets

Hypophthalmichthys

Introduced species

Rivers