Abstract
The introduced European rabbit (Oryctolagus cuniculus) is one of Australia's most damaging invasive alien species, both in terms of ecological and economic impact. Biological control of rabbits using the myxoma and rabbit haemorrhagic disease viruses has been undertaken in Australia since the mid-1950s, and locally varying genetic resistance to these biocontrol viruses has been reported. The efficacy of biocontrol agents may be influenced, among several factors, by the genetic background of rabbit populations. Therefore, understanding the invasion process of rabbits in Australia, and their resultant population structure, remains crucial for enhancing future rabbit management strategies. Using reduced-representation sequencing techniques we genotyped 18 Australian rabbit populations at 7617 SNP loci and show that Australia's invasive rabbits form three broad geographic clusters representing different ancestral lineages, along with a number of highly localised, strongly differentiated lineages. This molecular data supports a history of multiple independent rabbit introductions across the continent followed by regional dispersal, and the resulting patchwork genetic structure may contribute to variation across the country in rabbit resistance to the viral biocontrols. Our study highlights the importance of using genome-wide molecular information to better understand the historical establishment process of invasive species as this may ultimately influence genetic variabilty, disease resistance and the efficacy of biocontrol agents.
Access options
Buy single article
Instant access to the full article PDF.
US$ 39.95
Tax calculation will be finalised during checkout.
Subscribe to journal
Immediate online access to all issues from 2019. Subscription will auto renew annually.
US$ 79
Tax calculation will be finalised during checkout.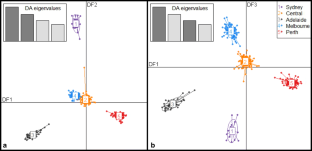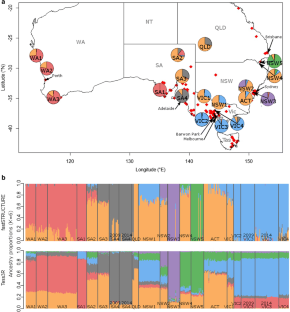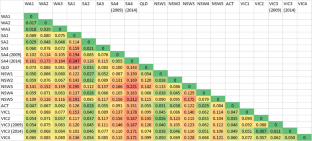 References
Abbott I (2008) Historical perspectives of the ecology of some conspicuous vertebrate species in south-west Western Australia. Conserv Sci West Aust 6:1–214

Andrew SC, Awasthy M, Bolton PE, Rollins LA, Nakagawa S, Griffith SC (2017) The genetic structure of the introduced house sparrow populations in Australia and New Zealand is consistent with historical descriptions of multiple introductions to each country. Biol Invasions. https://doi.org/10.1007/s10530-017-1643-6

Beaumont MA, Nichols RA (1996) Evaluating loci for use in the genetic analysis of population structure. Proc R Soc Lond B 263:1619–1626

Bird P, Mutze G, Peacock D, Jennings S (2012) Damage caused by low-density exotic herbivore populations: the impact of introduced European rabbits on marsupial herbivores and Allocasuarina and Bursaria seedling survival in Australian coastal shrubland. Biol Invasions 14:743–755

Catchen J, Hohenlohe PA, Bassham S, Amores A, Cresko WA (2013) Stacks: an analysis tool set for population genomics. Mol Ecol 22:3124–3140

Caughley GC (1977) Analysis of vertebrate populations. Wiley, London

Caye K, Deist TM, Martins H, Michel O, Francois O (2016) TESS3: fast inference of spatial population structure and genome scans for selection. Mol Ecol Resour 16:540–548. https://doi.org/10.1111/1755-0998.12471

Cooke B (2012) Rabbits: manageable environmental pests or participants in new Australian ecosystems. Wildl Res 39:279–289

Cooke B, Chudleigh P, Simpson S, Saunders G (2013) The economic benefits of the biological control of rabbits in Australia, 1950–2011. Aust Econ Hist Rev 53:91–107

Cowled BD, Aldenhoven J, Odeh IOA, Garrett T, Moran C, Lapidge SJ (2008) Feral pig population structuring in the rangelands of eastern Australia: applications for designing adaptive management units. Conserv Genet 9:211–224. https://doi.org/10.1007/s10592-007-9331-1

Elsworth PG, Kovaliski J, Cooke BD (2012) Rabbit haemorrhagic disease: are Australian rabbits (Oryctolagus cuniculus) evolving resistance to infection with Czech CAPM 351 RHDV? Epidemiol Infect 140:1972–1981

Excoffier L, Lischer HEL (2010) Arlequin suite ver 3.5: a new series of programs to perform population genetics analyses under Linux and Windows. Mol Ecol Resour 10:564–567

Fenner F, Marshall ID, Woodroofe GM (1953) Studies in the epidemiology of infectious myxomatosis of rabbits: I. Recovery of Australian wild rabbits (Oryctolagus cuniculus) from myxomatosis under field conditions. Epidemiol Infect 51:225–244

Foll M, Gaggiotti O (2008) A genome-scan method to identify selected loci appropriate for both dominant and codominant markers: a Bayesian perspective. Genetics 180:977–993. https://doi.org/10.1534/genetics.108.092221

Fuller SJ, Mather PB, Wilson JC (1996) Limited genetic differentiation among wild Oryctolagus cuniculus L. (rabbit) populations in arid eastern Australia. Heredity 77:138–145

Holden C, Mutze G (2002) Impact of rabbit haemorrhagic disease on introduced predators in the Flinders Ranges, South Australia. Wildl Res 29:615–626

Jombart T, Devillard S, Balloux F (2010) Discriminant analysis of principal components: a new method for the analysis of genetically structured populations. BMC Genet 11:94

Kerr PJ (2012) Myxomatosis in Australia and Europe: a model for emerging infectious diseases. Antivir Res 93:387–415

Li H, Durbin R (2009) Fast and accurate short read alignment with Burrows–Wheeler transform. Bioinformatics 25:1754–1760

Mutze G, Cooke BD, Alexander P (1998) The initial impact of rabbit hemorrhagic disease on European rabbit populations in South Australia. J Wildl Dis 34:221–227

Mutze G, Cooke B, Jennings S (2016) Estimating density-dependent impacts of European rabbits on Australian tree and shrub populations. Aust J Bot 64:142. https://doi.org/10.1071/bt15208

Parer I (1982) Dispersal of the wild rabbit, Oryctolagus cuniculus, at Urana in New South Wales. Aust Wildl Res 9:427–441

Peacock D, Abbott I (2013) The role of quoll (Dasyurus) predation in the outcome of pre-1900 introductions of rabbits (Oryctolagus cuniculus) to the mainland and islands of Australia. Aust J Zool 61:206. https://doi.org/10.1071/zo12129

Peakall R, Smouse PE (2012) GenAlEx 6.5: genetic analysis in Excel. Population genetic software for teaching and research—an update. Bioinformatics 28:2537–2539. https://doi.org/10.1093/bioinformatics/bts460

Pedler RD, Brandle R, Read JL, Southgate R, Bird P, Moseby KE (2016) Rabbit biocontrol and landscape-scale recovery of threatened desert mammals. Conserv Biol. https://doi.org/10.1111/cobi.12684

Phillips S, Zenger KR, Richardson BJ (2002) Are Sydney rabbits different? Aust Zool 32:49–55

Poland JA, Brown PJ, Sorrells ME, Jannink J (2012) Development of high-density genetic maps for barley and wheat using a novel two-enzyme genotyping-by-sequencing approach. PLoS ONE 7:e32253

Raj A, Stephens M, Pritchard JK (2014) fastSTRUCTURE: variational inference of population structure in large SNP data sets. Genetics 197:573–589. https://doi.org/10.1534/genetics.114.164350

Richardson BJ (1980) Ecological genetics of the wild rabbit in Australia. III. Comparison of the microgeographical distribution of alleles in two different environments. Aust J Biol Sci 33:385–391

Richardson BJ, Hayes RA, Wheeler SH, Yardin MR (2002) Social structures, genetic structures and dispersal strategies in Australian rabbit (Oryctolagus cuniculus) populations. Behav Ecol Sociobiol 51:113–121

Robertson BC, Gemmell NJ (2004) Defining eradication units to control invasive pest. J Appl Ecol 41:1042–1048

Schwensow N et al (2017a) High adaptive variability and virus-driven selection on major histocompatibility complex (MHC) genes in invasive wild rabbits in Australia. Biol Invasions 19:1255–1271. https://doi.org/10.1007/s10530-016-1329-5

Schwensow NI et al (2017b) Resistance to RHD virus in wild Australian rabbits: comparison of susceptible and resistant individuals using a genomewide approach. Mol Ecol 26:4551–4561. https://doi.org/10.1111/mec.14228

Stodart E, Parer I (1988) Colonisation of Australia by the rabbit, Oryctolagus cuniculus (L.). Project report no. 6. CSIRO Division of Wildlife and Ecology, pp 1–21

Tablado Z, Revilla E, Palomares F (2009) Breeding like rabbits: global patterns of variability and determinants of European wild rabbit reproduction. Ecography 32:310–320

Zenger KR, Richardson BJ, Vachot-Griffin A-M (2003) A rapid population expansion retains genetic diversity within European rabbits in Australia. Mol Ecol 12:789–794
Acknowledgements
We would like to gratefully acknowledge the efforts of the volunteer hunters who generously collected rabbit samples from around the country and of Dr. Tony Buckmaster of the University of Canberra who curated this rabbit tissue collection and permitted its use for this project. We thank John Evans, property manager, for continued access to the Turretfield site and Dr. Ron Sinclair for initiating the Turretfield study in 1996 and assisting with collection of rabbit tissue samples from this site. We are also grateful to Dr. Brian Cooke and Dr. Peter Elsworth for the provision of samples from their previous studies, and to two anonymous reviewers for their suggestions. This work was supported with supercomputing resources provided by the Phoenix HPC service at the University of Adelaide. The authors acknowledge the funding support of the Invasive Animals Cooperative Research Centre (CRC; now Centre for Invasive Species Solutions), the Australian Government through the CRC Program and the Foundation for Rabbit Free Australia. NS was supported by the Australian Research Council (ARC DECRA Grant No. DE120102821) and AI was supported by a University of Adelaide Domestic Postgraduate Research Scholarship.
Funding
This research was funded by the Invasive Animals Cooperative Research Centre (now the Centre for Invasive Species Solutions).
Ethics declarations
Conflict of interest
The authors declare that they have no conflict of interest.
Animal ethics
All animal samples used were either archival material from previous studies or scavenged from regular public pest control activities.
About this article
Cite this article
Iannella, A., Peacock, D., Cassey, P. et al. Genetic perspectives on the historical introduction of the European rabbit (Oryctolagus cuniculus) to Australia. Biol Invasions 21, 603–614 (2019). https://doi.org/10.1007/s10530-018-1849-2
Received:

Accepted:

Published:

Issue Date:
Keywords
Population structure

SNP

ddGBS

Anthropogenic dispersal

Colonization history