Abstract
Shipping is the main method for goods transportation, accounting for approximately 60% of all global trade. Biofouling of these shipping vessels is a critical pathway for the introduction of non-indigenous species (NIS) across the world's oceans. In order to reduce the likelihood of NIS introductions, appropriate biosecurity mechanism need to be in place, including maintaining high standards in vessel hygiene, such as zero secondary biofouling. Development of methodologies that can accurately quantify vessel biofouling without impeding maritime operations, while simultaneously providing effective biosecurity for the marine environment and resources, and mitigation of introduced marine pests would be highly advantageous. This study tests such a methodology. We conduct a proof-of-concept study that uses hydroacoustics to quantify the biofouling on a vessel's hull, using surrogates for a vessel hull and biofouling. Based on a simple off-the-shelf single beam echosounder, the method was able to visually detect and quantify various biofouling mimics (ranging in height from 10 to 200 mm in height) at a slow tow speed (0.5 m/s). The efficacy of the hydroacoustic method was influenced by the movement of the echosounder, with the discriminating capability reduced to the detection of only larger mimics as the speed of movement increased. With further development, the use of hydroacoustics could become a viable biosecurity surveillance option for the mitigation of introduced marine pest incursions.
Access options
Buy single article
Instant access to the full article PDF.
US$ 39.95
Tax calculation will be finalised during checkout.
Subscribe to journal
Immediate online access to all issues from 2019. Subscription will auto renew annually.
US$ 79
Tax calculation will be finalised during checkout.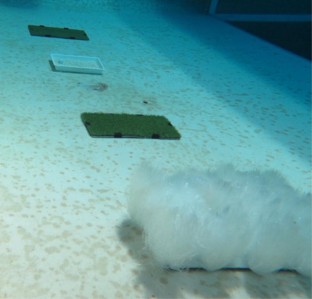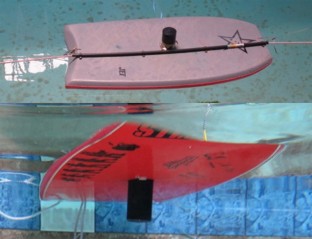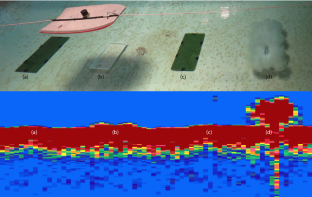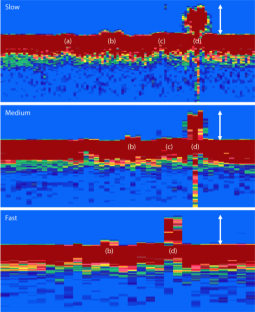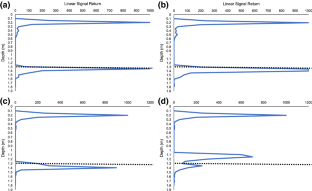 References
Adams CM, Shumway SE, Whitlatch RB et al (2011) Biofouling in marine molluscan shellfish aquaculture: a survey assessing the business and economic implications of mitigation. J World Aquac Soc 42:242–252

Anderson JT, Holliday V, Kloser R et al (2007) Acoustic seabed classification of marine physical and biological landscapes. International Council for the Exploration of the Sea

Bell A, Phillips S, Georgiades E et al (2011) Risk analysis: vessel biofouling. Biosecurity New Zealand, MAF Biosecurity New Zealand, Wellington

Bradford-Grieve JM (2016) Is there a taxonomic crisis? N Z Sci Rev 73:83

DAWR (2015) Review of national marine pest biosecurity. Department of Agriculture and Water Resources, Canberra

Demer D, Berger L, Bernasconi M et al (2015) Calibration of acoustic instruments. ICES cooperative research report 133

DoF (2013) Feasibility of using remote-operated vehicles (ROVs) for vessel biofouling inscpections. Department of Fisheries, Governemnt of Western Australia, Perth

Dunn D (1965) Turbulence and its effect upon the transmission of sound in water. J Sound Vib 2:307–327

Fitridge I, Dempster T, Guenther J et al (2012) The impact and control of biofouling in marine aquaculture: a review. Biofouling 28:649–669

Gohin F (2011) Annual cycles of chlorophyll—a, non-algal suspended particulate matter, and turbidity observed from space and in situ in coastal waters. Ocean Sci 7:705

Hewitt C, Campbell M, Thresher R et al (1999) Marine biological invasions of Port Phillip Bay, Victoria. Technical report 20, Centre for Research on introduced marine pests

Hewitt CL, Campbell ML, Thresher RE et al (2004a) Introduced and cryptogenic species in Port Phillip Bay, Victoria, Australia. Mar Biol 144:183–202

Hewitt CL, Willing J, Bauckham A et al (2004b) New Zealand marine biosecurity: delivering outcomes in a fluid environment. NZ J Mar Freshwat Res 38:429–438

Howard A (1995) The possibility of long distance transmission of Bonamia by fouling on boat hulls. Bulletin of the European Association of Fish Pathologists, UK

Hutin E, Simard Y, Archambault P (2005) Acoustic detection of a scallop bed from a single-beam echosounder in the St. Lawrence. ICES J Mar Sci 62:966–983

IMO (2018) Biofouling. In: International maritime organization. http://www.imo.org/en/OurWork/Environment/Biofouling/Pages/default.aspx. Accessed: 21 Feb 2018

Inglis G, Floerl O, Ahyong S et al (2010) The biosecurity risks associated with biofouling on international vessels arriving in New Zealand: summary of the patterns and predictors of fouling. Biosecurity New Zealand technical paper

Inglis G, Floerl O, Woods C (2012) Scenarios of vessel biofouling risk and their management. MAF research project RFP11832, Ministry of Agriculture and Forestry, Wellington, pp 41–93

Katsnelson B, Petnikov V, Lynch J (2012) Fundamentals of shallow water acoustics. Springer Science & Business Media, Berlin

Kim KC, Byrne LB (2006) Biodiversity loss and the taxonomic bottleneck: emerging biodiversity science. Ecol Res 21:794

Lurton X (2004) An introduction to underwater acoustics. ASA, New York

Mineur F, Johnson MP, Maggs CA et al (2007) Hull fouling on commercial ships as a vector of macroalgal introduction. Mar Biol 151:1299–1307

MPI (2017) Craft risk management standard: vessels. Ministry for Primary Industries, Government of New Zealand, Wellignton, p 12

NSPMMPI (2013) National system for the prevention and management of marine pest incursions: national biofouling management guidelines for the aquaculture industry. Commonwealth of Australia, Canberra

Sabol BM, Melton RE, Chamberlain R et al (2002) Evaluation of a digital echo sounder system for detection of submersed aquatic vegetation. Estuaries 25:133–141

Sabol BM, Kannenberg J, Skogerboe J (2009) Integrating acoustic mapping into operational aquatic plant management: a case study in Wisconsin. J Aquat Plant Manag 47:44–52

Simmonds J, MacLennan DN (2008) Fisheries acoustics: theory and practice. Wiley, London

Terlizzi A, Bevilacqua S, Fraschetti S et al (2003) Taxonomic sufficiency and the increasing insufficiency of taxonomic expertise. Mar Pollut Bull 46:556–561

Vis C, Hudon C, Carignan R (2003) An evaluation of approaches used to determine the distribution and biomass of emergent and submerged aquatic macrophytes over large spatial scales. Aquat Bot 77:187–201
Acknowledgements
The authors wish to thank the Perth Diving Academy for use of their facilities to conduct the experiment. Matthew Hewitt is thanked for his assistance during the experimentation. Thanks to Dr. Grey Coupland for providing a critical review of the manuscript. The anonymous reviewers are thanked for strengthening this manuscript. Funding for this work was provided by the Department of Primary Industries and Regional Development.
About this article
Cite this article
Abdo, D.A., Duggan, R.L. & McDonald, J.I. Sounding out pests: the potential of hydroacoustics as a surveillance and compliance tool in aquatic biosecurity. Biol Invasions 20, 3409–3416 (2018). https://doi.org/10.1007/s10530-018-1792-2
Received:

Accepted:

Published:

Issue Date:
Keywords
Biofouling

Introduced marine pest

Subtidal

Survey

Monitoring