Abstract
Biological invasions are important drivers of biodiversity loss. Hence, predicting invasion risks considering the invasion history of a species might help drive meaningful conservation strategies. We investigated the niche dynamics occurring during the invasion of Hydrilla verticillata in North and South America. Because of founder effects, we hypothesised that occupied invaded area niches across North and South American are a subset of the occupied niche in the native range. Moreover, according to the invasion history, we expected that the South American niche is more similar to the North American one than the native niche. We built ecological niche models to predict the potential distribution of hydrilla from native and invaded occurrence records, as well as analysing niche overlap, equivalency, and similarity between the native and two invaded areas. Although the models predicted spatially congruent suitable sites, the ones based on native occurrence records predicted larger geographical ranges for hydrilla across South America than those based on the records of its North American invasions. The environmental conditions the species occupied in both invaded areas are modestly overlapped with the native area (Schoener's D < 0.6), with native and South American niches showing the highest overlap and significant equivalency. Contrary to our prediction, the invaded North and South American niches presented the smallest niche overlap. Our findings suggest that founder effects triggered deep shifts in hydrilla's occupation abilities across invaded areas, but do not support successive invasion events. Hydrilla's Grinnellian niche was maintained throughout the invaded areas, and its potential invasion across South America is massive, regardless of its origin.
Access options
Buy single article
Instant access to the full article PDF.
US$ 39.95
Tax calculation will be finalised during checkout.
Subscribe to journal
Immediate online access to all issues from 2019. Subscription will auto renew annually.
US$ 79
Tax calculation will be finalised during checkout.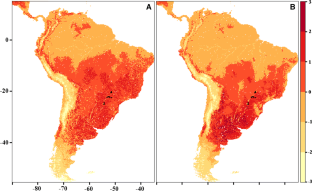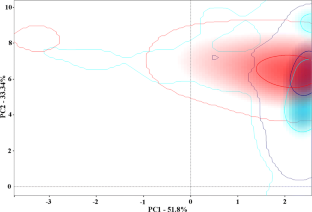 References
Alahuhta J, Heino J, Luoto M (2011) Climate change and the future distributions of aquatic macrophytes across boreal catchments. J Biogeogr 38:383–393. https://doi.org/10.1111/j.1365-2699.2010.02412.x

Alahuhta J, Ecke F, Johnson LB et al (2017) A comparative analysis reveals little evidence for niche conservatism in aquatic macrophytes among four areas on two continents. Oikos 126:136–148. https://doi.org/10.1111/oik.03154

Araújo MB, New M (2007) Ensemble forecasting of species distributions. Trends Ecol Evol 22:42–47. https://doi.org/10.1016/j.tree.2006.09.010

Araújo MB, Ferri-Yáñez F, Bozinovic F et al (2013) Heat freezes niche evolution. Ecol Lett 16:1206–1219. https://doi.org/10.1111/ele.12155

Ascunce MS, Yang C-C, Oakey J et al (2011) Global invasion history of the fire ant Solenopsis invicta. Science 331:1066–1068. https://doi.org/10.1126/science.1198734

Broennimann O, Fitzpatrick MC, Pearman PB et al (2012) Measuring ecological niche overlap from occurrence and spatial environmental data. Glob Ecol Biogeogr 21:481–497. https://doi.org/10.1111/j.1466-8238.2011.00698.x

Broennimann O, Petitpierre B, Randin C, et al (2015) Package "ecospat"

Buckingham GR, Bennett CA (1996) Laboratory biology of an immigrant Asian moth, Parapoynx diminutalis (Lepidoptera: Pyralidae), on Hydrilla verticillata (Hydrocharitacea). Fla Entomol 79:353–363

Cook CDK, Lüönd R (1982) A revision of the genus Hydrilla (Hydrocharitaceae). Aquat Bot 13:485–504. https://doi.org/10.1016/0304-3770(82)90074-2

Davis MB, Shaw RG (2001) Range shifts and adaptive responses to quaternary climate change. Science 292:673–679. https://doi.org/10.1126/science.292.5517.673

Dlugosch KM, Parker IM (2008) Founding events in species invasions: genetic variation, adaptive evolution, and the role of multiple introductions. Mol Ecol 17:431–449. https://doi.org/10.1111/j.1365-294X.2007.03538.x

Elith J (2000) Quantitative methods for modeling species habitat: comparative performance and an application to Australian plants. Quantitative methods for conservation biology. Springer, New York, pp 39–58

Forsman A (2014) Effects of genotypic and phenotypic variation on establishment are important for conservation, invasion, and infection biology. PNAS 111:302–307. https://doi.org/10.1073/pnas.1317745111

Gillard M, Thiébaut G, Deleu C, Leroy B (2017) Present and future distribution of three aquatic plants taxa across the world: decrease in native and increase in invasive ranges. Biol Invasions 19:2159–2170. https://doi.org/10.1007/s10530-017-1428-y

Guisan A, Petitpierre B, Broennimann O et al (2014) Unifying niche shift studies: insights from biological invasions. Trends Ecol Evol 29:260–269. https://doi.org/10.1016/j.tree.2014.02.009

Heckenberger MJ, Russell JC, Toney JR, Schmidt MJ (2007) The legacy of cultural landscapes in the Brazilian Amazon: implications for biodiversity. Philos Trans R Soc Lond B Biol Sci 362:197–208. https://doi.org/10.1098/rstb.2006.1979

Hijmans ARJ, Etten JV (2012) Package "raster"

Holland BS (2001) Invasion without a bottleneck: microsatellite variation in natural and invasive populations of the brown mussel Perna perna (L). Mar Biotechnol 3:407–415. https://doi.org/10.1007/s1012601-0060-Z

Kelly R, Leach K, Cameron A et al (2014) Combining global climate and regional landscape models to improve prediction of invasion risk. Divers Distrib 20:884–894. https://doi.org/10.1111/ddi.12194

Lamigueiro OP, Hijmans R (2018) Package "rasterVis"

Langeland KA (1996) Hydrilla verticillata (L.F.) Royle (Hydrocharitaceae), "The perfect aquatic weed". Castanea 61:293–304

Madeira PT, Van TK, Center TD (1999) Integration of five Southeast Asian accessions into the world-wide phenetic relationships of Hydrilla verticillata as elucidated by random amplified polymorphic DNA analysis. Aquat Bot 63:161–167. https://doi.org/10.1016/S0304-3770(98)00114-4

Michelan TS, Silveira MJ, Petsch DK et al (2014) The invasive aquatic macrophyte Hydrilla verticillata facilitates the establishment of the invasive mussel Limnoperna fortunei in Neotropical reservoirs. J Limnol. https://doi.org/10.4081/jlimnol.2014.909

Müller R, Nowicki C, Barthlott W, Ibisch PL (2003) Biodiversity and endemism mapping as a tool for regional conservation planning-case study of the Pleurothallidinae (Orchidaceae) of the Andean rain forests in Bolivia. Biodivers Conserv 12:2005–2024. https://doi.org/10.1023/A:1024195412457

Peterson AT (2003) Predicting the geography of species' invasions via ecological niche modeling. Q Rev Biol 78:419–433. https://doi.org/10.1086/378926

Peterson AT (2011) Ecological niche conservatism: a time-structured review of evidence. J Biogeogr 38:817–827. https://doi.org/10.1111/j.1365-2699.2010.02456.x

Petitpierre B, Kueffer C, Broennimann O et al (2012) Climatic niche shifts are rare among terrestrial plant invaders. Science 335:1344–1348. https://doi.org/10.1126/science.1215933

Ribas LGS, Cunha ER, Vitule JRS et al (2017) Biotic resistance by snails and fish to an exotic invasive aquatic plant. Freshw Biol 62:1266–1275. https://doi.org/10.1111/fwb.12943

Rödder D, Lötters S (2009) Niche shift versus niche conservatism? Climatic characteristics of the native and invasive ranges of the Mediterranean house gecko (Hemidactylus turcicus). Glob Ecol Biogeogr 18:674–687. https://doi.org/10.1111/j.1466-8238.2009.00477.x

Santos MJ, Anderson LW, Ustin SL (2011) Effects of invasive species on plant communities: an example using submersed aquatic plants at the regional scale. Biol Invasions 13:443–457. https://doi.org/10.1007/s10530-010-9840-6

Schoener TW (1974) Some methods for calculating competition coefficients from resource-utilization spectra. Am Nat 108:332–340. https://doi.org/10.1086/282911

Silva DP, Vilela B, Buzatto BA et al (2016) Contextualized niche shifts upon independent invasions by the dung beetle Onthophagus taurus. Biol Invasions 18:3137–3148. https://doi.org/10.1007/s10530-016-1204-4

Silveira MJ, Thomaz SM (2015) Growth of a native versus an invasive submerged aquatic macrophyte differs in relation to mud and organic matter concentrations in sediment. Aquat Bot 124:85–91. https://doi.org/10.1016/j.aquabot.2015.03.004

Soberón J (2007) Grinnellian and Eltonian niches and geographic distributions of species. Ecol Lett 10:1115–1123. https://doi.org/10.1111/j.1461-0248.2007.01107.x

Sousa WTZ (2011) Hydrilla verticillata (Hydrocharitaceae), a recent invader threatening Brazil's freshwater environments: a review of the extent of the problem. Hydrobiologia 669:1. https://doi.org/10.1007/s10750-011-0696-2

Sousa WTZ, Thomaz SM, Murphy KJ et al (2009) Environmental predictors of the occurrence of exotic Hydrilla verticillata (L.f.) Royle and native Egeria najas Planch. in a sub-tropical river floodplain: The Upper River Paraná, Brazil. Hydrobiologia 632:65–78. https://doi.org/10.1007/s10750-009-9828-3

Steward KK, Van TK (1987) Comparative studies of monoecious and dioecious hydrilla (Hydrilla verticillata) biotypes. Weed Sci 35:204–210

Swets JA (1988) Measuring the accuracy of diagnostic systems. Science 240:1285–1293. https://doi.org/10.1126/science.3287615

Warren DL, Glor RE, Turelli M (2008) Environmental niche equivalency versus conservatism: quantitative approaches to niche evolution. Evolution 62:2868–2883. https://doi.org/10.1111/j.1558-5646.2008.00482.x

Wiens JJ, Graham CH (2005) Niche conservatism: integrating evolution, ecology, and conservation biology. Annu Rev Ecol Evol Syst 36:519–539. https://doi.org/10.1146/annurev.ecolsys.36.102803.095431

Zhang Y, Yang N, Xu J, Yin Y (2017) Long-term study of the relationship between precipitation and aquatic vegetation succession in East Taihu Lake, China. Scientifica. https://doi.org/10.1155/2017/6345138

Zhu J, Yu D, Xu X (2015) The phylogeographic structure of Hydrilla verticillata (Hydrocharitaceae) in China and its implications for the biogeographic history of this worldwide-distributed submerged macrophyte. BMC Evol Biol 15:95. https://doi.org/10.1186/s12862-015-0381-6
Acknowledgements
We would like to thank Coordenação de Aperfeiçoamento de Pessoal de Nível Superior (CAPES/MEC) for granting LGR, CCS, and DKP scholarships. We also thank the anonymous reviewers and the associate editor for useful comments.
Data accessibility
All datasets are derived from the Global Biodiversity Information Facility online database (http://www.gbif.org accessed in August 2016). Other records of Hydrilla verticillata in South America were obtained from specialists in macrophytes in Brazil. We are willing to share all data with any interested researcher who contacts the corresponding author.
Electronic supplementary material
Below is the link to the electronic supplementary material.
About this article
Cite this article
Ribas, L.G.S., de Cássia-Silva, C., Petsch, D.K. et al. The potential invasiveness of an aquatic macrophyte reflects founder effects from native niche. Biol Invasions 20, 3347–3355 (2018). https://doi.org/10.1007/s10530-018-1780-6
Received:

Accepted:

Published:

Issue Date:
Keywords
Hydrilla verticillata

Ecological niche modelling

Nested niche

Biological invasion

Niche conservatism

Species distribution modelling