Abstract
Invertebrate species carried incidentally (i.e., 'hitchhikers') in the aquarium trade have gained increasing attention in recent years, but factors affecting the movement of species from stores to homes are poorly understood. We aimed to determine how macrophytes bought from stores act as vectors for transport of non-indigenous invertebrate species. We tested whether incidental invertebrate faunas carried on macrophytes vary internationally by comparing the New Zealand and Canadian trades, and if macrophyte species with different morphologies carry different risks. We recorded a large variety of invertebrate species associated with Vallisneria spp., Sword plants (Echinodorus spp.) and Elodea canadensis bought from stores, including species non-indigenous to both countries. Community composition of incidental fauna differed significantly between New Zealand (primarily domestically cultivated) and Canadian (primarily imported) bought macrophytes. Differences in composition between different macrophyte species were only statistically significant between wild-collected E. canadensis and the cultured species in New Zealand. Behaviours observed in stores, such as the amount of time macrophytes were removed from water before being placed in plastic bags for transport, did not affect the abundances or richness of incidental invertebrates transported, and thus did not appear to be effective in reducing invasion risk. We therefore recommend chemical treatment for removal of invertebrates from macrophytes at or pre-border, and from tanks containing plants at culture facilities and in stores. Such management will reduce the probability of introduction of hitchhikers to home aquaria, from which risk of release to natural waters is greatest.
Access options
Buy single article
Instant access to the full article PDF.
US$ 39.95
Tax calculation will be finalised during checkout.
Subscribe to journal
Immediate online access to all issues from 2019. Subscription will auto renew annually.
US$ 79
Tax calculation will be finalised during checkout.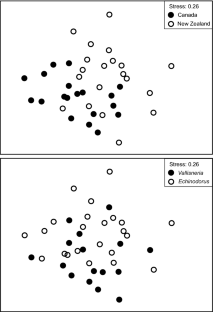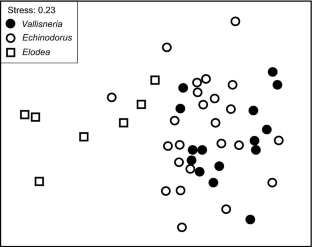 References
Abe H, Tanaka M, Ueno Y (2017) First report of the non-native freshwater nereidid polychaete Namalycastis hawaiiensis (Johnson, 1903) from a private goldfish aquarium in eastern Japan. BioInvasions Rec 6:217–223

Brunel S (2009) Pathway analysis: aquatic plants imported in 10 EPPO countries. EPPO Bull 39:201–213

Buczyński P, Bielak-Bielecki P (2012) Crocothemis servilia (Drury, 1773) (Odonata: Libellulidae) introduced with aquarium plants to Lublin (Poland). Ann Univ Mar Curie Skłodowska Sect C 67:21–26

Carlton JT (1996) Pattern, process, and prediction in marine invasion ecology. Biol Conserv 78:97–106

Champion PD (2012) The identity of Vallisneria in New Zealand. Unpublished report to Ministry for Primary Industries, 4 p

Champion PD, Clayton JS (2001) Border control for potential aquatic weeds: stage 2. Weed risk assessment. Sci Conserv 185:1–30

Chang CY, Yoon HJ (2008) Nitokra copepods (Harpacticoida: Ameieridae) from Korea. Korean J Syst Zool 24:115–127

Cheong L (1996) Overview of the current international trade in ornamental fish, with special reference to Singapore. Rev Sci Tech 15:445–481

Clarke KR, Warwick RM (1994) Change in Marine Communities: an Approach to Statistical Analysis and Interpretation, 2nd edn. Plymouth Marine Laboratory, National Research Council, Plymouth

Cohen J, Mirotchnick N, Leung B (2007) Thousands introduced annually: the aquarium pathway for non-indigenous plants to the St Lawrence Seaway. Front Ecol Environ 5:528–532

Connolly JK, Watkins JM, Hinchey EK, Rudstam LG, Reid JW (2017) New cyclopoid copepod (Thermocyclops crassus) reported in the Laurentian Great Lakes. J Great Lakes Res 43:198–203

De Smet WH (1997) The Dicranophoridae. In: De Smet WH, Pourriot R, Nogrady T (eds) Volume 5: The Dicranophoridae and the Ituridae (Monogononta). Guides to the identification of the microinvertebrates of the continental waters of the World, vol 12. SPB Academic Publishing Bv, Hague, pp 1–325

Duggan IC (2002) First record of a wild population of the tropical snail Melanoides tuberculata in New Zealand. N Z J Mar Freshw Res 36:825–829

Duggan IC (2010) The freshwater aquarium trade as a vector for incidental invertebrate fauna. Biol Invasions 12:3757–3770

Duggan IC (2011) Aquaria. In: Simberloff D, Rejmanek M (eds) Encyclopedia of biological invasions. University of California Press, California, pp 32–35

Duggan IC, Collier KJ (2018) Management of non-indigenous lacustrine animals. In: Howard-Williams C, Quinn J, Collier K, Hamilton D (eds) Lake restoration handbook: a New Zealand perspective. Springer, Berlin

Duggan IC, van Overdijk CDA, Bailey SA, Jenkins PT, Limén H, MacIsaac HJ (2005) Invertebrates associated with residual ballast water and sediments of cargo-carrying ships entering the Great Lakes. Can J Fish Aquat Sci 62:2463–2474

Duggan IC, Rixon CAM, MacIsaac HJ (2006) Popularity and propagule pressure: determinants of invasion success in aquarium fish. Biol Invasions 8:393–398

Ejsmont-Karabin J (2011) Does invasions of Vallisneria spiralis L. promote appearance of rare and new rotifer (Rotifera) species in littoral of the lakes heated by power station (Konin Lakes, W. Poland)? Pol J Ecol 59:201–207

Ferreiro N, Feijoó C, Giorgi A, Rosso J (2014) Macroinvertebrates select complex macrophytes independently of their body size and fish predation risk in a Pampean stream. Hydrobiologia 740:191–205

Fish GR (1971) Craspedacusta sowerbyi Lankester (Coelenterata: Limnomedusae) in New Zealand lakes. N Z J Mar Fresh Res 5:66–69

Grigorovich IA, Korniushin AV, Gray DK, Duggan IC, Colautti RI, MacIsaac HJ (2003) Lake superior: An invasion coldspot? Hydrobiologia 499:191–210

Horvath TG, Whitman RL, Last LL (2001) Establishment of two invasive crustaceans (Copepoda: Harpacticoida) in the nearshore sands of Lake Michigan. Can J Fish Aquat Sci 58:1261–1264

Karanovic T, Kim K, Grygier MJ (2015) A new species of Schizopera (Copepoda: Harpacticoida) from Japan, its phylogeny based on the mtCOI gene and comments on the genus Schizoperopsis. J Nat Hist 49:41–42

Kobayashi T, Shiel RJ, Segers H (2007) First record of the rotifer Lecane shieli Segers & Sanoamuang, 1994 from Australia. Aust Zool 34:181–183

Kolar CS, Lodge DM (2001) Progress in invasion biology: predicting invaders. Trends Ecol Evol 16:199–204

Lang K (1948) Monographie der Harpacticiden. Hakan Ohlsson, Lund, p 1682

Lucena-Moya P, Duggan IC (2011) Macrophyte architecture affects the abundance and diversity of littoral microfauna. Aquat Ecol 45:279–287

MacIsaac HJ (1999) Biological invasion in Lake Erie: past, present and future. In: Munawar M, Edsall T, Munawar IF (eds) State of Lake Eri: past, present and future. Backhuys Publishers, Leiden, pp 305–322

Maki K, Galatowitsch S (2004) Movement of invasive aquatic plants into Minnesota (USA) through horticultural trade. Biol Conserv 118:389–396

National Research Council (NRC) (2011) Assessing the relationship between propagule pressure and invasion risk in ballast water. National Academy of Sciences, Washington, D.C.

Ng TH, Tan SK, Wong WH, Meier R, Chan S-Y, Tan HH, Yeo DCJ (2016) Molluscs for sale: assessment of freshwater gastropods and bivalves in the ornamental pet trade. PLoS ONE 11:e0161130. https://doi.org/10.1371/journal.pone.0161130

Nogrady T, Pourriot R (1995) Rotifera 3: The Notommatidae. In: Nogrady T, Dumont HJ (eds) Guides to the identification of the microinvertebrates of the continental waters of the world. SPB Academic Publishing, Amsterdam

Patoka J, Bláha M, Kalous L, Vrabec V, Buřič M, Kouba A (2016a) Potential pest transfer mediated by international ornamental plant trade. Sci Rep 6:25896. https://doi.org/10.1038/srep25896

Patoka J, Bláha M, Devetter M, Rylková K, Čadková Z, Kalous L (2016b) Aquarium hitchhikers: attached commensals imported with freshwater shrimps via the pet trade. Biol Invasions 18:457–461

Patoka J, Kopecký O, Vrabec V, Kalous L (2017) Aquarium molluscs as a case study in risk assessment of incidental freshwater fauna. Biol Invasions 19:2039–2046

Petroeschevsky A, Champion PD (2008) Preventing further introduction and spread of aquatic weeds through the ornamental plant trade. In: van Klinken RD, Osten VA, Panetta FD, Scanlan JC (eds) Hot topics in the tropics, proceedings of the 16th Australian weed conference, 18–22 May 2008. Cairns Convention Centre, Cairns, Queensland, Australia, pp 399–402

Rahat M, Campbell RD (1974) Three forms of the tentacles and non-tentacled fresh-water coelenterate polyp genera Craspedacusta and Calpasoma. Trans Am Microsc Soc 93:235–241

Rixon CAM, Duggan IC, Bergeron NMN, Ricciardi A, MacIsaac HJ (2005) Invasion risks posed by the aquarium trade and live fish markets to the Laurentian Great Lakes. Biodivers Conserv 14:1365–1381

Segers H (1995) Rotifera 2: the Lecanidae (Monogononta). In: Nogrady T, Dumont HJ (eds) Guides to the identification of the microinvertebrates of the continental waters of the world 6. SPB Academic Publishing Bv, Hague, p 226

Strecker AL, Campbell PM, Olden JD (2011) The aquarium trade as an invasion pathway in the Pacific Northwest. Fisheries 36:74–85

Yanai Z, Dayan T, Mienis HK, Gasith A (2017) The pet and horticultural trades as introduction and dispersal agents of non-indigenous freshwater molluscs. Manag Biol Invasion 8:523–532
Acknowledgements
We thank Jiri Patoka and an anonymous reviewer for providing comments that improved our manuscript. HJM was supported by an NSERC Discovery Grant and Canada Research Chair.
Electronic supplementary material
Below is the link to the electronic supplementary material.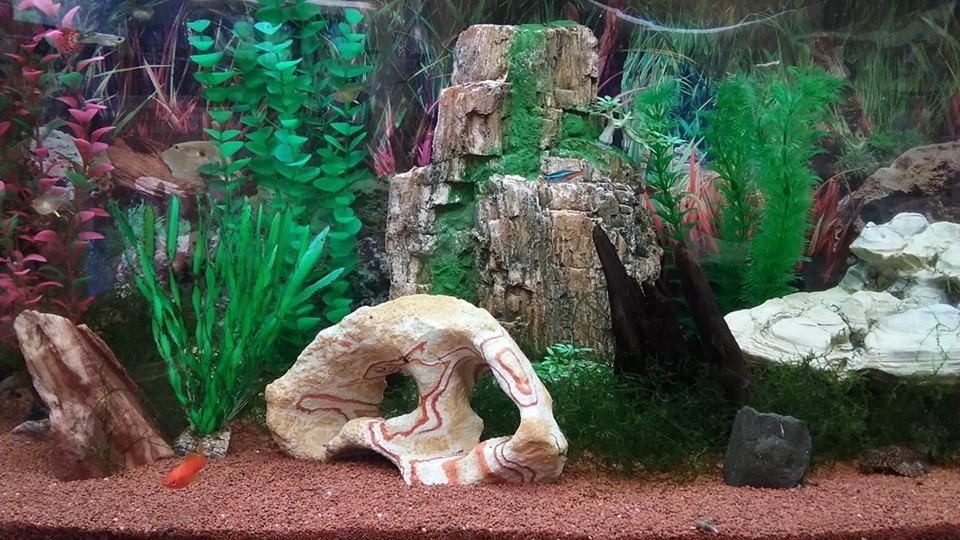 About this article
Cite this article
Duggan, I.C., Champion, P.D. & MacIsaac, H.J. Invertebrates associated with aquatic plants bought from aquarium stores in Canada and New Zealand. Biol Invasions 20, 3167–3178 (2018). https://doi.org/10.1007/s10530-018-1766-4
Received:

Accepted:

Published:

Issue Date:
Keywords
Incidental fauna

Hitchhikers

Biological invasions

Ornamental plants

Aquarium trade

Copepoda