Abstract
Invasion by exotic plant species and herbivory can individually alter native plant species diversity, but their interactive effects in structuring native plant communities remain little studied. Many exotic plant species escape from their co-evolved specialized herbivores in their native range (in accordance with the enemy release hypothesis). When these invasive plants are relatively unpalatable, they may act as nurse plants by reducing herbivore damage on co-occurring native plants, thereby structuring native plant communities. However, the potential for unpalatable invasive plants to structure native plant communities has been little investigated. Here, we tested whether presence of an unpalatable exotic invader Opuntia ficus-indica was associated with the structure of native plant communities in an ecosystem with a long history of grazing by ungulate herbivores. Along 17 transects (each 1000 m long), we conducted a native vegetation survey in paired invaded and uninvaded plots. Plots that harboured O. ficus-indica had higher native plant species richness and Shannon–Wiener diversity H′ than uninvaded plots. However, mean species evenness J was similar between invaded and uninvaded plots. There was no significant correlation between native plant diversity and percentage plot cover by O. ficus-indica. Presence of O. ficus-indica was associated with a compositional change in native community assemblages between paired invaded and uninvaded plots. Although these results are only correlative, they suggest that unpalatable exotic plants may play an important ecological role as refugia for maintenance of native plant diversity in intensely grazed ecosystems.
Access options
Buy single article
Instant access to the full article PDF.
US$ 39.95
Tax calculation will be finalised during checkout.
Subscribe to journal
Immediate online access to all issues from 2019. Subscription will auto renew annually.
US$ 79
Tax calculation will be finalised during checkout.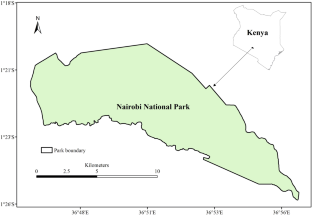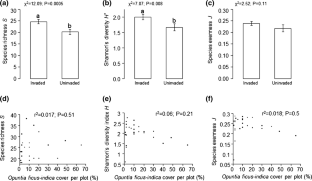 References
Callaway RM, Kikvidze Z, Kikodze D (2000) Facilitation by unpalatable weeds may conserve plant diversity in overgrazed meadows in the Caucasus Mountains. Oikos 89:275–282. https://doi.org/10.1034/j.1600-0706.2000.890208.x

Callaway RM, Kikodze D, Chiboshvili M, Khetsuriani L (2005) Unpalatable plants protect neighbors from grazing and increase plant community diversity. Ecology 86:1856–1862

Cavieres LA, Badano EI (2009) Do facilitative interactions increase species richness at the entire community level? J Ecol 97:1181–1191. https://doi.org/10.1111/j.1365-2745.2009.01579.x

Cronk CB, Fuller JL (1995) Plant invaders. Chapman & Hall, London

Fridley J, Stachowicz J, Naeem S et al (2007) The invasion paradox: reconciling pattern and process in species invasions. Ecology 88:3–17. https://doi.org/10.1890/07-1861.1

Gimeno I, Vila M (2002) Recruitment of two Opuntia species invading abandoned olive groves. Acta Oecologia 23:239–246

Githae EW, Nyangito MM (2009) Current status on the occurrence, utilization and management of cactus pear (Opuntia spp.) in Kenya. In: Improved utilization of cactus pear for food, feed, soil and water conservation and other products in Africa, p 220

Hothorn T, Bretz F, Westfall P (2008) Simultaneous inference in general parametric models. Biometrical J 50:346–363

Howard KSC, Eldridge DJ, Soliveres S (2012) Positive effects of shrubs on plant species diversity do not change along a gradient in grazing pressure in an arid shrubland. Basic Appl Ecol 13:159–168

Keane RM, Crawley MJ (2002) Exotic plant invasions and the enemy release hypothesis. Trends Ecol Evol 17:164–170

Magurran A (1988) Ecological diversity and its measurement. Princeton University Press, Princeton, NJ

Maskell LC, Firbank LG, Thompson K et al (2006) Interactions between non-native plant species and the floristic composition of common habitats. J Ecol 94:1052–1060. https://doi.org/10.1111/j.1365-2745.2006.01172.x

Muya S, Oguge N (2000) Effects of browse availability and quality on black Rhino (Diceros bicornis michaeli Groves 1967) diet in Nairobi National Park, Kenya. Afr J Ecol 38:62–71

Novoa A, Le Roux JJ, Robertson MP et al (2015) Introduced and invasive cactus species: a global review. AoB Plants 7:plu078. https://doi.org/10.1093/aobpla/plu078

Oduor AMO, Gómez JM, Strauss SY (2010) Exotic vertebrate and invertebrate herbivores differ in their impacts on native and exotic plants: a meta-analysis. Biol Invasions 12:407–419

Ogutu JO, Owen-smith N, Piepho H et al (2013) Changing wildlife populations in Nairobi National Park and adjoining Athi-Kaputiei plains: collapse of the migratory wildebeest. Open Conserv Biol J 7:11–26. https://doi.org/10.2174/1874839201307010011

Pinheiro J, Bates D, DebRoy S, Sarkar D (2007) nlme: linear and nonlinear mixed effects models. The R Development Core Team

R Development Core Team (2016) A language and environment for statistical computing. R Foundation for Statistical Computing, Vienna

Rebollo S, Milchunas D, Noy-Meir I (2005) Refuge effects of a cactus in grazed short-grass steppe. J Veg Sci 16:85–92

Stohlgren TJ, Rejmanek M (2014) No universal scale-dependent impacts of invasive species on native plant species richness. Biol Lett 10(1):20130939

Vila M, Espinar JL, Hejda M et al (2011) Ecological impacts of invasive alien plants: a meta-analysis of their effects on species, communities and ecosystems. Ecol Lett 14:702–708. https://doi.org/10.1111/j.1461-0248.2011.01628.x

Wilcove DS, Rothstein D, Dubow J et al (1998) Quantifying threats to imperiled species in the United States. Bioscience 48:607–615. https://doi.org/10.2307/1313420
Acknowledgements
We thank Mr. Simon Mathenge for help with plant identification during the survey. Permission to conduct the research was granted by National Commission for Science, Technology and Innovation of Kenya (NACOSTI) (Permit Number NCST/RCD/12B/013/24) and Kenya Wildlife Services (KWS). We also thank Rony Adams Onyango and KWS rangers attached to Nairobi National Park for logistical support and providing protection against animals in the park. A.M.O. Oduor received financial support from an International Young Scientist Fellowship of the Chinese Academy of Sciences (No. 2012Y1ZA0011), a Chinese Academy of Sciences (CAS) President's International Fellowship Initiative (PIFI) (No. 2016PE016) and a research grant from the National Natural Science Foundation of China (No. 312111182). Comments from the editor, two anonymous reviewers, and Dr. Wayne Dawson improved an earlier draft of this manuscript.
About this article
Cite this article
Oduor, A.M.O., Long, H., Fandohan, A.B. et al. An invasive plant provides refuge to native plant species in an intensely grazed ecosystem. Biol Invasions 20, 2745–2751 (2018). https://doi.org/10.1007/s10530-018-1757-5
Received:

Accepted:

Published:

Issue Date:
Keywords
Facilitation

Native–exotic plant interactions

Nurse plants

Native species diversity

Unpalatable exotic plants

Nairobi National Park