Abstract
Globally, many natural grasslands are becoming increasingly urbanised, with non-native plants invading as local and regional environmental attributes are altered. Using multiple linear regression models, we examined the functional trait composition of non-native plants in 69 native urban grasslands in Melbourne, Australia, against the spatial attributes of remnant patches and the surrounding road network at multiple spatial scales. We predicted that (1) urbanisation favours non-native plants with evolved characteristics conferring resistance to urban environments, (2) high road density in the immediate vicinity of remnants drives high non-native functional diversity, and (3) non-native plants that spread and become abundant do so through an investment in competitive traits. Non-native plants contributed to 31% of total grassland cover, with regionally widespread species dominant within sites. Non-native perennial grass cover, rather than annual grass cover, was positively associated with road density across the urban landscape, and community-weighted Specific Leaf Area was negatively associated with road density. At local scales, non-native plant functional diversity was positively associated with road density in the immediate vicinity of grasslands. Urbanisation favoured non-native plants invested in persistence over resource acquisition, potentially in response to the urban climate and declines in fire frequency. Re-introducing historic fire regimes may therefore have the potential to be a key strategy in reducing competition from non-native plants. High non-native functional diversity in areas of high local road density was the expected response to high propagule pressure. Urban planning that protects grasslands from road encroachment may therefore reduce invasion.
Access options
Buy single article
Instant access to the full article PDF.
US$ 39.95
Tax calculation will be finalised during checkout.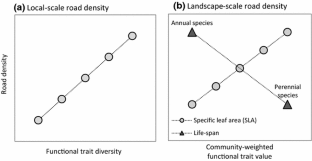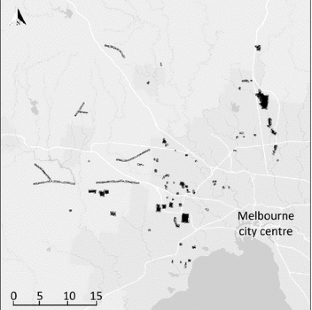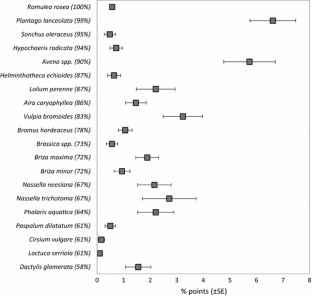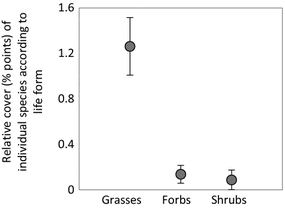 References
Akbari H, Pomerantz M, Taha H (2001) Cool surface and shade trees to reduce energy use and improve air quality in urban areas. Sol Energy 70:295–310

Badgery WB, Kemp DR, Michalk DL, King WMCG (2005) Competition for nitrogen between Australian native grasses and introduced weed Nassella trichotoma. Ann Bot 96:799–908

Baker H (1974) The evolution of weeds. Annu Rev Ecol Evol Syst 5:1–24

Biro M, Czucz B, Horvath F, Revesz A, Csatari B, Molnar Z (2013) Drivers of grassland loss in Hungary during the post-socialist transformation (1987–1999). Landsc Ecol 28:789–803

Brunel S, Schrader G, Brundu G, Fried G (2010) Emerging invasive alien plants for the Mediterranean Basin. EPPO Bull 40:219–238

Butler DW, Fairfax RJ (2003) Buffel Grass and fire in a Gidgee and Brigalow woodland: a case study from central Queensland. Ecol Manag Restor 4:120–125

Cadotte MW, Murray BR, Lovett-Doust J (2006) Ecological patterns and biological invasions using regional species inventories in macroecology. Biol Invasions 8:809–821

Cape JN, Tang YS, van Dijk N, Love L, Sutton MA, Palmer SCF (2004) Concentrations of ammonia and nitrogen dioxide at roadside verges, and their contribution to nitrogen deposition. Environ Pollut 3:469–478

Carlton JT, Ruiz GM (2005) Vector science and integrated vector management in Bioinvasion ecology: conceptual frameworks. In: Mooney HA, McNeeley RMJ, Neville LE, Schei PJ, Waage JK (eds) Invasive alien species management: a new synthesis. Island Press, Washington DC, pp 36–58

Cilliers SS, Williams NSG, Barnard FJ (2008) Patterns of exotic plant invasions in fragmented urban and rural grasslands across continents. Landsc Ecol 23:1243–1256

Cornelissen JHC, Lavorel S, Garnier E, Diaz S, Buchmann N, Gurvich DE, ter Steege H, Morgan HD, van der Heijen MGA, Pausas JG, Poorter H (2003) A handbook of protocols for standardised and easy measurements of plant functional traits worldwide. Aust J Bot 51:335–380

Coutts A, Beringer J, Tapper N (2010) Changing urban climate and CO2 emissions: implication for the development of policies for sustainable cities. Urban Policy Res 28:27–47

Eskelinen A, Harrison SP (2015) Resource colimitation governs plant community responses to altered precipitation. Proc Natl Acad Sci 112:13009–13014

Forman R, Alexander L (1998) Roads and their major ecological effects. Annu Rev Ecol Evol Syst 29:207–231

Forman RTT, Deblinger RD (2000) The ecological road-effect zone of a Massachusetts (USA) suburban highway. Conserv Biol 14:36–46

Forman RTT, Sperling D, Bissonette JA, Clevenger AP, Cutshall CD, Dale VH, Fahrig L, France R, Goldman CR, Heanue K, Jones JA, Swanson FJ, Turrentine T, Winter TC (2003) Road ecology: science and solutions. Island Press, Washington

Gallagher RV, Randall RP, Leishman MR (2014) Trait differences between naturalized and invasive plant species independent of residence time and phylogeny. Conserv Biol 29:360–369

Gardener MR, Whalley RDB, Sindel BM (2003) Ecology of Nassella neesiana, Chilean needle grass, in pastures on the Northern Tablelands of New South Wales. I Seed production and dispersal. Aust J Agric Res 54:613–619

Gelbard JL, Belnap J (2003) Roads as conduits for exotic plant invasion in a semiarid landscape. Conserv Biol 17:420–432

Gibson-Roy P, Delpratt J, Moore G (2007) Restoring the Victorian Western (Basalt) Plains grassland. 2. Field emergence, establishment and recruitment following direct seeding. Ecol Manag Restor 8:123–132

Gordon A, Lanford WT, Todd JA, White MD, Mullerworth DW, Bekessey SA (2011) Assessing the impacts of biodiversity offset policies. Environ Model Softw 26:1481–1488

Grimm N, Faeth S, Golubiewski N, Redman C, Wu J, Bai X, Briggs J (2008) Global change and the ecology of cities. Science 319:756–760

Hahs AK, McDonnell MJ (2006) Selecting independent measures to quantify Melbourne's urban-rural gradient. Landsc Urban Plan 78:435–448

Hamilton MA, Murray BR, Cadotte MW, Hose GC, Baker AC, Harris CJ, Licari D (2005) Life-history correlates of plant invasiveness at regional and continental scales. Ecol Lett 8:1066–1074

Hansen MJ, Clevenger AP (2005) The influence of disturbance and habitat on the presence of non-native plant species along transport corridors. Biol Cons 125:249–259

Hart MA, Sailor DJ (2008) Quantifying the influence of land-use and surface characteristics on spatial variability in the urban heat island. Theor Appl Climatol 95:397–406

Hejda M, Pysek P, Jarosik V (2009) Impact of invasive plants on the species richness, diversity and composition of invaded communities. J Ecol 97:393–403

Hoekstra JM, Boucher TM, Ricketts TH, Roberts C (2005) Confronting a biome crisis: global disparities of habitat loss and protection. Ecol Lett 8:23–29

Janzen GH (1983) No park is an island: increase in interference from outside as park size decreases. Oikos 41:402–410

Kandal D, Zeeman BJ, Ikin K, Lunt ID, McDonnell MJ, Farrar A, Pearce L, Morgan JW (2017) The importance of small reserves for plant conservation. Biol Cons 213:146–153

Kattge J, Díaz S, Lavorel S, Prentice IC, Leadley P, Bönisch G, Garnier E, Westoby M, Reich PB, Wright IJ, Cornelissen JHC, Violle C, Harrison SP, Van Bodegom PM, Reichstein M, Enquist BJ, Soudzilovskaia NA, Ackerly DD, Anand M, Atkin O, Bahn M, Baker TR, Baldocchi D, Bekker R, Blanco CC, Blonder B, Bond WJ, Bradstock R, Bunker DE, Casanoves F, Cavender-Bares J, Chambers JQ, Chapin FS III, Chave J, Coomes D, Cornwell WK, Craine JM, Dobrin BH, Duarte L, Durka W, Elser J, Esser G, Estiarte M, Fagan WF, Fang J, Fernández-Méndez F, Fidelis A, Finegan B, Flores O, Ford H, Frank D, Freschet GT, Fyllas NM, Gallagher RV, Green WA, Gutierrez AG, Hickler T, Higgins SI, Hodgson JG, Jalili A, Jansen S, Joly CA, Kerkhoff AJ, Kirkup D, Kitajima K, Kleyer M, Klotz S, Knops JMH, Kramer K, Kühn I, Kurokawa H, Laughlin D, Lee TD, Leishman M, Lens F, Lenz T, Lewis SL, Lloyd J, Llusià J, Louault F, Ma S, Mahecha MD, Manning P, Massad T, Medlyn BE, Messier J, Moles AT, Müller SC, Nadrowski K, Naeem S, Niinemets Ü, Nöllert S, Nüske A, Ogaya R, Oleksyn J, Onipchenko VG, Onoda Y, Ordoñez J, Overbeck G, Ozinga WA, Patiño S, Paula S, Pausas JG, Peñuelas J, Phillips OL, Pillar V, Poorter H, Poorter L, Poschlod P, Prinzing A, Proulx R, Rammig A, Reinsch S, Reu B, Sack L, Salgado-Negret B, Sardans J, Shiodera S, Shipley B, Siefert A, Sosinski E, Soussana JF, Swaine E, Swenson N, Thompson K, Thornton P, Waldram M, Weiher E, White M, White S, Wright SJ, Yguel B, Zaehle S, Zanne AE, Wirth C (2011) TRY—a global database of plant traits. Glob Change Biol 17:2905–2935

Knapp S, Kuhn I, Wittig R, Ozinga WA, Poschlod P, Klotz S (2008) Urbanization causes shifts in species' trait state frequencies. Preslia 80:375–388

Knops JM, Reinhart K (2000) Specific leaf area along a nitrogen fertilization gradient. Am Midl Nat 144:265–272

Kolar CS, Lodge DM (2001) Progress in invasion biology: predicting invaders. Trends Ecol Evol 16:199–204

Kowarik I (2011) Novel urban ecosystems, biodiversity and conservation. Environ Pollut 159:1974–1983

Lake JC, Leishman MR (2004) Invasion success of exotic plants in natural ecosystems: the role of disturbance, plant attributes and freedom of herbivores. Biol Cons 117:215–226

Lamoureaux SL, Bourdot GW (2004) Re-infestation potential of Nassella trichotoma under a 'no seeding' management strategy. In: Proceedings of the 4th international weed science congress. Durdan, South Africa

Larios L, Suding KN (2015) Competition and soil resource environment alter plant—soil feedbacks for native and exotic grasses. AoB Plants 7:plu077. https://doi.org/10.1093/aobpla/plu077

Lavorel S, de Bello F, Grigulis K, Leps J, Garnier E, Castro H, Dolezal J, Godolets C, Quetier F, Thebault A (2011) Response of herbaceous vegetation functional diversity to land use change across five sites in Europe and Israel. Isr J Ecol Evol 57:53–72

Lenz TJ, Moyle JL, Facelli JM (2003) Direct and indirect effects of exotic annual grasses on species composition of a South Australian grassland. Austral Ecol 28:23–32

Leps J, de Bello F, Lavorel S, Berman S (2006) Quantifying and interpreting functional diversity of natural communities: practical considerations matter. Prestlia 78:433–440

Lockwood JL, Cassey P, Blackburn TM (2009) The more you introduce the more you get: the role of colonization and propagule pressure in invasion ecology. Divers Distrib 15:904–910

Ludwig F, Asseng S (2010) Potential benefits of early vigor and changes in phenology in wheat to adapt to warmer and drier climates. Agric Syst 103:127–136

Lunt ID, Morgan JW (1999) Vegetation changes after 10 years of grazing exclusion and intermittent burning in a Themeda triandra (Poaceae) grassland reserve in south-eastern Australia. Aust J Bot 47:537–552

McDougall K (1987) The grassland flora and significant species. In: McDougall K, Kirkpatrick JB (eds) Conservation of Lowland Native Grasslands in South-eastern Australia. World Wide Fund for Nature, Melbourne, pp 4–7

Morgan JW (1998a) Composition and seasonal flux of the soil seed bank of species-rich Themeda triandra grasslands in relation to burning history. J Veg Sci 9:145–156

Morgan JW (1998b) Importance of canopy gaps for recruitment of some forbs in Themeda triandra-dominated grasslands in south-eastern Australia. Aust J Bot 46:609–627

Nascimento H, Andrade A, Camargo J, Laurance WF, Laurance SG, Ribeiro J (2006) Effects of the surrounding matrix on tree recruitment in Amazonian forest fragments. Conserv Biol 20:853–860

Oberbauer SF, Cheng W, Gillespie CT, Ostendorf B, Sala A, Gebauer R, Virginia RA, Tenhunen JD (1996) Landscape patterns of carbon dioxide exchange in tundra ecosystems. In: Reynolds JF, Tenhunen JD (eds) Ecological studies, vol 120. Springer, New York, pp 223–256

Pickett STA, Cadenasso ML, Grove JM, Boone CG, Groffman PM, Irwin E, Kaushal SS, Marshall V, McGrath BP, Nilon CH, Rouyat RV, Szlavecz K, Troy A, Warren P (2011) Urban ecological systems: scientific foundations and a decade of progress. J Ecol Manag 92:331–362

Pyke DA, Brooks ML, D'Antonio CD (2010) Fire as a restoration tool: a decision framework for predicting the control of enhancement of plants using fire. Restor Ecol 18:274–284

Reed RA, Johnson-Barnard J, Baker WL (1996) Contribution of roads to forest fragmentation in the Rocky Mountains. Conserv Biol 10:1098–1106

Richardson FJ, Richardson RG, Shepherd RCH (2011) Weeds of the south-east: an identification guide for Australia, 2nd edn. R.G and F.J, Richardson

Rolecek J, Chytry M, Hajek M, Lvoncik S, Tichy L (2007) Sampling design in large-scale vegetation studies: do not sacrifice ecological thinking to statistical purism! Folia Geobot 42:199–208

Saunders SC, Mislivets MR, Chen J, Cleland DT (2002) Effects of roads on landscape structure within nester ecological units of the Northern Great Lakes Region, USA. Biol Cons 103:209–225

Skultety D, Matthews JW (2017) Urbanization and roads drive non-native plant invasion in the Chicago Metropolitan region. Biol Invasions 19:2553–2566

Spellerberg IF (1998) Ecological effects of roads and traffic: a literature review. Glob Ecol Biogeogr Lett 7:317–333

Stuwe J (1986) An assessment of the conservation status of native grasslands on the Western Plains, Victoria and sites of botanical significance. Technical Report no. 48. Arthur Rylah Institute for Environmental Research, Heidelberg

Syphard AD, Radeloff VC, Keeley JE, Hawbaker TJ, Clayton MK, Stewart SI, Hammer RB (2007) Human influence on California fire regimes. Ecol Appl 5:1388–1402

Turnbull LA, Rees M, Crawley MJ (1999) Seed mass and competition/colonization trade-off: a sowing experiment. J Ecol 87:899–912

Vakhlamova T, Rusterholz HP, Kanibolotskaya Y, Baur B (2016) Effects of road type and urbanization on the diversity and abundance of alien species in roadside verges in Western Siberia. Plant Ecol 217:241–252

von der Lippe M, Kowarik I (2007) Long-distance dispersal of plants by vehicles as a driver of plant invasions. Conserv Biol 21:986–996

von der Lippe M, Kowarik I (2008) Do cities export biodiversity? Traffic as dispersal vector across urban-rural gradients. Divers Distrib 14:18–25

Watkins RZ, Chen J, Pickens J, Brosofske KD (2001) Effects of forest roads on understory plants in a managed hardwood landscape. Conserv Biol 17:411–419

Watt MS, Kriticos DJ, Lamoureaux SL, Bourdot GW (2011) Climate change and the potential global distribution of serrated tussock (Nassella trichotoma). Weed Sci 59:538–545

Wells MJ (1977) Progress with research on Nassella tussock. In: Proceedings of the national weeds conference of South Africa. Cape Town, pp 47–55

Williams NSG, McDonnell MJ, Seager EJ (2005a) Factors influencing the loss of an endangered ecosystem in an urbanising landscape: a case study of native grasslands from Melbourne, Australia. Landsc Urban Plan 71:35–49

Williams NSG, Morgan JW, McDonnell MJ, McCarthy MA (2005b) Plant traits and local extinctions in natural grasslands along an urban–rural gradient. J Ecol 93:1203–1213

Williams NSG, Morgan JW, McCarthy MA, McDonnell MJ (2006) Local extinction of grassland plants: the landscape matrix is more important than patch attributes. Ecology 87:3000–3006

Williams NSG, Schwartz MW, Vesk PA, McCarthy MA, Hahs AK, Clemants SE, Corlett RT, Duncan RP, Norton BA, Thompson K, McDonnell MJ (2009) A conceptual framework for predicting the effects of urban environments on floras. J Ecol 97:4–9

Williams NSG, Hahs AK, Vesk PA (2015) Urbanisation, plant traits and the composition of urban floras. Perspect Plant Ecol Evol Syst 17:78–86

Wittig R, Becker U, Nawrath S (2010) Grassland loss in the vicinity of a highly prospering metropolitan area from 1867/68 to 2000—the example of the Taunus (Hesse, Germany) and its Vorland. Landsc Urban Plan 95:175–180

Wright IJ, Reich PB, Westoby M, Ackerly DD, Baruch Z, Bongers F, Cavender-Bares J, Chapin T, Cornelissen JHC, Diemer M, Flexas J, Gernier E, Groom PK, Gulias J, Hikosaka K, Lamont BB, Lee T, Lee W, Lusk C, Midgley JJ, Navas ML, Niinemets U, Oleksyn J, Osada N, Poorter H, Poot P, Prior L, Pyankov VI, Roumet C, Thomas SC, Tjoelker MG, Veneklaas EJ, Villar R (2004) The worldwide leaf economics spectrum. Nature 428:821–827

Zeeman BJ, Morgan JW (2018) Increasing and declining native species in urban remnant grasslands respond differently to nitrogen addition and disturbance. Ann Bot 121:691–697

Zeeman BJ, McDonnell MJ, Kendal D, Morgan JM (2017) Biotic homogenization in an increasingly urbanized temperate grassland ecosystem. J Veg Sci 28:550–561
Acknowledgements
Ian Lunt and Dave Kendal assisted in designing field survey methods. Alison Farrar assisted with ArcGIS analysis, and along with Dave Kendal, Lilian Pearce and Kate Griffiths, aided with field work. Land managers at Parks Victoria, Brimbank City Council, Hume City Council, City of Melton, Friends of Iramoo Wildflower Reserve, Hobson's Bay City Council, Moreland City Council, City of Darebin and City of Whittlesea provided us with access to grassland sites. Functional trait data was provided through the TRY database. We thank all contributors to the database that provided us with data: Bernard Amiaud, Owen Atkin, Benjamin Blonder, Giandiego Campetella, Bruno Cerabolini, Johannes Cornelissen, Joseph Craine, Franciska De Vries, John Dickie, Alastair Fitter, Estelle Forey, Gregoire Freschet, Eric Garnier, Walton Green, Sandy Harrison, Thomas Hickler, Robert Jackson, Jens Kattge, Michael Kleyer, Ingolf Kühn, Daniel Laughlin, Michelle Leishman, Frederique Louault, Peter Manning, Ruben Milla, Marco Moretti, Jenny Ordonez, Juli Pausas, Begoña Peco, Charles Price, Peter Reich, Christine Roemermann, Brody Sandel, Brandon Schamp, Bill Shipley, Andrew Siefert, Marko Spasojevic, Fernando Valladares, Evan Weiher, Christian Wirth and Ian Wright. This research was generously funded by the Myer Foundation. B.J.Z was funded by an Australian Postgraduate Research Award.
Data accessibility
Melbourne's VVP Grasslands: site and botanical Dataverse: https://dataverse.harvard.edu/dataverse/MelbourneGrasslands.
Electronic supplementary material
Below is the link to the electronic supplementary material.
About this article
Cite this article
Zeeman, B.J., Minden, V. & Morgan, J.W. Non-native plant cover and functional trait composition of urban temperate grasslands in relation to local- and landscape-scale road density. Biol Invasions 20, 3025–3036 (2018). https://doi.org/10.1007/s10530-018-1756-6
Received:

Accepted:

Published:

Issue Date:
Keywords
Alien plants

Dispersal

Functional diversity

Plant functional traits

Specific leaf area (SLA)

Urban heat island effect