Abstract
Centaurea stoebe is an emerging invader in northeast US, and is a major invasive plant in the northern Midwest and western USA. Although it has been present in New York State (NYS) for over 100 years, its apparent recent population increases and spread provide a rare opportunity to study a plant in the early stages of invasion. Using occurrence, density and change in density in species distribution models, we assessed the potential influence of environmental factors on the invasion of spotted knapweed in northeast US. Within different parts of C. stoebe's range, different factors explained its occurrence, density and change in density over 2 years. Across northeast US, climate and soil factors were the most influential predictors explaining C. stoebe's distribution, while within Long Island in southeastern NYS and the Adirondack Mountains in northern NYS, precipitation and disturbance respectively were the most important. Using density and change in density, we found that for both Long Island and the Adirondacks, tree cover, precipitation, and temperature were the most influential determinants. The comparatively minor influence of disturbance on C. stoebe density is likely because C. stoebe in the northeastern US is almost exclusively found in open disturbed sites, so this factor does not discriminate among densities. Our study is valuable for both basic ecological understanding and decision making, as control efforts may depend on whether management goals are to decrease the risk of spread to other locations, or decrease the density in locations in which invaders already occur.
Access options
Buy single article
Instant access to the full article PDF.
US$ 39.95
Tax calculation will be finalised during checkout.
Subscribe to journal
Immediate online access to all issues from 2019. Subscription will auto renew annually.
US$ 79
Tax calculation will be finalised during checkout.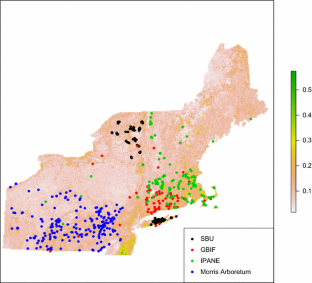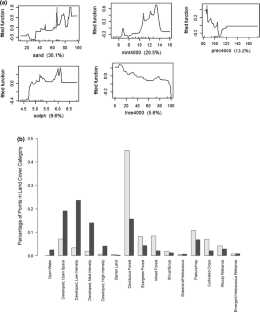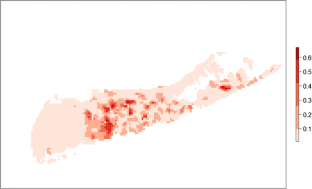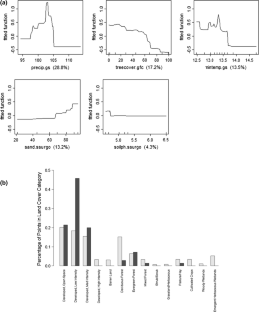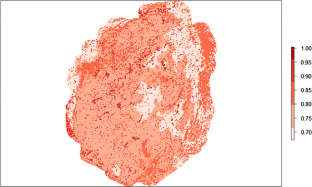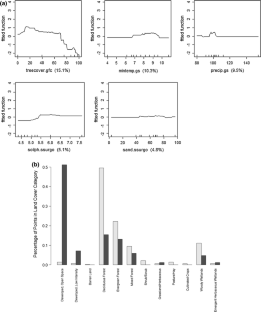 References
Alofs KM, Jackson DA (2015) The abiotic and biotic factors limiting establishment of predatory fishes at their expanding northern range boundaries in Ontario, Canada. Glob Change Biol 21:2227–2237. https://doi.org/10.1111/gcb.12853

Anderson RP (2003) Real vs. artefactual absences in species distributions: tests for Oryzomys albigularis (Rodentia: Muridae) in Venezuela. J Biogeogr 30:591–605

Barbet-Massin M, Jiguet F, Albert CH, Thuiller W (2012) Selecting pseudo-absences for species distribution models: how, where and how many? Methods Ecol Evol 3:327–338. https://doi.org/10.1111/j.2041-210X.2011.00172.x

Brisson J, de Blois S, Lavoie C (2010) Roadside as invasion pathway for common reed (Phragmites australis). Invas Plant Sci Manag 3:506–514. https://doi.org/10.1614/ipsm-09-050.1

Broennimann O, Treier UA, Muller-Scharer H, Thuiller W, Peterson AT, Guisan A (2007) Evidence of climatic niche shift during biological invasion. Ecol Lett 10:701–709. https://doi.org/10.1111/j.1461-0248.2007.01060.x

Broennimann O, Mraz P, Petitpierre B, Guisan A, Muller-Scharer H (2014) Contrasting spatio-temporal climatic niche dynamics during the eastern and western invasions of spotted knapweed in North America. J Biogeogr 41:1126–1136. https://doi.org/10.1111/jbi.12274

Brummer TJ, Maxwell BD, Higgs MD, Rew LJ (2013) Implementing and interpreting local-scale invasive species distribution models. Divers Distrib 19:919–932. https://doi.org/10.1111/ddi.12043

Bustamante J (1997) Predictive models for lesser kestrel Falco naumanni distribution, abundance and extinction in southern Spain. Biol Conserv 80:153–160. https://doi.org/10.1016/S0006-3207(96)00136-X

De'ath G, Fabricius KE (2000) Classification and regression trees: a powerful yet simple technique for ecological data analysis. Ecology 81:3178–3192. https://doi.org/10.1890/0012-9658(2000)081[3178:Cartap]2.0.Co;2

Duff TJ, Bell TL, York A (2011) Patterns of plant abundances in natural systems: is there value in modelling both species abundance and distribution? Aust J Bot 59:719–733. https://doi.org/10.1071/Bt11017

Elith J, Leathwick JR (2009) Species distribution models: ecological explanation and prediction across space and time. Annu Rev Ecol Evol Syst 40:677–697. https://doi.org/10.1146/annurev.ecolsys.110308.120159

Elith J, Leathwick JR, Hastie T (2008) A working guide to boosted regression trees. J Anim Ecol 77:802–813. https://doi.org/10.1111/j.1365-2656.2008.01390.x

Emery SM, Gross KL (2005) Effects of timing of prescribed fire on the demography of an invasive plant, spotted knapweed Centaurea maculosa. J Appl Ecol 42:60–69. https://doi.org/10.1111/j.1365-2664.2004.00990.x

Flory SL, Clay K (2006) Invasive shrub distribution varies with distance to roads and stand age in eastern deciduous forests in Indiana, USA. Plant Ecol 184:131–141. https://doi.org/10.1007/s11258-005-9057-4

Fordham DA et al (2012) Plant extinction risk under climate change: are forecast range shifts alone a good indicator of species vulnerability to global warming? Glob Change Biol 18:1357–1371. https://doi.org/10.1111/j.1365-2486.2011.02614.x

Guisan A, Thuiller W (2005) Predicting species distribution: offering more than simple habitat models. Ecol Lett 8:993–1009

Hansen MC et al (2013) High-resolution global maps of 21st-century forest cover change. Science 342:850–853. https://doi.org/10.1126/science.1244693

Hastie T, Tibshirani R, Friedman J (2001) The elements of statistical learning. Springer series in statistics. Springer, New York

Hulme PE (2008) Contrasting alien and native plant species–area relationships: the importance of spatial grain and extent. Glob Ecol Biogeogr 17:641–647

Jin SM, Yang LM, Danielson P, Homer C, Fry J, Xian G (2013) A comprehensive change detection method for updating the National Land Cover Database to circa 2011. Remote Sens Environ 132:159–175. https://doi.org/10.1016/j.rse.2013.01.012

Keith DA et al (2008) Predicting extinction risks under climate change: coupling stochastic population models with dynamic bioclimatic habitat models. Biol Lett 4:560–563. https://doi.org/10.1098/rsbl.2008.0049

Kosaka Y, Saikia B, Mingki T, Tag H, Riba T, Ando K (2010) Roadside distribution patterns of invasive alien plants along an altitudinal gradient in Arunachal Himalaya, India. Mt Res Dev 30:252–258. https://doi.org/10.1659/Mrd-Journal-D-10-00036.1

Lacey J, Husby P, Handl G (1990) Observations on spotted and diffuse knapweed invasion into ungrazed bunchgrass communities in Western Montana. Rangelands 12:30–32

Lawson DM, Regan HM, Zedler PH, Franklin A (2010) Cumulative effects of land use, altered fire regime and climate change on persistence of Ceanothus verrucosus, a rare, fire-dependent plant species. Glob Change Biol 16:2518–2529. https://doi.org/10.1111/j.1365-2486.2009.02143.x

Marchetti MP, Moyle PB, Levine R (2004) Invasive species profiling? Exploring the characteristics of non-native fishes across invasion stages in California. Freshw Biol 49:646–661. https://doi.org/10.1111/j.1365-2427.2004.01202.x

Mateo RG, Croat TB, Felicisimo AM, Munoz J (2010) Profile or group discriminative techniques? Generating reliable species distribution models using pseudo-absences and target-group absences from natural history collections. Divers Distrib 16:84–94. https://doi.org/10.1111/j.1472-4642.2009.00617.x

Mayor SJ, Schneider DC, Schaefer JA, Mahoney SP (2009) Habitat selection at multiple scales. Ecoscience 16:238–247. https://doi.org/10.2980/16-2-3238

Mieszkowska N, Milligan G, Burrows MT, Freckleton R, Spencer M (2013) Dynamic species distribution models from categorical survey data. J Anim Ecol 82:1215–1226. https://doi.org/10.1111/1365-2656.12100

Moles AT et al (2012) Invasions: the trail behind, the path ahead, and a test of a disturbing idea. J Ecol 100:116–127. https://doi.org/10.1111/j.1365-2745.2011.01915.x

Nielsen SE, Johnson CJ, Heard DC, Boyce MS (2005) Can models of presence–absence be used to scale abundance? Two case studies considering extremes in life history. Ecography 28:197–208. https://doi.org/10.1111/j.0906-7590.2005.04002.x

Pauchard A, Alaback PB (2004) Influence of elevation, land use, and landscape context on patterns of alien plant invasions along roadsides in protected areas of south-central Chile. Conserv Biol 18:238–248. https://doi.org/10.1111/j.1523-1739.2004.00300.x

Pearson RG, Dawson TP (2003) Predicting the impacts of climate change on the distribution of species: are bioclimate envelope models useful? Glob Ecol Biogeogr 12:361–371. https://doi.org/10.1046/j.1466-822X.2003.00042.x

R Core Team (2015) R: a language and environment for statistical computing. R Foundation for Statistical Computing, Vienna, Austria. http://www.R-project.org/

Root T (1988) Environmental-factors associated with avian distributional boundaries. J Biogeogr 15:489–505. https://doi.org/10.2307/2845278

Story JM, Callan NW, Corn JG, White LJ (2006) Decline of spotted knapweed density at two sites in western Montana with large populations of the introduced root weevil, Cyphocleonus achates (Fahraeus). Biol Control 38:227–232. https://doi.org/10.1016/j.biocontrol.2005.12.018

Strang RM, Lindsay KM, Price RS (1979) Knapweeds: British Columbia's undesirable aliens. Rangelands 1:141–143

Strubbe D, Matthysen E, Graham CH (2010) Assessing the potential impact of invasive ring-necked parakeets Psittacula krameri on native nuthatches Sitta europeae in Belgium. J Appl Ecol 47:549–557. https://doi.org/10.1111/j.1365-2664.2010.01808.x

Suarez-Seoane S, Virgos E, Terroba O, Pardavila X, Barea-Azcon JM (2014) Scaling of species distribution models across spatial resolutions and extents along a biogeographic gradient. The case of the Iberian mole Talpa occidentalis. Ecography 37:279–292. https://doi.org/10.1111/j.1600-0587.2013.00077.x

Thuiller W, Richardson DM, Pysek P, Midgley GF, Hughes GO, Rouget M (2005) Niche-based modelling as a tool for predicting the risk of alien plant invasions at a global scale. Glob Change Biol 11:2234–2250. https://doi.org/10.1111/j.1365-2486.2005.01018.x

Tyser RW, Key CH (1988) Spotted knapweed in natural area fescue grasslands—an ecological assessment. Northwest Sci 62:151–160

VanDerWal J, Shoo LP, Johnson CN, Williams SE (2009) Abundance and the environmental niche: environmental suitability estimated from niche models predicts the upper limit of local abundance. Am Nat 174:282–291. https://doi.org/10.1086/600087

Watson AK, Renney AJ (1974) Biology of Canadian weeds. 6. Centaurea diffusa and Centaurea maculosa. Can J Plant Sci 54:687–701

Wiens JA (1989) Spatial scaling in ecology. Funct Ecol 3:385–397. https://doi.org/10.2307/2389612

Willis KJ, Whittaker RJ (2002) Ecology—species diversity—scale matters. Science 295:1245–+. https://doi.org/10.1126/science.1067335
Acknowledgements
We thank Catherine Graham and Norma Fowler for valuable advice and permission to use occurrence and density data for Long Island and the Adirondacks. We thank Gordon Fox for valuable advice and comments. Emily Rollinson, Ed Lowry, Genoveva Rodriguez-Castaneda and David Waring led field work to locate various spotted knapweed sites. We also thank David Waring for help with data analysis. We appreciate the various project aides that helped in the field work and data collection for this project. The data used in this study was collected with the U.S. National Science Foundation Grant DEB 1119891 to Jessica Gurevitch. We also thank Dianna Padilla, H. Resit Akçakaya and 2 anonymous reviewers for suggestions that greatly improved this manuscript.
About this article
Cite this article
Akin-Fajiye, M., Gurevitch, J. The influence of environmental factors on the distribution and density of invasive Centaurea stoebe across Northeastern USA. Biol Invasions 20, 3009–3023 (2018). https://doi.org/10.1007/s10530-018-1755-7
Received:

Accepted:

Published:

Issue Date:
Keywords
Spotted knapweed

Plant invasion

Northeast US

New York

Distribution models

Density