Abstract
The ruderal strategy is widely shared among non-native plants, providing a general explanation for the commonly observed positive effects of disturbance on invasions. How native ruderals respond to disturbance and how their abundance compares to that of non-native ruderals remains, however, poorly understood. Similarly, little is known about the role that disturbance type plays in the coexistence between native and non-native ruderals. We proposed that natural disturbance favors native over non-native ruderals, whereas novel anthropogenic disturbance favors non-natives over natives. To assess our general hypothesis, we conducted extensive field samplings in which we measured relative abundance, richness, and diversity of native and non-native ruderals in sites with natural and anthropogenic disturbance in central Argentina, a system where the ruderal strategy is common to a large number of native and non-native species. We found that natives dominated ruderal communities growing in recently burned grasslands, whereas non-natives dominated in roadsides. Additionally, the richness and diversity of native ruderal species were much greater than those of non-natives in sites with fire and in sites with grazing, but species richness and diversity did not differ between groups in roadsides. Because vegetation evolved with fire in our system and, in contrast, the construction and maintenance of roads is recent in it, these results support our hypothesis. Our work indicates that the ruderal strategy does not seem to suffice to explain why disturbance facilitates invasions. According to our data, species origin interacts with disturbance type to determine dominance in communities with coexisting native and non-native ruderals.
Access options
Buy single article
Instant access to the full article PDF.
US$ 39.95
Tax calculation will be finalised during checkout.
Subscribe to journal
Immediate online access to all issues from 2019. Subscription will auto renew annually.
US$ 79
Tax calculation will be finalised during checkout.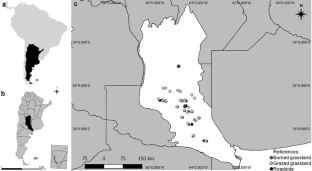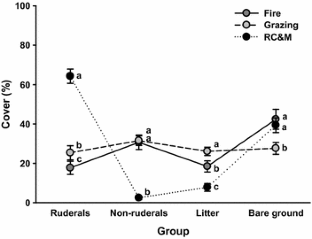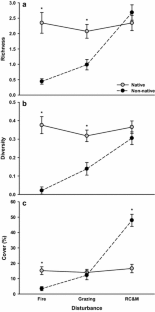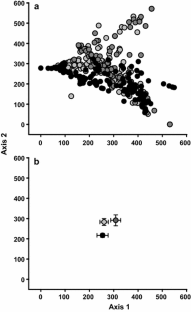 References
Adler PB, HilleRisLambers J, Levine JM (2007) A niche for neutrality. Ecol Lett 10:95–104

Alpert P, Bone E, Holzapfel C (2000) Invasiveness, invasibility and the role of environmental stress in the spread of non-native plants. Perspect Plant Ecol Evol Syst 3:52–66

Baker HG (1974) The evolution of weeds. Annu Rev Ecol Evol Syst 5:1–24

Bucher EH (1987) Herbivory in arid and semi-arid regions of Argentina. Rev Chil Hist Nat 60:265–273

Cabrera AL (1994) Regiones fitogeográficas argentinas. Primera reimpresión. Acme, Buenos Aires (in Spanish)

Cabrera AL, Willink A (1973) Biogeografia de America Latina. Serie Biologia No: 13. OEA, Washington, DC (in Spanish)

Callaway RM, Kikvidze Z, Kikodze D (2000) Facilitation by unpalatable weed may conserve plant diversity in overgrazed meadows in the Caucasus Mountains. Oikos 89:275–282

Cano E (1988) Pastizales naturales de La Pampa, Tomo I. Convenio AACREA-Provincia de La Pampa, Buenos Aires (in Spanish)

Cano E, Fernández B, Montes MA (1980) Inventario integrado de los recursos naturales de la provincia de La Pampa. UNLPam, Gobierno de la provincia de La Pampa e INTA, Buenos Aires (in Spanish)

Caplan JS, Yeackley JA (2013) Functional morphology underlies performance differences among invasive and non-invasive ruderal Rubus species. Oecologia 173:363–374

Carvalho LM, Antunes PM, Martins-Loucao MA, Klironomos JN (2010) Disturbance influences the outcome of plant–soil biota interactions in the invasive Acacia longifolia and in native species. Oikos 119:1172–1180

Cavieres L, Badano E (2009) Do facilitative interactions increase species richness at the entire community level? J Ecol 97:1181–1191

Chaneton E, Perelman SB, Omacini M, León RJC (2002) Grazing, environmental heterogeneity, and alien plant invasions in temperate Pampa grasslands. Biol Invasions 4:7–24

Chesson P (2000) Mechanisms of maintenance of species diversity. Annu Rev Ecol Evol Syst 31:343–366

Chiuffo MC (2016a) Centaurea solstitialis L. In: Herrera I, Goncalves E, Pauchard A, Bustamante RO (eds) Manual de plantas invasoras de Sudamérica. Trama Impresores, Santiago, pp 20–21 (in Spanish)

Chiuffo MC (2016b) Salsola kali L. In: Herrera I, Goncalves E, Pauchard A, Bustamante RO (eds) Manual de plantas invasoras de Sudamérica. Trama Impresores, Santiago, pp 14–15 (in Spanish)

Chiuffo MC (2016c) Ruderales exóticas versus ruderales nativas: respuesta a disturbios, retroalimentaciones planta-suelo y rasgos de historia de vida. Dissertation, University of Buenos Aires (in Spanish)

Chiuffo MC, MacDougall A, Hierro JL (2015) Native and non-native ruderals experience similar plant–soil feedbacks and neighbor effects in a system where they coexist. Oecologia 179:843–852

Connell JH (1978) Diversity in tropical rain forests and coral reefs. Science 199:1302–1310

D'Antonio CM, Dudley TL, Mack M (1999) Disturbance and biological invasions: direct effects and feedbacks. In: Walker LR (ed) Ecosystems of disturbed ground. Elsevier, Amsterdam, pp 413–452

Davis MA et al (2011) Don't judge species on their origins. Nature 474:153–154

Dinnage R (2009) Disturbance alters the phylogenetic composition and structure of plant communities in an old field system. PLoS ONE 4:e7071

Fernández OA, Leguizamón ES, Acciaresi HA, Troiani HO, Villamil CB (2016) Malezas e invasoras de la Argentina. Tomo II: descripción y reconocimiento, 1st edn. Universidad Nacional del Sur, Bahía Blanca (in Spanish)

Gallien L, Carboni M (2017) The community ecology of invasive species: where are we and what's next? Ecography 40:335–352

García Y, Castellanos MC, Pausas JG (2016) Fires can benefit plants by disrupting antagonistic interactions. Oecologia 182:1165–1173

Gray A (1879) The predominance and pertinacity of weeds. Am J Sci Arts 118:161–167

Grime JP (1974) Vegetation classification by reference to strategies. Nature 250:26–31

Grime JP (1977) Evidence for the existence of three primary strategies in plants and its relevance to ecological and evolutionary theory. Am Nat 982:1169–1194

Grime JP (2001) Plant strategies, vegetation processes, and ecosystem properties, 2nd edn. Wiley, New York

Grime JP, Pierce S (2012) The evolutionary strategies that shape ecosystems. Wiley, Oxford

Gross N, Liancourt P, Butters R, Duncan RP, Hulme PE (2015) Functional equivalence, competitive hierarchy and facilitation determine species coexistence in highly invaded grasslands. New Phytol 206:175–186

Harrison S, Hon C, Ratay S (2002) Distribution of exotic plants along roads in a peninsular reserve. Biol Invasions 4:425–430

Harte J, Kitzes J (2015) Inferring regional-scale species diversity from small-plot censuses. PLoS ONE 10(2):e0117527

Hierro JL, Cock MC (2013) Herbivore-mediated facilitation alters composition and increases richness and diversity in ruderal communities. Plant Ecol 214:1287–1297

Hierro JL, Maron JL, Callaway RM (2005) A biogeographical approach to plant invasions: the importance of studying exotics in their introduced and native range. J Ecol 93:5–15

Hierro JL, Villarreal D, Eren Ö, Graham J, Callaway RM (2006) Disturbance facilitates invasions: the effects are stronger abroad than at home. Am Nat 168:144–156

Hierro JL, Lortie CJ, Villarreal D, Estanga-Mollica ME, Callaway RM (2011) Resistance to Centaurea solstitialis from annual and perennial grasses in California and Argentina. Biol Invasions 13:2249–2259

Hill MO, Gauch HG Jr (1980) Detrended correspondence analysis: an improved ordination technique. Vegetatio 42:47–58

HilleRisLambers J, Adler PB, Harpole WS, Levine JM, Mayfield MM (2012) Rethinking community assembly through the lens of coexistence theory. Annu Rev Ecol Evol Syst 43:227–248

Jauni M, Gripenberg S, Ramula S (2015) Non-native plant species benefit from disturbance: a meta-analysis. Oikos 124:122–129

Kalwij JM, Milton SJ, McGeoch MA (2008) Road verges as invasion corridors? A spatial hierarchical test in an arid ecosystem. Landscape Ecol 23:439–451

Lonsdale WM (1999) Global patterns of plant invasions and the concept of invasibility. Ecology 80:1522–1536

Loockwood JL, Cassey P, Blackburn T (2005) The role of propagule pressure in explaining species invasions. Trends Ecol Evol 20:223–228

Lortie CJ, Brooker RW, Choler P, Kikvidze Z, Michalet R, Pugnaire FI, Callaway RM (2004) Rethinking plant community theory. Oikos 107:433–438

MacDougall AS, Gilbert B, Levine JM (2009) Plant invasions and the niche. J Ecol 97:609–615

Mack RN, Simberloff D, Lonsdale WM, Evans H, Clout M, Bazzaz F (2000) Biotic invasions: causes, epidemiology, global consequences and control issues. Ecology 5:1–20

Mahner M, Bunge M (1997) Foundations of biophilosophy. Springer, Berlin

Marone L, Galetto L (2011) El doble papel de las hipótesis en la investigación ecológica y su relación con el método hipotético-deductivo. Ecología Austral 21:201–216 (in Spanish)

McCune B, Grace JB (2002) Analysis of ecological communities. MjM Software, Gleneden Beach, Oregon, USA. www.pcord.com. Accessed 29 April 2014

McCune B, Mefford JB (2011) PC-ORD. Multivariate analysis of ecological data. Version 6.0

Medina AA (2007) Reconstrucción de los regímenes de fuego en un bosque de Prosopis caldenia, provincia de La Pampa, Argentina. Bosque 28:234–240 (in Spanish)

Medina AA, Dussart EG, Estelrich HD, Morici EA (2000) Reconstrucción de la historia del fuego en un bosque de Prosopis caldenia (Burk.) de Arizona, sur de la provincia de San Luis. Multequina 9:91–98 (in Spanish)

Moles AT et al (2012) Invasions: the trail behind, the path ahead, and a test of a disturbing idea. J Ecol 100:116–127

Ordoñez A, Olff H (2013) Do alien plant species profit more from high resource supply than natives? A trait-based analysis. Glob Ecol Biogeogr 22:648–658

Ordoñez A, Wright IJ, Olff H (2010) Functional differences between native and alien species: a global-scale comparison. Funct Ecol 24:1353–1361

Orians GH (1986) Site characteristics favoring invasions. In: Mooney HA, Drake JA (eds) Ecology of biological invasions of North America and Hawaii. Springer, New York, pp 133–145

Parker JD, Burkepile DE, Hay ME (2006) Opposing effects of native and exotic herbivores on plant invasions. Science 311:1459–1461

Patterson B, Pascual R (1972) The fossil mammal fauna of South America. In: Keast A, Erk F, Glass B (eds) Evolution, mammals, and the southern continents. State University of New York Press, New York, pp 247–309

Pauchard A, Alaback PB (2004) Influence of elevation, land use, and landscape context on patterns of alien plant invasions along roadsides in protected areas of South-Central Chile. Cons Biol 13:238–248

Pearson DE, Hierro JL, Chiuffo MC, Villarreal D (2014a) Rodent seed predation as a biotic filter influencing exotic plant abundance and distribution. Biol Invasions 16:1185–1196

Pearson DE, Icasatti NS, Hierro JL, Bird BJ (2014b) Are local filters blind to provenance? Ant seed predation suppresses exotic plants more than natives. PLoS ONE 9(8):e103824

Pickett STA, White PS (1985) The ecology of natural disturbance and patch dynamics. Academic Press, Orlando

Pissolito C, Guerrido C (2016) Taraxacum officinale F. H. Wigg. In: Herrera I, Goncalves E, Pauchard A, Bustamante RO (eds) Manual de plantas invasoras de Sudamérica. Trama Impresores, Santiago, pp 24–25 (in Spanish)

Prieto A (2000) Vegetational history of the Late glacial-Holocene transition in the grasslands of eastern Argentina. Palaeo 157:167–188

Primer Inventario Nacional de Bosques Nativos, Segunda Etapa (2006) Inventario de Campo en la Región Espinal. Distritos Caldén y Ñandubay. Secretaría de Ambiente y Desarrollo Sustentable de la Nación, Buenos Aires, Argentina (in Spanish)

Prina AO (1995) Las crucíferas de la provincia de La Pampa, República Argentina. Revista de la Facultad de Agronomía 8:29–67 (in Spanish)

Richardson DM, Ricciardi A (2013) Misleading criticisms of invasion science: a field guide. Divers Distrib 19:1461–1467

Rúgolo de Agrasar ZE, Steibel PE, Troiani HO (2005) Manual ilustrado de las gramíneas de la provincia de La Pampa. UNLPam-UNRC, Santa Rosa (in Spanish)

Salomone F (2005) Desarrollo de un índice de abundancia relativa para ciervo colorado (Cervus elaphus) en la reserva provincial Parque Luro, La Pampa. Informe final. Consejo Federal de Inversiones Provincia de La Pampa (in Spanish)

Seabloom EW, Borer ET, Martin BA, Orrock JL (2009) Effects of long-term consumer manipulations on invasion in oak savanna communities. Ecology 90:1356–1365

Seabloom EW et al (2015) Plant species' origin predicts dominance and response to nutrient enrichment and herbivores in global grasslands. Nat Commun 6:7710

Simberloff D, Vitule JR (2014) A call for an end to calls for the end of invasion biology. Oikos 123:408–413

Simberloff D et al (2011) Non-natives: 141 scientists object. Nature 475:36

Simberloff D, Martin J-L, Genovesi P et al (2013) Impacts of biological invasions: What's what and the way forward? Trends Ecol Evol 28:58–66

Sousa WP (1984) The role of disturbance in natural communities. Annu Rev Ecol Evol Syst 15:353–391

Troiani H, Steibel P (2008) Reconocimiento de malezas: Región subhúmeda y semiárida pampeana. UNLPam, Colegio de Ingenieros Agrónomos de La Pampa, Santa Rosa

Valéry L, Fritz H, Lefeuvre J-C (2013) Another call for the end of invasion biology. Oikos 122:1143–1146

van Kleunen M, Weber E, Fischer M (2011) A meta-analysis of trait differences between invasive and non-invasive plant species. Ecol Lett 13:235–245

Veen GF, de Vries S, Bakker ES, van der Putten WH, Olff H (2014) Grazing-induced changes in plant–soil feedback alter plant biomass allocation. Oikos 123:800–806

Walker LR, Willig MR (1999) An introduction to terrestrial disturbances. In: Walker LR (ed) Ecosystems of disturbed ground. Elsevier, Amsterdam, pp 1–16

Yunque A (1957) Historia de los argentinos. Editorial Futuro, Buenos Aires (in Spanish)
Acknowledgements
We are grateful to land owners who facilitated the access to study sites. We also thank K. Echevarria for her assistance in the field and lab. This manuscript greatly benefited from the thorough revision and insightful comments of C. Alba and an anonymous reviewer. Funding for this research was provided by ANPCyT (PICT PIDRI 2007 0287), CONICET (PIP 114 201101 00206), and UNLPam (CN219) to JLH.
Electronic supplementary material
Below is the link to the electronic supplementary material.
About this article
Cite this article
Chiuffo, M.C., Cock, M.C., Prina, A.O. et al. Response of native and non-native ruderals to natural and human disturbance. Biol Invasions 20, 2915–2925 (2018). https://doi.org/10.1007/s10530-018-1745-9
Received:

Accepted:

Published:

Issue Date:
Keywords
Caldenal

Central Argentina

Coexistence

Distribution patterns

Plant abundance

Plant strategy