Abstract
Non-hominid primates (NHPs) are some of the most understudied invasive mammals in terms of their impacts to biodiversity and the ability to successfully manage them, despite their having been implicated in numerous extinctions. We found 99 NHP populations of 37 species have been introduced on at least 67 islands and various mainland locations. NHPs have been implicated in at least 69 extinctions or extirpations. NHPs reduce human food security, display aggressive behavior sometimes resulting in human fatalities, and transmit diseases. We identified thirty islands where management is likely feasible and rank them by the potential biodiversity benefits of NHP management. At least eight attempts to eradicate NHP populations have been made with only one so far having been successful. Social considerations along with technological advancements in management methods are both needed to curb the impacts of NHPs and protect people and biodiversity on islands invaded by NHPs.
Access options
Buy single article
Instant access to the full article PDF.
US$ 39.95
Tax calculation will be finalised during checkout.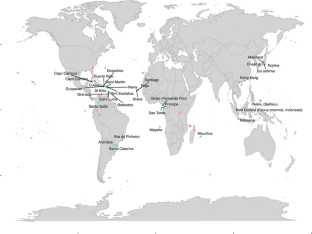 References
Allison A (2007) Introduction to the Fauna of Papua. In: Marshall AJ, Beehler BM (eds) Volume IV: the ecology of Papua, parts one and two. Periplus Edition, Singapore, pp 479–494

Angulo E, Roemer GW, Berec L et al (2007) Double Allee effects and extinction in the island fox. Conserv Biol 21:1082–1091

Atkinson I (1989) Introduced animals and extinctions. In: Western D, Pearl MC (eds) Conservation for the twenty-first century. Oxford University Press, New York, pp 54–75

Beach D (2014) Monkeys taking over country, nuisance complaints increase. The Daily Herald, Arlington Heights

Bellard C, Leclerc C, Courchamp F (2014) Impact of sea level rise on the 10 insular biodiversity hotspots. Glob Ecol Biogeogr 23:203–212

Bellard C, Cassey P, Blackburn TM (2016) Alien species as a driver of recent extinctions. Biol lett 12(2):20150623

Borroto-Paez R (2009) Invasive mammals in Cuba: an overview. Biol Invasions 11:2279–2290

Bovendorp RS, Galetti M (2007) Density and population size of mammals introduced on a land-bridge island in southeastern Brazil. Biol Invasions 9:353–357

Brack M (1998) Zoonoses of nonhuman primates—a review. In: Zwart P (ed) European Association of Zoo and Wildlife Veterinarians (EAZWV). Second Scientific Meeting, Chester, pp 25–41

Brack M (2012) Agents transmissible from simians to man. Springer, New York

Breckon GJ (2000) Revision of the flora of Desecheo Island, Puerto Rico. Carib J Sci 36:177–209

Campbell K, Donlan C (2005) Feral goat eradications on islands. Conserv Biol 19:1362–1374

Campbell K, Harper G, Algar D et al (2011) Review of feral cat eradications on islands. In: Veitch CR, Clout MN, Towns DR (eds) Island invasives: eradication and management. IUCN, Gland, pp 37–46

Caut S, Angulo E, Courchamp F (2008) Dietary shift of an invasive predator: rats, seabirds and sea turtles. J Appl Ecol 45:428–437

Chakraborty S (2015) Woman killed, 10 injured in monkey attack. The Times of India. https://timesofindia.indiatimes.com/city/kolkata/Woman-killed-10-injured-in-monkey-attack/articleshow/46523174.cms

Cheke AS (1987) An ecological history of the Mascarene Islands, with particular reference to extinctions and introductions of land vertebrates. In: Diamond AW (ed) Studies of Mascarene Island Birds. Cambridge University Press, Cambridge, pp 5–89

Clavero M, García-Berthou E (2005) Invasive species are a leading cause of animal extinctions. Trends Ecol Evol 20:110

Courchamp F, Sugihara G (1999) Modeling the biological control of an alien predator to protect island species from extinction. Ecol Appl 9:112–123

Courchamp F, Langlais M, Sugihara G (2000) Rabbits killing birds: modelling the hyperpredation process. J Anim Ecol 69:154–164

Cowan PE (2014) New approaches for control and eradication of invasive predators to protect native biodiversity. Landcare Research, Lincoln

Cromarty P, Broome K, Cox A et al (2002) Eradication planning for invasive alien species on islands—the approach developed by the New Zealand Department of Conservation. In: Veitch CR, Clout MN (eds) Turning the tide: the eradication of invasive species. IUCN SSC Invasive Species Specialist Group, Gland, Switzerland and Cambridge

Davis S, Heywood V, Hamilton A (1995) Centres of plant diversity: a guide and strategy for their conservation, II. Asia, Australasia and the Pacific. Worldwide Fund for Nature (WWF) and IUCN (The World Conservation Union), IUCN Publications, University of Cambridge. xiv + 578 pp, maps and photographs

Dawson J, Oppel S, Cuthbert RJ et al (2015) Prioritizing islands for the eradication of invasive vertebrates in the United Kingdom overseas territories. Conserv Biol 29:143–153

DIISE (2014) The database of island invasive species eradications, developed by Island Conservation, Coastal Conservation Action Laboratory UCSC, IUCN SSC Invasive Species Specialist Group, University of Auckland and Landcare Research New Zealand. http://diise.islandconservation.org. Accessed 21 Feb 2014

Dolman PM, Wäber K (2008) Ecosystem and competition impacts of introduced deer. Wildl Res 35:202–214

Drake DR, Bodey TW, Russell JC et al (2011) Direct impacts of seabird predators on island biota other than seabirds. In: Mulder CP, Anderson WB, Towns DR et al (eds) Seabird Islands: ecology, invasion and restoration. Oxford University Press, pp 91–132

Engeman RM, Laborde JE, Constantin BU et al (2010) The economic impacts to commercial farms from invasive monkeys in Puerto Rico. Crop Prot 29:401–405

Evans MA (1989) Ecology and removal of introduced rhesus monkeys: Desecheo Island National Wildlife Refuge, Puerto Rico. Puerto Rico Health Sci J 8:139–156

Fooden J (2000) Systematic review of the rhesus macaque, Macaca mulatta (Zimmermann, 1780). Field Museum of Natural History, Chicago

Fooden J, Aimi M (2005) Systematic review of Japanese macaques, Macaca fuscata (Gray, 1870). Fieldiana Zool 104:1–198

Gippoliti S, Amori G (2002) Anthropochorous wild mammal taxa and conservation lists. Conserv Biol 16(4):1162–1164

González-Martínez J (1998) The ecology of the introduced patas monkey (Erythrocebus patas) population of southwestern Puerto Rico. Am J Primatol 45:351–365

Gonzalez-Martinez J, File-Emperador S, Kessler M (2004) Health status of the introduced rhesus (Macaca mulatta) and patas (Erythrocebus patas) monkeys of southwestern Puerto Rico. In: American Journal of Primatology. Wiley-Blackwell, Malden, MA pp 56–56

Harris D (2009) Review of negative effects of introduced rodents on small mammals on islands. Biol Invasions 11:1611–1630

Howald G, Donlan CJ, Tershy BR et al (2007) Invasive rodent eradications on islands. Conserv Biol 21:1258–1268

Huff JL, Barry PA (2003) B-virus (Cercopithecine herpesvirus 1) infection in humans and macaques: potential for zoonotic disease. Emerg Infect Dis 9:246

Invasive Species Compendium (2012) Macaca fascicularis (crab-eating macaque). http://www.cabi.org/isc/datasheet/76108. Accessed 15 Feb 2017

IUCN (2017) 2017 IUCN Red list of threatened species www.iucnredlist.org. www.iucnredlist.org. Accessed 20 Mar 2017

James A (2015) Animal attack: monkey kills 4-year-old boy in Ghaziabad. International Business Times

Jensen K, Alvarado-Ramy F, González-Martínez J et al (2004) B-virus and free-ranging macaques, Puerto Rico. Emerg Infect Dis 10:494

Jones C (1987) The larger land-birds of Mauritius. Stud Mascarene Island Birds 208:300

Jones HP, Tershy BR, Zavaleta ES et al (2008) Severity of the effects of invasive rats on seabirds: a global review. Conserv Biol 22:16–26

Kawamoto Y (2005) NRAMP1 polymorphism in a hybrid population between Japanese and Taiwanese macaques in Wakayama, Japan. Primates 46:203–206

Kemp NJ, Burnett JB (2003) Final report: a biodiversity risk assessment and recommendations for risk management of long-tailed macaques (Macaca fascicularis) in New Guinea. Indo-Pacific Conservation Alliance, Washington, DC

Kemp NJ, Burnett JB (2006) A non-native primate (Macaca fascicularis) in Papua: implications for biodiversity. In: Marshall AJ, Beehler BM (eds) The ecology of Papua. Periplus Editions, Singapore

Kier G, Kreft H, Lee TM et al (2009) A global assessment of endemism and species richness across island and mainland regions. Proc Natl Acad Sci 106:9322–9327

Long JL (2003) Introduced mammals of the world: their history, distribution and influence. CSIRO Publishing, Collingwood

Madden F, McQuinn B (2014) Conservation's blind spot: the case for conflict transformation in wildlife conservation. Biol Cons 178:97–106

Masseti M, Bruner E (2009) The primates of the western Palaearctic: a biogeographical, historical, and archaeozoological review. J Anthropol Sci 87(33):e91

Matthews E, Colin L, Miles J et al (2011) Preventing the spread of crab-eating Macaques in the Republic of Palau. In: Atherton J, Duffy L (eds) Biodiversity conservation lessons learned technical series. Conservation International Pacific Islands Program, Washington DC

McGregor AM, Bishop RV (2011) A technical assessment of the current agricultural conditions of Angaur Island Palau: with recommendations for the sustainable use of the island's natural resources. Federal Ministry for Economic Cooperation and Development

Mittermeier R, Mittermeier C, Brooks T et al (2003) Wilderness and biodiversity conservation. Proc Natl Acad Sci 100:10309–10313

Mittermeier RA, Turner WR, Larsen FW et al (2011) Global biodiversity conservation: the critical role of hotspots. In: Biodiversity hotspots. Springer, Berlin, pp 3–22

Mooney HA, Cleland EE (2001) The evolutionary impact of invasive species. Proc Natl Acad Sci 98:5446–5451

Morrison SA (2007) Reducing risk and enhancing efficiency in non-native vertebrate removal efforts on islands: a 25 year multi-taxa retrospective from Santa Cruz Island, California. In: Witmer GW, Pitt WC, Fegerstone KA, Fegerstone KA (eds) Managing vertebrate invasive species. USDA/APHIS/WS, National Wildlife Research Center, Fort Collins

Morrison JA, Menzel EW (1972) Adaptation of a free-ranging rhesus monkey group to division and transplantation. Wildl Monogr 31:3–78

Mungroo Y, Tezoo V (1999) Control of invasive species in Mauritius. In: Lyons EE, Miller SE (eds) Invasive species of Eastern Africa: Proceedings of a workshop held at ICIPE. ICIPE, Nairobi, Kenya, pp 18–24

Myers JH, Simberloff D, Kuris AM et al (2000) Eradication revisited: dealing with exotic species. Trends Ecol Evol 15:316–320

National Institute for Environmental Studies Japan (2015) Invasive species of Japan: Macaca cyclopsis. In. https://www.nies.go.jp/biodiversity/invasive/DB/detail/10030e.html. Accessed 11 Sept 2015

Ostrowski SR, Leslie MJ, Parrott T et al (1998) B-virus from pet macaque monkeys: an emerging threat in the United States? Emerg Infect Dis 4:117

Pastorini J, Thalmann U, Martin RD (2003) A molecular approach to comparative phylogeography of extant Malagasy lemurs. Proc Natl Acad Sci 100:5879–5884

Poirier FE, Smith EO (1974) The crab-eating macaques (Macaca fascicularis) of Angaur Island, Palau, Micronesia. Folia Primatol 22:258–306

Roemer GW, Coonan TJ, Garcelon DK et al (2001) Feral pigs facilitate hyperpredation by golden eagles and indirectly cause the decline of the island fox. Anim Conserv 4:307–318

Russell JC, Ruffino L (2012) The influence of spatio-temporal resource fluctuations on insular rat population dynamics. Proc R Soc B Biol Sci 279:767–774

Safford RJ (1997) Nesting success of the Mauritius Fody Foudia rubra in relation to its use of exotic trees as nest sites. Ibis 139:555–559

Serio-Silva JC (2006) Las islas de los changos (the monkey islands): the economic impact of ecotourism in the region of Los Tuxtlas, Veracruz, Mexico. Am J Primatol 68:499–506

Sherley GH (2000) Invasive species in the Pacific: a technical review and draft regional strategy. South Pacific Regional Environment Programme. Apia, Samoa, p 190. http://www.issg.org/cii/Electronic%20references/pii/references/sherley_invasivespecies_in_the_pacific_a_technical_review_and_draft_regiona_strategy.pdf

Simberloff D (1995) Why do introduced species appear to devastate islands more than mainland areas? Pac Sci 49:87–97

Strier KB (2015) Primate behavioral ecology. Routledge, London

Sussman RW, Tattersall I (1981) Behavior and ecology of Macaca fascicularis in Mauritius: a preliminary analysis. Primates 22:192–205

Tershy BR, Shen KW, Newton KM et al (2015) The importance of islands for the protection of biological and linguistic diversity. Bioscience 65(6):592–597

Threatened Island Biodiversity Database Partners (2014) Threatened Island Biodiversity Database, http://tib.islandconservation.org/. 2012.1 edn. Island Conservation, University of California Santa Cruz Coastal Conservation Action Lab, BirdLife International and IUCN Invasive Species Specialist Group

Towns D (1991) Response of lizard assemblages in the Mercury Islands, New Zealand, to removal of an introduced rodent: the kiore (Rattus exulans). J R Soc N Z 21:119–136

Trask JS, George D, Houghton P et al (2013) Population and landscape genetics of an introduced species (M. fascicularis) on the island of Mauritius. PLoS ONE 8:e53001

US Fish and Wildlife Service (2015) Draft Environmental Assessment for Restoration of Habitat on the Desecheo National Wildlife Refuge through the Eradication of Non-native Rats

USDA, APHIS, WS (2003) Environmental assessment: management of feral and free-ranging patas and rhesus monkey populations to reduce threats to human health and safety, agriculture, nuisances, and impacts to native wildlife species in the Commonwealth of Puerto Rico. US Department of Agriculture, Animal and Plant Health Inspection Service, Wildlife Service, Washington, DC

USDA, APHIS, WS (2008) Managing damage and threats associated With invasive Patas and Rhesus Monkeys in the Commonwealth of Puerto Rico. US Department of Agriculture, Animal & Plant Health Inspection Service, Wildlife Service, Washington, DC

Vázquez DP (2002) Multiple effects of introduced mammalian herbivores in a temperate forest. Biol Invasions 4:175–191

Verhoeven KJ, Biere A, Harvey JA et al (2009) Plant invaders and their novel natural enemies: who is naive? Ecol Lett 12:107–117

Wheatley BP (1999) Sacred monkeys of Bali. Waveland Press, Long Grove

Wong C, Ni IH (2000) Population dynamics of the feral macaques in the Kowloon Hills of Hong Kong. Am J Primatol 50:53–66
Acknowledgements
Island Conservation, The University of Queensland, and Northern Illinois University funded staff time to compile this review. We thank Nick Holmes and two anonymous reviewers for their thoughtful comments on the manuscript.
Electronic supplementary material
Below is the link to the electronic supplementary material.
About this article
Cite this article
Jones, H.P., Campbell, K.J., Burke, A.M. et al. Introduced non-hominid primates impact biodiversity and livelihoods: management priorities. Biol Invasions 20, 2329–2342 (2018). https://doi.org/10.1007/s10530-018-1704-5
Received:

Accepted:

Published:

Issue Date:
Keywords
Invasive mammals

Invasive species

Primates

Non-hominid primates

Island ecology

Eradication