Abstract
Because Upper Midwest temperate forests lack native earthworms, the invasions of European and Asian earthworms can significantly alter soils and understory vegetation. Earthworms' ability to increase leaf litter decay, alter nutrient cycling by mixing the organic layer with mineral soil, and decrease plant species richness leads to concern about the Asian 'jumping earthworm' (Amynthas agrestis and A. tokioensis) species that were recorded in the University of Wisconsin—Madison Arboretum in 2013. In 2015, we found A. agrestis and A. tokioensis in a distinct 8-ha region of a 23-ha hardwood forest surveyed in the Arboretum; by 2016 A. agrestis and A. tokioensis had spread over an additional 7 ha. Plots also contained the European earthworm species Lumbricus terrestris, L. rubellus, and Apporectodea spp., whose distributions decreased from 2015 to 2016. While leaf litter, plant species richness, and tree and shrub seedling abundance were generally reduced in areas with European earthworms, they were typically slightly increased in areas with A. agrestis and A. tokioensis versus those without. Although our results do not show substantial impacts of A. agrestis and A. tokioensis on vegetation in the initial years of invasion, the rapid replacement of European earthworms by A. agrestis and A. tokioensis suggests continued monitoring of these new invasive species is important to better understand their potential to change the Upper Midwest's forests.
This is a preview of subscription content, log in to check access.
Access options
Buy single article
Instant access to the full article PDF.
US$ 39.95
Tax calculation will be finalised during checkout.
Subscribe to journal
Immediate online access to all issues from 2019. Subscription will auto renew annually.
US$ 99
Tax calculation will be finalised during checkout.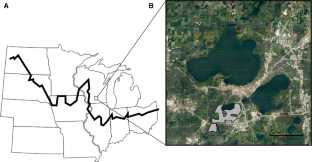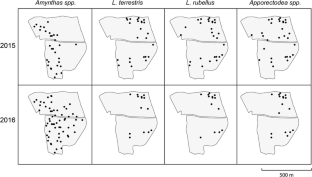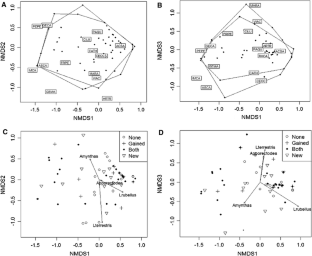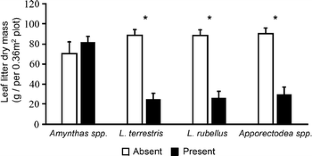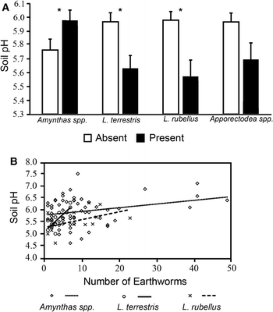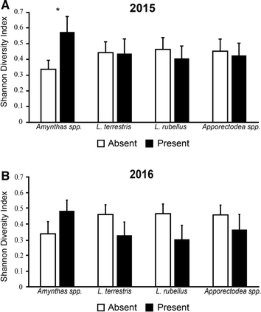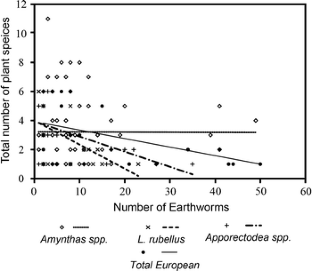 References
Asshoff R, Scheu S, Eisenhauer N (2010) Different earthworm ecological groups interactively impact seedling establishment. Eur J Soil Biol 46:330–334. https://doi.org/10.1016/j.ejsobi.2010.06.005

Bal TL, Storer AJ, Jurgensen MF (2017) Evidence of damage from exotic invasive earthworm activity was highly correlated to sugar maple dieback in the Upper Great Lakes region. Biol Invasions. https://doi.org/10.1007/s10530-017-1523-0

Beauséjour R, Handa IT, Lechowicz MJ et al (2015) Historical anthropogenic disturbances influence patterns of non-native earthworm and plant invasions in a temperate primary forest. Biol Invasions 17:1267–1281. https://doi.org/10.1007/s10530-014-0794-y

Bohlen PJ, Hendrix PF (2002) Exotic earthworm invasions in North America: ecological and policy implications. Bioscience 52:669–682. https://doi.org/10.1641/0006-3568(2002)052

Bohlen PJ, Scheu S, Hale CM et al (2004) Non-native invasive earthworms as agents of change in northern temperate forests. Front Ecol Environ 2:427–435

Bouché MB (1971) Relations entre les structures spatiales et fonctionelles des ecosystems, illustrées par le role pédobiologique des vers de terre. In: Pesson P (ed) La vie dans les sols, aspects nouveaux, études experimentales. Gauthier-Villars, Paris, pp 187–209

Burtelow A, Bohlen P, Groffman P (1998) Influence of exotic earthworm invasion on soil organic matter, microbial biomass and denitrification potential in forest soils of the northeastern United States. Appl Soil Ecol 9:197–202

Callaham MA, Hendrix PF, Phillips RJ (2003) Occurrence of an exotic earthworm (Amynthas agrestis) in undisturbed soils of the southern Appalachian Mountains, USA. Pedobiologia (Jena) 47:466–470

Chang CH, Snyder BA, Szlavecz K (2016a) Asian pheretimoid earthworms in North America north of Mexico: an illustrated key to the genera Amynthas, Metaphire, Pithemera, and Polypheretima (Clitellata: Megascolecidae). Zootaxa 4179:495–529

Chang CH, Szlavecz K, Buyer JS (2016b) Species-specific effects of earthworms on microbial communities and the fate of litter-derived carbon. Soil Biol Biochem 100:129–139. https://doi.org/10.1016/j.soilbio.2016.06.004

Chang CH, Szlavecz K, Filley T et al (2016c) Belowground competition among invading detritivores. Ecology 97:160–170. https://doi.org/10.1890/15-0551.1

Craven D, Thakur MP, Cameron EK et al (2017) The unseen invaders: introduced earthworms as drivers of change in plant communities in North American forests (a meta-analysis). Glob Chang Biol 23:1065–1074. https://doi.org/10.1111/gcb.13446

Dávalos A, Nuzzo V, Stark J, Blossey B (2013) Unexpected earthworm effects on forest understory plants. BMC Ecol 13:48. https://doi.org/10.1186/1472-6785-13-48

Drouin M, Bradley R, Lapointe L (2016) Linkage between exotic earthworms, understory vegetation and soil properties in sugar maple forests. For Ecol Manag 364:113–121. https://doi.org/10.1016/j.foreco.2016.01.010

Gibson KD, Quackenbush PM, Emery NC et al (2013) Invasive earthworms and plants in Indiana old- and second-growth Forests. Invasive Plant Sci Manag 6:161–174. https://doi.org/10.1614/IPSM-D-12-00046.1

Gorres JH, Melnichuk RDS (2012) Asian invasive earthworms of the genus Amynthas Kinberg in Vermont. Northeast Nat 19:313–322. https://doi.org/10.1656/045.019.0212

Gorres JH, Bellitürk K, Keller E (2014) Failure of an Amynthas agresitis (Goto & Hatai 1899) (Oligochaeta: Megascolecidae) population to expand its range within a sugar maple (Acer saccharum) stand. Megadrilogica 17:7–13

Greiner HG, Kashian DR, Tiegs SD (2012) Impacts of invasive Asian (Amynthas hilgendorfi) and European (Lumbricus rubellus) earthworms in a North American temperate deciduous forest. Biol Invasions 14:2017–2027. https://doi.org/10.1007/s10530-012-0208-y

Gundale MJ (2002) Influence of exotic earthworms on the soil organic horizon and the rare fern Botrychium mormo. Conserv Biol 16:1555–1561. https://doi.org/10.1046/j.1523-1739.2002.01229.x

Gunn A (1992) The use of mustard to estimate earthworm populations. Pedobiologia (Jena) 36:65–67

Hale CM, Host GE (2005) Assessing the impacts of European earthworm invasions in beech-maple hardwood and aspen-fir boreal forests of the western Great Lakes region. Natl Park Serv Gt Lakes Invent Monit Netw Rep GLKN/2005/:1–35

Hale CM, Frelich LE, Reich PB (2005) Exotic European earthworm invasion dynamics in northern hardwood forests of Minnesota, USA. Ecol Appl 15:848–860. https://doi.org/10.1890/03-5345

Hale CM, Frelich LE, Reich PB (2006) Changes in hardwood forest understory plant communities in response to European earthworm invasions. Ecology 87:1637–1649

Hale CM, Frelich LE, Reich PB, Pastor J (2008) Exotic earthworm effects on hardwood forest floor, nutrient availability and native plants: a mesocosm study. Oecologia 155:509–518. https://doi.org/10.1007/s00442-007-0925-6

Holdsworth AR, Frelich LE, Reich PB (2007) Effects of earthworm invasion on plant species richness in northern hardwood forests. Conserv Biol 21:997–1008. https://doi.org/10.1111/j.1523-1739.2007.00740.x

Kourtev PS, Huang WZ, Ehrenfeld JG (1999) Differences in earthworm densities and nitrogen dynamics in soils under exotic and native plant species. Biol Invasions 1:237–245. https://doi.org/10.1023/A:1010048909563

Larson ER, Kipfmueller KF, Hale CM et al (2010) Tree rings detect earthworm invasions and their effects in northern hardwood forests. Biol Invasions 12:1053–1066. https://doi.org/10.1007/s10530-009-9523-3

Lawrence B, Fisk MC, Fahey TJ, Suarez ER (2003) Influence of nonnative earthworms on mycorrhizal colonization of sugar maple (Acer saccharum). New Phytol 157:145–153. https://doi.org/10.1046/j.1469-8137.2003.00649.x

McCune B, Grace J (2002) Analysis of ecological communities. MJM Software Design, Oregon. https://doi.org/10.1016/S0022-0981(03)00091-1

Mueller-Dombois D, Ellenberg H (1974) Community sampling: the releve method. In: Aims and methods of vegetation ecology. Wiley, New York

Nuzzo VA, Maerz JC, Blossey B (2009) Earthworm invasion as the driving force behind plant invasion and community change in northeastern North American forests. Conserv Biol 23:966–974. https://doi.org/10.1111/j.1523-1739.2009.01168.x

Qiu J, Turner MG (2016) Effects of non-native Asian earthworm invasion on temperate forest and prairie soils in the Midwestern US. Biol Invasions. https://doi.org/10.1007/s10530-016-1264-5

R Development Core Team (2009) R: a language and environment for statistical computing. http://www.r-project.org

Richardson DR, Snyder BA, Hendrix PF (2009) Soil moisture and temperature: tolerances and optima for a non- native earthworm species, Amynthas agrestis (Oligochaeta: Opisthopora: Megascolecidae). Southeast Nat 8:325–334

RStudio Team (2015) RStudio: integrated development for R. RStudio Inc., Boston, MA. http://www.rstudio.com/

Snyder BA, Callaham MA, Hendrix PF (2011) Spatial variability of an invasive earthworm (Amynthas agrestis) population and potential impacts on soil characteristics and millipedes in the Great Smoky Mountains National Park, USA. Biol Invasions 13:349–358. https://doi.org/10.1007/s10530-010-9826-4

Stoscheck LM, Sherman RE, Suarez ER, Fahey TJ (2012) Exotic earthworm distributions did not expand over a decade in a hardwood forest in New York state. Appl Soil Ecol 62:124–130. https://doi.org/10.1016/j.apsoil.2012.07.002

Szlavecz K, Placella SA, Pouyat RV et al (2006) Invasive earthworm species and nitrogen cycling in remnant forest patches. Appl Soil Ecol 32:54–62. https://doi.org/10.1016/j.apsoil.2005.01.006

U.S. Climate Data (2017) http://www.usclimatedata.com

UW Arboretum (1981) The Arboretum: the outdoor laboratory after its first fifty years. Madison, Wisconsin

Wisconsin State Herbarium (2015) Flora of Wisconsin. In: Univ. Wisconsin. http://wisflora.herbarium.wisc.edu/. Accessed 1 Jan 2016

Zhang W, Hendrix PF, Snyder BA et al (2010) Dietary flexibility aids Asian earthworm invasion in North American forests. Ecology 91:2070–2079. https://doi.org/10.1890/09-0979.1
Acknowledgements
We thank the staff of the University of Wisconsin—Madison Arboretum for assistance with this research, and Jiangxiao Qiu and Carly Ziter for assistance with research design and collaboration. We thank Nicholas Keuler for statistical expertise and guidance, Mark Wegener for GIS support and map-making, and Will Vincent for figure drafting. We also thank Bernadette Williams, of the Wisconsin Department of Natural Resources, for sharing her knowledge of earthworm history and research in the area, and two anonymous reviewers for their helpful feedback.
Electronic supplementary material
Below is the link to the electronic supplementary material.
About this article
Cite this article
Laushman, K.M., Hotchkiss, S.C. & Herrick, B.M. Tracking an invasion: community changes in hardwood forests following the arrival of Amynthas agrestis and Amynthas tokioensis in Wisconsin. Biol Invasions 20, 1671–1685 (2018). https://doi.org/10.1007/s10530-017-1653-4
Received:

Accepted:

Published:

Issue Date:
Keywords
Megascolecidae

Lumbricidae

Amynthas agrestis
Amynthas tokioensis

Asian jumping worm

Biological invasion

Wisconsin