Abstract
The effects of non-native plants on habitat use are well studied; however, whether introduced plants negatively influence reproductive output of animal populations has received much less attention. We conducted a systematic literature review to evaluate the influence of non-native plants on reproductive performance in songbirds. Our global search resulted in 32 relevant articles, from which we compiled a dataset of 133 songbird responses to nesting in or around non-native vegetation. Reproductive metrics examined included measures of nest survival/mortality, productivity, fledgling survival, adult survival, nestling condition, and brood parasitism. Thirty-five percent of songbird reproductive responses were negative (n = 47), with 31% positive (n = 41) and 34% neutral (n = 45) responses found. Only 15% of responses were statistically significant effects (n = 20), and of these, negative effects were reported three times as often as positive effects. Non-significant trends were more prevalent (51% of responses), and the frequency of negative and positive trends was similar. The probability of finding a negative response (significant effect or non-significant trend) was higher for birds using introduced shrubs and wetland habitats. Mechanisms underlying responses were diverse, though similar drivers, such as differences in vegetation characteristics, predation pressure, and resource availability, were offered to explain both positive and negative effects. We found evidence for non-native plants as ecological traps in 39% of articles that assessed these phenomena (n = 16). This review highlights the sparsity of research targeting reproductive responses to plant invasion and synthesizes existing information to enhance our understanding of how birds respond to non-native plants. Our findings could be used to inform future research priorities in a world increasingly dominated by novel ecosystems.
Access options
Buy single article
Instant access to the full article PDF.
USD 39.95
Price excludes VAT (USA)
Tax calculation will be finalised during checkout.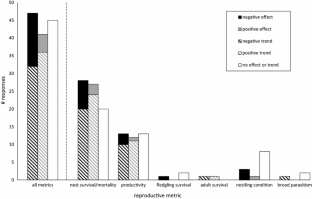 References
Anders A, Marshall M (2005) Increasing the accuracy of productivity and survival estimates in assessing landbird population status. Conserv Biol 19:66–74

Aslan C, Rejmanek M (2010) Avian use of introduced plants: ornithologist records illuminate interspecific associations and research needs. Ecol Appl 20:1005–1020

Ausprey IJ, Rodewald AD (2011) Postfledging survivorship and habitat selection across a rural-to-urban landscape gradient. Auk 128:293–302. https://doi.org/10.1525/auk.2011.10158

Bateman HL, Ostoja SM (2012) Invasive woody plants affect the composition of native lizard and small mammal communities in riparian woodlands. Anim Conserv 15:294–304. https://doi.org/10.1111/j.1469-1795.2011.00517.x

Bates D, Maechler M, Bolker B, Walker S (2014) lme4: linear mixed-effects models using Eigen and S4. R Package Version. doi: URL: http://CRAN.R-project.org/package=lme4

Battin J (2004) When good animals love bad habitats: ecological traps and the conservation of animal populations. Conserv Biol 18:1482–1491. https://doi.org/10.1111/j.1523-1739.2004.00417.x

Borgmann KL, Rodewald AD (2004) Nest predation in an urbanizing landscape: the role of exotic shrubs. Ecol Appl 14:1757–1765. https://doi.org/10.1890/03-5129

Carignan V, Villard M-A (2002) Selecting indicator species to monitor ecological integrity: a review. Environ Monit Assess 78:45–61

Chamberlain SA, Bronstein JL, Rudgers JA (2014) How context dependent are species interactions? Ecol Lett 17:881–890. https://doi.org/10.1111/ele.12279

Cristinacce A, Switzer RA, Cole RE et al (2009) Increasing use of exotic forestry tree species as refuges from nest predation by the critically endangered Mauritius fody Foudia rubra. Oryx 43:97–103. https://doi.org/10.1017/S0030605309001604

de la Hera I, Arizaga J, Galarza A (2013) Exotic tree plantations and avian conservation in northern Iberia: a view from a nest-box monitoring study. Anim Biodivers Conserv 36:153–163

Fisher RJ, Davis SK (2011) Post-fledging dispersal, habitat use, and survival of Sprague's pipits: are planted grasslands a good substitute for native? Biol Conserv 144:263–271. https://doi.org/10.1016/j.biocon.2010.08.024

Gleditsch J, Carlo T (2014) Living with aliens: effects of invasive shrub honeysuckles on avian nesting. PLoS ONE 9:1–9

Grant TA, Madden EM, Shaffer TL et al (2006) Nest survival of clay-colored and vesper sparrows in relation to woodland edge in mixed-grass prairies. J Wildl Manag 70:691–701. https://doi.org/10.2193/0022-541X(2006)70[691:NSOCAV]2.0.CO;2

Hajzlerova L, Reif J (2014) Bird species richness and abundance in riparian vegetation invaded by exotic Reynoutria spp. Biologia (Bratisl) 69:247–253. https://doi.org/10.2478/s11756-013-0296-x

Hladyz S, Abjornsson K, Giller PS, Woodward G (2011) Impacts of an aggressive riparian invader on community structure and ecosystem functioning in stream food webs. J Appl Ecol 48:443–452. https://doi.org/10.1111/j.1365-2664.2010.01924.x

Hobbs RJ, Arico S, Aronson J et al (2006) Novel ecosystems: theoretical and management aspects of the new ecological world order. Glob Ecol Biogeogr 15:1–7. https://doi.org/10.1111/j.1466-822x.2006.00212.x

Hobbs RJ, Higgs E, Harris JA (2009) Novel ecosystems: implications for conservation and restoration. Trends Ecol Evol 24:599–605. https://doi.org/10.1016/j.tree.2009.05.012

Hulme PE, Pyšek P, Jarošík V et al (2013) Bias and error in understanding plant invasion impacts. Trends Ecol Evol 28:212–218. https://doi.org/10.1016/j.tree.2012.10.010

Invasive Species Specialist Group ISSG (2015) The global invasive species database. Version 2015.1. http://www.iucngisd.org/gisd/

Jones ZF, Bock CE (2005) The Botteri's sparrow and exotic Arizona grasslands: an ecological trap or habitat regained? Condor 107:731–741. https://doi.org/10.1650/7741.1

Kennedy PL, DeBano SJ, Bartuszevige AM, Lueders AS (2009) Effects of native and non-native grassland plant communities on breeding passerine birds: implications for restoration of northwest bunchgrass prairie. Restor Ecol 17:515–525. https://doi.org/10.1111/j.1526-100X.2008.00402.x

King DI, Chandler RB, Schlossberg S, Chandler CC (2009) Habitat use and nest success of scrub-shrub birds in wildlife and silvicultural openings in western Massachusetts, USA. Forest Ecol Manag 257:421–426. https://doi.org/10.1016/j.foreco.2008.09.014

Leston LFV, Rodewald AD (2006) Are urban forests ecological traps for understory birds? An examination using northern cardinals. Biol Conserv 131:566–574. https://doi.org/10.1016/j.biocon.2006.03.003

Litt AR, Cord EE, Fulbright TE, Schuster GL (2014) Effects of invasive plants on arthropods. Conserv Biol 28:1532–1549. https://doi.org/10.1111/cobi.12350

Lituma CM, Morrison ML, Whiteside JD (2012) Restoration of grasslands and nesting success of dickcissels (Spiza americana). Southwest Nat 57:138–143

Lloyd JD, Martin TE (2005) Reproductive success of chestnut-collared longspurs in native and exotic grassland. Condor 107:363–374. https://doi.org/10.1650/7701

Ludlow SM, Brigham RM, Davis SK (2015) Oil and natural gas development has mixed effects on the density and reproductive success of grassland songbirds. Condor 117:64–75. https://doi.org/10.1650/CONDOR-14-79.1

Maddox JD, Wiedenmann RN (2005) Nesting of birds in wetlands containing purple loosestrife (Lythrum salicaria) and cattail (Typha spp.). Nat Areas J 25:369–373

Major RE, Kendal CE (1996) The contribution of artificial nest experiments to understanding avian reproductive success: a review of methods and conclusions. Ibis 138:298–307. https://doi.org/10.1111/j.1474-919X.1996.tb04342.x

Mcchesney HM, Anderson JT (2015) Reproductive success of field sparrows (Spizella pusilla) in response to invasive Morrow's honeysuckle: does Morrow's honeysuckle promote population sinks? Wilson J Ornithol 127:222–232

Meyer LM, Schmidt KA, Robertson BA (2015) Evaluating exotic plants as evolutionary traps for nesting veeries. Condor 117:320–327. https://doi.org/10.1650/CONDOR-14-101.1

Miller KS, McCarthy EM, Woodin MC, Withers K (2013) Nest success and reproductive ecology of the Texas Botteri's sparrow (Peucaea botterii texana) in exotic and native grasses. Southeast Nat 12:387–398. https://doi.org/10.1656/058.012.0212

Moore RP, Robinson WD (2004) Artificial bird nests, external validity, and bias in ecological field studies. Ecology 85:1562–1567. https://doi.org/10.1890/03-0088

Nelson SB, Coon JJ, Duchardt CJ et al (2017) Patterns and mechanisms of invasive plant impacts on North American birds: a systematic review. Biol Invasions. https://doi.org/10.1007/s10530-017-1377-5

Nordby JC, Cohen AN, Beissinger SR (2009) Effects of a habitat-altering invader on nesting sparrows: an ecological trap? Biol Invasions 11:565–575. https://doi.org/10.1007/s10530-008-9271-9

Ortega YK, McKelvey KS, Six DL (2006) Invasion of an exotic forb impacts reproductive success and site fidelity of a migratory songbird. Oecologia 149:340–351. https://doi.org/10.1007/s00442-006-0438-8

Pearson SF, Knapp SM (2016) Considering spatial scale and reproductive consequences of habitat selection when managing grasslands for a threatened species. PLoS One 11:e0156330. https://doi.org/10.1371/journal.pone.0156330

Pejchar L, Mooney HA (2009) Invasive species, ecosystem services and human well-being. Trends Ecol Evol 24:497–504. https://doi.org/10.1016/j.tree.2009.03.016

Pyšek P, Richardson DM, Pergl J et al (2008) Geographical and taxonomic biases in invasion ecology. Trends Ecol Evol 23:237–244. https://doi.org/10.1016/j.tree.2008.02.002

Pyšek P, Jarošík V, Hulme PE et al (2012) A global assessment of invasive plant impacts on resident species, communities and ecosystems: the interaction of impact measures, invading species' traits and environment. Glob Change Biol 18:1725–1737. https://doi.org/10.1111/j.1365-2486.2011.02636.x

R Core Team (2016) R: alanguage and environment for statistical computing. R Foundation for Statistical Computing, Vienna, Austria. 2015. URL http://www.R-project.org

Remes V (2003) Effects of exotic habitat on nesting success, territory density, and settlement patterns in the Blackcap (Sylvia atricapilla). Conserv Biol 17:1127–1133. https://doi.org/10.1046/j.1523-1739.2003.01611.x

Richardson DM, Holmes PM, Esler KJ et al (2007) Riparian vegetation: degradation, alien plant invasions, and restoration prospects. Divers Distrib 13:126–139. https://doi.org/10.1111/j.1472-4642.2006.00314.x

Robertson B, Hutto R (2006) A framework for understanding ecological traps and an evaluation of existing evidence. Ecology 87:1075–1085

Rodewald AD, Shustack DP, Hitchcock LE (2010) Exotic shrubs as ephemeral ecological traps for nesting birds. Biol Invasions 12:33–39

Rodewald AD, Rohr RP, Fortuna MA, Bascompte J (2014) Community-level demographic consequences of urbanization: an ecological network approach. J Anim Ecol 83: 1409–1417. https://doi.org/10.1111/1365-2656.12224

Ruehmann MB, Desmond MJ, Gould WR (2011) Effects of smooth brome on Brewer's sparrow nest survival in sagebrush steppe. Condor 113:419–428. https://doi.org/10.1525/cond.2011.100022

Safford RJ (1997) Nesting success of the Mauritius fody Foudia rubra in relation to its use of exotic trees as nest sites. Ibis 139:555–559

Scheiman DM, Bollinger EK, Johnson DH (2003) Effects of leafy spurge infestation on grassland birds. J Wildl Manag 67:115–121. https://doi.org/10.2307/3803067

Schirmel J, Bundschuh M, Entling MH et al (2016) Impacts of invasive plants on resident animals across ecosystems, taxa, and feeding types: a global assessment. Glob Change Biol 22:594–603. https://doi.org/10.1111/gcb.13093

Schlaepfer MA, Runge MC, Sherman PW (2002) Ecological and evolutionary traps. Trends Ecol Evol 17:474–480. https://doi.org/10.1016/S0169-5347(02)02580-6

Schlaepfer MA, Sherman PW, Blossey B, Runge MC (2005) Introduced species as evolutionary traps. Ecol Lett 8:241–246. https://doi.org/10.1111/j.1461-0248.2005.00730.x

Schlossberg S, King DI (2010) Effects of invasive woody plants on avian nest site selection and nesting success in shrublands. Anim Conserv 13:286–293. https://doi.org/10.1111/j.1469-1795.2009.00338.x

Schmidt KA, Whelan CJ (1999) Effects of exotic Lonicera and Rhamnus on songbird nest predation. Conserv Biol 13:1502–1506. https://doi.org/10.1046/j.1523-1739.1999.99050.x

Schmidt KA, Nelis LC, Briggs N, Ostfeld RS (2005) Invasive shrubs and songbird nesting success: effects of climate variability and predator abundance. Ecol Appl 15:258–265. https://doi.org/10.1890/03-5325

Sekercioglu CH (2006) Increasing awareness of avian ecological function. Trends Ecol Evol 21:464–471. https://doi.org/10.1016/j.tree.2006.05.007

Smith DM, Finch DM (2014) Use of native and nonnative nest plants by riparian-nesting birds along two streams in New Mexico. River Res Appl 30:1134–1145. https://doi.org/10.1002/rra.2713

Stoleson SH, Finch DM (2001) Breeding bird use of and nesting success in exotic Russian olive in New Mexico. Wilson Bull 113:452–455. https://doi.org/10.1676/0043-5643(2001)113[0452:BBUOAN]2.0.CO;2

Theoharides KA, Dukes JS (2007) Plant invasion across space and time: factors affecting nonindigenous species success during four stages of invasion. New Phytol 176:256–273. https://doi.org/10.1111/j.1469-8137.2007.02207.x

Thompson BC, Knadle GE, Brubaker DL, Brubaker KS (2001) Nest success is not an adequate comparative estimate of avian reproduction. J Field Ornithol 72:527–536

Van Horne B (1983) Density as a misleading indicator of habitat quality. J Wildl Manag 47:893–901. https://doi.org/10.2307/3808148

Vander Haegen WM, Schroeder MA, Chang W-Y, Knapp SM (2015) Avian abundance and reproductive success in the intermountain west: local-scale response to the conservation reserve program. Wildl Soc Bull 39:276–291. https://doi.org/10.1002/wsb.523

Vickery PD, Hunter ML, Wells JV (1992) Is density an indicator of breeding success? Auk 109:706–710. https://doi.org/10.2307/4088146

Vila M, Espinar JL, Hejda M et al (2011) Ecological impacts of invasive alien plants: a meta-analysis of their effects on species, communities and ecosystems. Ecol Lett 14:702–708. https://doi.org/10.1111/j.1461-0248.2011.01628.x

Wilcove DS, Rothstein D, Dubow J et al (1998) Quantifying threats to imperiled species in the United States. Bioscience 48:607–615. https://doi.org/10.2307/1313420
Acknowledgements
We thank W. Clements, J. Northrup, S. Reed and two anonymous reviewers for valuable comments that greatly improved earlier drafts of the manuscript.
Electronic supplementary material
Below is the link to the electronic supplementary material.
About this article
Cite this article
Stinson, L.T., Pejchar, L. The effects of introduced plants on songbird reproductive success. Biol Invasions 20, 1403–1416 (2018). https://doi.org/10.1007/s10530-017-1633-8
Received:

Accepted:

Published:

Issue Date:

DOI: https://doi.org/10.1007/s10530-017-1633-8
Keywords
Invasive exotic species

Non-native vegetation

Reproductive performance

Nest survival

Fitness

Ecological trap