Abstract
Earthworm invasions are one of the most serious causes of ecological deterioration in the temperate deciduous forests of North America. Non-native earthworms impact understory vegetation, leaf litter layer, carbon dynamics, nutrient availability, and the associated food webs. Here we report a significant status change and confirm expansion of known range of Amynthas agrestis, one of the most serious invasive species in North America, and two of its close relatives, A. tokioensis and Metaphire hilgendorfi. The three species have never been confirmed to co-occur in North American ecosystems. We examined 1760 earthworms collected from 30 sites across northeastern USA, and identified them using a new morphological key. Our data show that sympatric occurrence of at least two, and often all three, species is more common than having only one species. In addition, A. tokioensis was dominant in many of these earthworm communities. The status change in species composition from only one species to two or three and the shift in dominance are most likely caused by previous incorrect species identification. Our results support expansion of known range of A. tokioensis and M. hilgendorfi northward and westward into states with colder winters. This range expansion may have taken place alongside that of A. agrestis in the last 10–20 years, but has long been overlooked. Altogether, results highlight an urgent need for correct species identification. The recognition of an expanding multi-species system represents a unique opportunity to further evaluate complex interactions among co-invading and resident species, and to investigate whether interspecific interactions have unexpected non-additive impacts on ecological processes.
Access options
Buy single article
Instant access to the full article PDF.
USD 39.95
Price excludes VAT (USA)
Tax calculation will be finalised during checkout.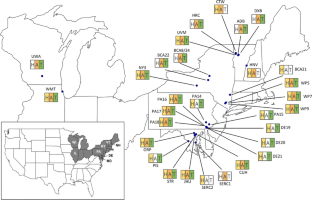 References
Bohlen PJ, Scheu S, Hale CM, McLean MA, Migge S, Groffman PM, Parkinson D (2004) Non-native invasive earthworms as agents of change in northern temperate forests. Front Ecol Environ 2(8):427–435

Callaham MA, Hendrix PF, Phillips RJ (2003) Occurrence of an exotic earthworm (Amynthas agrestis) in undisturbed soils of the southern Appalachian Mountains, USA. Pedobiologia 47:466–470

Chang CH, Szlavecz K, Filley T, Buyer JS, Bernard MJ, Pitz SL (2016a) Belowground competition among invading detritivores. Ecology 97:160–170

Chang CH, Snyder BA, Szlavecz K (2016b) Asian pheretimoid earthworms in North America north of Mexico: an illustrated key to the genera Amynthas, Metaphire, Pithemera, and Polypheretima (Clitellata: Megascolecidae). Zootaxa 4179(3):495–529

Chang CH, Szlavecz K, Buyer J (2016c) Species-specific effects of earthworms on microbial communities and the fate of litter-derived carbon. Soil Biol Biochem 100:129–139

Chang CH, Szlavecz K, Buyer J (2017) Amynthas agrestis invasion increases microbial biomass in Mid-Atlantic deciduous forests. Soil Biol Biochem 114:189–199

Craven D, Thakur MP, Cameron EK, Frelich LE, Beauséjour R, Blair RB, Blossey B, Burtis J, Choi A, Dávalos A, Fahey TJ, Fisichelli NA, Gibson K, Handa IT, Hopfensperger K, Loss SR, Nuzzo V, Maerz JC, Sackett T, Scharenbroch BC, Smith SM, Vellend M, Umek LG, Eisenhauer N (2017) The unseen invaders: introduced earthworms as drivers of change in plant communities in North American forests (a meta-analysis). Glob Change Biol 23:1065–1074

Dávalos A, Simpson E, Nuzzo V, Blossey B (2015) Non-consumptive effects of native deer on introduced earthworm abundance. Ecosystems 18:1029–1042

Gates GE (1958) On some species of the Oriental earthworm genus Pheretima Kinberg, 1867, with key to species reported from the Americas. Am Mus Novit 1888:1–33

Görres JH, Melnichuk RDS (2012) Asian invasive earthworms of the genus Amynthas Kinberg in Vermont. Northeastern Nat 19:313–322

Görres JH, Melnichuk RDS, Belliturk K (2014) Mortality pattern relative to size variation within Amynthas agrestis (Goto & Hatai 1899) (Oligochaeta: Megascolecidae) populations in the Champlain Valley of Vermont, USA. Megadrilogica 16:9–14

Görres JH, Bellitürk K, Melnichuk RD (2016) Temperature and moisture variables affecting the earthworms of genus Amynthas Kinberg, 1867 (Oligachaeta: Megascolecidae) in a hardwood forest in the Champlain Valley, Vermont, USA. Appl Soil Ecol 104:111–115

Greiner HG, Kashian DR, Tiegs SD (2012) Impacts of invasive Asian (Amynthas hilgendorfi) and European (Lumbricus rubellus) earthworms in a North American temperate deciduous forest. Biol Invasions 14:2017–2027

Qiu J, Turner MG (2017) Effects of non-native Asian earthworm invasion on temperate forest and prairie soils in the Midwestern US. Biol Invasions 19:73–88

Reynolds JW, Wetzel MJ (2008) Terrestrial ovligochaeta (Annelida: Clitellata) in North America, including Mexico, Puerto Rico, Hawaii, and Bermuda. Megadrilogica 12:157–208

Reynolds JW, Görres JH, Knowles ME (2015) A checklist by counties of earthworms (Oligochaeta: Acanthodrilidae, Lumbricidae and Megascolecidae) in the states of Maine, New Hampshire and Vermont, USA. Megadrilogica 17:125–140

Schult N, Pittenger K, Davalos S, McHugh D (2016) Phylogeographic analysis of invasive Asian earthworms of the genus Amynthas in the Northeast United States. Invertebr Biol 135:314–327

Snyder BA, Callaham MA Jr, Hendrix PF (2011) Spatial variability of an invasive earthworm (Amynthas agrestis) population and potential impacts on soil characteristics and millipedes in the Great Smoky Mountains National Park, USA. Biol Invasions 13:349–358

Snyder BA, Callaham MA Jr, Lowe CN, Hendrix PF (2013) Earthworm invasion in North America: food resource competition affects native millipede survival and invasive earthworm reproduction. Soil Biol Biochem 57:212–216

Szlavecz K, Placella SA, Pouyat RV, Groffman PM, Csuzdi C, Yesilonis I (2006) Invasive earthworm species and nitrogen cycling in remnant forest patches. Appl Soil Ecol 32:54–63

Szlavecz K, Chang C-H, Burgess JL, Csuzdi C (2014) Earthworms (Annelida: Clitellata) of Plummers Island, Maryland, USA, with description of a new species. Proc Biol Soc Wash 126:312–322

Zhang W, Hendrix PF, Snyder BA, Molina M, Li J, Rao X, Siemann E, Fu S (2010) Dietary flexibility aids Asian earthworm invasion in North American forests. Ecology 91:2070–2079
Acknowledgements
We are grateful to those who helped collecting earthworms in the field. We thank B. Blossey, V. Nuzzo, and E. Simpson for their contributions to Dávalos et al. 2015 study, and V. Nuzzo and two anonymous reviewers for helpful comments on an earlier version of this manuscript. Funding for this study was partially provided by the National Science Foundation (ACI-1244820 and EF-1550795 to KS and CHC and DEB-1036530 to DMH). Funding for West Point study was provided by the Strategic Environmental Research and Development Program (SERDP) of the U.S. Department of Defense (Grant RC-1542 to B. Blossey).
About this article
Cite this article
Chang, CH., Johnston, M.R., Görres, J.H. et al. Co-invasion of three Asian earthworms, Metaphire hilgendorfi, Amynthas agrestis and Amynthas tokioensis in the USA. Biol Invasions 20, 843–848 (2018). https://doi.org/10.1007/s10530-017-1607-x
Received:

Accepted:

Published:

Issue Date:

DOI: https://doi.org/10.1007/s10530-017-1607-x
Keywords
Earthworm invasion

Amynthas agrestis
Amynthas tokioensis
Metaphire hilgendorfi

Co-invasion