Abstract
Management of invasive species often raises substantial conflicts of interest. Since such conflicts can hamper proposed management actions, managers, decision makers and researchers increasingly recognize the need to consider the social dimensions of invasive species management. In this exploratory study, we aimed (1) to explore whether species' taxonomic position (i.e. animals vs. plants) and type of invaded landscape (i.e. urban vs. non-urban) might influence public perception about the management of invasive species, and (2) to assess the potential of public awareness to increase public support for invasive species management. We reviewed the scientific literature on the conflicts of interest around the management of alien species and administered two-phased questionnaires (before and after providing information on the target species and its management) to members of the public in South Africa and the UK (n = 240). Our review suggests that lack of public support for the management of invasive animals in both urban and non-urban areas derives mainly from moralistic value disagreements, while the management of invasive plants in non-urban areas mostly causes conflicts based on utilitarian value disagreements. Despite these general trends, conflicts are context dependent and can originate from a wide variety of different views. Notably, informing the public about the invasive status and negative impacts of the species targeted for management appeared to increase public support for the management actions. Therefore, our results align with the view that increased public awareness might increase the public support for the management of invasive species, independent of taxonomic position and type of landscape.
Access options
Buy single article
Instant access to the full article PDF.
US$ 39.95
Tax calculation will be finalised during checkout.
Subscribe to journal
Immediate online access to all issues from 2019. Subscription will auto renew annually.
US$ 79
Tax calculation will be finalised during checkout.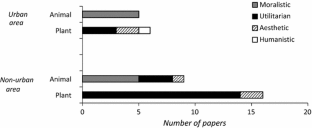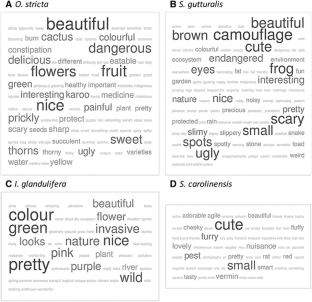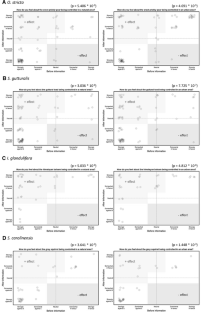 References
Adkins S, Shabbir A (2014) Biology, ecology and management of the invasive parthenium weed (Parthenium hysterophorus L.). Pest Manag Sci 70:1023–1029

Anderson EF (2001) The cactus family. Timber Press, Portland

Aracil Amat A (2016) La dimensión social en la expansión de especies invasoras. Situación del arruí (Ammotragus lervia) y necesidades de gestión en las sierras del Maigmó y del Sit. Departamento de Geografía Humana, Universidad de Alicante

Ash SJ, Adams CE (2003) Public preferences for free-ranging domestic cat (Felis catus) management options. Wildl Soc Bull 1:334–339

Beerling DJ, Perrins JM (1993) Impatiens glandulifera royle (Impatiens roylei Walp.). J Ecol 81:367–382

Bertolino S (2008) Introduction of the American grey squirrel (Sciurus carolinensis) in Europe: a case study in biological invasion. Curr Sci 95:903–906

Bertolino S, Genovesi P (2003) Spread and attempted eradication of the grey squirrel (Sciurus carolinensis) in Italy, and consequences for the red squirrel (Sciurus vulgaris) in Eurasia. Biol Conserv 109:351–358

Böhmer HJ (2003) Globalisierung am Mühlbach. Die Auswirkungen biologischer Invasionen. Politische Ökologie 85:70–71

Bremner A, Park K (2007) Public attitudes to the management of invasive non-native species in Scotland. Biol Conserv 139:306–314

CBD (2014) Pathways of introduction of invasive species, their prioritization and management. Secretariat of the Convention on Biological Diversity, Montreal

Channing A (2001) Amphibians of central and southern Africa. Cornell University Press, Ithaca

Chien CT, Lin TP (1999) Effects of moisture content and temperature on the storage and germination of Cinnamomum camphora seeds. Seed Sci Technol 27:315–320

de Neergaard A, Saarnak C, Hill T, Khanyile M, Berzosa AM, Birch-Thomsen T (2005) Australian wattle species in the Drakensberg region of South Africa—an invasive alien or a natural resource? Agric Syst 85:216–233

de Villiers A (2006) Bufo gutturalis power, 1927. Guttural toad. Introduced population. Afr Herp News 40:28–29

Dewey R (1960) The rural-urban continuum: real but relatively unimportant. Am J Sociol 66:60–66

Dickie IA, Bennett BM, Burrows LE et al (2014) Conflicting values: ecosystem services and invasive tree management. Biol Invasions 16:705–719. doi:10.1007/s10530-013-0609-6

Duron Q, Shiels AB, Vidal E (2016) Control of invasive rats on islands and priorities for future action. Conserv Biol. doi:10.1111/cobi.12885

Environment Canada (2004) An invasive alien species strategy for Canada. Government of Canada, Ottawa

Estévez RA, Anderson CB, Pizarro JC, Burgman MA (2015) Clarifying values, risk perceptions, and attitudes to resolve or avoid social conflicts in invasive species management. Conserv Biol 29:19–30. doi:10.1111/cobi.12359

Ford-Thompson ASE, Snell C, Saunders G, White PCL (2012) Stakeholder participation in management of invasive vertebrates. Conserv Biol 26:345–356

Foxcroft LC, Rouget M, Richardson DM, MacFadyen S (2004) Reconstructing 50 years of Opuntia stricta invasion in the Kruger National Park, South Africa: environmental determinants and propagule pressure. Divers Distrib 10:427–437

Fraser W (2001) Introduced wildlife in New Zealand: a survey of general public views. Landcare research science series no 23. Manaaki Whenua Press, New Zealand

Fraser A (2006) Public attitudes to pest control. A literature review. Department of Conservation, Wellington

Friedel MH, Grice AC, Marshall NA, van Klinken RD (2011) Reducing contention amongst organisations dealing with commercially valuable but invasive plants: the case of buffel grass. Environ Sci Policy 14:1205–1218. doi:10.1016/j.envsci.2011.08.001

Funk JL (2015) Invasive species: a global problem in need of a global solution. Bioscience 65:623–624

Gaertner M, Larson BMH, Irlich UM et al (2016) Managing invasive species in cities: a framework from Cape Town, South Africa. Landsc Urban Plan 151:1–9

García-Llorente M, Martín-López B, González JA, Alcorlo P, Montes C (2008) Social perceptions of the impacts and benefits of invasive alien species: implications for management. Biol Conserv 141:2969–2983

Gelcich S, Buckley P, Pinnegar JK, Chilvers J, Lorenzoni I, Terry G, Guerrero M, Castilla JC, Valdebenito A, Duarte CM (2014) Public awareness, concerns, and priorities about anthropogenic impacts on marine environments. Proc Natl Acad Sci USA 111:15042–15047

Genovesi P, Shine C (2004) European strategy on invasive alien species: convention on the conservation of European wildlife and habitats. Council of Europe

Goldstein EA, Lawton C, Sheehy E, Butler F (2014) Locating species range frontiers: a cost and efficiency comparison of citizen science and hair-tube survey methods for use in tracking an invasive squirrel. Wildl Res 41:64–75

Gruntman M, Pehl AK, Joshi S, Tielbörger K (2014) Competitive dominance of the invasive plant Impatiens glandulifera: using competitive effect and response with a vigorous neighbour. Biol Invasions 16:141–151

Henderson L (2015) Karoo invasion: is history repeating itself? Grassroots 15:50–59

Hobbs RJ, Arico S, Aronson J et al (2006) Novel ecosystems: theoretical and management aspects of the new ecological world order. Glob Ecol Biogeogr 15:1–7

Holmes TP, Aukema JE, Von Holle B, Liebhold A, Sills E (2009) Economic impacts of invasive species in forests: past, present, and future. Ann N Y Acad Sci 1162:18–38. doi:10.1111/j.1749-6632.2009.04446.x

Hubo C, Krott M (2010) Politiksektoren als Determinanten von Umweltkonflikten am Beispiel invasiver gebietsfremder Arten. In: Feindt PH, Saretzki T (eds) Umwelt- und Technikkonflikte. VS Verlag für Sozialwissenschaften, Wiesbaden, pp 219–238

Hulme PE (2014) Invasive species challenge the global response to emerging diseases. Trends Parasitol 30:267–270

Hulme PE, Bremner ET (2006) Assessing the impact of Impatiens glandulifera on riparian habitats: partitioning diversity components following species removal. J Appl Ecol 43:43–50

Kellert SR (1980) Contemporary values of wildlife in American society. In: Shaw WW, Zube EH (eds) Wildlife values. Center for Assessment of Noncommodity Natural Resource Values, Institutional Series Report. Rocky Mountain Forest and Range Experiment Station, Fort Collins, pp 31–60

Klapwijk MJ, Hopkins AJ, Eriksson L, Pettersson M, Schroeder M, Lindelöw Å, Rönnberg J, Keskitalo ECH, Kenis M (2016) Reducing the risk of invasive forest pests and pathogens: combining legislation, targeted management and public awareness. Ambio 45:223–234

Kowarik I (2011) Novel urban ecosystems, biodiversity, and conservation. Environ Pollut 159:1974–1983

Kraus F (2008) Alien reptiles and amphibians: a scientific compendium and analysis. Springer, New York

Kueffer C (2010) Transdisciplinary research is needed to predict plant invasion in an era of global change. Trends Ecol Evol 25:619–620

Kueffer C, Kull CA (2017) Non-native species and the aesthetics of nature. In: Vilà M, Hulme PE (eds) Impact of biological invasions on ecosystem services. Springer International Publishing, Berlin, pp 311–324

Le Houérou HN (1996) The role of cacti (Opuntia spp.) in erosion control, land reclamation, rehabilitation and agricultural development in the Mediterranean Basin. J Arid Environ 33:135–159. doi:10.1006/jare.1996.0053

Mack RN, Simberloff D, Mark Lonsdale W, Evans H, Clout M, Bazzaz FA (2000) Biotic invasions: causes, epidemiology, global consequences, and control. Ecol Appl 10:689–710

Mackenzie BF, Larson BMH (2010) Participation under time constraints: landowner perceptions of rapid response to the emerald ash borer. Soc Nat Resour 23:1013–1022. doi:10.1080/08941920903339707

Marchante E, Marchante H, Morais M, Freitas H (2010) Combining methodologies to increase public awareness about invasive alien plants in Portugal. In: 2nd international workshop on invasive plants in the mediterranean type regions of the world. European Environment Agency, Trabzon, pp 227–239

Marshall NA, Friedel M, van Klinken RD, Grice AC (2011) Considering the social dimension of invasive species: the case of buffel grass. Environ Sci Policy 14:327–338

Martin C (2007) Promoting awareness, knowledge and good intentions. In: Witmer GW, Pitt WC, Fagerstone KA (eds) Managing vertebrate invasive species: proceedings of an international symposium. USDA/APHIS Wildlife Services, National Wildlife Research Center, Colorado

Masubelele ML, Foxcroft LC, Milton SJ (2009) Alien plant species list and distribution for Camdeboo National Park, Eastern Cape Province, South Africa. Koedoe 51:1–10

Maule H, Andrews M, Watson C, Cherrill A (2000) Distribution, biomass and effect on native species of Impatiens glandulifera in a deciduous woodland in northeast England. Ann Appl Biol 58:31–38

Mayle BA, Broome AC (2013) Changes in the impact and control of an invasive alien: the grey squirrel (Sciurus carolinensis) in Great Britain, as determined from regional surveys. Pest Manag Sci 69:323–333

McNeely JA (2001) Global strategy on invasive alien species. IUCN, Gland

McNeely JA (2005) Human dimensions of invasive alien species. In: Moony HA, Mack RN, McNeely JA, Neville LE, Schei PJ, Waage JK (eds) Invasive alien species: a new synthesis. Island Press, Washington DC, pp 285–309

Measey GJ (2011) Ensuring a future for South Africa's frogs: a strategy for conservation research. South African National Biodiversity Institute, Claremont

Measey J, Davies S, Vimercati G, Rebelo A, Schmidt W, Turner AA (2017) Invasive amphibians in southern Africa: a review of invasion pathways. ABC Bothalia 47(2):a2117. doi:10.4102/abc.v47i2.2117

Mgidi TN, Le Maître DC, Schonegevel L, Nel JL, Rouget M, Richardson DM (2007) Alien plant invasions—incorporating emerging invaders in regional prioritization: a pragmatic approach for Southern Africa. J Environ Manag 84:173–187

Middleton AD (1931) The grey squirrel. Sidgewick & Jackson Ltd, London

Ministry of the environment, land and sea (2014) Eradication and trade of the American Grey squirrel (Sciurus carolinensis) in Italy. Convention on the conservation of European wildlife and natural habitats, Strasbourg

Miralles L, Dopico E, Devlo-Delva F, Garcia-Vazquez E (2016) Controlling populations of invasive pygmy mussel (Xenostrobus securis) through citizen science and environmental DNA. Marine Poll Bull 110:127–132

Moon K, Blackman DH, Brewer TD (2015) Understanding and integrating knowledge to improve invasive species management. Biol Invasions 17:2675–2689

Morse N, Pellissier P, Cianciola E, Brereton R, Sullivan M, Shonka N, Wheeler T, McDowell W (2014) Novel ecosystems in the Anthropocene: a revision of the novel ecosystem concept for pragmatic applications. Ecol Soc 19:12

Nefzaoui A (2007) Cactus to improve livestock feeding and income sources of the rural poor. Role of the FAO-Cactusnet. In: Priolo A, Biondi L, Ben Salem H, Morand-Fehr P (eds) Advanced nutrition and feeding strategies to improve sheep and goat. Zaragoza, CIHEAM, pp 301–302

Nimmo DG, Miller KK, Adams R (2007) Managing feral horses in Victoria: a study of community attitudes and perceptions. Ecol Manag Restor 8:237–243

Novoa A, González L (2014) Impacts of Carpobrotus edulis (L.) NE Br. on the germination, establishment and survival of native plants: a clue for assessing its competitive strength. PLoS ONE 9:07557. doi:10.1371/journal.pone.0107557

Novoa A, Kaplan H, Kumschick S, Wilson JRU, Richardson DM (2015) Soft touch or heavy hand? Legislative approaches for preventing invasions: insights from Cacti in South Africa. Invasive Plant Sci Manag 8:307–316. doi:10.1614/IPSM-D-14-00073.1

Novoa A, Kaplan H, Wilson JRU, Richardson DM (2016a) Resolving a prickly situation: involving stakeholders in invasive cactus management in South Africa. Environ Manag 57:998–1008

Novoa A, Kumschick S, Richardson DM, Wilson JRU (2016b) Native range size and growth form in Cactaceae predicts invasiveness and impact. Neobiota 30:75–90

Novoa A, Le Roux JJ, Richardson DM, Wilson JRU (2017) Level of environmental threat posed by horticultural trade in Cactaceae. Cons Biol 31:1066–1075. doi:10.1111/cobi.12892

Novoa A, Shackleton RT, Canavan S et al (2018) A framework for engaging stakeholders on the management of alien species. J Environ Manag 205:286–297. doi:10.1016/j.jenvman.2017.09.059

Nuñez MA, Simberloff D (2005) Invasive species and the cultural keystone species concept. Ecol Soc 10(1):r4

Otero Pedrayo R (1972) Poemas e contos da "Festa da mimosa". Casino de Carballiño, Spain

Patel S (2012) Reviewing the prospects of Opuntia pears as low cost functional foods. Rev Environ Sci Bio Technol 12:223–234. doi:10.1007/s11157-012-9295-6

Pimentel D, Zuniga R, Morrison D (2005) Update on the environmental and economic costs associated with alien-invasive species in the United States. Ecol Econ 52:273–288. doi:10.1016/j.ecolecon.2004.10.002

Powell KI, Chase JM, Knight TM (2013) Invasive plants have scale-dependent effects on diversity by altering species-area relationships. Science 339:317–319. doi:10.1126/science.1226817

Pyšek P, Prach K (1995) Invasion dynamics of Impatiens glandulifera—a century of spreading reconstructed. Biol Conserv 74:41–48

Pyšek P, Richardson DM (2010) Invasive species, environmental change and management, and health. Annu Rev Environ Resour 35:25–55. doi:10.1146/annurevenviron-033009-095548

Ratcliffe DA (1984) Post-medieval and recent changes in British vegetation: the culmination of human influence. New Phytol 98:73–100

Reed MS, Graves A, Dandy N et al (2009) Who's in and why? A typology of stakeholders analysis methods for natural resource management. J Environ Manag 90:1933–1949

Reis CS, Marchante H, Freitas H, Marchante E (2013) Public perception of invasive plant species: assessing the impact of workshop activities to promote young students' awareness. Int J Sci Educ 35:690–712

Richardson DM (ed) (2011) Fifty years of invasion ecology: the legacy of Charles Elton. Wiley, Oxford

Richardson S (2014) Final report. Guttural toad Amietophrynus gutturalis control programme. NCC Environmental Services

Richardson DM, Brown PJ (1986) Invasion of mesic mountain fynbos by Pinus radiata. S Afr J Bot 52:529–536

Richardson DM, van Wilgen BW, Higgins SI et al (1996) Current and future threats to biodiversity on the Cape Peninsula. Biodivers Conserv 5:607–647

Rodgers L, Black D, Bodle M, Laroche F (2014) Status of nonindigenous species. 2014 South Florida Environmental Report

Shackleton S, Kirby D, Gambiza J (2011) Invasive plants: friends or foes? Contribution of prickly pear (Opuntia ficus-indica) to livelihoods in Makana Municipality, Eastern Cape, South Africa. Dev S Afr 28:177–193. doi:10.1080/0376835X.2011.570065

Shackleton RT, Le Maitre DC, Richardson DM (2015) Stakeholder perceptions and practices regarding Prosopis (mesquite) invasions and management in South Africa. Ambio 44:569–581

Sharma OP, Sharma S, Pattabhi V, Mahato SB, Sharma PD (2007) A review of the hepatotoxic plant Lantana camara. Crit Rev Toxicol 37:313–352

Sharp RL, Larson LR, Green GT (2011) Factors influencing public preferences for invasive alien species management. Biol Conserv 144:2097–2104

Simberloff D, Rejmánek M (eds) (2011) Encyclopedia of biological invasions. University of California Press, Berkeley

Stace CA, Crawley MJ (2015) Alien plants. The new naturalist library. Harper Collins, London

Stokes KE, O'Neill KP, Montgomery WI, Dick JTA, Maggs CA, McDonald RA (2006) The importance of stakeholder engagement in invasive species management: a cross-jurisdictional perspective in Ireland. Biodivers Conserv 15:2829–2852

Stokstad E (2016) Red squirrels rising. Science 352(6291):1268–1271

Tanner RA, Varia S, Eschen R, Wood S, Murphy ST, Gange AC (2013) Impacts of an invasive non-native annual weed, Impatiens glandulifera, on above-and below-ground invertebrate communities in the United Kingdom. PLoS ONE 8:e67271

Téllez TR, Curiel PB, Salas JB, Pardo FMV (2016) Pasado, presente y futuro de una invasión biológica: Eichhornia crassipes (Mart.) Solms (camalote) en el río Guadiana. Conservación Vegetal 20:8–9

Turpie JK (2003) The existence value of biodiversity in South Africa: how interest, experience, knowledge, income and perceived level of threat influence local willingness to pay. Ecol Econ 46:199–216

van der Weijden W, Leewis RJ, Bol P (2007) Biological globalisation: bio-invasions and their impacts on nature, the economy, and public health. KNNV Publishing, The Netherlands

van Wilgen BW (2012) Evidence, perceptions, and trade-offs associated with invasive plant control in Table Mountain National Park, South Africa. Ecol Soc 17:23. doi:10.5751/ES-04590-170223

Walters M, Figueiredo E, Crouch NR, Winter PJD, Smith GF, Zimmermann HG, Mshope BK (2011) Naturalised and invasive succulents of southern Africa. Abc Taxa, Cape Town

Westbrooks RG (2011) Federal interagency coordination for invasive plant issues—The Federal Interagency Committee for the Management of Noxious and Exotic Weeds (FICMNEW). In: Leslie AR, Westbrooks RG (eds) Invasive plant management issues and challenges in the United States: 2011 overview. American Chemical Society, Washington DC, pp 121–128

Wickham H (2009) Ggplot2: elegant graphics for data analysis. Springer, New York

Woodford DJ, Richardson DM, MacIsaac HJ, Mandrak NE, van Wilgen BW, Wilson JRU, Weyl OLF (2016) Confronting the wicked problem of managing biological invasions. NeoBiota 31:63–86

Zenni RD, Dechoum M, Ziller SR (2016) Dez anos do informe brasileiro sobre espécies exóticas invasoras: avanços, lacunas e direções futuras. Biotemas 29:133–153
Acknowledgements
Funding was provided by the DST-NRF Centre of Excellence for Invasion Biology and Working for Water Programme through their collaborative research project on "Integrated management of invasive alien species in South Africa", the South African National Department of Environmental Affairs through its funding of the South African National Biodiversity Institute's Invasive Species Programme, the DST-NRF South African Research Chairs Initiative and the EcoDry Project. We acknowledge funding from the EcoDry project (EcoDry—Sharing Best Agroecological Practice for Resilient Production Systems in Dryland and Drought Conditions), an EU FP7-PEOPLE-2013-IRSES project that enabled involved researchers to travel between South Africa and the UK. We are also grateful to Judith Conroy and Diego for helping to conduct the surveys and to Stephanie Barr and Stuart Livingstone for helping with the literature review. AN also acknowledges funding from Project No. 14-36079G Centre of Excellence PLADIAS (Czech Science Foundation) and long-term research development project RVO 67985939 (The Czech Academy of Sciences). Finally, we thank Brendon Larson and two anonymous reviewers for comments on an early version of the manuscript.
Additional information
Guest Editors: Mirijam Gaertner, John R.U. Wilson, Marc W. Cadotte, J. Scott MacIvor, Rafael D. Zenni and David M. Richardson/Urban Invasions.
Electronic supplementary material
Below is the link to the electronic supplementary material.
About this article
Cite this article
Novoa, A., Dehnen-Schmutz, K., Fried, J. et al. Does public awareness increase support for invasive species management? Promising evidence across taxa and landscape types. Biol Invasions 19, 3691–3705 (2017). https://doi.org/10.1007/s10530-017-1592-0
Received:

Accepted:

Published:

Issue Date:
Keywords
Alien species

Attitudes

Non-native species

Public opposition

Public perception