Abstract
Cities are known to be extraordinarily rich in alien plant species compared to rural environments. This is related to specific attributes of urban areas including the availability of natural resources and habitats (namely geological substrates and land cover), the dispersal pathways and associated propagule pressure due to trade and traffic, and the proximity many urban hubs have to rivers. Here we explored how richness and proportions of alien species introduced after the discovery of the Americas (so-called neophytes), can be explained by environmental covariates along the urbanization gradient from very rural to very urbanized grid cells. We tested whether there is a specific urban effect, either as an interaction effect of urbanized areas that changes these general relationships, or if there is an effect due to specific urban conditions. We found that the environmental covariates explaining richness as well as proportions of neophytes remain largely the same across the rural–urban gradient. There is, however, an effect of urbanized area on neophyte species richness and proportions, which also incorporates strictly urban conditions. Rivers, roads and railroads contribute disproportionately less to the increase of neophyte species diversity in more urbanized areas, which might be due to the already higher number of neophytes in cities. We argue that the conditions determining neophyte richness in cities are not fundamentally different from those in rural environments, but extend on the same environmental axis, i.e. having different positions along the gradient towards the upper end.
Access options
Buy single article
Instant access to the full article PDF.
US$ 39.95
Tax calculation will be finalised during checkout.
Subscribe to journal
Immediate online access to all issues from 2019. Subscription will auto renew annually.
US$ 79
Tax calculation will be finalised during checkout.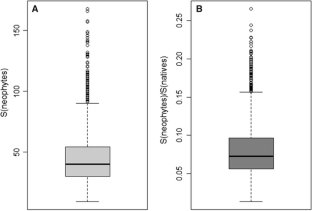 References
Aronson MFJ, La Sorte FA, Nilon CH et al (2014) A global analysis of the impacts of urbanization on bird and plant diversity reveals key anthropogenic drivers. Proc R Soc B 281:20133330

Bjornstad ON (2013) ncf: spatial nonparametric covariance functions. R package version 1.1-5

Botham MS, Rothery P, Hulme PE, Hill MO, Preston CD, Roy DB (2009) Do urban areas act as foci for the spread of alien plant species? An assessment of temporal trends in the UK. Divers Distrib 15:338–345

Brandes D (2002) Die Hafenflora von Braunschweig. Elektronische Veroffentlichung 23

Bundesamt für Kartographie und Geodäsie (2012) Digitales Landbedeckungsmodell für Deutschland—LBM-DE2012. Bundesamt für Kartographie und Geodäsie, Leipzig

Bundesanstalt für Geowissenschaften und Rohstoffe (1993) Geologische Karte der Bundesrepublik Deutschland 1:1 000 000. Bundesanstalt für Geowissenschaften und Rohstoffe, Hannover

Burton ML, Samuelson LJ, Pan S (2005) Riparian woody plant diversity and forest structure along an urban-rural gradient. Urban Ecosyst 8:93–106

Carl G, Kühn I (2007) Analyzing spatial autocorrelation in species distributions using Gaussian and logit models. Ecol Model 207:159–170

Carl G, Kühn I (2017) Spind: a package for computing spatially corrected accuracy measures. Ecography 40:675–682

Dehnen-Schmutz K, Touza J, Perrings C, Williamson M (2007) A century of the ornamental plant trade and its impact on invasion success. Divers Distrib 13:527–534

Deutschewitz K, Lausch A, Kühn I, Klotz S (2003) Native and alien plant species richness in relation to spatial heterogeneity on a regional scale in Germany. Global Ecol Biogeogr 12:299–311

Diggle PJ, Liang KY, Zeger SL (1995) Analysis of longitudinal data. Clarendon, Oxford

Dormann CF, McPherson JM, Araujo MB et al (2007) Methods to account for spatial autocorrelation in the analysis of species distributional data: a review. Ecography 30:609–628

Dormann CF, Elith J, Bacher S et al (2013) Collinearity: a review of methods to deal with it and a simulation study evaluating their performance. Ecography 36:27–46

Essl F, Bacher S, Blackburn TM et al (2015) Crossing frontiers in tackling pathways of biological invasions. BioScience 65:769–782

Ewald J (2003) The calcareous riddle: why are there so many calciphilous species in the central European flora? Folia Geobot 38:357–366

Francis AP, Currie DJ (2003) A globally consistent richness-climate relationship for angiosperms. Am Nat 161:523–536

Fronzek S, Carter TR, Jylhä K (2012) Representing two centuries of past and future climate for assessing risks to biodiversity in Europe. Global Ecol Biogeogr 21:19–35

Guisan A, Rahbek C (2011) SESAM—a new framework integrating macroecological and species distribution models for predicting spatio-temporal patterns of species assemblages. J Biogeogr 38:1433–1444

Haeupler H (1974) Statistische Auswertungen von Punktrasterkarten der Gefäßpflanzenflora Süd-Niedersachsens. Scr Geobot 8:1–141

Hanspach J, Kühn I, Pyšek P, Boos E, Klotz S (2008) Correlates of naturalization and occupancy of introduced ornamentals in Germany. Perspect Plant Ecol Evol Syst 10:241–250

Hulme PE (2009) Trade, transport and trouble: managing invasive species pathways in an era of globalization. J Appl Ecol 46:10–18

Hulme PE (2011) Addressing the threat to biodiversity from botanic gardens. Trends Ecol Evol 26:168–174

Klotz S, Il'minskich NG (1988) Uvelicivaetsja li schodstvo flor gorodov v chode ich istoriceskogo razvitija? In: Gorchakovskij PL, Grodzinskij AM, Il'minskich NG, Mirkin BM, Tuganaev VV (eds) Tezisy vsesozusnogo sovescanija Agrofitozenozy i ecologiceskie puti povysenija ich stabil'nosti i produktivnosti. Udmurtskij Gosudarstvennij universitet izevsk, Izevsk, pp 134–136

Knapp S, Kühn I (2012) Origin matters: widely distributed native and non-native species benefit from different functional traits. Ecol Lett 15:696–703

Knapp S, Kühn I, Schweiger O, Klotz S (2008) Challenging urban species diversity: contrasting phylogenetic patterns across plant functional groups in Germany. Ecol Lett 11:1054–1064

Kopecký K (1988) Einfluss der Strassen auf die Synanthropisierung der Flora und Vegetation nach Beobachtungen in der Tschechoslowakei. Folia Geobot 23:145–171

Kowarik I (1995) On the role of alien species in urban flora and vegetation. In: Pysek P, Prach K, Rejmánek M, Wade M (eds) Plant invasions: general aspects and special problems. SPB Academic Publishing, Amsterdam, pp 85–103

Kowarik I (2005) Urban ornamentals escaped from cultivation. In: Gressel J (ed) Crop ferality and volunteerism. CRC Press, pp 97–121

Kowarik I (2010) Biologische invasionen: neophyten und neozoen in mitteleuropa. Ulmer, Stuttgart

Kühn I (2007) Incorporating spatial autocorrelation may invert observed patterns. Divers Distrib 13:66–69

Kühn I, Dormann CF (2012) Less than eight (and a half) misconceptions of spatial analysis. J Biogeogr 39:995–998

Kühn I, Klotz S (2002) Floristischer Status und gebietsfremde Arten. In: Klotz S, Kühn I, Durka W (eds) BIOLFLOR—Eine Datenbank zu biologisch-ökologischen Merkmalen der Gefäßpflanzen in Deutschland. Bundesamt für Naturschutz, Bonn, pp 47–56

Kühn I, Klotz S (2006) Urbanisation and homogenization—comparing the floras of urban and rural areas in Germany. Biol Conserv 127:292–300

Kühn I, Bierman SM, Durka W, Klotz S (2006) Relating geographical variation in pollination types to environmental and spatial factors using novel statistical methods. New Phytol 172:127–139

Kühn I, Brandl R, Klotz S (2004) The flora of German cities is naturally species rich. Evol Ecol Res 6:749–764

Kühn I, Brandl R, May R, Klotz S (2003) Plant distribution patterns in Germany: will aliens match natives? Feddes Repert 114:559–573

Lambdon PW, Pyšek P, Basnou C et al (2008) Alien flora of Europe: species diversity, temporal trends, geographical patterns and research needs. Preslia 80:101–149

Lockwood JL, Cassey P, Blackburn T (2005) The role of propagule pressure in explaining species invasions. Trends Ecol Evol 20:223–228

Maurel N, Hanspach J, Kühn I, Pyšek P, van Kleunen M (2016) Introduction bias affects relationships between the characteristics of ornamental alien plants and their naturalization success. Glob Ecol Biogeogr 25:1500–1509

McLean P, Gallien L, Wilson JRU, Gaertner M, Richardson DM (2017) Small urban centres as launching sites for plant invasions in natural areas: insights from South Africa. Biol Invasions. doi:10.1007/s10530-017-1600-4

Moser D, Dullinger S, Englisch T et al (2005) Environmental determinants of vascular plant species richness in the Austrian Alps. J Biogeogr 32:1117–1127

Netzwerk Phytodiversität Deutschlands e.V., Bundesamt für Naturschutz (2013) Verbreitungsatlas der Farn-und Blütenpflanzen Deutschlands. Bundesamt für Naturschutz, Bonn, 912 pp

Nobis MP, Jaeger JAG, Zimmermann NE (2009) Neophyte species richness at the landscape scale under urban sprawl and climate warming. Divers Distrib 15:928–939

Padayachee AL, Irlich UM, Faulkner KT, Gaertner M, Procheş S, Wilson JRU, Rouget M (2017) How do invasive species travel to and through urban environments? Biol Invasions. doi:10.1007/s10530-017-1596-9

Pino J, Font X, Carbó J, Jové M, Pallarès L (2005) Large-scale correlates of alien plant invasion in Catalonia (NE of Spain). Biol Conserv 122:339–350

Planty-Tabacchi AM, Tabacchi E, Salinas Bonillo MJ (2001) Invasions of river corridors by exotic plant species: patterns and causes. In: Brundu G, Brock J, Camarda I, Child L, Wade M (eds) Plant invasions: species ecology and ecosystem management. Backhuys, Leiden, pp 221–234

Pyšek P (1993) Factors affecting the diversity of flora and vegetation in central European settlements. Vegetatio 106:89–100

Pyšek P, Richardson DM, Rejmánek M, Webster GL, Williamson M, Kirschner J (2004) Alien plants in checklists and floras: towards better communication between taxonomists and ecologists. Taxon 53:131–143

Pyšek P, Křivánek M, Jarošík V (2009) Planting intensity, residence time, and species traits determine invasion success of alien woody species. Ecology 90:2734–2744

Pyšek P, Manceur AM, Alba C et al (2015) Naturalization of central European plants in North America: species traits, habitats, propagule pressure, residence time. Ecology 96:762–774

QGIS Development Team (2015) GIS geographic information system. Open Source Geospatial Foundation. http://qgis.osgeo.org

R Core Team (2016) R: a language and environment for statistical computing. R Foundation for Statistical Computing, Vienna

Ricotta C, Celesti-Grapow L, Kühn I et al (2014) Geographical constraints are stronger than invasion patterns for European urban floras. Plos One 9:e85661

Säumel I, Kowarik I (2010) Urban rivers as dispersal corridors for primarily wind-dispersed invasive tree species. Landsc Urban Plan 94:244–249

Schadek U, Strauss B, Biedermann R, Kleyer M (2009) Plant species richness, vegetation structure and soil resources of urban brownfield sites linked to successional age. Urban Ecosyst 12:115–126

Schroeder FG (1969) Zur Klassifizierung der Anthropochoren. Vegetatio 16:225–238

Seebens H, Essl F, Dawson W et al (2015) Global trade will accelerate plant invasions in emerging economies under climate change. Global Change Biol 21:4128–4140

Štajerová K, Šmilauer P, Brůna J, Pyšek P (2017) Distribution of invasive plants in urban environment is strongly spatially structured. Landsc Ecol 32:681–692

Stohlgren TJ, Barnett DT, Kartesz JT (2003) The rich get richer: patterns of plant invasions in the United States. Front Ecol Environ 1:11–14

Vilà M, Pujadas J (2001) Land-use and socio-economic correlates of plant invasions in European and North African countries. Biol Conserv 100:397–401

von der Lippe M, Kowarik I (2008) Do cities export biodiversity? Traffic as dispersal vector across urban-rural gradients. Divers Distrib 14:18–25

von der Lippe M, Kowarik I (2012) Interactions between propagule pressure and seed traits shape human-mediated seed dispersal along roads. Perspect Plant Ecol Evol Syst 14:123–130

von der Lippe M, Bullock JM, Kowarik I, Knopp T, Wichmann M (2013) Human-mediated dispersal of seeds by the airflow of vehicles. Plos One 8:e52733

Walther G-R, Roque A, Hulme PE et al (2009) Alien species in a warmer world—risks and opportunities. Trends Ecol Evol 24:686–693

Wania A, Kühn I, Klotz S (2006) Plant richness patterns of plants in agricultural and urban landscapes in Central Germany—spatial gradients of species richness. Landsc Urban Plan 75:97–110

Zeger SL, Liang KY (1986) Longitudinal data analysis for discrete and continuous outcomes. Biometrics 42:121–130
Acknowledgements
We acknowledge the work of thousands of volunteers mapping the flora of Germany which is incorporated in www.floraweb.de, provided and maintained by the Federal Agency for Nature Conservation on behalf of the German Network for Phytodiversity (NetPhyD). We thank Sarah Passonneau for improving the language. Petr Pyšek and two anonymous referees provided valuable comments on the manuscript. This work was funded by the Programme Oriented Funding of the Helmholtz Association to the research programme "Terrestrial Environment", Topic "Land Use, Biodiversity and Ecosystem Services/Renewable Energies", Integrated Project T11 (Emerging Ecosystems). An early version of this paper was presented at a workshop on 'Non-native species in urban environments' hosted and funded by the DST-NRF Centre of Excellence for Invasion Biology (C·I·B) in Stellenbosch, South Africa, in November 2016. Comments and suggestions from participants at the workshop improved the paper.
Additional information
Guest Editors: Mirijam Gaertner, John R.U. Wilson, Marc W. Cadotte, J. Scott MacIvor, Rafael D. Zenni and David M. Richardson/Urban Invasions.
Electronic supplementary material
Below is the link to the electronic supplementary material.
About this article
Cite this article
Kühn, I., Wolf, J. & Schneider, A. Is there an urban effect in alien plant invasions?. Biol Invasions 19, 3505–3513 (2017). https://doi.org/10.1007/s10530-017-1591-1
Received:

Accepted:

Published:

Issue Date:
Keywords
Cities

Environmental covariates

Generalized estimating equations

Neophytes

Species richness