Abstract
Urban areas have unique assemblages of species which are governed by novel ecological processes. People living in these environments have specific needs and demands in terms of ecosystem services (ES). Urban ecosystems are transformed in many ways by human activities and their floras comprise a high proportion of alien plant species, many of which were intentionally introduced to provide, augment or restore ES. Urban environments also have novel disturbance regimes and provide colonization sites for the establishment, dispersal and proliferation of alien plant species; such conditions often generate biological invasions which may cause marked changes to ES. We review the roles that alien plants play in providing urban ES and ecosystem disservices (EDS) globally. We identify the main ES and EDS associated with alien plants, and highlight the key species involved. A literature search revealed 335 papers, representing studies in 58 cities or urban areas in 27 countries. These studies recorded 337 alien plant species, contributing to 39 different ES and 27 EDS–310 species were recorded as contributing to ES and 53 species to EDS. A small number of alien plant taxa were frequently recorded as providing multiple ES in many urban ecosystems; the 10 most recorded species accounted for 21% of the ES recorded. Some of these species also result in significant EDS; three species accounted for 30% of the EDS recorded. Cultural services (notably aesthetics) are the most reported ES provided by alien plants in urban areas of developed countries, while provisioning services (notably food production) are most reported in developing countries. The most commonly studied EDS provided by alien plants is the impact on human health (notably allergic reactions). Eighty percent of studies on alien plants and ES and EDS have been done in developed countries. To elucidate the full range of effects of alien plants, more work is needed in developing countries. Urban planners and managers need to be mindful of both the positive and negative impacts of alien plant species to maximise the provision of ES.
Access options
Buy single article
Instant access to the full article PDF.
US$ 39.95
Tax calculation will be finalised during checkout.
Subscribe to journal
Immediate online access to all issues from 2019. Subscription will auto renew annually.
US$ 79
Tax calculation will be finalised during checkout.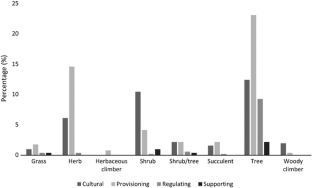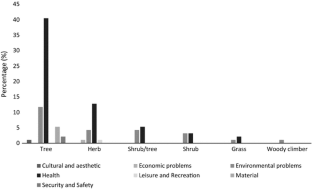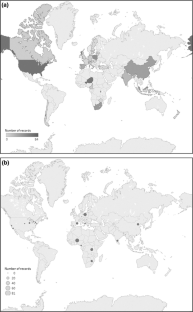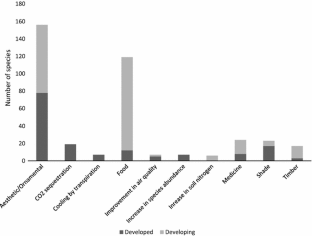 References
Abson DJ, Termansen M (2011) Valuing ecosystem services in terms of ecological risks and returns. Conserv Biol 25:250–258

Alpert P, Bone E, Holzapfel C (2000) Invasiveness, invasibility and the role of environmental stress in the spread of non-native plants. Perspect Plant Ecol Evol Syst 3:52–66

Alston KP, Richardson DM (2006) The roles of habitat features, disturbance, and distance from putative source populations in structuring alien plant invasions at the urban/wildland interface on the Cape Peninsula, South Africa. Biol Conserv 132:183–198

Anderson PML, O'Farrell PJ (2012) An ecological view of the history of the establishment of the City of Cape Town. Ecol Soc 17(3):28

Andersson E, Barthel S, Ahrné K (2007) Measuring social–ecological dynamics behind the generation of ecosystem services. Ecol Appl 17:1267–1278. doi:10.1890/06-1116.1

Aronson MFJ, Handel SN, Clemants SE (2007) Fruit type, life form and origin determine the success of woody plant invaders in an urban landscape. Biol Invasions 9:465–475. doi:10.1007/s10530-006-9053-1

Ballero M, Ariu A, Falagiani P (2003) Allergy to Ailanthus altissima (tree of heaven) pollen. Allergy 58:532–533. doi:10.1034/j.1398-9995.2003.00172.x

Barau AS (2015) Perception and contributions of households towards sustainable urban green infrastructure in Malaysia. Habitat Int 47:285–297

Bennett EM, Peterson GD, Gordon LJ (2009) Understanding relationships among multiple ecosystem services. Ecol Lett 12:1394–1404. doi:10.1111/j.1461-0248.2009.01387.x

Bigirimana J, Bogaert J, De Cannière C et al (2012) Domestic garden plant diversity in Bujumbura, Burundi: role of the socio-economical status of the neighborhood and alien species invasion risk. Landsc Urban Plan 107:118–126. doi:10.1016/j.landurbplan.2012.05.008

Blanckaert I, Swennen RL, Paredes Flores M et al (2004) Floristic composition, plant uses and management practices in homegardens of San Rafael Coxcatlan, Valley of Tehuacan-Cuicatlan, Mexico. J Arid Environ 57:179–202. doi:10.1016/S0140-1963(03)00100-9

Bogacki M, Syguła P (2013) The impact of biogenic volatile organic compounds emission on photochemical processes occurring in the troposphere. Geom Environ Eng 7(1):37–46

Bolund P, Hunhammar S (1999) Ecosystem services in urban areas. Ecol Econ 29:293–301. doi:10.1016/S0921-8009(99)00013-0

Borgström ST, Elmqvist T, Angelstam P, Alfsen-norodom C (2006) Scale mismatches in management of urban landscapes. Ecol Soc 11:16. doi:10.1097/MCC.0b013e32807f2aa5

Burrows GE, Tyrl RJ (2013) Toxic plants of North America, 2nd edn. Wiley-Blackwell, Hoboken

Cadotte et al (2017) Are urban systems beneficial, detrimental, or indifferent to species invasion. Biol Invasions. doi:10.1007/s10530-017-1586-y

Caceres HLL, Gerold G (2009) The costs of invasion control measures subtropical Ailanthus altissima in Hesse. Conference on international research on food security, natural resource management and rural development, Tropentag

Carpenter S, Walker B, Anderies JM, Abel N (2001) From metaphor to measurement: resilience of what to what? Ecosystems 4:765–781. doi:10.1007/si0021-001-0045-9

Casella F, Vurro M (2013) Ailanthus altissima (tree of heaven): spread and harmfulness in a case-study urban area. Arboric J Int J Urban For 35:172–181. doi:10.1080/03071375.2013.852352

Castro-Diez P, Godoy O, Saldana A, Richardson DM (2011) Predicting invasiveness of Australian acacias on the basis of the native climatic affinities, life history traits and human use. Divers Distrib 17:934–945. doi:10.1111/j.1472-4642.2011.00778.x

Celesti-Grapow L, Blasi C (1998) A comparison of the urban flora of different phytoclimatic regions in Italy. Glob Ecol Biogeogr Lett 7:367–378. doi:10.1046/j.1466-822X.1998.00304.x

Celesti-Grapow L, Blasi C (2004) The role of alien and native weeds in the deterioration of archaeological remains in Italy. Weed Technol 18:1508–1513. doi:10.1614/0890-037X(2004)018[1508:TROAAN]2.0.CO;2

Chalker-Scott L (2015) Nonnative, noninvasive woody species can enhance landscape biodiversity. Arboric Urban For 41:173–186

Chan KMA, Guerry AD, Balvanera P et al (2012) Where are cultural and social in ecosystem services? A framework for constructive engagement. Bioscience 62:744–756. doi:10.1525/bio.2012.62.8.7

Charles H, Dukes JS (2007) Impacts of invasive species on ecosystem services. In: Nentwig W (ed) Biological invasions. Springer, Berlin, pp 217–238

Chocholoušková Z, Pyšek P (2003) Changes in composition and structure of urban flora over 120 years: a case study of the city of Plzeň. Flora Morphol Distrib Funct Ecol Plants 198:366–376. doi:10.1078/0367-2530-00109

Cierjacks A, Kowarik I, Joshi J et al (2013) Biological flora of the British Isles: Robinia pseudoacacia. J Ecol 101:1623–1640. doi:10.1111/1365-2745.12162

Cilliers SS, Siebert S (2012) Urban ecology in Cape Town. Ecol Soc 17(3):33. doi:10.5751/ES-05146-170333

Cilliers S, Cilliers J, Lubbe R, Siebert S (2013) Ecosystem services of urban green spaces in African countries-perspectives and challenges. Urban Ecosyst 16:681–702. doi:10.1007/s11252-012-0254-3

Clarke LW, Li L, Jenerette GD, Yu Z (2014) Drivers of plant biodiversity and ecosystem service production in home gardens across the Beijing Municipality of China. Urban Ecosyst 17(3):741–760. doi:10.1007/s11252-014-0351-6

Cohen B (2004) Urban growth in developing countries: a review of current trends and a caution regarding existing forecasts. World Dev 32(1):23–51. doi:10.1016/j.worlddev.2003.04.008

Costanza R, Wilson M, Troy A, Voinov A, Liu S, D'Agostino J (2007) The value of New Jersey's ecosystem services and natural capital. Project report to the New Jersey Department of Environmental Protection

Daehler CC (2003) Performance comparisons of co-occurring native and alien invasive plants: implications for conservation and restoration. Annu Rev Ecol Evol Syst 34:183–211. doi:10.1146/132403

de Wit M, van Zyl H, Crookes D, Blignaut J, Jayiya T, Goiset V, Mahumani B (2009) Investing in natural assets: a business case for the environment in the City of Cape Town. Report prepared for the City of Cape Town, Natural Value Joint Venture, Brackenfell, South Africa. https://resource.capetown.gov.za/documentcentre/Documents/City%20research%20reports%20and%20review/EnvResEconomics-Final_Report_2009-08-18.pdf. Accessed 21 Feb 2016

Dearborn DC, Kark S (2010) Motivations for conserving urban biodiversity. Conserv Biolo 24:432–440

Derrick EK, Darley C (1994) Contact reaction to the tree of heaven. Contact Dermat 30(3):178. doi:10.1111/j.1600-0536.1994.tb00706.x

Dickie IA, Bennett BM, Burrows LE et al (2014) Conflicting values: ecosystem services and invasive tree management. Biol Invasions 16:705–719. doi:10.1007/s10530-013-0609-6

Drescher AW (2004) Food for the cities: urban agriculture in developing countries. Acta Hort 643:227–231

Dures SG, Cumming GS (2010) The confounding influence of homogenising invasive species in a globally endangered and largely urban biome: does habitat quality dominate avian biodiversity? Biol Conserv 143:768–777. doi:10.1016/j.biocon.2009.12.019

Dyderski MK, Gdula AK, Jagodziński AM (2015) "The rich get richer" concept in riparian woody species—a case study of the Warta River Valley (Poznań, Poland). Urban For Urban Green 14:107–114. doi:10.1016/j.ufug.2014.12.003

Elmqvist T, Alfsen-Norodom C, Colding J (2008) Urban systems. In: Jørgensen SE, Fath BD (eds) Ecosystems vol. [5] of encyclopedia of ecology. Elsevier, Oxford, pp 3665–3672

Elmqvist T, Fragkias M, Goodness J, Güneralp B, Marcotullio PJ, McDonald RI, Parnell S, Schewenius M, Sendstad M, Seto KC, Wilkinson C (2013) Urbanisation, biodiversity and ecosystem services: challenges and opportunities. Springer, Basel

Elmqvist T, Setala H, Handel SN et al (2015) Benefits of restoring ecosystem services in urban areas. Curr Opin Environ Sustain 14:101–108. doi:10.1016/j.cosust.2015.05.001

Eviner VT, Garbach K, Baty JH, Hoskinson SA (2012) Measuring the effects of invasive plants on ecosystem services: challenges and prospects. Invasive Plant Sci Manag 5:125–136. doi:10.1614/IPSM-D-11-00095.1

Foster J, Sandberg LA (2004) Friends of foe? Invasive species and public green space in Toronto. Geogr Rev 94:178–198

Gaertner M, Larson BMH, Irlich UM et al (2016) Managing invasive species in cities: a framework from Cape Town, South Africa. Landsc Urban Plan 151:1–9. doi:10.1016/j.landurbplan.2016.03.010

Gairola S, Bhatt A, Govender Y et al (2013) Incidence and intensity of tree infestation by the mistletoe Erianthemum dregei (Eckl. & Zeyh.) V. Tieghem in Durban, South Africa. Urban For Urban Green 12:315–322

Gaston KJ, Ávila-Jiménez ML, Edmondson JL (2013) REVIEW: managing urban ecosystems for goods and services. J Appl Ecol 50:830–840. doi:10.1111/1365-2664.12087

Gavier-pizarro AGI, Radeloff VC, Stewart SI et al (2010) Housing is positively associated with invasive exotic plant species richness in New England, USA. Ecol Appl 20:1913–1925. doi:10.1890/09-2168.1

Godefroid S (2001) Temporal analysis of the Brussels flora as indicator for changing environmental quality. Landsc Urban Plan 52:203–224. doi:10.1016/S0169-2046(00)00117-1

Grêt-Regamey A, Sirén E, Brunner SH, Weibel B (2016) Review of decision support tools to operationalize the ecosystem services concept. Ecosyst Serv. doi:10.1016/j.ecoser.2016.10.012

Grove JM, Troy AR, O'Neil-Dunne JPM, Burch WR, Cadenasso ML Jr, Pickett STA (2006) Characterization of households and its implications for the vegetation of urban ecosystems. Ecosystems 9:578–597. doi:10.1007/s10021-006-0116-z

Guitart D, Pickering C, Byrne J (2012) Past results and future directions in urban community gardens research. Urban For Urban Green 11:364–373. doi:10.1016/j.ufug.2012.06.007

Guo Q, Qian H, Ricklefs R, Xi W (2006) Distributions of exotic plants in eastern Asia and North America. Ecol Lett 9:827–834. doi:10.1111/j.1461-0248.2006.00938.x

Haase D, Frantzeskaki N, Elmqvist T (2014) Ecosystem services in urban landscapes: practical applications and governance implications. Ambio 43:407–412. doi:10.1007/s13280-014-0503-1

Haines-Young R, Potschin M (2010) The links between biodiversity, ecosystem services and human well-being. In: Raffaelii DG, Frid CLJ (eds) Ecosystem ecology: a new synthesis. Cambridge University Press, Cambridge, pp 110–139

Hobbs RJ, Higgs ES, Hall CM (eds) (2013) Defining novel ecosystems. In: Novel ecosystems: intervening in the new ecological world order. Wiley, Chichester, pp 58–60

Hope D, Gries C, Casagrande D et al (2006) Drivers of spatial variation in plant diversity across the central Arizona–Phoenix ecosystem. Soc Nat Resour 19:101–116. doi:10.1080/08941920500394469

Huebner CD, Nowak DJ, Pouyat RV, Bodine AR (2012) Nonnative invasive plants: maintaining biotic and socioeconomic integrity along the urban–rural–natural gradient. In: Laband DN, Lockaby BG, Zipperer W (eds) Urban–rural interfaces: linking people and nature. American Society of Agronomy, Soil Science Society of America, Madison, pp 71–98. doi:10.2136/2012.urban-rural.c5

Hui C, Richardson DM, Visser V (2017) Ranking of invasive spread through urban green areas in the world's 100 most populous cities. Biol Invasions. doi:10.1007/s10530-017-1584-0

Hulme PE, Brundu G, Carboni M et al (2017) Integrating invasive species policies across ornamental horticulture supply chains to prevent plant invasions. J Appl Ecol 00:1–7. doi:10.1111/1365-2664.12953

Hynes P, Howe G (2004) Urban horticulture in the contemporary united states: personal and community benefits. Acta Hortic 643:171–181. doi:10.17660/ActaHortic.2004.643.21

Irlich UM, Potgieter LJ, Stafford L, Gaertner M (2017) Recommendations for municipalities to become compliant with national legislation on biological invasions. Bothalia 47(2):a2156. doi:10.4102/abc.v47i2.2156

Johnston M, Nail S, James S (2012) 'Natives versus aliens': the relevance of the debate to urban forest management in Britain. In: Johnston M., Percival G, (eds) Trees, people and the built environment. Proceedings of the urban trees research conference, Birmingham, UK, pp 181–191

Kabisch N, Frantzeskaki N, Pauleit S, Naumann S, Davis M, Artmann M, Haase D, Knapp S, Korn H, Stadler J, Zaunberger K, Bonn A (2016) Nature-based solutions to climate change mitigation and adaptation in urban areas—perspectives on indicators, knowledge gaps, barriers and opportunities for action. Ecol Soc 21(2):39. doi:10.5751/ES-08373-210239

Klotz S, Kühn I (2010) Urbanisation and alien invasion. In: Gaston KJ (ed) Urban ecology. Cambridge University Press, Cambridge, pp 120–133

Kowarik I (1995) On the role of alien species in urban flora and vegetation. In: Pyšek P, Prach K, Rejmánek M, Wade M (eds) Plant invasions—general aspects and special problems. SPB Academic Publishing, Amsterdam, pp 85–103

Kowarik I (2003) Human agency in biological invasions: secondary releases foster naturalisation and population expansion of alien plant species. Biol Invasions 5:293–312. doi:10.1023/B:BINV.0000005574.15074.66

Kowarik I (2005) Urban ornamentals escaped from cultivation. In: Gressel J (ed) Crop ferality and volunteerism. CRC Press, Boca Raton, pp 97–121. doi:10.1201/9781420037999.ch7

Kowarik I, Säumel I (2007) Biological flora of Central Europe: Ailanthus altissima (Mill.) Swingle. Perspect Plant Ecol Evol Syst 8:207–237. doi:10.1016/j.ppees.2007.03.002

Kowarik I, Von Der Lippe M, Cierjacks A (2013) Prevalence of alien versus native species of woody plants in Berlin differs between habitats and at different scales. Preslia 85:113–132

Kremen C (2005) Managing ecosystem services: what do we need to know about their ecology? Ecol Lett 8:468–479. doi:10.1111/j.1461-0248.2005.00751.x

Kueffer C, Kull CA (2017) Non-native species and the aesthetics of nature. In: Vilà M, Hulme PE, Ruiz G (eds) Impact of biological invasions on ecosystem services. Springer, New York, pp 311–324

Kueffer C, Pysek P, Richardson DM (2013) Integrative invasion science: model organisms, multi-site studies, unbiased meta-analysis, and invasion syndromes (Tansley review). New Phytol 200:615–633

Kühn I, Klotz S (2006) Urbanization and homogeni-zation—comparing the floras of urban and rural areas in Germany. Biol Conserv 127:292–300. doi:10.1016/j.biocon.2005.06.033

Kühn I, Brandl R, Klotz S (2004) The flora of German cities is naturally species rich. Evol Ecol Res 6:749–764

Kumschick S, Gaertner M, Vilà M, Essl F, Jeschke JM, Pyšek P et al (2014) Ecological impacts of alien species: quantification, scope, caveats, and recommendations. Bioscience 65:55–63

Luck GW, Harrington R, Harrison PA et al (2009) Quantifying the contribution of organisms to the provision of ecosystem services. Bioscience 59:223–235. doi:10.1025/bio.2009.59.3.7

Luederitz C, Brink E, Gralla F et al (2015) A review of urban ecosystem services: six key challenges for future research. Ecosyst Serv 14:98–112. doi:10.1016/j.ecoser.2015.05.001

Mao Q, Ma K, Jianguo W, Rongli T, Shanghua L, Yuxin Z, Le B (2013) Distribution pattern of allergenic plants in the Beijing metropolitan region. Aerobiologia 29(2):217–231

Marozas V, Cekstere G, Laivins M, Straigyte L (2015) Comparison of neophyte communities of Robinia pseudoacacia L. and Acer negundo L. in the eastern Baltic Sea region cities of Riga and Kaunas. Urban For Urban Green 14:826–834

Maxwell D, Levin C, Csete J (1998) Does urban agriculture help prevent malnutrition? Evidence from Kampala. Food Policy 23:411–424

McKinney ML (2002) Urbanization, biodiversity, and conservation. Bioscience 52:883–890

McKinney ML (2006) Urbanization as a major cause of biotic homogenization. Biol Conserv 127:247–260. doi:10.1016/j.biocon.2005.09.005

McKinney ML, Lockwood JL (1999) Biotic homogenization: a few winners replacing many losers in the next mass extinction. Trends Ecol Evol 14:450–453. doi:10.1016/S0169-5347(99)01679-1

McLean P, Gallien L, Wilson JRU, Gaertner M, Richardson DM (2017) Small urban centres as launching sites for plant invasions in natural areas: insights from South Africa. Biol Invasions. doi:10.1007/s10530-017-1600-4

Millard A (2008) Semi-natural vegetation and its relationship to designated urban green space at the landscape scale in Leeds, UK. Landsc Ecol 23:1231–1241. doi:10.1007/s10980-008-9256-1

Millennium Ecosystem Assessment (2005) Ecosystems and human well-being. Island Press, Washington, D.C.

Millward AA, Sabir S (2011) Benefits of a forested urban park: what is the value of Allan Gardens to the city of Toronto, Canada? Landsc Urban Plan 100:177–188. doi:10.1016/j.landurbplan.2010.11.013

Ming R et al (2008) The draft genome of the transgenic tropical fruit tree papaya (Carica papaya Linnaeus). Nature 452:991–997

Moodley D, Geerts S, Richardson DM, Wilson JRU (2013) Different traits determine introduction, naturalization and invasion success in woody plants: proteaceae as a test case. PLoS ONE 8(9):e75078. doi:10.1371/journal.pone.0075078

Mooney HA (2005) Invasive alien species: the nature of the problem. In: Mooney HA et al (eds) Invasive alien species. Island Press, Washington DC, pp 1–15

Moser A, Rötzer T, Pauleit S, Pretzsch H (2015) Structure and ecosystem services of small-leaved lime (Tilia cordata Mill.) and black locust (Robinia pseudoacacia L.) in urban environments. Urban For Urban Green 14:1110–1121. doi:10.1016/j.ufug.2015.10.005

Noe SM, Peñuelas J, Niinemets Ü (2008) Monoterpene emissions from ornamental trees in urban areas: a case study of Barcelona, Spain. Plant Biol 10:163–169. doi:10.1111/j.1438-8677.2007.00014.x

OECD (2015) The metropolitan century: understanding urbanisation and its consequences. OECD Publishing, Paris. doi:10.1787/9789264228733-en

Padayachee AL, Irlich UM, Faulkner KT, Gaertner M, Procheş S, Wilson JRU, Rouget M (2017) How do invasive species travel to and through urban environments? Biol Invasions. doi:10.1007/s10530-017-1596-9

Pauchard A, Aguayo M, Peña E, Urrutia R (2006) Multiple effects of urbanization on the biodiversity of developing countries: the case of a fast-growing metropolitan area (Concepcion, Chile). Biol Conserv 127:272–281. doi:10.1016/j.biocon.2005.05.015

Pickett STA, Cadenasso ML, Grove JM et al (2001) Urban ecological systems: linking terrestrial ecological, physical, and socioeconomic components of metropolitan areas. Annu Rev Ecol Syst 32:127–157. doi:10.1007/978-0-387-73412-5_7

Pimentel D, McNair S, Janecka J et al (2001) Economic and environmental threats of alien plant, animal, and microbe invasions. Agric Ecosyst Environ 84:1–20. doi:10.1016/S0167-8809(00)00178-X

Piracha AL, Marcotullio PJ (2003) Urban ecosystem analysis: identifying tools and methods. United Nations University Institute for Advanced Studies, Tokyo

Potgieter LJ, Richardson DM, Wilson JRU (2014) Casuarina: biogeography and ecology of an important tree genus in a changing world. Biol Invasions 16:609–633. doi:10.1007/s10530-013-0613-x

Pyšek P (1998) Alien and native species in Central European urban floras: a quantitative comparison. J Biogeogr 25:155–163

Pyšek P, Richardson DM (2010) Invasive species, environmental change, and health. Annu Rev Environ Resour 35:25–55. doi:10.1146/annurev-environ-033009-095548

Pyšek P, Jarošík V, Hulme PE et al (2012) A global assessment of invasive plant impacts on resident species, communities and ecosystems: the interaction of impact measures, invading species' traits and environment. Glob Change Biol 18:1725–1737. doi:10.1111/j.1365-2486.2011.02636.x

Reichard SH, White P (2001) Horticulture as a pathway of invasive plant introductions in the United States. BioScience 51:103–113

Richardson DM, Pyšek P, Carlton JT (2011) A compendium of essential concepts and terminology in invasion ecology. In: Richardson DM (ed) Fifty years of invasion ecology. The legacy of Charles Elton. Wiley, Oxford, pp 409–420

Rodriguez JP et al (2006) Trade-offs across space, time, and ecosystem services. Ecol Soc 11(1):28

Roy S, Byrne J, Pickering C (2012) A systematic quantitative review of urban tree benefits, costs, and assessment methods across cities in different climatic zones. Urban For Urban Green 4(11):351–363

Scott M, Lennon M, Haase D, Kazmierczak A, Clabby G, Beatley T (2016) Nature-based solutions for the contemporary city. Plan Theory Prac 17:267–300

Shackleton RT, Le Maitre DC, Pasiecznik NM, Richardson DM (2014) Prosopis: A global assessment of the biogeography, benefits, impacts and management of one of the world's worst woody invasive plant taxa. AoB Plants 6: plu027. http://aobpla.oxfordjournals.org/content/6/plu027

Shackleton CM, Ruwanza S, Sinasson Sanni GK et al (2016) Unpacking Pandora's box: understanding and categorising ecosystem disservices for environmental management and human wellbeing. Ecosystems 19:587–600. doi:10.1007/s10021-015-9952-z

Sjöman H, Morgenroth J, Sjöman JD, Sæbø A, Kowarik I (2016) Diversification of the urban forest—can we afford to exclude exotic tree species? Urban For Urban Green 18:237–241

Sladonja B, Sušek M, Guillermic J (2015) Review on invasive tree of heaven (Ailanthus altissima (Mill.) Swingle) conflicting values: assessment of its ecosystem services and potential biological threat. Environ Manage 56:1009–1034. doi:10.1007/s00267-015-0546-5

Smith RM, Thompson K, Hodgson JG et al (2006) Urban domestic gardens (IX): composition and richness of the vascular plant flora, and implications for native biodiversity. Biol Conserv 129:312–322. doi:10.1016/j.biocon.2005.10.045

Song IJ, Hong SK, Kim HO et al (2005) The pattern of landscape patches and invasion of naturalized plants in developed areas of urban Seoul. Landsc Urban Plan 70:205–219. doi:10.1016/j.landurbplan.2003.10.018

Štajerová K, Šmilauer P, Brůna J, Pyšek P (2017) Distribution of invasive plants in urban environment is strongly spatially structured. Landsc Ecol 32:681–692

Sullivan JJ, Timmins SM, Williams PA (2005) Movement of exotic plants into coastal native forestsfrom gardens in northern New Zealand. N Z J Ecol 29:1–10

Tratalos J, Fuller RA, Warren PH, Davies RG, Gaston KJ (2007) Urban form, biodiversity potential and ecosystem services. Landsc Urban Plan 83:308–317

UNFPA (2007) State of the world population 2007: unleashing the potential of urban growth. United Nations Population Fund, New York

United Nations (2017) World Economic Situation and Prospects (WESP). United Nations publication. https://www.un.org/development/desa/dpad/wpcontent/uploads/sites/45/publication/2017wesp_full_en.pdf. Accessed 18 October 2016

Van Wilgen NJ, Richardson DM, Baard EHW (2008) Alien reptiles and amphibians in South Africa: towards a pragmatic management strategy. S Afr J Sci 104:13–20

Vaz AS, Kueffer C, Kull CA et al (2017a) Integrating ecosystem services and disservices: insights from plant invasions. Ecosyst Serv 23:94–107. doi:10.1016/j.ecoser.2016.11.017

Vaz AS, Kueffer C, Kull CA et al (2017b) The progress of interdisciplinarity in invasion science. Ambio 46:428–442

Von Der Lippe M, Kowarik I (2007) Long-distance dispersal of plants by vehicles as a driver of plant invasions. Conserv Biol 21:986–996. doi:10.1111/j.1523-1739.2007.00722.x

Von Döhren P, Haase D (2015) Ecosystem disservices research: a review of the state of the art with a focus on cities. Ecol Indic 52:490–497. doi:10.1016/j.ecolind.2014.12.027

Walker GA, Robertson MP, Gaertner M, Gallien L, Richardson DM (2017) The potential range of Ailanthus altissima (tree of heaven) in South Africa: the roles of climate, land use and disturbance. Biol Invasions. doi:10.1007/s10530-017-1597-8

Wania A, Kühn I, Klotz S (2006) Plant richness patterns in agricultural and urban landscapes in central Germany—spatial gradients of species richness. Landsc Urban Plan 75:97–110. doi:10.1016/j.landurbplan.2004.12.006

Williams NSG, Hahs AK, Vesk PA (2015) Urbanisation, plant traits and the composition of urban floras. Perspect Plant Ecol Evol Syst 17:78–86. doi:10.1016/j.ppees.2014.10.002

Williamson M, Fitter A (1996) The varying success of invaders. Ecology 77:1661–1666. doi:10.2307/2265769

Winklerprins AMGA, de Souze P (2005) Surviving the city: urban home gardens and the economy of affection in the Brazilian Amazon. J Lat Am Geogr 4:107–126. doi:10.1353/lag.2005.0033
Acknowledgements
We acknowledge financial support from the DST-NRF Centre of Excellence for Invasion Biology (C·I·B) and the National Research Foundation of South Africa (Grant 85417 to DMR). An early version of this paper was presented at a workshop on "Non-native species in urban environments: Patterns, processes, impacts and challenges" that was hosted by the C·I·B in Stellenbosch in November 2016. Many participants at the workshop provided useful comments and suggestions that improved the paper.
Additional information
Guest Editors: Mirijam Gaertner, John R. U. Wilson, Marc W. Cadotte, J. Scott MacIvor, Rafael D. Zenni and David M. Richardson/Urban Invasions.
Electronic supplementary material
Below is the link to the electronic supplementary material.
About this article
Cite this article
Potgieter, L.J., Gaertner, M., Kueffer, C. et al. Alien plants as mediators of ecosystem services and disservices in urban systems: a global review. Biol Invasions 19, 3571–3588 (2017). https://doi.org/10.1007/s10530-017-1589-8
Received:

Accepted:

Published:

Issue Date:
Keywords
Ailanthus altissima

Biological invasions

Developed and developing countries

Human health

Planning and management

Plant invasions

Tree invasions

Urbanisation

Urban ecosystems