Abstract
Round Goby Neogobius melanostomus invasion of the Grand River (Ontario, Canada) presents an opportunity to assess the role of abiotic gradients in mediating the establishment and impact of nonnative benthic fishes in rivers. In this system, sequential low-head dams delineate uninvaded and invaded river reaches and create upstream gradients of increasing water velocity. We hypothesized that flow refugia created by impounded reservoirs above low-head dams enhance local Round Goby abundance. Round Goby influence on the native fish community was determined by variance partitioning, and we used generalized additive models to identify small-bodied benthic fish species most likely to be impacted by Round Goby invasion. Round Goby abundance declined as the degree of reservoir effect decreased upstream. The distributions of four species (including the endangered Eastern Sand Darter Ammocrypta pellucida) in invaded reaches were best explained by inclusion of both reservoir-associated abiotic variables and Round Goby abundance as model terms. To determine establishment potential of the uninvaded reach immediately upstream, four environmental habitat characteristics were used in discriminant function analysis (DFA) to predict three potential outcomes of introduction: non-invaded and either lower or higher Round Goby abundance (low and high invasion status, respectively) than the median number of Round Goby at invaded sites. Our DFA function correctly classified non-invaded and high-abundance invasion status sites > 85% of the time, with lower (73%) success in classifying low-abundance invasion status sites, and the spatial pattern of our results suggest that likelihood of establishment is greatest in impounded habitat.
Access options
Buy single article
Instant access to the full article PDF.
US$ 39.95
Tax calculation will be finalised during checkout.
Subscribe to journal
Immediate online access to all issues from 2019. Subscription will auto renew annually.
US$ 79
Tax calculation will be finalised during checkout.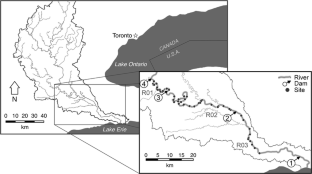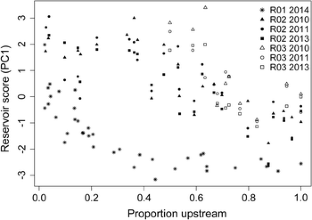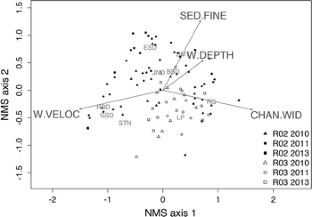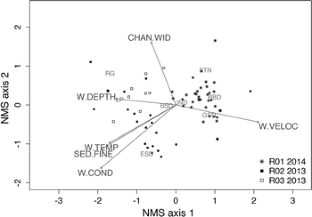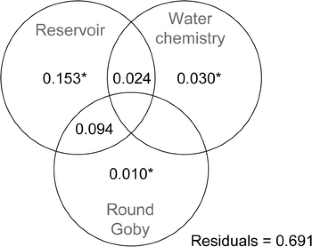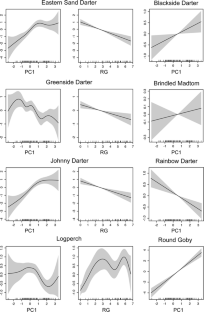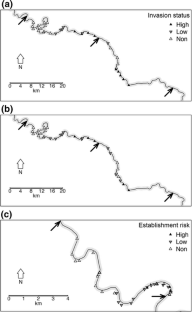 References
Aadland LP (1993) Stream habitat types: their fish assemblages and relationship to flow. N Am J Fish Manag 13:790–806

Abbett R, Waldt EM, Johnson JH, McKenna JE, Dittman DE (2013) Interactions between invasive round gobies (Neogobius melanostomus) and fantail darters (Etheostoma flabellare) in a tributary of the St. Lawrence River, New York, USA. J Freshwat Ecol 28:529–537

Alexandre CM, Almeida PR (2010) The impact of small physical obstacles on the structure of freshwater fish assemblages. River Res Appl 26:977–994

Anderson MJ (2001) A new method for non-parametric multivariate analysis of variance. Austral Ecol 26:32–46

Balshine S, Verma A, Chant V, Theysmeyer T (2005) Competitive interactions between round gobies and logperch. J Great Lakes Res 31:68–77

Bauer CR, Bobeldyk AM, Lamberti GA (2007) Predicting habitat use and trophic interactions of Eurasian ruffe, round gobies, and zebra mussels in nearshore areas of the Great Lakes. Biol Invasions 9:667–678

Bednarek AT (2001) Undamming rivers: a review of the ecological impacts of dam removal. Environ Manag 27:803–814

Beneteau CL, Mandrak NE, Heath DD (2009) The effects of river barriers and range expansion of the population genetic structure and stability in Greenside Darter (Etheostoma blennioides) populations. Conserv Genet 10:477–487

Brandner J, Cerwenka AF, Schliewen UK, Geist J (2013) Bigger Is better: characteristics of round gobies forming an invasion front in the Danube River. PLoS ONE 8:e73036

Bronnenhuber JE, Dufour BA, Higgs DM, Heath DD (2011) Dispersal strategies, secondary range expansion and invasion genetics of the nonindigenous round goby, Neogobius melanostomus, in Great Lakes tributaries. Mol Ecol 20:1845–1859

Byers JE (2002) Physical habitat attribute mediates biotic resistance to non-indigenous species invasion. Oecologia 130:146–156

Campbell TB, Tiegs SD (2012) Factors governing the distribution and fish-community associations of the round goby in Michigan tributaries of the Laurentian Great Lakes. J Great Lakes Res 38:569–574

Clavero M, Hermoso V, Aparicio E, Godinho FN (2013) Biodiversity in heavily modified waterbodies: native and introduced fish in Iberian reservoirs. Freshw Biol 58:1190–1201

Corkum LD, Sapota MR, Skora KE (2004) The round goby, Neogobius melanostomus, a fish invader on both sides of the Atlantic Ocean. Biol Invasions 6:173–181

Cumming GS (2004) The impact of low-head dams on fish species richness in Wisconsin, USA. Ecol Appl 14:1495–1506

Dextrase AJ (2013) Modelling occupancy and abundance of eastern sand darter (Ammocrypta pellucida) while accounting for imperfect detection. Environmental and Life Sciences Department. Trent University, Peterborough, Ontario, Canada, pp 352

Didham RK, Tylianakis JM, Gemmell NJ, Rand TA, Ewers RM (2007) Interactive effects of habitat modification and species invasion on native species decline. Trends Ecol Evol 22:489–496

Dodd HR, Hayes DB, Baylis JR, Carl LM, Goldstein JD, McLaughlin RL, Noakes DLG, Porto LM, Jones ML (2003) Low-head sea lamprey barrier effects on stream habitat and fish communities in the Great Lakes basin. J Great Lakes Res 29:386–402

Dopazo SN, Corkum LD, Mandrak NE (2008) Fish assemblages and environmental variables associated with Gobiids in nearshore areas of the lower Great Lakes. J Great Lakes Res 34:450–460

Drake DAR, Mandrak NE (2014) Bycatch, bait, anglers, and roads: quantifying vector activity and propagule introduction risk across lake ecosystems. Ecol Appl 24:877–894

Drake DAR, Power M, Koops MA, Doka SE, Mandrak NE (2008) Environmental factors affecting growth of eastern sand darter (Ammocrypta pellucida). Can J Zool 86:714–722

Dubs DOL, Corkum LD (1996) Behavioral interactions between round gobies (Neogobius melanostomus) and mottled sculpins (Cottus bairdi). J Great Lakes Res 22:838–844

Falke JA, Gido KB (2006) Spatial effects of reservoirs on fish assemblages in great plains streams in Kansas, USA. River Res Appl 22:55–68

Fausch KD, Rieman BE, Dunham JB, Young MK, Peterson DP (2009) Invasion versus isolation: trade-offs in managing native salmonids with barriers to upstream movement. Conserv Biol 23:859–870

Floerl O, Inglis GJ, Dey K, Smith A (2009) The importance of transport hubs in stepping-stone invasions. J Appl Ecol 46:37–45

Gillette DP, Tiemann JS, Edds DR, Wildhaber ML (2005) Spatiotemporal patterns of fish assemblage structure in a river impounded by low-head dams. Copeia 2005:539–549

Google Earth (2017) CNES, Airbus, DigitalGlobe, United States Geological Survey, First Base Solutions 2017 imagery. http://www.earth.google.com (June 19, 2017)

GRASS Development Team (2012) Geographic Resources Analysis Support System (GRASS) Software v6.4. Open Source Geospatial Foundation Project

Harford WJ, McLaughlin RL (2007) Understanding uncertainty in the effect of low-head dams on fishes of great lakes tributaries. Ecol Appl 17:1783–1796

Havel JE, Lee CE, Vander Zanden MJ (2005) Do reservoirs facilitate invasions into landscapes? Bioscience 55:518–525

Hermoso V, Clavero M, Blanco-Garrido F, Prenda J (2011) Invasive species and habitat degradation in Iberian streams: an analysis of their role in freshwater fish diversity loss. Ecol Appl 21:175–188

Herzog DP, Ostendorf DE, Hrabik RA, Barko VA (2009) The mini-Missouri trawl: a useful methodology for sampling small-bodied fishes in small and large river systems. J Freshw Ecol 24:103–108

Husson F, Josse J, Le S, Mazet J (2013) FactoMineR: multivariate exploratory data analysis and data mining with R. R Package, 1.15 edn.

Inman DL (1952) Measures for describing the size distribution of sediments. J Sediment Res 22:125–145

Janssen J, Jude DJ (2001) Recruitment failure of mottled sculpin Cottus bairdi in Calumet Harbor, southern Lake Michigan, induced by the newly introduced round goby Neogobius melanostomus. J Great Lakes Res 27:319–328

Johnson PTJ, Olden JD, Vander Zanden MJ (2008) Dam invaders: impoundments facilitate biological invasions into freshwaters. Front Ecol Environ 6:359–365

Josse J, Husson F (2012) Selecting the number of components in principal component analysis using cross-validation approximations. Comput Stat Data Anal 56:1869–1879

Kestrup AM, Ricciardi A (2009) Environmental heterogeneity limits the local dominance of an invasive freshwater crustacean. Biol Invasions 11:2095–2105

Kocovsky PM, Chapman DC, McKenna JE (2012) Thermal and hydrologic suitability of Lake Erie and its major tributaries for spawning of Asian carps. J Great Lakes Res 38:159–166

Kornis MS, Mercado-Silva N, Vander Zanden MJ (2012) Twenty years of invasion: a review of round goby Neogobius melanostomus biology, spread and ecological implications. J Fish Biol 80:235–285

Kornis MS, Sharma S, Vander Zanden MJ (2013) Invasion success and impact of an invasive fish, round goby, in Great Lakes tributaries. Divers Distrib 19:184–198

Kornis M, Carlson J, Lehrer-Brey G, Vander Zanden MJ (2014) Experimental evidence that ecological effects of an invasive fish are reduced at high densities. Oecologia 175:325–334

Krakowiak PJ, Pennuto CM (2008) Fish and macroinvertebrate communities in tributary streams of Eastern Lake Erie with and without Round Gobies (Neogobius melanostomus, Pallas 1814). J Great Lakes Res 34:675–689

Lavis DS, Hallett A, Koon EM, McAuley TC (2003) History of and advances in barriers as an alternative method to suppress sea lampreys in the Great Lakes. J Great Lakes Res 29:362–372

Legendre P, Gallagher ED (2001) Ecologically meaningful transformations for ordination of species data. Oecologia 129:271–280

Legendre P, Legendre LFJ (2012) Numerical ecology. Elsevier, Amsterdam

Leino JR, Mensinger AF (2016) The benthic fish assemblage of the soft-bottom community of the Duluth-Superior Harbor before and after round goby invasion (1989–2011). J Great Lakes Res 42:829–836

Leino JR, Mensinger AF (2017) Interspecific competition between the round goby, Neogobius melanostomus, and the logperch, Percina caprodes, in the Duluth-Superior Harbour. Ecol Freshw Fish 26:34–41

Lynch MP, Mensinger AF (2012) Seasonal abundance and movement of the invasive round goby (Neogobius melanostomus) on rocky substrate in the Duluth-Superior Harbor of Lake Superior. Ecol Freshwat Fish 21:64–74

MacInnis AJ, Corkum LD (2000) Age and growth of Round Goby Neogobius melanostomus in the upper Detroit River. Trans Am Fish Soc 129:852–858

Marchetti MP, Light T, Moyle PB, Viers JH (2004) Fish invasions in California watersheds: testing hypotheses using landscape patterns. Ecol Appl 14:1507–1525

Marks JC, Haden GA, O'Neill M, Pace C (2010) Effects of flow restoration and exotic species removal on recovery of native fish: lessons from a dam decommissioning. Restor Ecol 18:934–943

McLaughlin RL, Marsden JE, Hayes DB (2003) Achieving the benefits of sea lamprey control while minimizing effects on nontarget species: Conceptual synthesis and proposed policy. J Great Lakes Res 29:755–765

McLaughlin RL, Smyth ERB, Castro-Santos T, Jones ML, Koops MA, Pratt TC, Velez-Espino LA (2013) Unintended consequences and trade-offs of fish passage. Fish Fish 14:580–604

Mills EL, Leach JH, Carlton JT, Secor CL (1993) Exotic species in the Great Lakes: a history of biotic crises and anthropogenic introductions. J Great Lakes Res 19:1–54

Moyle PB, Marchetti MP (2006) Predicting invasion success: freshwater fishes in California as a model. Bioscience 56:515–524

Murphy EA, Jackson PR (2013) Hydraulic and water-quality data collection for the investigation of Great Lakes tributaries for Asian carp spawning and egg-transport suitability In: Survey USG (ed). pp 30

Nilsson C, Reidy CA, Dynesius M, Revenga C (2005) Fragmentation and flow regulation of the world's large river systems. Science 308:405–408

Noakes DLG, McLaughlin RL, Baylis JR, Carl LM, Hayes DB, Randall RG (2000) Biological impact of low-head barrier dams (BILD) Project completion report (1999) to the Great Lakes Fishery Commission. Michigan, Ann Arbor

Oksanen J, Blanchet B, Kindt R, Legendre P, O'Hara B, Simpson GL, Solymos P, Stevens MHH, Wagner H (2011) VEGAN: Community ecology package. R Package, 1.17-0 edn.

Orr CH, Kroiss SJ, Rogers KL, Stanley EH (2008) Downstream benthic responses to small dam removal in a coldwater stream. River Res Appl 24:804–822

Paine MD, Dodson JJ, Power G (1982) Habitat and food resource partitioning among four species of darters (Percidae: Etheostoma) in a southern Ontario stream. Can J Zool 60:1635–1641

Pennuto CM, Krakowiak PJ, Janik CE (2010) Seasonal abundance, diet, and energy consumption of round gobies (Neogobius melanostomus) in Lake Erie tributary streams. Ecol Freshw Fish 19:206–215

Phillips EC, Washek ME, Hertel AW, Niebel BM (2003) The round goby (Neogobius melanostomus) in Pennsylvania tributary streams of Lake Erie. J Great Lakes Res 29:34–40

Poos M, Dextrase AJ, Schwalb AN, Ackerman JD (2010) Secondary invasion of the round goby into high diversity Great Lakes tributaries and species at risk hotspots: potential new concerns for endangered freshwater species. Biol Invasions 12:1269–1284

Porto LM, McLaughlin RL, Noakes DLG (1999) Low-head barrier dams restrict the movements of fishes in two Lake Ontario streams. N Am J Fish Manag 19:1028–1036

Pratt AE, Lauer TE (2013) Habitat use and separation among congeneric darter species. Trans Am Fish Soc 142:568–577

R Core Development Team (2015) R: a language and environment for statistical computing. R Foundation for Statistical Computing, Vienna

Rahel FJ (2002) Homogenization of freshwater faunas. Annu Rev Ecol Syst 33:291–315

Rahel RF, Rahel FJ, Hubert WA (2009) Complex influences of low-head dams and artificial wetlands on fishes in a Colorado River tributary system. Fish Manag Ecol 16:457–467

Ray WJ, Corkum LD (2001) Habitat and site affinity of the round goby. J Great Lakes Res 27:329–334

Reid SM, Mandrak NE (2008) Historical changes in the distribution of threatened channel darter (Percina copelandi) in Lake Erie with general observations on the beach fish assemblage. J Great Lakes Res 34:324–333

Reid SM, Mandrak NE, Carl LM, Wilson CC (2008) Influence of dams and habitat condition on the distribution of redhorse (Moxostoma) species in the Grand River watershed, Ontario. Environ Biol Fish 81:111–125

Ricciardi A (2006) Patterns of invasion in the Laurentian Great Lakes in relation to changes in vector activity. Divers Distrib 12:425–433

Ripley B, Venables R, Bates DM, Hornik K, Gebhardt A, Firth D (2015) Support functions and datasets for Venables and Ripley's MASS. 7.3-43 edn.

Rosenberger AE, Angermeier PL (2002) Roanoke logperch (Percina rex) population structure and habitat use. Final Report submitted to the Virginia Department of Game and Inland Fisheries, Blacksburg, VA:110

Santucci VJ, Gephard SR, Pescitelli SM (2005) Effects of multiple low-head dams on fish, macroinvertebrates, habitat, and water quality in the fox river, Illinois. N Am J Fish Manag 25:975–992

Scott DC, Arbeider M, Gordon J, Moore JW (2016) Flood control structures in tidal creeks associated with reduction in nursery potential for native fishes and creation of hotspots for invasive species. Can J Fish Aquat Sci 73:1138–1148

Smith BR, Tibbles JJ (1980) Sea lamprey (Petromyzon marinus) in Lakes Huron, Michigan, and Superior: history of invasion and control, 1936–78. Can J Fish Aquat Sci 1780–1801

Smith BR, Edds DR, Goeckler JM (2015) Lowhead dams and the downstream dispersal of zebra mussels. Hydrobiologia 755:1–12

Staton SK, Mandrak NE (2005) Focusing conservation efforts for freshwater biodiversity. Protected areas and species and ecosystems at risk: research and planning challenges. In: Proceedings of the parks research forum of ontario annual meeting. pp 197–204

Stauffer JR, Boltz JM, Kellogg KA, van Snik ES (1996) Microhabitat partitioning in a diverse assemblage of darters in the Allegheny River system. Environ Biol Fish 46:37–44

Taraborelli AC, Fox MG, Johnson TB, Schaner T (2010) Round Goby (Neogobius melanostomus) population structure, biomass, prey consumption and mortality from predation in the Bay of Quinte, Lake Ontario. J Great Lakes Res 36:625–632

Thompson B, Stallsmith B (2016) Microhabitat partitioning of an assemblage of darter species within two tributaries of the Tennessee River in Alabama. River Res Appl 32:1232–1241

Tiemann JS, Gillette DP, Wildhaber ML, Edds DR (2004) Effects of lowhead dams on riffle-dwelling fishes and macroinvertebrates in a midwestern river. Trans Am Fish Soc 133:705–717

Tierney KB, Kasurak AV, Zielinski BS, Higgs DM (2011) Swimming performance and invasion potential of the round goby. Environ Biol Fish 92:491–502

Vélez-Espino LA, Koops MA, Balshine S (2010) Invasion dynamics of round goby (Neogobius melanostomus) in Hamilton Harbour, Lake Ontario. Biol Invasions 12:3861–3870

Wang LZ, Infante D, Lyons J, Stewart J, Cooper A (2011) Effects of dams in river networks on fish assemblages in non-impoundment sections of rivers in Michigan and Wisconsin, USA. River Res Appl 27:473–487
Acknowledgements
We thank the Fisheries and Oceans Canada Great Lakes Laboratory for Fisheries and Aquatic Science, in particular J. Barnucz and L. Bouvier for field support and provision of historical data. We also thank G. Larocque at the Quebec Centre for Biodiversity Science for statistical advice. Thorough critique by two anonymous reviewers significantly improved an early version of this manuscript. The Ontario Ministry of Natural Resources Species at Risk Research Fund, the Invasive Species Centre, the Quebec Centre for Biodiversity Science, and the Natural Sciences and Engineering Research Council of Canada funded this work through grants to D.R., A.R., and N.E.M.
Ethics declarations
Conflict of interest
Animal handling by D.R. was conducted in accordance to McGill University Animal Care Committee guidelines for field studies to minimize discomfort to animals, under animal care protocol 2014-7493.
About this article
Cite this article
Raab, D., Mandrak, N.E. & Ricciardi, A. Low-head dams facilitate Round Goby Neogobius melanostomus invasion. Biol Invasions 20, 757–776 (2018). https://doi.org/10.1007/s10530-017-1573-3
Received:

Accepted:

Published:

Issue Date:
Keywords
Establishment

Impact

Laurentian Great Lakes

Tributary impoundment