Abstract
Preventing the arrival, establishment, and spread of aquatic invasive species is an important step in protecting our aquatic environments. The use of detection tools, like DNA barcoding technologies, high-throughput sequencing and environmental DNA (eDNA) monitoring, is becoming increasingly important in preventing the introduction of potential invasive species. The combination of eDNA with realtime PCR (qPCR) provide the opportunity to have a rapid and specific detection. In this study, we developed a DNA sequence library that has sufficient depth and species coverage such that high-risk species can be confidently discriminated from legitimately imported and native species. A total of 12 species-specific qPCR assays were developed for the detection of 13 potential invasive species (pAIS) in bulk water samples. Detection of these species was also compared with a HTS approach. We have demonstrated the high sensitivity of qPCR assays using eDNA at very low densities, suggesting we could detect a low number of individuals mixed with non-target species in a simulated live shipment. For the detection of a targeted list of species, qPCR is advantageous. The mini-barcodes developed in this project offered a good sensitivity of detection, and HTS is a discovery tool that can be desirable when unlisted or numerous species need to be identified.
Access options
Buy single article
Instant access to the full article PDF.
US$ 39.95
Tax calculation will be finalised during checkout.
Subscribe to journal
Immediate online access to all issues from 2019. Subscription will auto renew annually.
US$ 79
Tax calculation will be finalised during checkout.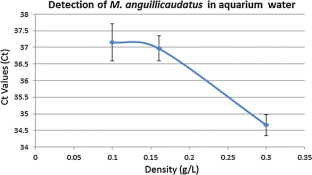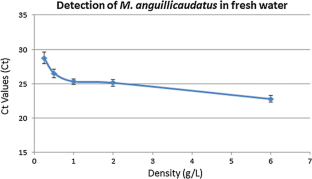 References
Bolger AM, Lohse M, Usadel B (2014) Trimmomatic: a flexible trimmer for Illumina sequence data. Bioinformatics 30:2114–2120

Canadian Food Inspection Agency (2014) Susceptible species of aquatic animals. http://www.inspection.gc.ca/animals/aquatic-animals/diseases/susceptible-species/eng/1327162574928/1327162766981. Accessed 16 Aug 2016

CBC News (2012) Ottawa commits $17M to stop Asian carp invasion. In: CBC News. http://www.cbc.ca/news/canada/windsor/ottawa-commits-17m-to-stop-asian-carp-invasion-1.1196035. Accessed 01 Apr 2016

Chen WJ, Bonillo C, Lecointre G (2003) Repeatability of clades as a criterion of reliability: a case study for molecular phylogeny of Acanthomorpha (Teleostei) with larger number of taxa. Mol Phylogenet Evol 26:262–288

Collins RA, Armstrong KF, Meier R et al (2012) Barcoding and border biosecurity: identifying cyprinid fishes in the aquarium trade. PLoS ONE 7:e28381

Collins RA, Armstrong KF, Holyoake AJ et al (2013) Something in the water: biosecurity monitoring of ornamental fish imports using environmental DNA. Biol Invasions 15:1209–1215

Dejean T, Valentini A, Duparc A et al (2011) Persistence of environmental DNA in freshwater ecosystems. PLoS ONE 6:e23398

Diaz-Ferguson E, Herod J, Galvez J et al (2014) Development of molecular markers for eDNA detection of the invasive African jewelfish (Hemichromis letourneuxi): a new tool for monitoring aquatic invasive species in National Wildlife Refuges. Manag Biol Invasions 5:121–131

Elliott DG, Pascho RJ (2001) Evidence that coded-wire-tagging procedures can enhance transmission of Renibacterium salmoninarum in Chinook salmon. J Aquat Anim Health 13:181–193

Farrington HL, Edwards CE, Guan X et al (2015) Mitochondrial genome sequencing and development of genetic markers for the detection of DNA of invasive bighead and silver carp (Hypophthalmichthys nobilis and H. molitrix) in environmental water samples from the United States. PLoS ONE 10:e0117803

Fisheries and Oceans Canada (2016) Funding and collaboration—Aquatic invasive species. http://www.dfo-mpo.gc.ca/science/environmental-environnement/ais-eae/fc-eng.asp. Accessed 28 June 2016

Fuller PL, Nico LG, Williams JD (1999) Nonindigenous fishes introduced into inland waters of the United States. Bethesda, Maryland

Gerson H, Cudmore B, Mandrak NE et al (2008) Monitoring international wildlife trade with coded species data. Conserv Biol 22:4–7

Gozlan RE, St-Hilaire S, Feist SW et al (2005) Disease threat to European fish. Nature 435:1046

Hajibabaei M, Shokralla S, Zhou X et al (2011) Environmental barcoding: a next-generation sequencing approach for biomonitoring applications using river benthos. PLoS ONE 6:e17497

Han K, Ely B (2002) Use of AFLP analyses to assess genetic variation in Morone and Thunnus species. Mar Biotechnol 4:141–145

Hansen LP (1988) Effects of Carlin tagging and fin clipping on survival of Atlantic salmon (Salmo salar L.) released as smolts. Aquaculture 70:391–394

Hebert PDN, Cywinska A, Ball SL et al (2003) Biological identifications through DNA barcodes. Proc R Soc Lond Ser B Biol Sci 270:313–321

Hubert N, Hanner R, Holm E et al (2008) Identifying Canadian freshwater fishes through DNA barcodes. PLoS ONE 3:e2490

Jerde CL, Mahon AR, Chadderton WL et al (2011) ''Sight-unseen'' detection of rare aquatic species using environmental DNA. Conserv Lett 4:150–157

Kelly RP, Port JA, Yamahara KM et al (2014) Using environmental DNA to census marine fishes in a large mesocosm. PLoS ONE 9:e86175

Kolar CS (2004) Risk assessment and screening for potentially invasive fishes. New Zealand J Mar Freshw Res 38:391–397

Lamer JT, Dolan CR, Petersen JL et al (2010) Introgressive hybridization between bighead carp and silver carp in the Mississippi and Illinois Rivers. North Am J Fish Manag 30:1452–1461

Li SF, Xu JW, Yang QL et al (2009) A comparaison of complete mitochondrial genomes of silver carp Hypophthalmichthys molitrix and bighead carp Hypophthalmichthys nobilis: implicatios for their taxonomic relationship and phylogeny. J Fish Biol 74:1787–1803

Mahon AR, Jerde CL, Galaska M et al (2013) Validation of eDNA surveillance sensitivity for detection of Asian carps in controlled and field experiments. PLoS ONE 8:e58316

Mandrak NE, Cudmore B (2010) The fall of native fishes and the rise of non-native fishes in the Great Lakes Basin. Aquat Ecosyst Health Manag 13:255–268

Mandrak NE, Gantz C, Jones LA, et al. (2014) Evaluation of five freshwater fish screening-level risk assessment protocols and application to non-indigenous organisms in trade in Canada. DFO Canadian Science Advisory Secretariat Research Document

Minamoto T, Yamanaka H, Takahara T et al (2012) Surveillance of fish species composition using environmental DNA. Limnology 13:193–197

Nelson JS, Grande TC, Wilson MVH (2016) Fishes of the world. Wiley, New York

Pleijel F, Jondelius U, Norlinder E et al (2008) Phylogenies without roots? A plea for the use of vouchers in molecular phylogenetic studies. Mol Phylogenet Evol 48:369–371

Pochon X, Bott NJ, Smith KF et al (2013) Evaluating detection limits of next-generation sequencing for the surveillance and monitoring of international marine pests. PLoS ONE 8:e73935

Rahel FJ (2002) Homogenization of freshwater faunas. Annu Rev Ecol Evol Syst 33:291–315

Rixon CAM, Duggan IC, Bergeron NMN et al (2005) Invasion risks posed by the aquarium trade and live fish markets on the Laurential Great Lakes. Biodivers Conserv 14:1365–1381

Roy M, Gagne N, Mandrak NE, Schoelinck C (2015) Protection of Canadian biodiversity and trade through improved ability to monitor invasive freshwater fish. In: Scientific abstracts from the 6th International Barcode of Life Conference. Genome, vol 58, p 273

Sevilla RG, Diez A, Norén M et al (2007) Primers and polymerase chain reaction conditions for DNA barcoding teleost fish based on the mitochondrial cytochrome b and nuclear rhodopsin genes. Mol Ecol Notes 7:730–734

Steinke D, Zemlak TS, Hebert PDN (2009) Barcoding Nemo: DNA-based identifications for the ornemental fish trade. PLoS ONE 4:e6300

Thomsen PF, Kielgast J, Iversen LL et al (2012a) Detection of a diverse marine fIsh fauna using environmental DNA from seawater samples. PLoS ONE 7:e41732

Thomsen PF, Kielgast J, Iversen LL et al (2012b) Monitoring endangered freshwater biodiversity using environmental DNA. Mol Ecol 21:2565–2573

Turner CR, Miller DJ, Coyne KJ et al (2014) Improved methods for capture, extraction, and quantitative assay of environmental DNA from Asian bigheaded carp (Hypophthalmichthys spp.). PLoS ONE 9:e114329

Wang Q, Dai W, Wang X, et al (2015) DNA barcoding analysis of commercial freshwater fish species cultured in China. Isr J Aquac 67. http://hdl.handle.net/10524/49199

Ward RD, Zemlak TS, Innes BH et al (2005) DNA barcoding Australia's fish species. Philos Trans R Soc Lond B Biol Sci 360:1847–1857

Ward RD, Hanner R, Hebert PDN (2009) The campaign to DNA barcode all fishes, FISH-BOL. J Fish Biol 74:329–356

Wilcox TM, McKelvey KS, Young MK et al (2013) Robust detection of rare species using environmental DNA: the importance of primer specificity. PLoS ONE 8:e59520

Wilson C, Wright E, Bronnenhuber J et al (2014) Tracking ghosts: combined electrofishing and environmental DNA surveillance efforts for Asian carps in Ontario waters of Lake Erie. Manag Biol Invasions 5:225–231

Wright ES, Vetsigian KH (2016) Quality filtering of Illumina index reads mitigates sample cross-talk. BMC Genomics 17:876
Acknowledgements
Funding for this project was provided by the Genomics Research & Development Initiative from the Government of Canada. We sincerely thank the Royal Ontario Museum, Francis Leblanc, Valérie Godbout and Charlotte Schoelinck for their technical support and advice, and various collaborators and museums that provided samples.
About this article
Cite this article
Roy, M., Belliveau, V., Mandrak, N.E. et al. Development of environmental DNA (eDNA) methods for detecting high-risk freshwater fishes in live trade in Canada. Biol Invasions 20, 299–314 (2018). https://doi.org/10.1007/s10530-017-1532-z
Received:

Accepted:

Published:

Issue Date:
Keywords
Aquatic invasive species

High-throughput sequencing

DNA barcoding

Real-time PCR detection

Pet and live food trade

RHO

COI