Abstract
Early detection of target non-indigenous species is one of the most important determinants of a successful eradication campaign. For early detection to be successful, and provide the highest probability of achieving eradication, intense surveillance is often required that can involve significant resources. Volunteer based monitoring or "citizen science" is one potential tool to address this problem. This study differs from standard citizen science projects because the participants are personnel or contractors of a company working on Barrow Island, Western Australia. We show that personnel can contribute successfully to a surveillance program aimed at detecting a broad taxonomic range of non-indigenous vertebrate and invertebrate species. Using data collected over a five year surveillance period on Barrow Island, we show that eighteen of the nineteen (95%) non-indigenous invertebrate species new to the island were detected by personnel working on the island, and that the number of detections made by these workers was significantly related to the number of personnel on the island at any one time. Most personnel detections (91%) were made inside buildings where the majority of active surveillance tools could not be implemented. For vertebrates, 4 NIS species detections (100% of detections) were made in the built environment by personnel. Although reporting of suspect non-indigenous species is voluntary, personnel are required to attend inductions and toolboxes where reporting of suspect biosecurity risk material is encouraged. These results demonstrate the value of industry led 'citizen science' programs, resulting in sustained stewardship and conservation of areas with high environmental value.
Access options
Buy single article
Instant access to the full article PDF.
US$ 39.95
Tax calculation will be finalised during checkout.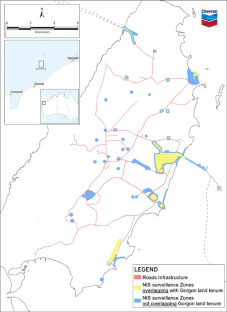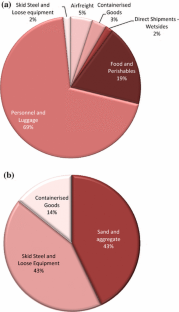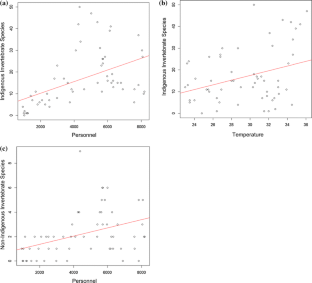 References
Bamford MJ, Bamford AR, Biota Environmental Services, and RPS Bowman Bishaw Gorham (2005) Mammals and reptiles. Technical appendix C2, draft environmental impact statement/environmental review and management programme for the proposed Gorgon development. Perth, Australia

Battersby JE, Greenwood JJ (2004) Monitoring terrestrial mammals in the UK: past, present and future, using lessons from the bird world. Mamm Rev 34:3–29

Bell S, Marzano M, Cent J, Kobierska H, Podjed D, Vandzinskaite D, Reinert H, Armaitiene A, Grodzińska-Jurczak M, Muršič R (2008) What counts? Volunteers and their organisations in the recording and monitoring of biodiversity. Biodivers Conserv 17:3443–3454

BOM (2015) Australian Government Bureau of Meteorology. http://www.bom.gov.au/climate/data/. Accessed 30 Nov 2015

Bonney R, Shirk JL, Phillips TB, Wiggins A, Ballard HL, Miller-Rushing AJ, Parrish JK (2014) Next steps for citizen science. Science 343:1436–1437

Booth W, Santangelo RF, Vargo EL, Mukha DV, Schal C (2011) Population genetic structure in German cockroaches (Blattella germanica): differentiated Islands in an agricultural landscape. J Hered 102:175–183

Boudreau SA, Yan ND (2004) Auditing the accuracy of a volunteer-based surveillance program for an aqautic invader Bythotrephes. Environ Monit Assess 91:17–26

Browne-Cooper R, Bush B, Maryan B, Robinson D (2007) Reptiles and frogs in the bush: southwestern Australia. University of Western Australia Press, Perth

Burbridge AA, Morris K (2002) Introduced mammal eradications for nature conservation on Western Australian islands: a review. In: Veitch C, Clout M (eds) Turning the tide: the eradication of invasive species. International Union for the Conservation of Nature, Invasive Species Specialist Group, Gland, pp 64–70

Callan SK, Majer JD, Edwards K, Moro D (2011) Documenting the terrestrial invertebrate fauna of Barrow Island, Western Australia. Aust J Entomol 50:323–343

Checa MF, Rodriguez J, Willmott KR, Liger B (2014) Microclimate variability significantly affects the composition, abundance and phenology of butterfly communities in a highly threatened neotropical dry forest. Fla Entomol 97:1–13

Chevron Australia Pty Ltd (2005) Draft Environmental impact statement/response to submissions on the environmental review and management programme for the proposed Gorgon development. https://www.chevronaustralia.com/our-businesses/gorgon/environmental-approvals. Accessed 2nd Feb 2017

Chevron Australia Pty Ltd (2014) Barrow Island quarantine: terrestrial and marine quarantine management system. http://www.chevronaustralia.com/docs/default-source/default-document-library/gorgon-emp-terrestrial-and-marine-quarantine-management-system.pdf?sfvrsn=4. Accessed 2nd Feb 2017

Commonwealth Government of Australia (2007) Approval—Gorgon Gas Development (EPBC Reference: 2003/1294) 3 October 2007. Australian Capital Territory, Canberra

Commonwealth Government of Australia (2009) Approval—Gorgon Gas Development (EPBC Reference: 2008/4178), 26 August 2009. Australian Capital Territory, Canberra

Conrad CC, Hilchey KG (2011) A review of citizen science and community-based environmental monitoring: issues and opportunities. Environ Monit Assess 176:273–291

Crall AW, Newman GJ, Stohlgren TJ, Holfelder KA, Graham J, Waller DM (2011) Assessing citizen science data quality: an invasive species case study. Conserv Lett 4:433–442

Darwall WR, Dulvy NK (1996) An evaluation of the suitability of non-specialist volunteer researchers for coral reef fish surveys. Mafia Island, Tanzania—a case study. Biol Conserv 78:223–231

Davidovitch L, Stoklosa R, Majer J, Nietrzeba A, Whittle P, Mengersen K, Ben-Haim Y (2009) Info-gap theory and robust design of surveillance for invasive species: the case study of Barrow Island. J Environ Manag 90:2785–2793

Dawson J, Oppel S, Cuthbert RJ, Holmes N, Bird JP, Butchart SHM, Spatz DR, Tershy B (2015) Prioritizing islands for the eradication of invasive vertebrates in the United Kingdom overseas territories. Conserv Biol 29:143–153

Delaney DG, Sperling CD, Adams CS, Leung B (2008) Marine invasive species: validation of citizen science and implications for national monitoring networks. Biol Invasions 10:117–128

Dickinson JL, Zuckerberg B, Bonter DN (2010) Citizen science as an ecological research tool: challenges and benefits. Annu Rev Ecol Evol Syst 41:149–172

Fisher J, Beames L, Rangers BJ, Rangers NN, Majer J, Heterick B (2014) Using ants to monitor changes within and surrounding the endangered Monsoon Vine Thickets of the tropical Dampier Peninsula, north Western Australia. For Ecol Manag 318:78–90

Froud KJ, Oliver TM, Bingham PC, Flynn AR, Rowswell NJ (2008) Passive surveillance of new exotic pests and diseases in New Zealand. In: Froud K, Popay AI, Zydenbos SM (eds) Surveillance for Biosecurity: pre-border to pest management. New Zealand Plant Protection Society, Paihia, pp 102–103

Gallo T, Waitt D (2011) Creating a successful citizen science model to detect and report invasive species. Bioscience 61:459–465

Galloway AW, Hickey RJ, Koehler GM (2011) A survey of ungulates by students along rural school bus routes. Soc Nat Resour 24:201–204

Gardener MR, Atkinson R, Rentería JL (2010) Eradications and people: lessons from the plant eradication program in Galapagos. Restor Ecol 18:20–29

Gardiner MM, Allee LL, Brown PM, Losey JE, Roy HE, Smyth RR (2012) Lessons from lady beetles: accuracy of monitoring data from US and UK citizen-science programs. Front Ecol Environ 10:471–476

Goodchild MF (2007) Citizens as voluntary sensors: spatial data infrastructure in the world of Web 2.0. Int J Spat Data Infrastruct Res 2:24–32

Henshall SE, Sadler JP, Hannah DM (2011) The role of microhabitat and food availability in determining riparian invertebrate distributions on gravel bars: a habitat manipulation experiment. Ecohydrology 4:512–519

Hobbs SJ, White PC (2012) Motivations and barriers in relation to community participation in biodiversity recording. J Nat Conserv 20:364–373

Honek A (1997) The effect of temperature on the activity of Carabidae (Coleoptera) in a fallow field. Eur J Entomol 94:97–104

Jarrad FC et al (2011a) Ecological aspects of biosecurity surveillance design for the detection of multiple invasive animal species. Biol Invasions 13:803–818

Jarrad FC, Barrett S, Murray J, Parkes J, Stoklosa R, Mengersen K, Whittle P (2011b) Improved design method for the biosecurity surveilance and early detection of non-indigenous rats. N Z J Ecol 35:132–144

Lewandowski E, Specht H (2015) Influence of volunteer and project characteristics on data quality of biological surveys. Conserv Biol 29:713–723

Lodge DM et al (2006) Biological invasions: recommendations for US policy and management. Ecol Appl 16:2035–2054

Low-Choy S, Jarrad F, Mengersen K (2015) Hierarchical models for evaluating surveillance strategies: diversity within a common modular structure. In: Jarrad F, Low-Choy S, Mengersen K (eds) Biosecurity surveillance: quantitative approaches. CABI Invasive Series, no. 6. CABI, London, p. 386

Majer JD, Callan SK, Edwards K, Gunawardene NR, Taylor CK (2013) Baseline survey of the terrestrial invertebrate fauna of Barrow Island. Aust J Entomol 50:323–343

Morris KD (2002) The eradication of the black rat (Rattus rattus) on Barrow and adjacent islands off the northwest coast of Western Australia. In: Veitch C, Clout M (eds) Turning the tide: the eradication of invasive species. International Union for the Conservation of Nature. Invasive Species Specialist Group, Gland, pp 219–225

Myers JH, Simberloff D, Kuris AM, Carey JR (2000) Eradication revisited: dealing with exotic species. Trends Ecol Evol 15:316–320

Newman C, Buesching CD, Macdonald DW (2003) Validating mammal monitoring methods and assessing the performance of volunteers in wildlife conservation—"Sed quis custodiet ipsos custodies?". Biol Conserv 113:189–197

Newman G, Crall A, Laituri M, Graham J, Stohlgren T, Moore JC (2010) Teaching citizen science skills online: implications for invasive species training programs. Appl Environ Educ Commun 9:276–286

Pyšek P, Richardson DM (2010) Invasive species, environmental change and management, and health. Annu Rev Environ Resour 35:25–55

R Core Team (2015) R: a language and environment for statistical computing. https://www.r-project.org. Last Accessed 2nd Feb 2017

Rotman D, Preece J, Hammock J, Procita K, Hansen D, Parr C, Lewis D, Jacobs D (2012) Dynamic changes in motivation in collaborative citizen-science projects. In: Proceedings of the ACM 2012 conference on computer supported cooperative work. ACM, pp 217–226

Sanders NJ, Lessard J, Fitzpatrick MC, Dunn RR (2007) Temperature, but not productivity or geometry, predicts elevational diversity gradients in ants across spatial grains. Glob Ecol Biogeogr 16:640–649

Saska P, van der Werf W, Hemerik L, Luff ML, Hatten TD, Honek A (2013) Temperature effects on pitfall catches of epigeal arthropods: a model and method for bias correction. J Appl Ecol 50:181–189

Scott JK, McKirdy SJ, van der Merwe J, Green R, Burbidge AA, Pickles G, Hardie DC, Morris K, Kendrick PG, Thomas ML, Horton KL, O'Connor SM, Downs J, Stoklosa R, Lagdon R, Marks B, Nairn M, Mengersen K (2017) Zero-tolerance biosecurity protects high-conservation-value island nature reserve. Sci Rep 7:772. doi:10.1038/s41598-017-00450-y

Starr J, Schweik CM, Bush N, Fletcher L, Finn J, Fish J, Bargeron CT (2014) Lights, camera… citizen science: assessing the effectiveness of smartphone-based video training in invasive plant identification. PLoS ONE 9:e111433

Tobin PC, Kean JM, Suckling DM, Mccullough DG, Herms DA, Stringer LD (2014) Determinants of successful arthropod eradication programs. Biol Invasions 16:401–414

Vanderduys EP, Kutt AS (2012) Is the Asian house gecko, Hemidactylus frenatus, really a threat to Australia's biodiversity? Aust J Zool 60:361–367

Whittle PJ, Stoklosa R, Barrett S, Jarrad FC, Majer JD, Martin PAJ, Mengersen K (2013) A method for designing complex biosecurity surveillance systems: detecting non-indigenous species of invertebrates on Barrow Island. Divers Distrib 19:629–639
Acknowledgements
Special thanks to Jenna van Niekerk for help with data management and analysis and to all the personnel on BWI whose contribution is highlighted in this manuscript. We would like to acknowledge Biota Environmental Sciences Pty Ltd for undertaking all of the Vertebrate active surveillance, and Curtin University (Jonathan Majer and Christopher Taylor) for implementing the invertebrate active surveillance program between 2010 and 2014. Thanks to Curtin University, the Department of Agriculture and Food, Western Australia and the Western Australian Museum and many national and international taxonomists who undertook the invertebrate specimen identifications. Helix Molecular Solutions Pty Ltd undertook molecular analysis of scats and hair and chew cards. Thanks to Allan Cowie for GIS support and map production. The Gorgon Gas Development is operated by an Australian subsidiary of Chevron and is a joint venture of the Australian subsidiaries of Chevron (47.3%), ExxonMobil (25%), Shell (25%), Osaka Gas (1.25%), Tokyo Gas (1%) and JERA (0.417%).
Additional information
Melissa L. Thomas and Nihara Gunawardene shared first authorship.
Electronic supplementary material
Below is the link to the electronic supplementary material.
About this article
Cite this article
Thomas, M.L., Gunawardene, N., Horton, K. et al. Many eyes on the ground: citizen science is an effective early detection tool for biosecurity. Biol Invasions 19, 2751–2765 (2017). https://doi.org/10.1007/s10530-017-1481-6
Received:

Accepted:

Published:

Issue Date:
Keywords
Quarantine

Participatory science

Invasive species

Island conservation

Surveillance procedures