Abstract
Invasive plants often occupy large ranges in the introduced region and consequently, local population dynamics vary in ways that affect the potential for biological control. We used matrix models to describe how density and population growth rate of Centaurea solstitialis varies in time and space. Matrix models were parameterized with data collected over 4 years from invasions at the coast, interior valleys and Sierra Nevada Mountains in California (USA). Asymptotic population growth rates (λ) varied dramatically across all populations and years (0.24–6.45), density varied by an order of magnitude and had a measurable effect on survival and λ in all populations. We used simulations to estimate the degree to which a biocontrol agent would need to reduce plant survival to control the weed. Because seedling survival was dependent on density, an agent that reduced seedling density had the effect of increasing the probability that the remaining plants survived to flowering. Interestingly, this meant that in the highest density populations the plant had the largest compensatory response to agent attack and experienced decline (λ ≤ 1.0) only after heavy losses (≥90%) to the agent. Conversely, in populations where density was so low that it had only a weak effect on survival, the agent was able to control the plant (λ ≤ 1.0) at much lower levels of attack (≤50%). In other words, the impact of a biocontrol agent is predicted to be lower where the plant reaches its highest densities because the surviving plants, now experiencing less intraspecific competition, are more likely to survive to flowering and produce more seeds. This may also be true for other invasive species in which strong density dependent processes are operating. For this reason, prospective agents ought to target density-independence vital rates.
Access options
Buy single article
Instant access to the full article PDF.
US$ 39.95
Tax calculation will be finalised during checkout.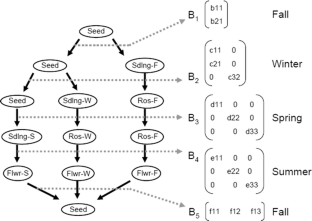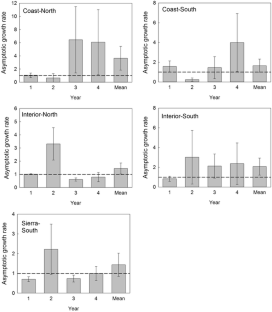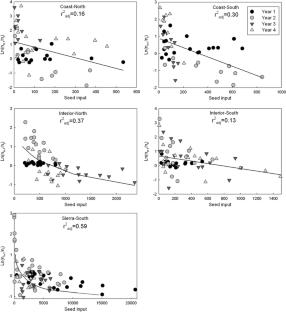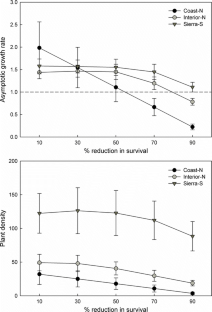 References
Arnett AE, Louda S (2002) Re-test of Rhinocyllus conicus host specificity, and the prediction of ecological risk in biological control. Biol Conserv 106:251–257

Benefield CB, DiTomaso JM, Kyser GB, Tschohl A (2001) Reproductive biology of yellow starthistle (Centaurea solstitialis): maximizing late season control. Weed Sci 49:38–90

Brown JH, Mehlman DW, Stevens GC (1995) Spatial variation in abundance. Ecology 76:2028–2043

Callihan RH, Prather TS, Norman FE (1993) Longevity of yellow starthistle (Centaurea solstitialis) achenes in soil. Weed Technol 7:33–35

Carvalheiro L, Buckley YM, Ventim R, Fowler SV, Memmott J (2008) Apparent competition can compromise the safety of highly specific biocontrol agents. Ecol Lett 11:690–700

Caswell H (2001) Matrix population models: construction, analysis, and interpretation, 2nd edn. Sinaur and Associates, Inc., Publishers, Sunderland

Davis AS, Landis DA, Nuzzo V, Blossey B, Gerber E, Hinz HL (2006) Demographic models inform selection of biocontrol agents for garlic mustard (Alliaria petiolata). Ecol Appl 16:2399–2410

DeWalt SJ (2006) Population dynamics and potential for biological control of an exotic invasive shrub in Hawaiian rainforests. Biol Invasions 8:1145–1158

DiTomaso JM, Gerlach JD (2000) Centaurea solstitialis. In: Bossard CC, Randall JM, Hoshovsky MC (eds) Invasive plants of California's wildlands. University of California, Berkeley, p 101

DiTomaso JM, Healy EA (2007) Weeds of California and other western states. University of California press, Oakland

DiTomaso JM, Kyser GB, Hastings MS (1999) Prescribed burning for control of yellow starthistle (Centaurea solstitialis) and enhanced native plant diversity. Weed Sci 47:233–242

Ertter B, Bowerman ML (2002) The flowering plants and ferns of Mount Diablo, California. Native Plant Society, Sacramento

Garren JM, Strauss SY (2009) Population-level compensation by an invasive thistle thwarts biological control from seed predators. Ecol Appl 19(3):709–721

Hengeveld R, Haeck J (1982) The distribution of abundance. I. Measurements. J Biogeogr 9:303–316

Huffaker CB, Kennett CE (1959) A ten-year study of vegetational changes associated with biological control of Klamath weed. J Range Manag 12:69–82

Joley DB, Maddox DM, Supkoff DM, Mayfield A (1992) Dynamics of yellow starthistle Centaurea solstitialis achenes in field and laboratory. Weed Sci 40:190–194

MathWorks (2011) Matlab R2011a. MathWorks, Natick

McEvoy PB, Coombs EM (1999) Biological control of plant invaders: regional patterns, field experiments, and structured population models. Ecol Appl 9:387–401

McFayden REC (1998) Biological control of weeds. Annu Rev Entomol 43:369–393

Parker IM (2000) Invasion dynamics of Cytisus scoparius: a matrix model approach. Ecol Appl 10:726–743

Parker IM, Simberloff D, Lonsdale WM, Goodell K, Wonham M, Kareiva PM, Williamson MH, Von Holle B, Moyle PB, Byers JE, Goldwasser L (1999) Impact: towards a framework for understanding the ecological effects of invaders. Biol Invasions 1:3–19

Pearson DE, Ortega YK, Runyon JB, Butler JL (2016) Secondary invasion: The bane of weed management. Biol Conserv 197:8–17

Pitcairn MJ, Villegas B, Woods D, Wilber G, Duffy A, El-Bawdri M (2002) Statewide survey of yellow starthistle biological control agents. In: Woods DM (ed) Biological Control Program Annual Summary 2002. California Department of Food and Agriculture, Plant Health and Pest Prevention Services, Sacramento, pp 45–49

Pitcairn MJ, Schoenig S, Yacoub R, Gendron J (2006) Yellow starthistle continues its spread in California. Calif Agric 60:83–90

Ramula S, Buckley Y (2010) Management recommendations for short-lived weeds depend on model structure and explicit characterization of density dependence. Methods Ecol Evol 1:158–167

Ricker WE (1954) Stock and recruitment. J Fish Res Board Can 11:559–623

Rose KE, Louda SM, Rees M (2005) Demographic and evolutionary impacts of native and invasive insect herbivores on Cirsium canescens. Ecology 86:453–465

Sakai AK, Allendorf FW, Holt JS, Lodge DM, Molofsky J, With KA, Baughman S, Cabin RJ, Cohen JE, Ellstrand NC, MeCauley DE, O'Neil P, Parker IM, Thompson JN, Weller SG (2001) The population biology of invasive species. Annu Rev Ecol Syst 32:305–332

Shea K, Kelly D, Sheppard AW, Woodburn TL (2005) Context-dependent biological control of an invasive thistle. Ecology 86:3174–3181

Sheley RL, Larson LL, Jacobs JS (1999) Yellow starthistle. In: Sheley RL, Petroff JK (eds) Biology and Management of Noxious Rangeland Weeds. Oregon State University Press, Corvallis, pp 408–416

Sun M, Ritland K (1998) Mating system of yellow starthistle (Centaurea solstitialis), a successful colonizer in North America. Heredity 80:225–232

Swope SM, Parker IM (2010a) Trait-mediated interactions and lifetime fitness of the invasive plant Centaurea solstitialis. Ecology 91:2284–2293

Swope SM, Parker IM (2010b) Widespread seed limitation affects plant density but not population trajectory in the invasive plant Centaurea solstitialis. Oecologia 164:117–128

Swope SM, Parker IM (2012) Complex interactions among biocontrol agents, pollinators and an invasive weed: a structural equation modeling approach. Ecol Appl 22:2122–2134

Swope SM, Satterthwaite WH (2012) Variable effects of a generalist parasitoid on a biocontrol seed predator and its target weed. Ecol Appl 22:20–34

Turnbull LA, Crawley MJ, Rees M (2000) Are plant populations seed-limited? a review of seed sowing experiments. Oikos 88(2):225–238

van Driesche R, Hoddle M, Center T (2008) Control of Pests and Weeds by Natural Enemies. Blackwell Publishing, Malden

Vitousek PM, D'Antonio CM, Loope LL, Rejmanek M, Westbrooks R (1997) Introduced species: a significant component of human-caused global change. N Z J Ecol 21:1–16

Wilcove DS, Rothstein D, Dubow J, Phillips A, Losos E (1998) Quantifying threats to imperiled species in the United States. Bioscience 48:607–615

Zimmermann HG, Moran VC (1982) Ecology and management of cactus weeds in South Africa. S Afr J Sci 78:314–320
Acknowledgements
We thank Dan Doak, Carla D'Antonio, Laurel Fox, Kris Hulvey, Alden Griffith and two anonymous reviewers for helpful comments that improved this manuscript. Marci Beitch, Maggie Barr, Aaron Johnson and Joe Braasch ably assisted with the collection of data in the field and the lab. In particular, Joe Braasch deserves thanks for his excellent work counting and categorizing thousands of seeds. SMS is grateful for the support of the Jean Langenheim Fellowship in Plant Ecology and Evolution and an NSF Doctoral Dissertation Improvement Grant DEB-0808337 during the first 2 years of the data collection portion of this study.
Electronic supplementary material
Below is the link to the electronic supplementary material.
About this article
Cite this article
Swope, S.M., Satterthwaite, W.H. & Parker, I.M. Spatiotemporal variation in the strength of density dependence: implications for biocontrol of Centaurea solstitialis . Biol Invasions 19, 2675–2691 (2017). https://doi.org/10.1007/s10530-017-1476-3
Received:

Accepted:

Published:

Issue Date:
Keywords
Biocontrol

Density dependence

Matrix model