Abstract
The sharptooth catfish Clarias gariepinus is an emerging global invader for which control strategies might include the use of piscicides such as rotenone. Experimental exposure demonstrated that C. gariepinus was less susceptible to rotenone than most other fish species, with unexpected survival observed at rotenone concentrations of 87.5 and 100 µg L−1. C. gariepinus were also observed exhibiting avoidance behaviour to rotenone treated water and were found to be capable of recovering from rotenone exposure. As such, effective eradication might not be attainable even at a dose exceeding 100 µg L−1 with exposures of longer than 24 h. This exposure scenario may pose an unacceptable risk to non-target fauna and highlights the difficulty associated with managing current and future invasions.
This is a preview of subscription content, log in to check access.
Access options
Buy single article
Instant access to the full article PDF.
US$ 39.95
Tax calculation will be finalised during checkout.
Subscribe to journal
Immediate online access to all issues from 2019. Subscription will auto renew annually.
US$ 99
Tax calculation will be finalised during checkout.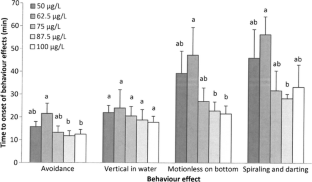 References
Alexander ME, Dick JTA, Weyl OLF, Robinson TB, Richardson DM (2014) Existing and emerging high impact invasive species are characterized by higher functional responses than natives. Biol Lett 10:20130946

Allen Y, Kirby S, Copp GH, Brazier M (2006) Toxicity of rotenone to topmouth gudgeon Pseudorasbora parva for eradication of this non-native species from a tarn in Cumbria. Engl Fish Manag Ecol 13:337–340

Bruton MN (1979) The survival of habitat desiccation by air breathing clariid catfishes. Environ Biol Fishes 4:273–280

Ellender BR, Woodford DJ, Weyl OLF (2015) The invasibility of small headwater streams by an emerging invader, Clarias gariepinus. Biol Invasions 17:57–61

Finlayson B, Somer WL, Vinson MR (2009) Rotenone toxicity to rainbow trout and several mountain stream insects. N Am J Fish Manag 30:102–111

Finlayson B, Schnick R, Skaar D, Anderson J, Demong L, Duffield D, Horton W, Steinkjer J (2010) Planning and standard operating procedures for the use of rotenone in fish management—rotenone SOP manual. American Fisheries Society Publication, Bethesda

Jordaan MS, Weyl OLF (2013) Determining the minimum effective dose of rotenone for eradication of alien smallmouth bass Micropterus dolomieu from a South African river. Afr J Aquat Sci 38:91–95

Lazur A, Early S, Jacobs JM (2006) Acute toxicity of 5% rotenone to northern snakeheads. N Am J Fish Manag 26:628–630

Meyer FA (1966) Chemical control of undesirable fishes. In: Calhoun A (ed) Inland fisheries management. California Department of Fish and Game, Sacramento, pp 498–510

OECD (Organization for Economic Cooperation and Development) (1992) Fish acute toxicity test 203. OECD guideline for the testing of chemicals. OECD, Paris

Pham L, West D, Closs GP (2013) Reintroduction of a native galaxiid (Galaxias fasciatus) following piscicide treatment in two streams: response and recovery of the fish population. Ecol Freshw Fish 22:361–373

Rach JJ, Boogaard M, Kolar C (2009) Toxicity of rotenone and antimycin to silver carp and bighead carp. N Am J Fish Manag 29:388–395

Rayner TS, Creese GC (2006) A review of rotenone use for the control of non-indigenous fish in Australian fresh waters, and an attempted eradication of the noxious fish, Phalloceros caudimaculatus. N Z J Mar Fresh 40:477–486

Singer TP, Ramsay RR (1994) The reaction site of rotenone and ubiquinone with mitochondrial NADH dehydrogenase. Biochim Biophys Acta 1187:198–202

Slabbert E, Jordaan MS, Weyl OLF (2014) Analysis of active rotenone concentration during treatment of the Rondegat River, Cape Floristic Region, South Africa. Afr J Aquat Sci 39:467–472

Weyl OLF, Finlayson B, Impson D, Woodford DJ (2014) Threatened endemic fishes in South Africa's Cape Floristic Region: a new beginning for the Rondegat River. Fisheries 39:270–279

Weyl OLF, Dagaa V, Ellender BR, Vitule JRS (2016) A review of Clarias gariepinus invasions in Brazil and South Africa. J Fish Biol 89:386–402
Acknowledgements
The authors wish to acknowledge the technical support provided by Kevin Shaw, Francois Jooste, Sonja Erasmus and Thaaqirah Joseph during the execution of the experimental work. Stellenbosch University Division of Aquaculture is thanked for the use of equipment. The National Research Foundation (NRF) of South Africa (UID: 77444) and Department of Science and Technology (DST)/NRF Centre for Invasion Biology, Water Research Commission (Project K5/2261; K5/2638) are thanked for their support. Ethical clearance was obtained prior to commencement of the study from the animal ethics committee of the South African Institute for Aquatic Biodiversity (Reference 2014/01).
About this article
Cite this article
Jordaan, M.S., Dalu, T., Wasserman, R.J. et al. Unexpected survival of sharptooth catfish Clarias gariepinus (Burchell 1822) during acute rotenone toxicity trials will complicate management of invasions. Biol Invasions 19, 1739–1744 (2017). https://doi.org/10.1007/s10530-017-1403-7
Received:

Accepted:

Published:

Issue Date:
Keywords
Acute toxicity

Behaviour effects

Biodiversity restoration

Global invader

Invasions

Rotenone