Abstract
The horticultural industry is recognised as a major pathway for the introduction and spread of invasive alien plants (IAPs). The Conservation of Agricultural Resources Act (CARA) of 1983 (Act No. 43 of 1983) listed and categorised invasive species with an aim to curb their spread. The more recently enacted Alien and Invasive Species Regulations under South Africa's National Environmental Management: Biodiversity Act (NEMBA) are intended, in part, to improve controls on the horticultural industry's role in the spread of IAPs. In order to assess, and enhance, the likely effectiveness of NEMBA, it is important to build an understanding of stakeholders' awareness and attitudes towards the control of IAPs and associated regulatory policies. A two-pronged approach—involving nursery manager interviews (n = 30) and plant stock audit assessments (n = 41)—was used to gauge the awareness, compliance and attitudes of nursery managers towards both the CARA and NEMBA invasive species regulations. Less than ten percent of audited nurseries were fully compliant with the NEMBA regulations, and over 50% were stocking IAPs that have been regulated for at least 13 years under CARA. This is despite high levels of awareness (70%) about the CARA regulations reported in the interviews. The majority (73.5%) of IAP species stocked in nurseries were NEMBA category 1b invaders such as Nerium oleander and Canna indica. These are widespread and well-established invaders that require compulsory control under NEMBA. Half of the managers were not aware that the NEMBA regulations had been promulgated, but most respondents nevertheless reported being enthusiastic about compliance. Several factors were quoted as constraints on compliance by the industry. These included a perceived lack of enforcement, weak communication from government, and the lack of inclusion of the industry in the regulatory process. Suggested interventions that could enhance the impact of IAP regulations will involve improving the user-friendliness of the regulations, and supplementing the current top-down approach to regulation with an inclusive partner-centred approach.
This is a preview of subscription content, log in to check access.
Access options
Buy single article
Instant access to the full article PDF.
US$ 39.95
Price includes VAT for USA
Subscribe to journal
Immediate online access to all issues from 2019. Subscription will auto renew annually.
US$ 99
This is the net price. Taxes to be calculated in checkout.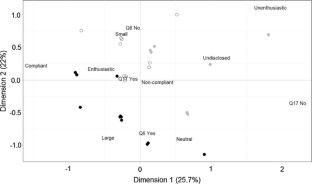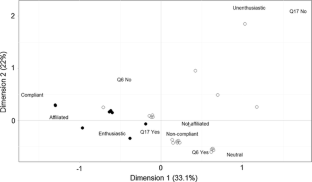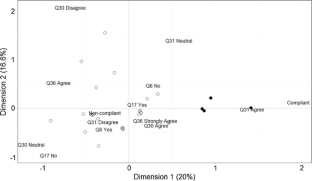 References
Abdi H, Valentin D (2007) Multiple correspondence analysis. In: Salkind N (ed) Encyclopedia of measurement and statistics. Sage, Thousand Oaks, pp 651–657

Ajzen I (2001) Nature and operation of attitudes. Annu Rev Psychol 52(1):27–58

Ajzen I (2002) Perceived behavioural control, self-efficacy, locus of control, and the theory of planned behaviour. J Appl Soc Psychol 32:1–20

Alston KP, Richardson DM (2006) The roles of habitat features, disturbance, and distance from putative source populations in structuring alien plant invasions at the urban/wildland interface on the Cape Peninsula, South Africa. Biol Conserv 132(2):183–198

Badenhorst AB (2011) An investigation into the compliance of selected nurseries and garden centres within Kwazulu-Natal Ethekwini and the Umsunduzi geographical regions, with the Conservation of Agricultural Resources Act 1983 (Act no. 43 of 1983) CARA and the National Environmental Management: Biodiversity Act 2004 (Act no. 10 of 2004) NEMBA. Dissertation, University of South Africa

Barbier EG, Knowler D, Gwatipedza J, Reichard SH, Ransom-Hodges A (2013) Implementing polices to control invasive plant species. Bioscience 63:132–138

Baskin Y (2002) The greening of horticulture: new codes of conduct aim to curb plant invasions. Bioscience 52(6):464–471

Burt JW, Muir AA, Piovia-Scott J, Veblen KE, Chang AL, Grossman JD, Weiskel HW (2007) Preventing horticultural introductions of invasive plants: potential efficacy of voluntary initiatives. Biol Invasions 9(8):909–923

Crompton T, Weinstein N, Sanderson B, Kasser T, Maio G, Henderson S (2014) No cause is an island: how people are influenced by values regardless of the cause. Common Cause Foundation, London

de Lange WJ, van Wilgen BW (2010) An economic assessment of the contribution of biological control to the management of invasive alien plants and to the protection of ecosystem services in South Africa. Biol Invasions 12(12):4113–4124

Dehnen-Schmutz K, Touza J (2008) Plant invasions and ornamental horticulture: pathway, propagule pressure and the legal framework. Floric Ornam Plant Biotechnol 5:15–21

Dehnen-Schmutz K, Touza J, Perrings C, Williamson M (2007) The horticultural trade and ornamental plant invasions in Britain. Conserv Biol 21(1):224–231

Dobson A (2007) Environmental citizenship: towards sustainable development. Sustain Dev 15(5):276–285

Drew J, Anderson N, Andow D (2010) Conundrums of a complex vector for invasive species control: a detailed examination of the horticultural industry. Biol Invasion 12(8):2837–2851

Foxcroft LC, Richardson DM, Wilson JR (2008) Ornamental plants as invasive aliens: problems and solutions in Kruger National Park, South Africa. Environ Manag 41(1):32–51

Fulton DC, Manfredo MJ, Lipscomb J (1996) Wildlife value orientations: a conceptual and measurement approach. Hum Dimens Wildl 1(2):24–47

García-Llorente M, Martín-López B, González JA, Alcorlo P, Montes C (2008) Social perceptions of the impacts and benefits of invasive alien species: implications for management. Biol Conserv 141(12):2969–2983

Grant AM (2008) Does intrinsic motivation fuel the prosocial fire? Motivational synergy in predicting persistence, performance, and productivity. J Appl Psychol 93(1):48

Humair F, Siegrist M, Kueffer C (2014) Working with the horticultural industry to limit invasion risks: the Swiss experience. EPPO Bull 44(2):232–238

Husson F, Josse J, Lê S, Mazet J (2011) FactoMineR: multivariate exploratory data analysis and data mining with R. R package version 1.16

Kinght T, Havens K, Vitt P (2011) Will the use of less fecund cultivars reduced the invasiveness of perennial plants. Bioscience 61(10):816–822

Le Maitre DC, Mgidi TN, Schonegevel L, Nel J, Rouget M, Richardson DM, Midgley C (2004a) Plant invasions in South Africa, Lesotho and Swaziland: assessing the potential impacts of major and emerging plant invaders. CSIR Environmentek, Stellenbosch

Le Maitre DC, Richardson DM, Chapman RA (2004b) Alien plant invasions in South Africa: driving forces and the human dimension: working for water. S Afr J Sci 100(1 & 2):103–110

Niemiera AX, Von Holle B (2009) Invasive plant species and the ornamental horticulture industry. In: Management of invasive weeds, pp 167–187. Springer, Netherlands

Paterson AR (2006) Clearing a path towards effective alien invasive control: the legal conundrum. Potchefstroom Electron Law J 9(1):1–56

Reaser JK (2001) Invasive alien species prevention and control: the art and science of managing people. In: McNeely JA (ed) The great reshuffling: human dimensions of invasive alien species. IUCN, Cambridge, pp 5–20

Reichard S (2004) Conflicting values and common goals: codes of conduct to reduce the threat of invasive species. Weed Technol 18:1503–1507

Reichard SH, White P (2001) Horticulture as a pathway of invasive plant introductions in the United States. Bioscience 51(2):103–113

Richardson DM, Cambray JA, Chapman RA, Dean WRJ, Griffiths CL, Le Maitre DC, Newton DJ, Winstanley TJ (2003) Vectors and pathways of biological invasions in South Africa: past, present and future. In: Ruiz G, Carlton J (eds) Invasive species. Vectors and management strategies. Island Press, Washington, pp 292–349

Sharp RL, Larson LR, Green GT (2011) Factors influencing public preferences for invasive alien species management. Biol Conserv 144(8):2097–2104

Stern PC (2000a) Psychology and the science of human-environment interactions. Am Psychol 55(5):523

Stern PC (2000b) New environmental theories: toward a coherent theory of environmentally significant behaviour. J Soc Issues 56(3):407–424

Vanderhoeven S, Piqueray J, Halford M, Nulens G, Vincke J, Mahy G (2011) Perception and understanding of invasive alien species issues by nature conservation and horticulture professionals in Belgium. Environ Manage 47(3):425–442

Wilson JR, Ivey P, Manyama P, Nänni I (2013) A new national unit for invasive species detection, assessment and eradication planning. S Afr J Sci 109(5–6):1–13
Acknowledgements
The authors are grateful to the following people for their assistance and support: Katya Mauff for statistical assistance; Ariella Rink and Lukas Otto for assistance with data collection; Ana Novoa, Guy Preston and Kay Montgomery for advice and insight with the project design; and Ernita Van Wyk for useful comments on the manuscript. HK acknowledges support from the Working for Water (WfW) Programme of the South African Department of Environmental Affairs, through the South African National Biodiversity Institute Invasive Species Programme. Lastly, we thank the nursery managers who agreed to participate in this study and took the time to respond to the questionnaire.
Ethics declarations
This research was approved by the University of Cape Town Faculty of Science's Research Ethics Committee (7 October 2014, FSREC 074).
Conflict of interest
The authors declare that they have no conflict of interest.
Informed consent
Prior to being interviewed, participants were provided with an informed consent letter, detailing the content of the interview, how the information would be used and assurances that strict confidentiality would be preserved.
Electronic supplementary material
Below is the link to the electronic supplementary material.
About this article
Cite this article
Cronin, K., Kaplan, H., Gaertner, M. et al. Aliens in the nursery: assessing the attitudes of nursery managers to invasive species regulations. Biol Invasions 19, 925–937 (2017). https://doi.org/10.1007/s10530-016-1363-3
Received:

Accepted:

Published:

Issue Date:
Keywords
Compliance

Invasive species

Legislation

Ornamental horticulture

Perceptions