Abstract
Introduced mammalian predators have negatively affected native biota and ecological processes in ecosystems across the globe. The least weasel (Mustela nivalis) is a Holarctic mustelid carnivore that has been considered one of the world's worst invasive alien species. It has been introduced to several islands in the Mediterranean Sea and Atlantic Ocean, and here we present a genetic analysis of these insular populations, based on mitochondrial DNA and microsatellites and building upon a previous Western Palearctic phylogeographic study, with the aim of inferring their origin and introduction history. This is essential information for ecological and evolutionary studies of those populations and our understanding of their impacts on the islands' biodiversity. Among the Mediterranean insular populations, a substantial mitochondrial subdivision between weasels in Sicily-Corsica and Malta-Sardinia-Balearics is best explained by a dual colonization originating from the Eastern Mediterranean. Given the correspondence between the observed genetic partition and the differential geographic distribution of Greek and Phoenician settlements and influence during the last millennium BC in those islands, we propose that weasels may have been introduced into the first group of islands by the Greeks and into the second group by the Phoenicians. There is strong support that the commercial and demographic expansions of Phoenicians and Greeks allowed the colonization of the western Mediterranean islands by the house mouse, and texts from Classical Antiquity show evidence that weasels were used for rodent control. Thus, weasels may have been intentionally introduced to the islands, with the aim of controlling commensal rodents. Besides indicating Eastern Mediterranean origins for weasels in Mediterranean islands, the mitochondrial data also revealed an unanticipated close genealogical connection between some of these populations and those from the Azores and São Tomé. The latter island populations showed no affinities with weasels from mainland Portugal, contrary to what might have been expected given that these Atlantic islands were settled by the Portuguese. The microsatellite data also supported the relationship between weasels in Atlantic and in Mediterranean islands. Considering geographic proximity and historical information, the most parsimonious explanation for the origin of the Atlantic weasels appears to be introduction from the Balearic Islands to the Azores and from there to São Tomé.
Access options
Buy single article
Instant access to the full article PDF.
USD 39.95
Price excludes VAT (USA)
Tax calculation will be finalised during checkout.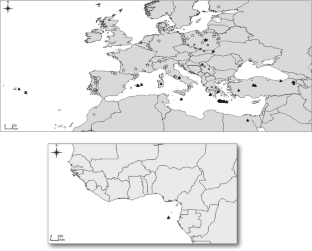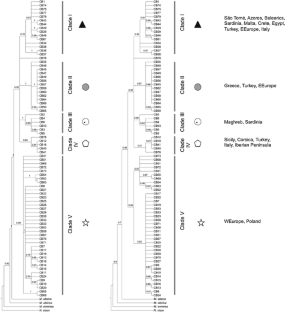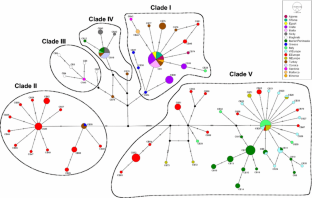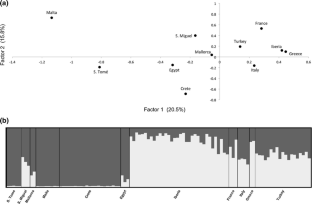 References
Abi-Said M, Amr ZS (2012) Camera trapping in assessing diversity of mammals in Jabal Moussa Biosphere Reserve, Lebanon. Vertebr Zool 62:145–152

Abramov AV, Baryshnikov GF (2000) Geographic variation and intraspecific taxonomy of weasel Mustela nivalis (Carnivora, Mustelidae). Zoosystematica Rossica 8:365–402

Abulafia D (1991) The Problem of the kingdom of Majorca (1229/76–1343) 2. Economic identity. Mediterr Hist Rev 6:35–61

Antonioli F, Lo Presti V, Gasparo Morticelli M, Bonfiglio L, Mannino MA, Palombo MR, Sannino G, Ferranti L, Furlani S, Lambeck K, Canese S, Catalano R, Chiocci FL, Mangano G, Scicchitano G, Tonielli R (2016) Timing of the emergence of the Europe–Sicily bridge (40–17 cal ka BP) and its implications for the spread of modern humans. In: Harff J, Bailey G, Lüth F (eds) Geology and archaeology: submerged landscapes of the continental shelf. The Geological Society, London, Special Publication 411, pp 111–144

Atkinson IA (2001) Introduced mammals and models for restoration. Biol Conserv 99:81–96

Avise JC (2009) Phylogeography: retrospect and prospect. J Biogeogr 36:3–15

Ballard RD, Stager LE, Master D, Yoerger D, Mindell D, Whitcomb LL, Singh H, Piechota D (2002) Iron age shipwrecks in deep water off Ashkelon, Israel. Am J Archaeol 106:151–168

Bandelt H, Forster P, Röhl A (1999) Median-joining networks for inferring intraspecific phylogenies. Mol Biol Evol 16:37–48

Barboza du Bocage JV (1895) A doninha da ilha de S. Tomé. J Sci Math Phys Nat Segunda Sér 4:24–27

Bar-Oz G, Dayan T (2001) Weasels from the Hellenistic period of Israel. Isr J Zool 47:271–274

Barrett-Hamilton GEH (1900) III.—Note on the weasel, Putorius (Ictis) nivalis, Linn., and some of its subspecies. Ann Mag Nat Hist Ser 7 5:41–50

Barrett-Hamilton GEH (1904) XXXVIII.—Note on an undescribed weasel from the Atlas Mountains, and on the occurrence of a weasel in the Azores. Ann Mag Nat Hist Ser 13:323–325

Bastrop R, Jürss K, Sturmbauer C (1998) Cryptic species in marine polychaete and their independent introduction from North America to Europe. Mol Biol Evol 15:97–103

Bate DMA (1905) On the mammals of Crete. Proc Zool Soc Lond 75:315–323

Belkhir K, Borsa P, Chikhi L, Raufaste N, Bonhomme F (2004) GENETIX 4.05, logiciel sous Windows TM pour la génétique des populations. Laboratoire Génome, Populations, Interactions, CNRS UMR 5171, Université de Montpellier II, Montpellier. http://kimura.univ-montp2.fr/genetix/

Bellard CG (1995) The first colonization of Ibiza and Formentera (Balearic Islands, Spain): some more islands out of the stream? World Archaeol 26:442–455

Berglund H, Järemo J, Bengtsson G (2009) Endemism predicts intrinsic vulnerability to nonindigenous species on islands. Am Nat 174:94–101

Bikai PM, Bikai PM (1990) A Phoenician fable. Archaeology 43:20–23

Bonanno A (2005) Malta: Phoenician. Midsea Books Ltd, Malta

Bosch-Gimpera P (1944) The Phokaians in the Far West: an historical reconstruction. Class Q 38:53–59

Bover P, Alcover JA (2008) Extinction of the autochthonous small mammals of Mallorca (Gymnesic Islands, Western Mediterranean) and its ecological consequences. J Biogeogr 35:1112–1122

Cabrera P (1998) Greek trade in Iberia: the extent of interaction. Oxf J Archaeol 17:191–206

Carpenter R (1958) Phoenicians in the West. Am J Archaeol 62:35–53

Cavalli-Sforza LL, Edwards AW (1967) Phylogenetic analysis. Models and estimation procedures. Am J Hum Genet 19:233–257

Colautti RI, Ricciardi A, Grigorovich IA, MacIsaac HJ (2004) Is invasion success explained by the enemy release hypothesis? Ecol Lett 7:721–733

Cooper WE Jr, Pérez-Mellado V (2012) Historical influence of predation pressure on escape by Podarcis lizards in the Balearic Islands. Biol J Linn Soc 107:254–268

Courchamp F, Chapuis JL, Pascal M (2003) Mammal invaders on islands: impact, control and control impact. Biol Rev 78:347–383

Cristescu ME (2015) Genetic reconstructions of invasion history. Mol Ecol 24:2212–2225

Cucchi T, Vigne JD (2006) Origin and diffusion of the house mouse in the Mediterranean. Hum Evol 21:95–106

Davies A (1964) Prince Henry the Navigator. Trans Pap (Institute of British Geographers) 35:119–127

De Marinis AM, Masseti M (2003) The weasel (Mustela nivalis) on the Mediterranean islands. Mamm Biol 68:181–186

Diamond JM (1989) Nine hundred kiwis and a dog. Nature 338:544

Dixon CJ (2006) A means of estimating the completeness of haplotype sampling using the Stirling probability distribution. Mol Ecol Notes 6:650–652

Dlugosch KM, Parker IM (2008) Founding events in species invasions: genetic variation, adaptive evolution, and the role of multiple introductions. Mol Ecol 17:431–449

Dubey S, Cosson JF, Magnanou E, Vohralík V, Benda P, Frynta D, Hutterer R, Vogel V, Vogel P (2007) Mediterranean populations of the lesser white-toothed shrew (Crocidura suaveolens group): an unexpected puzzle of Pleistocene survivors and prehistoric introductions. Mol Ecol 16:3438–3452

Dutton J (1994) Introduced mammals in São Tomé and Príncipe: possible threats to biodiversity. Biodivers Conserv 3:927–938

Eales J, Thorpe RS (2010) Revealing the geographic origin of an invasive lizard: the problem of native population genetic diversity. Biol Invasions 12:77–86

Earl DA, vonHoldt BM (2012) STRUCTURE HARVESTER: a website and program for visualizing STRUCTURE output and implementing the Evanno method. Conserv Genet Resour 4:359–361

Evanno G, Regnaut S, Goudet J (2005) Detecting the number of clusters of individuals using the software STRUCTURE: a simulation study. Mol Ecol 14:2611–2620

Evian SBD (2011) Egypt and the levant in the iron age I–IIA: the ceramic evidence. Tel Aviv 38:94–119

Excoffier L, Lischer HE (2010) Arlequin suite ver 3.5: a new series of programs to perform population genetics analyses under Linux and Windows. Mol Ecol Resour 10:564–567

Excoffier L, Smouse PE, Quattro JM (1992) Analysis of molecular variance inferred from metric distances among DNA haplotypes: application to human mitochondrial DNA restriction data. Genetics 131:479–491

Faure E, Kitchener AC (2009) An archaeological and historical review of the relationships between felids and people. Anthrozoos 22:221–238

Fernandes CA, Ginja C, Pereira I, Tenreiro R, Bruford MW, Santos-Reis M (2008) Species-specific mitochondrial DNA markers for identification of non-invasive samples from sympatric carnivores in the Iberian peninsula. Conserv Genet 9:681–690

Ficetola GF, Bonin A, Miaud C (2008) Population genetics reveals origin and number of founders in a biological invasion. Mol Ecol 17:773–782

Fitzpatrick BM, Fordyce JA, Niemiller ML, Reynolds RG (2012) What can DNA tell us about biological invasions? Biol Invasions 14:245–253

Frank F (1985) Zur Evolution und Systematik der kleinen Wiesel (Mustela nivalis Linnaeus, 1766). Z Säugetierkd 50:208–225

Frutuoso G (1873) Saudades da Terra. Typ Funchalense, Funchal

Gabriel SI, Mathias ML, Searle JB (2015) Of mice and the 'Age of Discovery': the complex history of colonization of the Azorean archipelago by the house mouse (Mus musculus) as revealed by mitochondrial DNA variation. J Evol Biol 28:130–145

Godman FDC (1870) Natural history of the Azores, or Western Islands. John Van Voorst, London

Guiller A, Bellido A, Madec L (1998) Genetic distances and ordination: the land snail Helix aspersa in North Africa as a test case. Syst Biol 47:208–227

Guinand B (1996) Use of a multivariate model using allele frequency distributions to analyse patterns of genetic differentiation among populations. Biol J Linn Soc 58:173–195

Hammer Ø, Harper DAT, Ryan PD (2001) PAST: paleontological statistics software package for education and data analysis. Palaeontol Electron 4:1–9

Hanke M, Wink M (1994) Direct DNA sequencing of PCR-amplified vector inserts following enzymatic degradation of primer and dNTPs. Biotechniques 17:858–860

Harrison DL, Lewis RE (1964) A note on the occurrence of the weasel (Mustela nivalis Linnaeus, 1766) (Carnivora: Mustelinae) in Lebanon. Z Säugetierkd 29:179–181

Hays WS, Conant S (2007) Biology and impacts of Pacific Island invasive species. 1. A worldwide review of effects of the small Indian mongoose, Herpestes javanicus (Carnivora: Herpestidae). Pac Sci 61:3–16

Hinten G, Harriss F, Rossetto M, Braverstock PR (2003) Genetic variation and island biogeography: microsatellite and mitochondrial DNA variation in island populations of the Australian bush rat, Rattus fuscipes greyii. Conserv Genet 4:759–778

Ho SYW, Shapiro B, Phillips MJ, Cooper A, Drummond AJ (2007) Evidence for time dependency of molecular rate estimates. Syst Biol 56:515–522

Holder MT, Sukumaran J, Lewis PO (2008) A justification for reporting the majority-rule consensus tree in Bayesian phylogenetics. Syst Biol 57:814–821

Holland LA (1937) Herodotus I, 94: a Phocaean Version of an Etruscan Tale. Am J Archaeol 41:377–382

Hubisz MJ, Falush D, Stephens M, Pritchard JK (2009) Inferring weak population structure with the assistance of sample group information. Mol Ecol Resour 9:1322–1332

Huelsenbeck JP, Larget B, Alfaro ME (2004) Bayesian phylogenetic model selection using reversible jump Markov chain Monte Carlo. Mol Biol Evol 21:1123–1133

Jakobsson M, Rosenberg NA (2007) CLUMPP: a cluster matching and permutation program for dealing with label switching and multimodality in analysis of population structure. Bioinformatics 23:1801–1806

Jarman MR (1996) Human influence in the development of the Cretan mammalian fauna. In: Reese DS (ed) Pleistocene and Holocene fauna of Crete and its first settlers. Monographs in World Archaeology 28. Prehistory Press, Madison, pp 211–229

Johnson JR, Thomson RC, Micheletti SJ, Shaffer HB (2011) The origin of tiger salamander (Ambystoma tigrinum) populations in California, Oregon, and Nevada: introductions or relicts? Conserv Genet 12:355–370

Jombart T, Pontier D, Dufour AB (2009) Genetic markers in the playground of multivariate analysis. Heredity 102:330–341

Kalinowski ST (2004) Counting alleles with rarefaction: private alleles and hierarchical sampling designs. Conserv Genet 5:539–543

Kalinowski ST (2005) HP-RARE 1.0: a computer program for performing rarefaction on measures of allelic richness. Mol Ecol Notes 5:187–189

Kasparek M (1988) On the occurrence of the Weasel, Mustela nivalis, in Turkey. Zool Middle East 2:8–11

Keller SR, Taylor DR (2008) History, chance and adaptation during biological invasion: separating stochastic phenotypic evolution from response to selection. Ecol Lett 11:852–866

Kelley JE Jr (1979) Non-Mediterranean influences that shaped the Atlantic in the early Portolan charts. Imago Mundi 31:18–35

King RJ, Di Cristofaro J, Kouvatsi A, Triantaphyllidis C, Scheidel W, Myres NM, Lin AA, Eissautier A, Mitchell M, Binder D, Semino O, Novelletto A, Underhill PA, Chiaroni J (2011) The coming of the Greeks to Provence and Corsica: Y-chromosome models of archaic Greek colonization of the western Mediterranean. BMC Evol Biol 11:69

Kreiser BR, Mitton JB, Woodling JD (2000) Single versus multiple sources of introduced populations identified with molecular markers: a case study of a freshwater fish. Biol Invasions 2:295–304

Kruskal JB (1964) Multidimensional scaling by optimizing goodness of fit to a nonmetric hypothesis. Psychometrika 29:1–27

Lanfear R, Calcott B, Ho SY, Guindon S (2012) PartitionFinder: combined selection of partitioning schemes and substitution models for phylogenetic analyses. Mol Biol Evol 29:1695–1701

Langella O (1999) Populations 1.2.30. CNRS UPR9034. http://bioinformatics.org/populations/

Lebarbenchon C, Poitevin F, Montgelard C (2006) Genetic variation of the weasel (Mustela nivalis) in Corsica based on mitochondrial control region sequences. Mamm Biol 71:164–171

Lebarbenchon C, Poitevin F, Arnal V, Montgelard C (2010) Phylogeography of the weasel (Mustela nivalis) in the western-Palaearctic region: combined effects of glacial events and human movements. Heredity 105:449–462

Lehmann EV, Nobis G (1979) Subfossile Mauswiesel, Mustela nivalis Linné, 1766 aus Enkomia-Alasia auf Zypern. Bonn Zool Beitr 30:32–38

Leigh JW, Bryant D (2015) POPART: full-feature software for haplotype network construction. Methods Ecol Evol 6:1110–1116

Lowe S, Browne M, Boudjelas S, De Poorter M (2004) 100 of the World's worst invasive alien species. A selection from the global invasive species database. The Invasive Species Specialist Group (ISSG) a specialist group of the Species Survival Commission (SSC) of the World Conservation Union (IUCN)

Malkin I (2011) A small Greek world: networks in the Ancient Mediterranean. Oxford University Press, New York

Marmi J, López-Giráldez F, Macdonald DW, Calafell F, Zholnerovskaya E, Domingo-Roura X (2006) Mitochondrial DNA reveals a strong phylogeographic structure in the badger across Eurasia. Mol Ecol 15:1007–1020

Masseti M (1995) Quaternary biogeography of the Mustelidae family on the Mediterranean islands. Hystrix 7:17–34

Masseti M (2009) Carnivores of Syria. ZooKeys 31:229–252

Mathias ML, Santos-Reis M, Petrucci-Fonseca F, Libois R, Fons R, Ferraz de Carvalho G, Oom MM, Collares-Pereira M (1998) Mammals from the Azores islands (Portugal): an updated overview. Mammalia 62:397–407

McDevitt AD, Zub K, Kawalko A, Oliver MK, Herman JS, Wojcik JM (2012) Climate and refugial origin influence the mitochondrial lineage distribution of weasels (Mustela nivalis) in a phylogeographic suture zone. Biol J Linn Soc 106:57–69

Medina FM, Bonnaud E, Vidal E, Tershy BR, Zavaleta ES, Donlan CJ, Keitt BS, Le Corre M, Horwath SV, Nogales M (2011) A global review of the impacts of invasive cats on island endangered vertebrates. Glob Change Biol 17:3503–3510

Miller GS (1912) Catalogue of the Mammals of Western Europe (Europe exclusive of Russia) in the collection of the British Museum. Trustees of the British Museum, London

Miró M, Santos M (2014) The Greek presence on the east coast of the Iberian Peninsula: colonial establishments and rhythms of trade with Iberian societies. Catalan Hist Rev 7:9–28

Montgomery WI, Montgomery SS, Reid N (2015) Invasive alien species disrupt spatial and temporal ecology and threaten extinction in an insular, small mammal community. Biol Invasions 17:179–189

Moore JW (2010) Madeira, sugar, and the conquest of nature in the "first" sixteenth century, part II: from Regional Crisis to Commodity Frontier, 1506–1530. Review (Fernand Braudel Center) 33:1–24

Muirhead JR, Gray DK, Kelly DW, Ellis SM, Heath DD, MacIsaac HJ (2008) Identifying the source of species invasions: sampling intensity vs. genetic diversity. Mol Ecol 17:1020–1035

Muñoz-Fuentes V, Green AJ, Sorenson MD, Negro JJ, Vila C (2006) The ruddy duck Oxyura jamaicensis in Europe: natural colonization or human introduction? Mol Ecol 15:1441–1453

Negbi O (1992) Early Phoenician presence in the Mediterranean islands: a reappraisal. Am J Archaeol 96:599–615

Nei M (1972) Genetic distance between populations. Am Nat 106:283–292

Nei M (1987) Molecular evolutionary genetics. Columbia University Press, New York

Nye TMW, Lio P, Gilks WR (2006) A novel algorithm and web-based tool for comparing two alternative phylogenetic trees. Bioinformatics 22:117–119

Peakall R, Smouse PE (2012) GenAlEx 6.5: genetic analysis in Excel. Population genetic software for teaching and research - an update. Bioinformatics 28:2537–2539

Petit RJ, El Mousadik A, Pons O (1998) Identifying populations for conservation on the basis of genetic markers. Conserv Biol 12:844–855

Pike G (1971) The animal bones from the Xenixija tombs. In: Evans JD (ed) The Prehistoric Antiquities of the Maltese Islands: a Survey. University of London, The Athlone Press, London, pp 239–241

Pinya S, Carretero MA (2011) The Balearic herpetofauna: a species update and a review on the evidence. Acta Herpetol 6:59–80

Pritchard JK, Stephens M, Donnelly P (2000) Inference of population structure using multilocus genotype data. Genetics 155:945–959

Puillandre N, Dupas S, Dangles O, Zeddam JL, Capdevielle-Dulac C, Barbin K, Torres-Leguizamon M, Silvain JF (2008) Genetic bottleneck in invasive species: the potato tuber moth adds to the list. Biol Invasions 10:319–333

Rigsby KJ (1987) Phocians in Sicily: Thucydides 6.2. Class Q 37:332–335

Rodrigues AF (2015) Megalithic constructions discovered in the Azores, Portugal. Archaeol Discov 3:51–61

Rodrigues M, Santos-Reis M, Elmeros M, Fernandes CA (2012) Microsatellite markers for genetic studies in the weasel (Mustela nivalis). Eur J Wildl Res 58:507–510

Rodrigues AF, Martins NO, Ribeiro N, Joaquinito A (2015) Early Atlantic navigation: pre-Portuguese presence in the Azores Islands. Archaeol Discov 3:104–113

Rodrigues M, Bos AR, Hoath R, Schembri PJ, Lymberakis P, Cento M, Ghawar W, Ozkurt SO, Santos-Reis M, Merilä J, Fernandes C (2016) Taxonomic status and origin of the Egyptian weasel (Mustela subpalmata) inferred from mitochondrial DNA. Genetica 144:191–202

Roller DW (2006) Through the pillars of Herakles: Greco-Roman exploration of the Atlantic. Routledge, New York

Romano V, Cali F, Ragalmuto A, D'Anna RP, Flugy A, De Leo G, Giambalvo O, Lisa A, Fiorani O, Di Gaetano C, Salerno A, Tamouza R, Charron D, Matullo G, Piazza A (2003) Autosomal microsatellite and mtDNA genetic analysis in Sicily (Italy). Ann Hum Genet 67:42–53

Ronquist F, Teslenko M, van der Mark P, Ayres DL, Darling A, Höhna S, Larget B, Liu L, Suchard MA, Huelsenbeck JP (2012) MrBayes 3.2: efficient Bayesian phylogenetic inference and model choice across a large model space. Syst Biol 61:539–542

Rosenberg NA (2004) DISTRUCT: a program for the graphical display of population structure. Mol Ecol Notes 4:137–138

Ruffino L, Vidal E (2010) Early colonization of Mediterranean islands by Rattus rattus: a review of zooarcheological data. Biol Invasions 12:2389–2394

Saitou N, Nei M (1987) The neighbor-joining method: a new method for reconstructing phylogenetic trees. Mol Biol Evol 4:406–425

Santos C, Lima M, Montiel R, Angles N, Pires L, Abade A, Aluja MP (2003) Genetic structure and origin of peopling in the Azores islands (Portugal): the view from mtDNA. Ann Hum Genet 67:433–456

Sax DF, Brown JH (2000) The paradox of invasion. Glob Ecol Biogeogr 9:363–371

Sax DF, Stachowicz JJ, Brown JH, Bruno JF, Dawson MN, Gaines SD, Grosberg RK, Hastings A, Holt RD, Mayfield MM, O'Connor MI, Rice WR (2007) Ecological and evolutionary insights from species invasions. Trends Ecol Evol 22:465–471

Shackleton JC, van Andel TH, Runnels CN (1984) Coastal paleogeography of the central and western Mediterranean during the last 125,000 years and its archaeological implications. J Field Archaeol 11:307–314

Shaw JW (1989) Phoenicians in southern Crete. Am J Archaeol 93:165–183

Sheffield SR, King CM (1994) Mustela nivalis. Mammalian Species 454:1–10

Short J (1998) The extinction of rat-kangaroos (Marsupialia: Potoroidae) in New South Wales, Australia. Biol Conserv 86:365–377

Sidorovich VE, Pikulik MM (1997) Toads Bufo spp. in the diets of mustelid predators in Belarus. Acta Theriol 42:105–108

Simberloff D, Gibbons L (2004) Now you see them, now you don't!—population crashes of established introduced species. Biol Invasions 6:161–172

Stamatakis A (2006) RAxML-VI-HPC: maximum likelihood-based phylogenetic analyses with thousands of taxa and mixed models. Bioinformatics 22:2688–2690

Stöver BC, Müller KF (2010) TreeGraph 2: combining and visualizing evidence from different phylogenetic analyses. BMC Bioinform 11:7

Suarez AV, Tsutsui ND (2008) The evolutionary consequences of biological invasions. Mol Ecol 17:351–360

Sukumaran J, Holder MT (2010) DendroPy: a Python library for phylogenetic computing. Bioinformatics 26:1569–1571

Tamura K, Nei M (1993) Estimation of the number of nucleotide substitutions in the control region of mitochondrial DNA in humans and chimpanzees. Mol Biol Evol 10:512–526

Thomas O (1895) On the long-lost Putorius africanus, Desm., and its occurrence in Malta. Proc Zool Soc Lond 63:128–131

Thomas O (1901) On the mammals of the Balearic Islands. Proc Zool Soc Lond 70:35–44

Tikhonov A, Cavallini P, Maran T, Kranz A, Herrero J, Giannatos G, Stubbe M, Conroy J, Kryštufek B, Abramov A, Wozencraft C, Reid F, McDonald R (2008) Mustela nivalis. The IUCN Red List of Threatened Species. Version 2015.2. www.iucnredlist.org

Tomás G, Seco L, Seixas S, Faustino P, Lavinha J, Rocha J (2002) The peopling of São Tomé (Gulf of Guinea): origins of slave settlers and admixture with the Portuguese. Hum Biol 74:397–411

Towns DR, Atkinson IA, Daugherty CH (2006) Have the harmful effects of introduced rats on islands been exaggerated? Biol Invasions 8:863–891

Traveset A, Nogales M, Alcover JA, Delgado JD, López-Darias M, Godoy D, Igual JM, Bover P (2009) A review on the effects of alien rodents in the Balearic (Western Mediterranean Sea) and Canary Islands (Eastern Atlantic Ocean). Biol Invasions 11:1653–1670

Tsutsui ND, Suarez AV, Holway DA, Case TJ (2001) Relationships among native and introduced populations of the Argentine ant (Linepithema humile) and the source of introduced populations. Mol Ecol 10:2151–2161

Valenzuela A, Alcover JA (2013) Radiocarbon evidence for a prehistoric deliberate translocation: the weasel (Mustela nivalis) of Mallorca. Biol Invasions 15:717–722

van Andel TH (1989) Late Quaternary sea-level changes and archaeology. Antiquity 63:733–745

van Dommelen P (1997) Colonial constructs: colonialism and archaeology in the Mediterranean. World Archaeol 28:305–323

van Oosterhout C, Hutchinson WF, Wills DP, Shipley P (2004) MICRO-CHECKER: software for identifying and correcting genotyping errors in microsatellite data. Mol Ecol Notes 4:535–538

van Sister JL (2012) Cultural exchange on Malta and Gozo: a study of the Aegyptiaca on Malta and Gozo from the Phoenician and Punic periods. Bachelor thesis, Leiden University

Vázquez-Domínguez E, Suárez-Atilano M, Booth W, González-Baca C, Cuarón AD (2012) Genetic evidence of a recent successful colonization of introduced species on islands: Boa constrictor imperator on Cozumel Island. Biol Invasions 14:2101–2116

Veale AJ, Hannaford OD, Russell JC, Clout MN (2012) Modelling the distribution of stoats on New Zealand offshore islands. New Zeal J Ecol 36:38–47

Vella NC (2005) Review of 'The archaeology of Punic Malta'. J Roman Archaeol 18:436–450

Vigne JD (1992) Zooarchaeology and the biogeographical history of the mammals of Corsica and Sardinia since the last ice age. Mamm Rev 22:87–96

Villesen P (2007) FaBox: an online toolbox for fasta sequences. Mol Ecol Notes 7:965–968

Wright CA (1875) On the specific identity of the weasel found in Malta. Proc Zool Soc Lond 43:312–313

Xia X (2013) DAMBE5: a comprehensive software package for data analysis in molecular biology and evolution. Mol Biol Evol 30:1720–1728

Xia X, Xie Z, Salemi M, Chen L, Wang Y (2003) An index of substitution saturation and its application. Mol Phylogenet Evol 26:1–7

Yannouli E (2003) Non-domestic carnivores in Greek prehistory: a review. Br School Athens Stud 9:175–192

Zima J, Cenevová E (2002) Coat colour and chromosome variation in central European populations of the weasel (Mustela nivalis). Folia Zool 51:265–274
Acknowledgments
We thank Jean-François Noblet, Wissem Ghawar (Institut Pasteur de Tunis), Maurizio Gattabria (Museo Civico di Zoologia di Roma), Federico Striglioni and Gino Damiani (Parco Nazionale del Gran Sasso e Monti della Laga) and Parco Nazionale d'Abruzzo, Lazio e Molise for providing samples, Fátima Sobral and Ana Simões Nunes (DGV) for kindly providing access to an automated sequencer, and Arlindo Carvalho (São Tomé and Príncipe General-Directorate for the Environment) for the permit to collect and export samples. We also thank Associate Editor Marc Rius and three anonymous reviewers for their helpful comments and suggestions. This study was financed by Portuguese National Funds through Fundação para a Ciência e a Tecnologia (FCT), within the project UID/BIA/00329/2013. MR, RFL and CF acknowledge financial support from Fundação para a Ciência e Tecnologia (FCT, MCTES, Portugal) through, respectively, the PhD fellowship SFRH/BD/60595/2009, the post-doctoral grant SFRH/BPD/91494/2012 and the Ciência 2007 contract C2007-UL-342-CBA1. JM acknowledges support from the Academy of Finland (Grants 200940, 108601 and 118673). ARB acknowledges financial support from the American University in Cairo through a faculty research grant. PJS thanks the Malta Environment and Planning Authority for granting permits to work on the protected Maltese weasel, and Dr. Katrin Fenech and Dr. Nicholas C. Vella for information on the Phoenicians in Malta. SOO acknowledges support from the Turkish National Science Foundation (TUBITAK) through the project 110T930.
Ethics declarations
Conflict of interest
The authors declare that they have no conflict of interest.
Electronic supplementary material
Below is the link to the electronic supplementary material.
About this article
Cite this article
Rodrigues, M., Bos, A.R., Schembri, P.J. et al. Origin and introduction history of the least weasel (Mustela nivalis) on Mediterranean and Atlantic islands inferred from genetic data. Biol Invasions 19, 399–421 (2017). https://doi.org/10.1007/s10530-016-1287-y
Received:

Accepted:

Published:

Issue Date:

DOI: https://doi.org/10.1007/s10530-016-1287-y
Keywords
Least weasel

Mediterranean islands

Azores

São Tomé Island

Genetic markers

Introduced species