Abstract
We assessed how establishment patterns of non-native freshwater, marine and terrestrial species into Northwest Europe (using Great Britain, France, Belgium and the Netherlands as the study countries) have changed over time, and identified the prevalent pathways and vectors of recent arrivals. Data were extracted from 33 sources on (a) presence/absence and (b) first year of observation in the wild in each country, and (c) continent(s) of origin, (d) invasion pathway(s), (e) invasion vector(s) and (f) environment(s) for 359 species, comprising all non-native Mollusca, Osteichthyes (bony fish), Anseriformes (wildfowl) and Mammalia, and non-native invasive Angiospermae present in the area. Molluscs, fish and wildfowl, particularly those originating from South America, arrived more recently into Northwest Europe than other groups, particularly mammals, invasive plants and species originating from North America. Non-deliberate introductions, those of aquatic species and those from elsewhere in Europe and/or Asia increased strongly in importance after the year 2000 and were responsible for 69, 83 and 89 % of new introductions between 2001 and 2015, respectively. Non-deliberate introductions and those from Asia and North America contributed significantly more to introductions of invasive species in comparison to other non-native species. From the 1960s, ornamental trade has increased in importance relative to other vectors and was responsible for all deliberate introductions of study groups since 2001. Non-deliberate introductions of freshwater and marine species originating from Southeast Europe and Asia represent an increasingly important ecological and economic threat to Northwest Europe. Invertebrates such as molluscs may be particularly dangerous due to their small size and difficulties in detection. Prevention of future invasions in this respect will require intensive screening of stowaways on boats and raising of public awareness.
Access options
Buy single article
Instant access to the full article PDF.
US$ 39.95
Tax calculation will be finalised during checkout.
Subscribe to journal
Immediate online access to all issues from 2019. Subscription will auto renew annually.
US$ 79
Tax calculation will be finalised during checkout.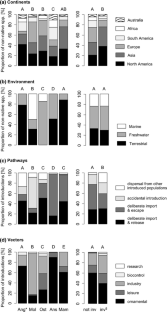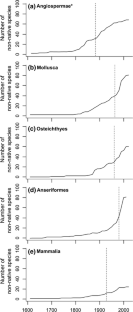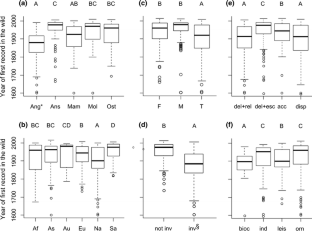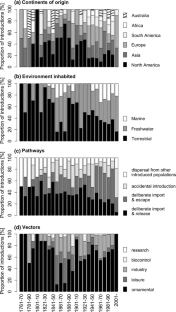 References
Aldridge DC, Ho S, Froufe E (2014) The Ponto-Caspian quagga mussel, Dreissena rostriformis bugensis (Andrusov, 1897), invades Great Britain. Aquat Invasions 9:529–535

Anderson LG, White PCL, Stebbing PD et al (2014) Biosecurity and vector behaviour: evaluating the potential threat posed by anglers and canoeists as pathways for the spread of invasive non-native species and pathogens. PLoS ONE 9:e92788

Bij de Vaate A, Jazdzewski K, Ketelaars HAM et al (2002) Geographical patterns in range extension of Ponto-Caspian macroinvertebrate species in Europe. Can J Fish Aquat Sci 59:1159–1174

Britton JR, Gozlan RE, Copp GH (2011) Managing non-native fish in the environment. Fish Fish 12:256–274

Dejean T, Valentini A, Miquel C et al (2012) Improved detection of an alien invasive species through environmental DNA barcoding: the example of the American bullfrog Lithobates catesbeianus. J Appl Ecol 49:953–959

Duggan IC (2010) The freshwater aquarium trade as a vector for incidental invertebrate fauna. Biol Invasions 12:3757–3770

Essl F, Bacher S, Blackburn TM et al (2015) Crossing frontiers in tackling pathways of biological invasions. Bioscience 65:769–782

European Commission (2014) Regulation (EU) no 1143/2014 of the European parliament and of the council of 22 October 2014 on the prevention and management of the introduction and spread of invasive alien species. Off J Eur Union 57(L317):35–55

Galil BS, Nehring S, Panov V (2007) Waterways as invasion highways—Impact of climate change and globalization. Ecological, Studies, pp 59–74

Gallardo B, Aldridge DC (2012) Priority setting for invasive species management: risk assessment of Ponto-Caspian invasive species into Great Britain. Ecol Appl 23:352–364

Gallardo B, Aldridge DC (2013) The 'dirty dozen': socio-economic factors amplify the invasion potential of 12 high-risk aquatic invasive species in Great Britain and Ireland. J Appl Ecol 50:757–766

Gallardo B, Aldridge DC (2015) Is Great Britain heading for a Ponto-Caspian invasional meltdown? J Appl Ecol 52:41–49

Gallardo B, Zieritz A, Aldridge DC (2015) Considering the human footprint: the importance of non-environmental factors in shaping the global distribution of terrestrial, aquatic and marine invaders. PLoS ONE 10:e0125801

Gallardo B, Zieritz A, Adriaens T et al (2016) Trans-national horizon scanning for invasive non-native species: a case study in western Europe. Biol Invasions 18:17–30

Genovesi P, Carboneras C, Vilà M et al (2015) EU adopts innovative legislation on invasive species: A step towards a global response to biological invasions? Biol Invasions 17:1307–1311

Gherardi F, Bertolino S, Bodon M et al (2008) Animal xenodiversity in Italian inland waters: distribution, modes of arrival, and pathways. Biol Invasions 10:435–454

Gherardi F, Britton JR, Mavuti KM et al (2011) A review of allodiversity in Lake Naivasha, Kenya: Developing conservation actions to protect East African lakes from the negative impacts of alien species. Biol Conserv 144:2585–2596

Hulme PE (2009) Trade, transport and trouble: managing invasive species pathways in an era of globalization. J Appl Ecol 46:10–18

Hulme PE, Bacher S, Kenis M et al (2008) Grasping at the routes of biological invasions: a framework for integrating pathways into policy. J Appl Ecol 45:403–414

International Maritime Organisation IMO (2004) International convention for the control and management of ships' ballast water and sediments. BWM/CONF/36

Invasive Species Specialist Group ISSG (2016) Global invasive species database. http://www.issg.org/database. Accessed 2016

IUCN (2016) IUCN Red List of Threatened Species. Version 2015-3. www.iucnredlist.org. Accessed 2016

Jerde CL, Mahon AR, Chadderton WL et al (2011) "Sight-unseen" detection of rare aquatic species using environmental DNA. Conservation Letters 4:150–157

Johnson L, Brawley S, Adey W (2012) Secondary spread of invasive species: historic patterns and underlying mechanisms of the continuing invasion of the European rockweed Fucus serratus in eastern North America. Biol Invasions 14:79–97

Keller RP, Ermgassen PSEz, Aldridge DC (2009) Vectors and timing of freshwater invasions in Great Britain. Conserv Biol 23:1526–1534

Lenda M, Skórka P, Knops JMH et al (2014) Effect of the internet commerce on dispersal modes of invasive alien species. PLoS ONE 9:e99786

Long J (2003) Introduced mammals of the world: their history, distribution and influence. CABI Publishing, UK

MacDougall AS, Turkington R (2005) Are invasive species the drivers or passengers of change in degraded ecosystems? Ecology 86:42–55

Mack R, Lonsdale W (2002) Eradicating invasive plants: Hard-won lessons for islands. In: Veitch CR and Clout MN (eds) Turning the tide: the eradication of invasive species. Proceedings of the international conference on eradication of island invasives IUCN SSC Invasive Species Specialist Group. pp. 164–172

Marescaux J, de Vaate Bij A, Van Doninck K (2012) First records of Dreissena rostriformis bugensis (Andrusov, 1897) in the Meuse River. BioInvasions Rec 1:119–124

Mazza G, Aquiloni L, Inghilesi AF et al (2015) Aliens just a click away: the online aquarium trade in Italy. Manag Biol Invasions 6:253–261

Molloy DP, de Vaate Ab, Wilke T et al (2007) Discovery of Dreissena rostriformis bugensis (Andrusov 1897) in Western Europe. Biol Invasions 9:871–874

Mombaerts M, Verreycken H, Volckaert FAM et al (2010) The invasive round goby Neogobius melanostomus and tubenose goby Proterorhinus semilunaris: two introduction routes into Belgium. Aquat Invasions 9:305–314

Myers JH, Simberloff D, Kuris AM et al (2000) Eradication revisited: dealing with exotic species. Trends Ecol Evol 15:316–320

Ojaveer H, Leppäkoski E, Olenin S et al (2002) Ecological impact of ponto-caspian invaders in the Baltic Sea, European inland waters and the great lakes: an inter-ecosystem comparison. In: Leppäkoski E, Gollasch S, Olenin S (eds) Invasive aquatic species of Europe. Distribution, impacts and management. Springer, Netherlands, pp 412–425

Oreska MPJ, Aldridge DC (2011) Estimating the financial costs of freshwater invasive species in Great Britain: a standardized approach to invasive species costing. Biol Invasions 13:305–319

Panov VE, Alexandrov B, Arbačiauskas K et al (2009) Assessing the risks of aquatic species invasions via european inland waterways: from concepts to environmental indicators. Integr Environ Assess Manag 5:110–126

Pluess T, Cannon R, JaroÅ¡Ãk V et al (2012) When are eradication campaigns successful? A test of common assumptions. Biol Invasions 14:1365–1378

Rabitsch W, Milasowszky N, Nehring S et al (2013) The times are changing: temporal shifts in patterns of fish invasions in central European fresh waters. J Fish Biol 82:17–33

Secretariat of the Convention on Biological Diversity (2011) Strategic Plan for Biodiversity 2011–2020 and the Aichi Targets ''Living in Harmony with Nature."

Seebens H, Gastner MT, Blasius B (2013) The risk of marine bioinvasion caused by global shipping. Ecol Lett 16:782–790

Simberloff D, Martin J-L, Genovesi P et al (2013) Impacts of biological invasions: what's what and the way forward. Trends Ecol Evol 28:58–66

van Beek GCW (2006) The round goby Neogobius melanostomus first recorded in the Netherlands. Aquat Invasions 1:42–43

Vilà M, Basnou C, Gollasch S et al (2009) One Hundred of the most invasive alien species in Europe. In: DAISIE (Delivering Alien Invasive Species Inventories for Europe) (ed) Handbook of alien species in Europe. Springer, Netherlands, pp 265–268

Williams SL, Davidson IC, Pasari JR et al (2013) Managing multiple vectors for marine invasions in an increasingly connected world. Bioscience 63:952–966

Wilson JRU, Dormontt EE, Prentis PJ et al (2009) Something in the way you move: dispersal pathways affect invasion success. Trends Ecol Evol 24:136–144

Yueh L (2012) The economy of China. Edward Elgar Pub, Cheltenham, UK

Zavaleta ES, Hobbs RJ, Mooney HA (2001) Viewing invasive species removal in a whole-ecosystem context. Trends Ecol Evol 16:454–459

Zenni RD (2014) Analysis of introduction history of invasive plants in Brazil reveals patterns of association between biogeographical origin and reason for introduction. Austral Ecol 39:401–407

Zieritz A, Gallardo B, Aldridge DC (2014) Registry of non-native species in the Two Seas region countries (Great Britain, France, Belgium and the Netherlands). Neobiota 23:65–80
Acknowledgments
Research leading to this study was funded by the European Regional Development Fund through the EU co-funded Interreg 2Seas project RINSE (reducing the impact of non-native species in Europe; www.rinse-europe.eu), which seeks to improve awareness of the threats posed by INNS, and the methods to address them. AZ and BG received financial support from RINSE. AZ is supported by a Postdoctoral Research Fellowship of the University of Nottingham, Malaysia Campus. BG holds a Postdoctoral Research Fellowship from the Spanish Ministry of Economy and Competitiveness (JCI-2012-11908). We are grateful to RINSE colleagues for their contribution during the data review stage (in alphabetical order): Tim Adriaens, Catherine Chatters, Patrick Crestot, Kim De Bus, Dieter Depraetere, Céline Fontaine, Cindy Fournier, Melanie Gillings, Ans Mouton, Jonathan Newman, Corin Pratt, Dick Shaw, Sofie Standaert and Karel van Moer.
Electronic supplementary material
Below is the link to the electronic supplementary material.
About this article
Cite this article
Zieritz, A., Gallardo, B., Baker, S.J. et al. Changes in pathways and vectors of biological invasions in Northwest Europe. Biol Invasions 19, 269–282 (2017). https://doi.org/10.1007/s10530-016-1278-z
Received:

Accepted:

Published:

Issue Date:
Keywords
Freshwater

Invasive

Marine

Non-native

Pathways

Terrestrial