Abstract
Passer montanus became established in a small area of central North America following its introduction in 1870. P. montanus underwent minimal range expansion in the first 100 years following introduction. However, the North American population of P. montanus is now growing in size and expanding in geographic distribution, having expanded approximately 125 km to the north by 1970. We quantify the distance of spread by P. montanus from its introduction site in the greater St. Louis, Missouri-Illinois, USA area, using distributional (presence) data from the National Audubon Society Christmas Bird Count surveys for the period of 1951 to 2014. Linear regressions of the average annual range center of P. montanus confirmed significant shifts to the north at a rate of 3.3 km/year (P < 0.001) km/year. Linear regressions of the linear and angular distance of range center indicates significant northern movement (change in angle of mean range center; P < 0.001) since 1951. Our results quantify the extent of a northward range expansion, and suggesting a probable spread of this species northward.
Access options
Buy single article
Instant access to the full article PDF.
US$ 39.95
Tax calculation will be finalised during checkout.
Subscribe to journal
Immediate online access to all issues from 2019. Subscription will auto renew annually.
US$ 79
Tax calculation will be finalised during checkout.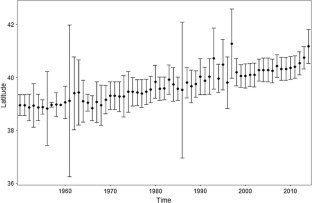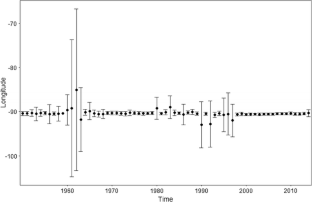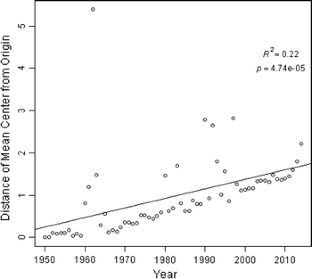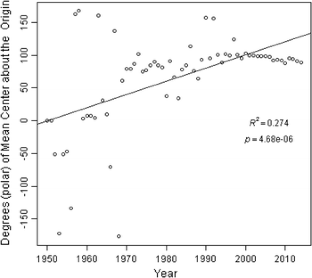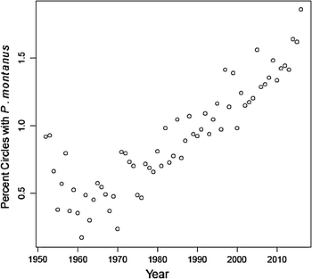 References
Aikio S, Duncan RP, Hulme PE (2010) Lag-phases in alien plant invasions: separating the facts from the artefacts. Oikos 119:370–378

Barlow JC (1973) Status of the North American population of the European tree sparrow. Ornithol Monogr 14:10–23

Barlow JC, Leckie SN (2000) Eurasian Tree Sparrow: the birds of North America online. http://bna.birds.cornell.edu/. Accessed 21 Aug 2016

Box GEP, Cox DR (1964) An analysis of transformations. J R Stat Soc Ser 26:211–252

Burnett JL, Moulton MP (2015) Recent trends in House Sparrow (Passer domesticus) distribution and abundance in Gainesville, Alachua County, Florida. Fla Field Nat 43:167–172

Crooks JE, Soulé ME (1999) Lag times in population explosions of invasive species: causes and implications. In: Sandlund O, Schei P, Viken Å (eds) Invasive species and biodiversity management. Kluwer Academic Publishers, Boston, pp 103–125

Field RH, Anderson GQA (2004) Habitat use by breeding Tree Sparrows Passer montanus. Ibis 146:60–68

Graham J, Harnevich C, Young N, Newman G, Stohlgren G (2011) How will climate change affect the potential distribution of Eurasian tree sparrows Passer montanus in North America? Curr Zool 57:648–654

Hobbs RJ, Humphries SE (1995) An integrated approach to the ecology and management of plant invasions. Conserv Biol 9:761–770

Lockwood JL, Hoopes MF, Marchetti MP (2013) Invasion ecology. Wiley, West Sussex

Long JL (1981) Introduced birds of the world. David and Charles, London

National Audubon Society (2010) The Christmas Bird count historical results. http://www.christmasbirdcount.org. Accessed 21 Aug 2016

Osborne JW (2010) Improving your data transformations: applying the Box-Cox transformation. Pract Assess Res Eval 15:1–9

Pardieck KL, Ziolkowski Jr. DJ, Hudson MAR, Campbell K (2015) North American Breeding Bird Survey Dataset 1966–2015, version 2015.0. U. S. Geological Survey, Patuxent Wildlife Research Center. www.pwrc.usgs.gov/BBS/RawData/. Accessed 21 Aug 2016

R Core Team (2015) R: a language and environment for statistical computing. R Foundation for Statistical Computing, Vienna, Austria. https://www.R-project.org/. Accessed 21 Aug 2016

Robinson RA, Siriwardena GM, Crick HQP (2005) Status and population trends of the House Sparrow Passer domesticus in Great Britain. Ibis 147(552):562

Sullivan BL, Wood CL, Iliff MJ, Bonney RE, Fink D, Kelling S (2009) eBird: a citizen-based bird observation network in the biological sciences. Biol Conserv 142:2282–2292

Summers-Smith JD (2003) The decline of the House Sparrow: a review. Br Birds 96:439–446

Widmann O (1889) History of the House Sparrow, Passer domesticus, and the European Tree Sparrow, Passer montanus, at Saint Louis, MO. In: Barrows W (ed) The English Sparrow (Passer domesticus) in North America. Bulletin 1. US Department of Agriculture, Division of Economic Ornithology and Mammalogy, Washington D.C, pp 191–194
Acknowledgments
We are grateful to the volunteers of the National Audubon Society's Christmas Bird Count and to the National Audubon Society for making their extensive data available for use. We thank D. U. Greene, N. B. Price and two anonymous reviewers whose comments greatly improved the manuscript. The Nebraska Cooperative Fish and Wildlife Research Unit is jointly supported by a cooperative agreement among the U.S. Geological Survey, the Nebraska Game and Parks Commission, the University of Nebraska, the U.S. Fish and Wildlife Service, and the Wildlife Management Institute. Any use of trade, firm, or product names is for descriptive purposes only and does not imply endorsement by the U.S. Government.
About this article
Cite this article
Burnett, J.L., Roberts, C.P., Allen, C.R. et al. Range expansion by Passer montanus in North America. Biol Invasions 19, 5–9 (2017). https://doi.org/10.1007/s10530-016-1273-4
Received:

Accepted:

Published:

Issue Date:
Keywords
Passer montanus

Range expansion

Spread

Non-indigenous

Christmas Bird Count