Abstract
Do invasive plant species act more as "passengers" or drivers of ecological change in native plant communities? Snapshot studies based on correlations at the site scale ignore longer-term dynamics and variation in how particular invaders affect particular native species. We analyzed patterns of co-occurrence between three invading species (Alliaria petiolata, Lonicera x bella, and Rhamnus cathartica) and 70 native plant species in 94 southern Wisconsin forests at two scales to test four hypotheses. Surveys at these sites in the 1950s and again in the 2000s allowed us to assess how initial plant diversity and site conditions affected subsequent patterns of invasion. Sites with more native species in the 1950s experienced fewer invasions of Lonicera and Rhamnus. However, this result may reflect the fact that more fragmented habitat patches supported both fewer species in the 1950s and more invasions. At the site-level, few negative correlations exist between invasive and native species' abundances. Sites with higher Alliaria densities in the 2000s, however, support fewer native species and lower populations of several declining natives. Rhamnus-invaded sites support lower populations of two increasing species. Association (C-score) analyses detect more associations and more negative associations at the 1 m2 scale than at the site scale. Most strong associations between invasive and increasing native species are positive while those with declining natives are often negative. Species restricted to specialized habitats rarely co-occur with invaders. Alliaria has more negative associations at fragmented sites where it is more abundant and invasions may be older. Fine-scale invasive-native associations were stronger, easier to detect, and less consistent than those detectable at the site-level. Thus, screening large numbers of local associations using observational data may allow us to identify particular invasive-native interactions worth further investigation. Although invading plants sometimes act as passive passengers, increasing in tandem with certain native plants in response to disturbed fragmented habitats, they may also contribute to the declines we observe in many native species. Monitoring invasions would allow us to assess whether local associations serve to predict subsequent invasive species impacts.
Access options
Buy single article
Instant access to the full article PDF.
US$ 39.95
Tax calculation will be finalised during checkout.
Subscribe to journal
Immediate online access to all issues from 2019. Subscription will auto renew annually.
US$ 79
Tax calculation will be finalised during checkout.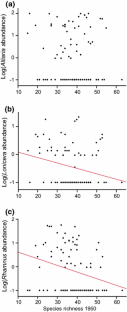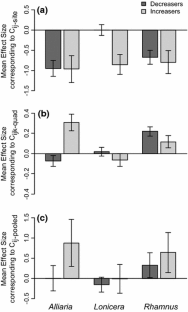 References
Anderson RC, Dhillion SS, Kelley TM (1996) Aspects of the ecology of an invasive plant, garlic mustard (Alliaria petiolata), in central Illinois. Restor Ecol 4:181–191

Barto EK, Powell JR, Cipollini D (2010) How novel are the chemical weapons of garlic mustard in North American forest understories? Biol Invasions 12:3465–3471

Bernthal TW (2003) Development of a floristic quality assessment methodology for Wisconsin. In: Watermolen DJ (ed) Wisconsin Department of Natural Resources. Final Report to the U.S. Environmental Protection Agency Region V. http://dnr.wi.gov/files/PDF/pubs/ss/SS0986.pdf

Blois JL, Zarnetske PL, Fitzpatrick MC et al (2013) Climate change and the past, present, and future of biotic interactions. Science 341:499–504

Cipollini D, Stevenson R, Cipollini K (2008a) Contrasting effects of allelochemicals from two invasive plants on the performance of a nonmycorrhizal plant. Int J Plant Sci 169:371–375

Cipollini KA, McClain GY, Cipollini D (2008b) Separating above- and belowground effects of Alliaria petiolata and Lonicera maackii on the performance of Impatiens capensis. Am Midl Nat 160:117–128

Colautti RI, MacIsaac HJ (2004) A neutral terminology to define 'invasive' species. Divers Distrib 10:135–141

Curtis J (1959) The vegetation of Wisconsin. The University of Wisconsin Press, Madison, Wisconsin

Davis MA, Colehour A, Daney J et al (2012) The population dynamics and ecological effects of garlic mustard, Alliaria petiolata, in a Minnesota oak woodland. Am Midl Nat 168:364–374

Diamond JM (1975) Assembly of species communities. In: Cody ML, Diamond JM (eds) Ecology and evolution of communities. Harvard University Press, Cambridge, MA, pp 342–444

Diamond JM (1983) Laboratory, field, and natural experiments. Nature 304:586–587

Didham RK, Tylianakis JM, Hutchison MA et al (2005) Are invasive species the drivers of ecological change? Trends Ecol Evol 20:470–474

Dorning M, Cipollini D (2006) Leaf and root extracts of the invasive shrub, Lonicera maackii, inhibit seed germination of three herbs with no autotoxic effects. Plant Ecol 184:287–296

Ehrenfeld JG, Kourtev P, Huang WZ (2001) Changes in soil functions following invasions of exotic understory plants in deciduous forests. Ecol Appl 11:1287–1300

Elton CS (1958) The ecology of invasion by animals and plants. Methuen, London

Fridley JD, Stachowicz JJ, Naeem S et al (2007) The invasion paradox: reconciling pattern and process in species invasions. Ecology 88:3–17

Gavier-Pizarro GI, Radeloff VC, Stewart SI et al (2010) Rural housing is related to plant invasions in forests of southern Wisconsin, USA. Landsc Ecol 25:1505–1518

Gorchov DL, Trisel DE (2003) Competitive effects of the invasive shrub, Lonicera maackii (Rupr.) Herder (Caprifoliaceae), on the growth and survival of native tree seedlings. Plant Ecol 166:13–24

Gotelli NJ (2000) Null model analysis of species co-occurrence patterns. Ecology 81:2606–2621

Gotelli NJ, Entsminger GL (2001) Swap and fill algorithms in null model analysis: rethinking the knight's tour. Oecologia 129:281–291

Gotelli NJ, Entsminger GL (2003a) EcoSim: null models software for ecology, 7 edn. Acquired Intelligence Inc. and Kesey-Bear, Burlington, VT. http://homepages.together.net/~gentsmin/ecosim.htm

Gotelli NJ, Entsminger GL (2003b) Swap algorithms in null model analysis. Ecology 84:532–535

Gotelli NJ, Ulrich W (2012) Statistical challenges in null model analysis. Oikos 121:171–180

Gould AMA, Gorchov DL (2000) Effects of the exotic invasive shrub Lonicera maackii on the survival and fecundity of three species of native annuals. Am Midl Nat 144:36–50

Harrington RA, Brown BJ, Reich PB (1989) Ecophysiology of invasive and native shrubs in southern Wisconsin. I. Relationship of leaf characteristics, resource availability, and phenology to seasonal patterns of carbon gain. Oecologia 80:356–367

Heneghan L, Fatemi F, Umek L et al (2006) The invasive shrub European buckthorn (Rhamnus cathartica, L.) alters soil properties in Midwestern US woodlands. Appl Soil Ecol 32:142–148

Hewins DB, Hyatt LA (2010) Flexible N uptake and assimilation mechanisms may assist biological invasion by Alliaria petiolata. Biol Invasions 12:2639–2647

Holm S (1979) A simple sequentially rejective multiple test procedure. Scand J Stat 6:65–70

Hulme PE (2009) Trade, transport and trouble: managing invasive species pathways in an era of globalization. J Appl Ecol 46:10–18

Hurlbert SH (1969) A coefficeint of interspecific association. Ecology 50:1–9

Keesing F, Oberoi P, Vaicekonyte R et al (2011) Effects of garlic mustard (Alliaria petiolata) on entomopathogenic fungi. Ecoscience 18:164–168

Klionsky S, Amatangelo K, Waller DM (2011) Above- and below-ground impacts of European buckthorn (Rhamnus cathartica L.) on four native forbs. Restor Ecol 19:728–737

Knight KS, Kurylo JS, Endress AG et al (2007) Ecology and ecosystem impacts of common buckthorn (Rhamnus cathartica): a review. Biol Invasions 9:925–937

Knops JMH, Tilman D, Haddad NM et al (1999) Effects of plant species richness on invasion dynamics, disease outbreaks, insect abundances and diversity. Ecol Lett 2:286–293

Kuussaari M, Bommarco R, Heikkinen RK et al (2009) Extinction debt: a challenge for biodiversity conservation. Trends Ecol Evol 24:564–571

Lankau RA (2011) Intraspecific variation in allelochemistry determines an invasive species' impact on soil microbial communities. Oecologia 165:453–463

Levine JM (2000) Species diversity and biological invasions: relating local process to community pattern. Science 288:852–854

Levine JM, D'Antonio CM (1999) Elton revisited: a review of evidence linking diversity and invasibility. Oikos 87:15–26

Levine JM, Vila M, D'Antonio CM et al (2003) Mechanisms underlying the impacts of invasive plant invasions. Proc R Soc B 270:775–781

Li D, Waller DM (2016) Long-term shifts in the patterns and underlying processes of plant associations in Wisconsin forests. Glob Ecol Biogeogr (in press)

Lonsdale WM (1999) Global patterns of plant invasions and the concept of invasibility. Ecology 80:1522–1536

Lyons SK, Amatangelo KL et al (2016) Holocene shifts in the assembly of plant and animal communities implicate human impacts. Nature. doi:10.1038/nature16447

MacDougall AS, Turkington R (2005) Are invasive species the drivers or passengers of change in degraded ecosystems? Ecology 86:42–55

Mack RN, Simberloff D, Lonsdale WM et al (2000) Biotic invasions: causes, epidemiology, global consequences, and control. Ecol Appl 10:689–710

Madritch MD, Lindroth RL (2009) Removal of invasive shrubs reduces invasive earthworm populations. Biol Invasions 11:663–671

Mason TJ, French K, Lonsdale WM (2009) Do graminoid and woody invaders have different effects on native plant functional groups? J Appl Ecol 46:426–433

McCay TS, McCay DH (2008) Processes regulating the invasion of European buckthorn (Rhamnus cathartica) in three habitats of the northeastern United States. Biol Invasions 11:1835–1844

McEwan RW, Arthur-Paratley LG, Rieske LK et al (2010) A multi-assay comparison of seed germination inhibition by Lonicera maackii and co-occurring native shrubs. Flora 205:475–483

McKinney AM, Goodell K (2010) Shading by invasive shrub reduces seed production and pollinator services in a native herb. Biol Invasions 12:2751–2763

Meekins JF, McCarthy BC (2001) Effect of environmental variation on the invasive success of a non-indigenous forest herb. Ecol Appl 11:1336–1348

Naeem S, Knops JMH, Tilman D et al (2000) Plant diversity increases resistance to invasion in the absence of covarying extrinsic factors. Oikos 91:97–108

Nuzzo VA, Maerz JC, Blossey B (2009) Earthworm invasion as the driving force behind plant invasion and community change in northeastern North American forests. Conserv Biol 23:966–974

Parker IM, Simberloff D, Lonsdale WM et al (1999) Impact: toward a framework for understanding the ecological effects of invaders. Biol Invasions 1:3–19

Pisula NL, Meiners SJ (2010) Relative allelopathic potential of invasive plant species in a young disturbed woodland. J Torrey Bot Soc 137:81–87

Prati D, Bossdorf O (2004) Allelopathic inhibition of germination by Alliaria petiolata (Brassicaceae). Am J Bot 91:285–288

R Development Core Team (2012) R: a language and environment for statistical computing. R Foundation for Statistical Computing, Vienna. http://www.R-project.org

Ricciardi A, Cohen J (2007) The invasiveness of an introduced species does not predict its impact. Biol Invasions 9:309–315

Roberts KJ, Anderson RC (2001) Effect of garlic mustard [Alliaria petiolata (Beib. Cavara and Grande)] extracts on plants and arbuscular mycorrhizal (AM) fungi. Am Midl Nat 146:146–152

Rogers DA (2006) Fifty years of change in southern Wisconsin forests: patterns of species loss and homogenization. In: Botany. University of Wisconsin, Madison, Wisconsin

Rogers DA, Rooney TP, Waller DM (2008) Shifts in southern Wisconsin forest canopy and understory richenss, composition and heterogeneity. Ecology 89:2482–2492

Rogers DA, Rooney TP, Hawbaker TJ et al (2009) Paying the extinction debt: the increasing influence of patch size and landscape factors on vegetation community composition and dynamics in southern Wisconsin upland forests. Conserv Biol 23:1497–1506

Rooney TP, Rogers DA (2011) Colonization and effects of garlic mustard (Alliaria petiolata), European buckthorn (Rhamnus cathartica), and Bell's honeysuckle (Lonicera x bella) on understory plants after five decades in southern Wisconsin forests. Invasive Plant Sci Manag 4:317–325

Simberloff D (2005) Invasive species do threaten the natural environment! J Agric Environ Ethics 18:595–607

Smart S, Thompson K, Marrs R et al (2006) Biotic homogenization and changes in species diversity across human-modified ecosystems. Proc R Soc Lond Ser B Biol Sci 273:2659–2665

Sokal RR, Rohlf FJ (1995) Biometry. W. H. Freeman and Company, New York

Stinson KA, Campbell SA, Powell JR et al (2006) Invasive plant suppresses the growth of native tree seedlings by disrupting belowground mutualists. PLoS Biol 4:e140

Stinson K, Kaufman S, Durbin L et al (2007) Impacts of garlic mustard invasion on a forest understory community. Northeast Nat 14:73–88

Stohlgren TJ (1999) Exotic plant species invade hot spots of native plant diversity. Ecol Monogr 69:25–46

Stohlgren TJ, Chong GW, Schell LD et al (2002) Assessing vulnerability to invasion by nonnative plant species at multiple spatial scales. Environ Manag 29:566–577

Stohlgren TJ, Jarnevich C, Chong GW et al (2006) Scale and plant invasions: a theory of biotic acceptance. Preslia 78:405–426

Stone L, Roberts A (1990) The checkerboard score and species distributions. Oecologia 85:74–79

Swink F, Wilhelm G (1994) Plants of the Chicago Region, 4th edn. Indiana Academy of Science, Indianapolis

Tilman D (2004) Niche tradeoffs, neutrality, and community structure: a stochastic theory of resource competition, invasion, and community assembly. Proc Nat Acad Sci USA 101:10854–10861

Traveset A, Richardson DM (2006) Biological invasions as disruptors of plant reproductive mutualisms. Trends Ecol Evol 21:208–216

Ulrich W, Gotelli NJ (2013) Pattern detection in null model analysis. Oikos 122:2–18

Veech JA (2014) The pairwise approach to analysing species co-occurrence. J Biogeogr 41:1029–1035

Vitousek PM, Dantonio CM, Loope LL, Rejmanek M, Westbrooks R (1997) Introduced species: a significant component of human-caused global change. N Z J Ecol 21:1–16

Waller DM, Maas LI (2013) Do white-tailed deer and the exotic plant, garlic mustard, interact to affect the growth and persistence of native forest plants? For Ecol Manag 304:296–302

Warner K (2007) Human and biological dimensions of the buckthorn (Rhamnus cathartica L.) invasion in southern Wisconsin. University of Wisconsin, Madison

Webster CR, Jenkins MA, Jose S (2006) Woody invaders and the challenges they pose to forest ecosystems in the eastern United States. J For 104:366–374

Weiner J, Thomas SC (1986) Size variability and compoetition in plant monocultures. Oikos 47:211–222

Wolfe BE, Rodgers VL, Stinson KA et al (2008) The invasive plant Alliaria petiolata (garlic mustard) inhibits ectomycorrhizal fungi in its introduced range. J Ecol 96:777–783

Woods KD (1993) Effects of invasion by Lonicera tatarica L. on herbs and tree seedlings in four New England forests. Am Midl Nat 130:62–74
Acknowledgments
We thank N. Gotelli for suggestions on analyses. This project was supported by the NSF-Ecology program (DEB-0717315) and National Research Initiative Grant #2008-35320-18680 from the USDA National Institute of Food and Agriculture Biology of Weedy and Invasive Species program. DMW thanks LabEX and the ISEM group at the University of Montpellier for hosting a sabbatical that allowed him to finish the paper.
Electronic supplementary material
Below is the link to the electronic supplementary material.
About this article
Cite this article
Waller, D.M., Mudrak, E.L., Amatangelo, K.L. et al. Do associations between native and invasive plants provide signals of invasive impacts?. Biol Invasions 18, 3465–3480 (2016). https://doi.org/10.1007/s10530-016-1238-7
Received:

Accepted:

Published:

Issue Date:
Keywords
Co-occurrence

C-score

Plant community

Alliaria petiolata
Rhamnus cathartica
Lonicera x bella

Forest understory

Coefficient of conservatism