Abstract
Understanding the processes that lead to successful invasions is essential for the management of exotic species. We aimed to assess the comparative relevance of habitat (both at local and at regional scale) and plant features on the species richness of local canopy spiders of both indigenous and exotic species. In an oceanic island, Azores archipelago, we collected spiders in 97 transects belonging to four habitat types according to the degree of habitat disturbance, four types of plants with different colonisation origin (indigenous vs. exotic), and four types of plants according to the complexity of the vegetation structure. Generalised linear mixed models and linear regressions were performed separately for indigenous and exotic species at the local and regional landscape scales. At the local scale, habitat and plant origin explained the variation in the species richness of indigenous spiders, whereas exotic spider richness was poorly correlated to habitat and plant structure. The surrounding landscape matrix substantially affected indigenous spiders, but did not affect exotic spiders, with the exception of the negative effect exerted by native forests on the richness of exotic species. Our results revealed that the local effect of habitat type, plant origin and plant structure explain variations in the species richness observed at a regional scale. These results shed light on the mechanistic processes behind the role of habitat types in invasions, i.e., plant fidelity and plant structure are revealed as key factors, suggesting that native forests may act as physical barriers to the colonisation of exotic spiders.
Access options
Buy single article
Instant access to the full article PDF.
US$ 39.95
Tax calculation will be finalised during checkout.
Subscribe to journal
Immediate online access to all issues from 2019. Subscription will auto renew annually.
US$ 79
Tax calculation will be finalised during checkout.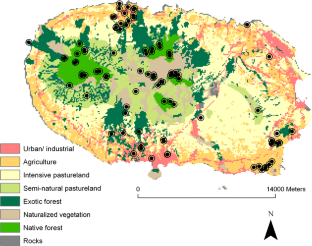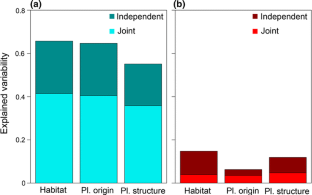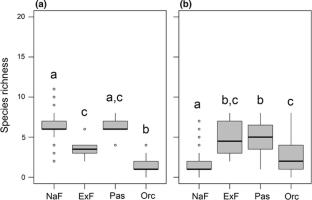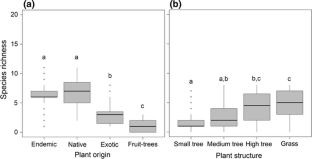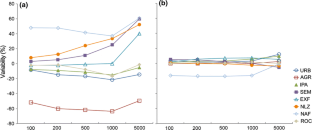 References
Beals ML (2006) Understanding community structure: a data-driven multivariate approach. Oecologia 150:484–495. doi:10.1007/s00442-006-0551-8

Bell JR, Wheater CP, Cullen WR (2001) The implication of grassland and heathland management for the conservation of spider communities: a review. J Zool 225:377–387. doi:10.1017/S0952836901001479

Bell JR, Bohan DA, Shaw EM, Weyman GS (2005) Ballooning dispersal using silk: world fauna, phylogenies, genetics and models. Bull Entomol Res 95:69–114. doi:10.1079/BER2004350

Blackburn TM, Cassey P, Duncan RP, Evans KL, Gaston KJ (2004) Avian extinction and mammalian introductions on oceanic islands. Science 305:1955–1958. doi:10.1126/science.1101617

Blackburn TM, Pysek P, Bacher S, Carlton JT, Duncan RP, Jarosík V, Wilson JRU, Richardson DM (2011) A proposed unified framework for biological invasions. Trends Ecol Evol 26:333–339. doi:10.1016/j.tree.2011.03.023

Blandenier G (2009) Ballooning of spiders (Araneae) in Switzerland: general results from an eleven-year survey. Bull Br Arachnol Soc 14:308–316. doi:10.13156/arac.2009.14.7.308

Borges PAV, Brown VK (1999) Effect of island geological age on the arthropod species richness of Azorean pastures. Biol J Linn Soc 66:373–410. doi:10.1111/j.1095-8312.1999.tb01897.x

Borges PAV, Lobo JM, Azevedo EB, Gaspar CS, Melo C, Nunes LV (2006) Invasibility and species richness of island endemic arthropods: a general model of endemic vs. exotic species. J Biogeogr 33:169–187. doi:10.1111/j.1365-2699.2005.01324.x

Borges PAV, Ugland KI, Dinis FO, Gaspar C (2008) Insect and spider rarity in an oceanic island (Terceira, Azores): true rare and pseudo-rare species. In: Fattorini S (ed) Insect ecology and conservation. Research Signpost, Kerala, pp 47–70

Borges PAV, Vieira V, Amorim IR, Bicudo N, Fritzén N, Gaspar C, Heleno R, Hortal J, Lissner J, Logunov D, Machado A, Marcelino J, Meijer SS, Melo C, Mendonça EP, Moniz J, Pereira F, Santos AS, Simões AM, Torrão E (2010) List of arthropods (Arthropoda). In: Borges PAV, Costa A, Cunha R, Gabriel R, Gonçalves VA, Martins F, Melo I, Parente M, Raposeiro P, Rodrigues P, Santos RS, Silva L, Vieira P, Vieira V (eds) A list of the terrestrial and marine biota from the Azores. Princípia, Cascais, pp 179–246

Butchart SHM, Walpole M, Collen B, Van Strien A, Scharlemann JPW, Almond REA, Baillie JEM, Bomhard B, Brown C, Bruno J, Carpenter KE, Carr GM, Chanson J, Chenery AM, Csirke J, Davidson NC, Dentener F, Foster M, Galli A, Galloway JN, Genovesi P, Gregory RD, Hockings M, Kapos V, Lamarque J-F, Leverington F, Loh J, McGeoch MA, McRae L, Minasyan A, Hernández Morcillo M, Oldfield TEE, Pauly D, Quader S, Revenga C, Sauer JR, Skolnik B, Spear D, Stanwell-Smith D, Stuart SN, Symes A, Tierney M, Tyrrell TD, Vié J-C, Watson R (2010) Global biodiversity: indicators of recent declines. Science 328:1164–1168. doi:10.1126/science.1187512

Byers JE (2002) Physical habitat attribute mediates biotic resistance to non-indigenous species invasion. Oecologia 130:146–156. doi:10.1007/s004420100777

Cardoso P, Aranda SC, Lobo JM, Dinis F, Gaspar C, Borges PAV (2009) A spatial scale assessment of habitat effects on arthropod communities of an oceanic island. Acta Oecol 35:590–597. doi:10.1016/j.actao.2009.05.005

Cardoso P, Arnedo MA, Triantis KA, Borges PA (2010) Drivers of diversity in Macaronesian spiders and the role of species extinctions. J Biogeogr 37:1034–1046. doi:10.1111/j.1365-2699.2009.02264.x

Cardoso P, Rigal F, Fattorini S, Terzopoulou S, Borges PAV (2013) Integrating landscape disturbance and indicator species in conservation studies. PLoS One 8:e63294. doi:10.1371/journal.pone.0063294

Cardoso P, Rigal F, Carvalho JC, Fortelius M, Borges PAV, Podani J, Schmera D (2014) Partitioning taxon, phylogenetic and functional beta diversity into replacement and richness difference components. J Biogeogr 41:749–761. doi:10.1111/jbi.12239

Carvalho JC, Cardoso P (2014) Drivers of beta diversity in Macaronesian spiders in relation to dispersal ability. J Biogeogr 41:1859–1870. doi:10.1111/jbi.12348

Chevan A, Sutherland M (1991) Hierarchical partitioning. Am Stat 45:90–96. doi:10.1080/00031305.1991.10475776

Connor SE, van Leeuwen JFN, Rittenour TM, van der Knaap WO, Ammann B, Björck S (2012) The ecological impact of oceanic island colonization—a palaeoecological perspective from the Azores. J Biogeogr 39:1007–1023. doi:10.1111/j.1365-2699.2011.02671.x

Cornell HV, Lawton JH (1992) Species interactions, local and regional processes, and limits to the richness of ecological communities: a theorical perspective. J Anim Ecol 61:1–2

Didham RK, Tylianakis JM, Gemmell NJ, Rand TA, Ewers RM (2007) Interactive effects of habitat modification and species invasion on native species decline. Trends Ecol Evol 22:489–496. doi:10.1016/j.tree.2007.07.001

Diez JM, D'Antonio CM, Dukes JS, Grosholz ED, Olden JD, Sorte CJ, Blumenthal DM, Bradley BA, Early R, Ibáñez I, Jones SJ, Lawler JJ, Miller LP (2012) Will extreme climatic events facilitate biological invasions? Front Ecol Environ 10:249–257. doi:10.1890/110137

Diniz S, Lewinsohn TM, Prado PI (2012) Comparing assemblages of Asteraceae and their insect herbivores under different land-use regimens. Austral Ecol 37:419–428. doi:10.1111/j.1442-9993.2011.02294.x

Dormann CF, Schweiger O, Augenstein I, Bailey D, Billeter R, de Blust G, DeFilippi R, Frenzel M, Hendrickx F, Herzog F, Klotz S, Liira J, Maelfait J-P, Schmidt T, Speelmans M, van Wingerden WKRE, Zobel M (2007) Effects of landscape structure and land-use intensity on similarity of plant and animal communities. Global Ecol Biogeogr 16:774–787. doi:10.1111/j.1466-8238.2007.00344.x

Douglas B, Maechler M, Bolker B (2013) lme4: Linear mixed-effects models using S4 classes. R package version 0.999999-2. http://CRAN.R-project.org/package=lm4. Accessed 21 May 2015

DROTRH (2008) Carta de ocupação do solo da região Autónoma dos Açores—Projecto SUEMAC. Secretaria Regional do Ambiente, Direcção Regional do Ordenamento do território e dos Recursos Hídricos, Ponta Delgada

Ekroos J, Heliölä J, Kuussaari M (2010) Homogenization of lepidopteran communities in intensively cultivated agricultural landscapes. J Appl Ecol 47:459–467. doi:10.1111/j.1365-2664.2009.01767.x

Elton CS (1958) The ecology of invasions by animals and plants. Methuen, London

Fernández-Juricic E (2002) Can human disturbance promote nestedness? A case study with breeding birds in urban habitat fragments. Oecologia 131:269–278. doi:10.1007/s00442-002-0883-y

Florencio M, Cardoso C, Lobo JM, de Azevedo EB, Borges PAV (2013) Arthropod assemblage homogenisation in oceanic islands: the role of indigenous and exotic species under landscape disturbance. Divers Distrib 19:1450–1460. doi:10.1111/ddi.12121

Gardner SM, Cabido MR, Valladares GR, Diaz S (1995) The influence of habitat structure on arthropod diversity in Argentine semi-arid Chaco forest. J Veg Sci 6:349–356. doi:10.2307/3236234

Gillespie RG, Claridge EM, Roderick GK (2008) Biodiversity dynamics in isolated island communities: interaction between natural and human-mediated processes. Mol Ecol 17:45–57. doi:10.1111/j.1365-294X.2007.03466.x

González-Moreno P, Diez JM, Ibáñez I, Font X, Vilà M (2014) Plant invasions are context-dependent: multiscale effects of climate, human activity and habitat. Divers Distrib 20:720–731. doi:10.1111/ddi.12206

Goßner MM, Chao A, Bailey RI, Prinzing A, Goβner MM (2009) Native fauna on exotic trees: phylogenetic conservatism and geographic contingency in two lineages of phytophages on two lineages of trees. Am Nat 173:599–614. doi:10.1086/597603

Hector A, Dobson K, Minns A, Bazeley-White E, Lawton JH (2001) Community diversity and invasion resistance: an experimental test in a grassland ecosystem and a review of comparable studies. Ecol Res 16:819–831. doi:10.1046/j.1440-1703.2001.00443.x

Holt RD (1996) Food webs in space: an island biogeographic perspective. In: Polis G, Winemiller K (eds) Food Webs: contemporary perspectives. Chapman and Hall, New York, pp 313–323

Hothorn T, Bretz F, Westfall P (2008) Simultaneous inference in general parametric models. Biometrical J 50:346–363

Hubbell SP (2006) Neutral theory and the evolution of ecological equivalence. Ecology 87:1387–1398. doi:10.1890/0012-9658(2006)87[1387:NTATEO]2.0.CO;2

Jiménez-Valverde A, Lobo JM (2007) Determinants of local spider (Araneidae and Thomisidae) species richness on a regional scale: climate and altitude vs. habitat structure. Ecol Entomol 32:113–122. doi:10.1111/j.1365-2311.2006.00848.x

Levine JM, Adler PB, Yelenik SG (2004) A meta-analysis of biotic resistance to exotic plant invasions. Ecol Lett 7:975–989. doi:10.1111/j.1461-0248.2004.00657.x

Lockwood JL, Hoopes MF, Marchetti MP (2007) Invasion ecology. Blackwell Publishing, Oxford

Mac Nally R (2000) Regression and model-building in conservation biology, biogeography and ecology: the distinction between—and reconciliation of—'predictive' and 'explanatory' models. Biodivers Conserv 9:655–671. doi:10.1023/A:1008985925162

Markó V, Keresztes B, Fountain MT, Cross JV (2009) Prey availability, pesticides and the abundance of orchard spider communities. Biol Control 48:115–124. doi:10.1016/j.biocontrol.2008.10.002

Markó V, Bogya S, Kondorosy E, Blommers LHM (2010) Side effects of kaolin particle films on apple orchard bug, beetle and spider communities. Int J Pest Manag 56:189–199. doi:10.1080/09670870903324206

McKinney ML, Lockwood JL (1999) Biotic homogenization: a few winners replacing many losers in the next mass extinction. Trends Ecol Evol 14:450–453. doi:10.1016/S0169-5347(99)01679-1

Meijer SS, Whittaker RJ, Borges PAV (2011) The effects of land-use change on arthropod richness and abundance on Santa Maria Island (Azores): unmanaged plantations favour endemic beetles. J Insect Conserv 15:505–522. doi:10.1007/s10841-010-9330-2

Nakagawa S, Schielzeth H (2013) A general and simple method for obtaining R2 from generalized linear mixed-effects models. Methods Ecol Evol 4:133–142. doi:10.1111/j.2041-210x.2012.00261.x

Pearce JL, Venier LA (2006) The use of ground beetles (Coleoptera: Carabidae) and spiders (Araneae) as bioindicators of sustainable forest management: a review. Ecol Indic 6:780–793. doi:10.1016/j.ecolind.2005.03.005

Pinheiro JC, Bates DM (2000) Mixed-effects models in S and S-PLUS. Springer-Verlag, New York

R Development Core Team (2013) R: A language and environment for statistical computing. R Foundation for Statistical Computing, Vienna, Austria. URL http://www.R-project.org/. Accessed 21 May 2015

Reid AM, Hochuli DF (2007) Grassland invertebrate assemblages in managed landscapes: effect of host plant and microhabitat architecture. Austral Ecol 32:708–718. doi:10.1111/j.1442-9993.2007.01767.x

Ribeiro SP, Borges PAV (2010) Canopy habitat area effect on the arthropod species densities in the Azores: pondering the contribution of tourist species and other life histories. In: Serrano ARM, Borges PAV, Boieiro M, Oromí P (eds) Terrestrial arthropods of Macaronesia—Biodiversity, ecology and evolution. Sociedade Portuguesa de Entomologia, Lisboa, pp 89–114

Ribeiro SP, Borges PAV, Gaspar C, Melo C, Serrano ARM, Amaral J, Aguiar C, André G, Quartau JA (2005) Canopy insect herbivores in Azorean Laurisilva forests: key host plant species in a highly generalist insect community. Ecography 28:315–330. doi:10.1111/j.0906-7590.2005.04104.x

Santos AMC, Borges PAV, Hortal J, Rodrigues AC, Medeiros C, Azevedo EB, Melo C, Lopes DJH (2005) Diversidade da fauna de insectos fitófagos e de inimigos naturais em culturas frutícolas da ilha Terceira (Açores): a importância do maneio e da heterogeneidade ambiental. In: Lopes D, Pereira A, Mexia A, Mumford J, Cabrera R (eds) A Fruticultura na Macaronésia—O Contributo do projecto INTERFRUTA para o seu desenvolvimento. Universidade dos Açores, Angra do Heroísmo, pp 115–134

Sax DF (2001) Latitudinal gradients and geographic ranges of exotic species. J Biogeogr 28:139–150. doi:10.1046/j.1365-2699.2001.00536.x

Shea K, Chesson P (2002) Community ecology theory as a framework for biological invasions. Trends Ecol Evol 17:170–176. doi:10.1016/S0169-5347(02)02495-3

Shurin JB (2000) Dispersal limitation, invasion resistance, and the structure of pond zooplankton communities. Ecology 81:3074–3086. doi:10.1890/0012-9658(2000)081[3074:DLIRAT]2.0.CO;2

Simberloff D (1995) Why do introduced species appear to devastate islands more than Maitland areas? Pac Sci 49:87–97

Tilman D (1997) Community invasibility, recruitment limitation, and grassland biodiversity. Ecology 78:81–92. doi:10.1890/0012-9658(1997)078[0081:CIRLAG]2.0.CO;2

Triantis KA, Borges PAV, Ladle RJ, Hortal J, Cardoso P, Gaspar C, Dinis F, Mendonça E, Silveira LMA, Gabriel R, Melo C, Santos AMC, Amorim IR, Ribeiro SP, Serrano ARM, Quartau JA, Whittaker RJ (2010) Extinction debt on oceanic islands. Ecography 33:285–294. doi:10.1111/j.1600-0587.2010.06203.x

Vitousek PM, D'Antonio CM, Loope LL, Westbrooks R (1996) Biological invasions as global environmental change. Am Sci 84:468–478

Vitousek PM, Mooney HA, Lubchenco J, Melillo JM (1997) Human domination of Earth's ecosystems. Science 277:494–499. doi:10.1126/science.277.5325.494

Whittaker RJ, Rigal F, Borges PAV, Cardoso P, Terzopoulou S, Casanoves F, Pla L, Guilhaumon F, Ladle R, Triantis KA (2014) Functional biogeography of oceanic islands and the scaling of functional diversity in the Azores. P Nat Acad Sci USA 11:13709–13714. doi:10.1073/pnas.1218036111

Zuur AF, Ieno EN, Walker NJ, Saveliev AA, Smith GM (2009) GLM and GAM for count data. Overdispersion. In: Gail M, Krickeberg K, Samet JM, Tsiatis A, Wong W (eds) Mixed effects models and extensions in ecology with R. Statistics for Biology and Health, Springer, New York, pp 224–227
Acknowledgments
We are grateful to Alberto Jiménez-Valverde, Joaquín Calatayud, Joaquín Hortal, Jorge Noriega, Nagore García, Luis Maria Carrascal, Verónica Espinoza, Pablo González-Moreno and especially to Silvia C. Aranda, for comments on an early version of this manuscript. We are also grateful to Luis Mauricio Bini for some statistical suggestions and to Teresa Cuartero of the Informatics Biogeography Laboratory (MNCN-CSIC) for support in the GIS-based software. We acknowledge the field and laboratory assistants (Ana Cristina Rodrigues, Catarina Melo, Clara Gaspar, Emanuel Barcelos, Fernando Pereira, João Moniz, João André Silva, among others), and to the taxonomists who assisted in the identification of the morphotypes (Joerg Wunderlich, Luis Crespo). Financial support for field work was provided by projects: BALA—Direcção Regional dos Recursos Florestais (Proj. 17.01-080203—1999–2002); INTERFRUTA and INTERFRUTA II (INTERREG III B, 2000–2006); "Consequences of land-use change on Azorean fauna and flora—the 2010 Target" (DRCT-M.2.1.2/I/003/2008). We are also grateful to Direcção Regional da Ciência, Tecnologia e Comunicacões (DRCT) for supporting the fellowship of M.F. (M3.1.7/F/002/2011), which is currently funded by the Conselho Nacional de Desenvolvimento Científico e Tecnológico—CNPq (401045/2014-5), program Ciência sem Fronteiras. AMCS was supported by the Portuguese Fundação para a Ciência e a Tecnologia (FCT) (SFRH/BPD/70709/2010), co-funded by the European Social Fund POPH-QREN and a Marie Curie Intra-European Fellowship (IEF 331623 'COMMSTRUCT'). FR was supported by the FCT project PTDC/BIA-BIC/119255/2010.
Electronic supplementary material
Below is the link to the electronic supplementary material.
About this article
Cite this article
Florencio, M., Rigal, F., Borges, P.A.V. et al. The role of plant fidelity and land-use changes on island exotic and indigenous canopy spiders at local and regional scales. Biol Invasions 18, 2309–2324 (2016). https://doi.org/10.1007/s10530-016-1162-x
Received:

Accepted:

Published:

Issue Date:
Keywords
Arthropods

Biotic resistance to invasions

Canopy spiders

Oceanic island

Plant architecture

Species richness