Abstract
To reduce the transport and delivery of aquatic nuisance species in ships' ballast water and comply with standards for the number of living organisms that may be discharged, biocidal agents and processes, such as chemical dosing, have been repurposed to treat ballast water. We evaluated whether marine planktonic organisms—the typical targets of these biocides—respond in unison to simulated treatment. Organisms were concentrated from seawater, which was amended with dissolved and particulate matter and cultured microalgae, and then treated by chlorination, ultraviolet radiation, or deoxygenation. Living organisms in three size classes (≥50, ≥10 and <50, and <10 µm [represented by culturable, heterotrophic bacteria]) were counted prior to and periodically after treatment. Regardless of whether the differences in concentrations between the control and treatments were significant or insignificant, in general, organisms across the size classes reacted comparably to treatments, with some exceptions in the <10 µm size class. The parallel responses of organisms to treatment—if shown to generalize to other water conditions, assemblages of organisms, and scales of treatment—may justify using a single size class to predict the responses of organisms across the broad size spectra. Notably, because most ballast water management systems employ a filtration step to remove organisms ≥50 µm, if organisms in the ≥10 and <50 µm size class were assessed to determine a vessel's compliance with the discharge standard, it would be imperative that any filters would be evaluated to ensure they were functioning properly and removed organisms as designed.
Access options
Buy single article
Instant access to the full article PDF.
US$ 39.95
Tax calculation will be finalised during checkout.
Subscribe to journal
Immediate online access to all issues from 2019. Subscription will auto renew annually.
US$ 79
Tax calculation will be finalised during checkout.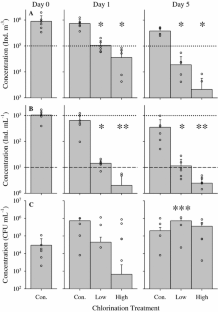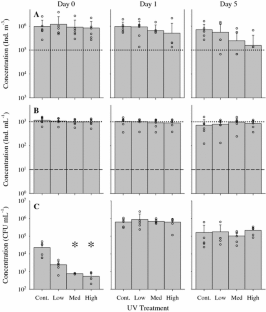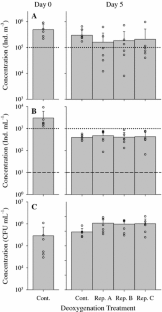 References
Abarnou A, Miossec L (1992) Chlorinated waters discharged to the marine environment chemistry and environmental impact. An overview. Sci Total Environ 126:173–197

APHA (2005) 4500-O C. Winkler method, azide modification (Method: D1291-06). In: Eaton AD, Clesceri LS, Greenberg AE (eds) Standard methods for the examination of water and wastewater, 21st edn. Washington, DC

ASTM (2011) D1291-06. Standard practice for estimation of chlorine demand of water. ASTM International, West Conshohocken, PA. doi:10.1520/D1291-06R11

Auel H, Verheye HM (2007) Hypoxia tolerance in the copepod Calanoides carinatus and the effect of an intermediate oxygen minimum layer on copepod vertical distribution in the northern Benguela Current upwelling system and the Angola-Benguela Front. J Exp Mar Biol Ecol 352:234–243

Bolton J, Linden K (2003) Standardization of methods for fluence (UV dose) determination in bench-scale UV experiments. J Environ Eng 129:209–215

Briski E, Linley RD, Adams J, Bailey SA (2014) Evaluating efficacy of a ballast water filtration system for reducing spread of aquatic species in freshwater ecosystems. Manag Biol Invasions 5:245–253

Cangelosi A, Aliff M, Allinger L, Balcer M, Beesley K, Fanberg L, Hagedorn S, Mangan T, Marksteiner A, Mays N, Polkinghorne C, Prihoda K, Reavie E, Regan D, Ruzycki E, Saillard H, Schafer H, Schwerdt T, Stoolmiller M, TenEyck M (2014) Technical report: land-based performance evaluation in ambient and augmented Duluth-Superior Harbor water of eight commercially available ballast water treatment system filter units. Northeast-Midwest Institute, Washington, DC

Capuzzo JM (1979) The effect of temperature on the toxicity of chlorinated cooling waters to marine animals—A preliminary review. Mar Pollut Bull 10:45–47

Clegg JS (2007) Protein stability in Artemia embryos during prolonged anoxia. Biol Bull 212:74–81

Craik SA, Weldon D, Finch GR, Bolton JR, Belosevic M (2001) Inactivation of Cryptosporidium parvum oocysts using medium- and low-pressure ultraviolet radiation. Water Res 35:1387–1398

Cullen JJ, MacIntyre HL (2015) On the use of the serial dilution culture method to enumerate viable phytoplankton in natural communities of plankton subjected to ballast water treatment. J Appl Phycol. doi:10.1007/s10811-015-0601-x

Delacroix S, Vogelsang C, Tobiesen A, Liltved H (2013) Disinfection by-products and ecotoxicity of ballast water after oxidative treatment—results and experiences from seven years of full-scale testing of ballast water management systems. Mar Pollut Bull 73:24–36

Drake LA, Moser CS, Robbins-Wamsley SH, Riley SC, Wier TP, Grant JF, Herring PR, First MR (2014) Validation trials of a shipboard filter skid (p3SFS) demonstrate its utility for collecting living zooplankton. Mar Pollut Bull 79:77–86

Fenchel T, Finlay BJ (1990) Anaerobic free-living protozoa: growth efficiencies and the structure of anaerobic communities. FEMS Microbiol Ecol 74:269–275

Fenchel T, Finlay BJ (1995) Ecology and evolution in anoxic worlds. Oxford University Press, Cambridge, U.K. 288 pp

First MR, Drake LA (2013) Approaches for determining the effects of UV radiation on microorganisms in ballast water. Manag Biol Invasions 4:87–99

First MR, Robbins-Wamsley SH, Riley SC, Fisher JI, Smith JP, Drake LA (2014) Examination of additives used to augment "challenge water" used in verification testing of ballast water management systems: mass yields and biological impacts. Manag Biol Invasions 5:395–405

Frazier M, Miller AW, Lee H, Reusser DA (2013) Counting at low concentrations: the statistical challenges of verifying ballast water discharge standards. Ecol Appl 23:339–351

Genty B, Briantais J-M, Baker NR (1989) The relationship between the quantum yield of photosynthetic electron transport and quenching of chlorophyll fluorescence. Biochim Biophys Acta 990:87–89

Gollasch S (2006) A new ballast water sampling device for sampling organisms above 50 micron. Aquat Invasions 1:46–50

Gollasch S, David M, Francé J, Mozetič P (2015) Quantifying indicatively living phytoplankton cells in ballast water samples—recommendations for Port State Control. Mar Pollut Bull. doi:10.1016/j.marpolbul.2015.09.037

Harp DL (2002) Current technology of chlorine analysis for water and wastewater. Technical Information Series, Booklet 17, no. 7019, Hach Company, Loveland, CO

Hayward BH, Droste R, Epstein SS (2003) Interstitial ciliates: benthic microaerophiles or planktonic anaerobes? J Eukaryot Microbiol 50:356–359

Hedrick RP, McDowell TS, Adkison MA, Myklebust KA, Mardones FO, Petri B (2012) Invasion and initial replication of ultraviolet irradiated waterborne infective stages of Myxobolus cerebralis results in immunity to whirling disease in rainbow trout. Int J Parasitol 42:657–666

IMO (International Maritime Organization) (2004) International convention for the control and management of ships' ballast water and sediments. BWM/CONF/36, London

IMO (International Maritime Organization) (2008) Guidelines for the approval of ballast water management systems (G8). IMO Resolution MEPC. 174(58), Annex 4, London

IMO (International Maritime Organization) (2013) Guidance on ballast water sampling and analysis for trial use in accordance with the BWM Convention and Guidelines (G2). BWM.2/Circ.42, London

King DM, Tamburri MN (2010) Verifying compliance with ballast water discharge regulations. Ocean Dev Int Law 41:152–165

Lloyd's Register (2011) Ballast water treatment: current status. Lloyd's Register, London, pp 20

Maranda L, Cox AM, Campbell RG, Smith DC (2013) Chlorine dioxide as a treatment for ballast water to control invasive species: shipboard testing. Mar Pollut Bull 75:76–89

Massana R, Pedròs-Aliò C (1994) Role of anaerobic ciliates in planktonic food webs: abundance, feeding, and impact on bacteria in the field. Appl Environ Microbiol 60:1325–1334

McCollin T, Quilez-Badia G, Josefsen KD, Gill ME, Mesbahi E, Frid CLJ (2007) Shipboard testing of a deoxygenation ballast water treatment. Mar Pollut Bull 54:1170–1178

Miller AW, Frazier M, Smith GE, Perry ES, Ruiz GM, Tamburri MN (2011) Enumerating sparse organisms in ships' ballast water: why counting to 10 is not so easy. Environ Sci Technol 45:3539–3546

MPA (Maritime and Port Authority) of Singapore (2015) Report of voluntarily trial study conducted by Singapore on onboard sampling and analysis of ballast water. Shipping circular No. 5, Singapore

Paolucci EM, Hernandez MR, Potapov A, Lewis MA, MacIsaac HJ (2015) Hybrid system increases efficiency of ballast water treatment. J Appl Ecol 52:348–357

Rajagopal S, der Velde G, der Gaag M, Jenner HA (2002) Laboratory evaluation of the toxicity of chlorine to the fouling hydroid Cordylophora caspia. Biofouling 18:57–64

Schreiber U (1998) Chlorophyll fluorescence: new instruments for special applications. In: Garab G (ed) Photosynthesis: mechanisms and effects. Kluwer Academic Publishers, Dordrecht, pp 4253–4258

Stehouwer PP, Fuhr F, Veldhuis M (2010) A novel approach to determine ballast water vitality and viability after treatment. In: Proceedings of the IMO-WMU Research and Development Forum: emerging ballast water management systems. Malmö, Sweden, pp 233–240

Steinberg MK, Lemieux EJ, Drake LA (2011) Determining the viability of marine protists using a combination of vital, fluorescent stains. Mar Biol 158:1431–1437

Tamburri MN, Wasson K, Matsuda M (2002) Ballast water deoxygenation can prevent aquatic introductions while reducing ship corrosion. Biol Conserv 103:331–341

United States Coast Guard (2012) Standards for living organisms in ships' ballast water discharged in U.S. waters. Fed Reg 77:17254–17320

US EPA (United States Environmental Protection Agency) (2000) Improved enumeration methods for the recreational water quality indicators: Enterococci and Escherichia coli. Test 49. EPA/821/R-97/004. Washington, DC

US EPA (United States Environmental Protection Agency) (2010) Environmental Technology Verification Program (ETV) generic protocol for the verification of ballast water treatment technology, version 5.1. Report number EPA/600/R-10/146. Washington, DC

US EPA (United States Environmental Protection Agency) (2013) Final national pollutant discharge elimination system (NPDES) general permit for discharges incidental to the normal operation of a vessel. Fed Reg 78:21938–21945

van Slooten C, Wijers T, Buma AGJ, Peperzak L (2014) Development and testing of a rapid, sensitive ATP assay to detect living organisms in ballast water. J Appl Ecol 27:2299–2312

Welschmeyer NA, Maurer B (2011) A portable, sensitive plankton viability assay for IMO shipboard ballast water compliance testing. In: Proceedings of the IMO globallast conference: compliance monitoring and enforcement, Istanbul, Turkey, pp 127–139

Werschkun B, Banerji S, Basurko OC, David M, Fuhr F, Gollasch S, Grummt T, Haarich M, Jha AN, Kacan S, Kehrer A, Linders J, Mesbahi E, Pughiuc D, Richardson SD, Schwarz-Schulz B, Shah A, Theobald N, von Gunten U, Wieck S, Höfer T (2014) Emerging risks from ballast water treatment: the run-up to the International Ballast Water Management Convention. Chemosphere 112:256–266
Acknowledgements
This work was supported by the U.S. Coast Guard (USCG) Environmental Standards Division [CG-OES-3, (contract # HSCG23-13-X-MMS106, Task 5.3)] and does not represent official USCG policy. We are grateful to Richard Everett and Regina Bergner (USCG) for advice and guidance with this work. The work conducted at the Naval Research Laboratory in Key West was supported by Diane Lysogorski (Section Head, Naval Research Laboratory Code 6136 and Director, Center for Corrosion Science and Engineering, Key West, FL). Cameron Moser (Excet, Inc.) assisted with the field experiments, for which we are grateful. We are appreciative of the comments and suggestions from Jim Carlton (Editor, Biological Invasions) and three anonymous reviewers. The reviews of this paper by Vanessa Molina (Excet, Inc.), Diane Lysogorski, Edward Lemieux (Branch Head, Code 6130) and Barry Spargo (Acting Superintendent, Chemistry Division, Naval Research Laboratory) improved it—thank you.
About this article
Cite this article
First, M.R., Robbins-Wamsley, S.H., Riley, S.C. et al. Towards minimizing transport of aquatic nuisance species in ballast water: Do organisms in different size classes respond uniformly to biocidal treatment?. Biol Invasions 18, 647–660 (2016). https://doi.org/10.1007/s10530-015-1036-7
Received:

Accepted:

Published:

Issue Date:
Keywords
Ballast water management systems

Aquatic nuisance species

Microalgae

Shipping