Abstract
Plant invasions can alter the trophic interactions of invaded ecosystems because of phenological differences between native and invasive plants that may affect the population dynamics and diets of indigenous arthropod herbivores. This issue, however, has seldom been studied. We here report on how abundance and diet of a local tussock moth (Laelia coenosa) are affected by the invasive plant Spartina alterniflora in a Chinese salt marsh previously dominated by the moth's native host plant, Phragmites australis. We monitored the population dynamics of L. coenosa from four types of hosts: (1) Phragmites in its monoculture, (2) Spartina in its monoculture, and either (3) Phragmites, or (4) Spartina in Phragmites–Spartina mixtures. Additionally, we tested the diet of L. coenosa from the mixtures with isotope analysis. We found that the larval densities of L. coenosa were similar on Spartina and Phragmites in their respective monocultures and mixtures in summer but were greater on Spartina than on Phragmites in autumn. Stable isotope analysis showed that Spartina was a food resource for L. coenosa. The change in the insect's population dynamics associated with Spartina invasion might be caused by phenological differences between Spartina and Phragmites in that Spartina has a longer growing season than Phragmites. Our study indicates that the extended phenology of Spartina invasion has altered the abundance and diet of the indigenous herbivorous insect (L. coenosa) previously feeding on native Phragmites. We predict such alternation may increase the consuming pressure to native plants via apparent competition, and thereby may facilitate the further invasion of the exotic plants in the salt marsh.
Access options
Buy single article
Instant access to the full article PDF.
USD 39.95
Price excludes VAT (USA)
Tax calculation will be finalised during checkout.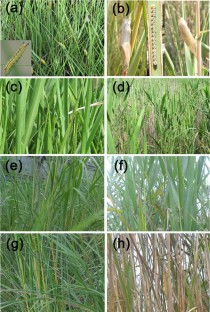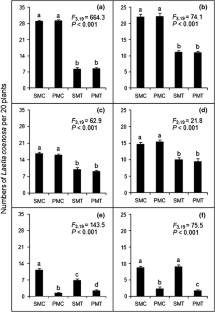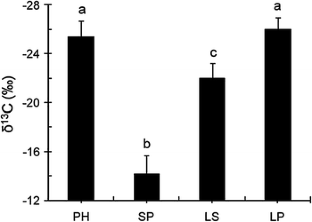 References
Agrawal AA, Kotanen PM (2003) Herbivores and the success of exotic plants: a phylogenetically controlled experiment. Ecol Lett 6:712–715

Bezemer TM, Harvey JA, Cronin JT (2014) The response of native insect communities to invasive plants. Ann Rev Entomol 59:119–141

Coley PD (1980) Effects of leaf age and plant life history patterns on herbivory. Nature 284:545–546

Dukes JS, Mooney HA (2004) Disruption of ecosystem processes in western North America by invasive species. Rev Chil Hist Nat 77:411–437

Feeny P (1970) Seasonal changes in oak leaf tannins and nutrients as a cause of spring feeding by winter moth caterpillars. Ecology 51:565–581

Gratton C, Denno RF (2006) Arthropod food web restoration following removal of an invasive wetland plant. Ecol Appl 16:622–631

Hobson KA (1999) Tracing origins and migration of wildlife using stable isotopes: a review. Oecologia 120:314–326

Holt RD, Kotler BP (1987) Short-term apparent competition. Am Nat 130:412–430

Hunter MD (1992) A variable insect-plant interaction: the relationship between tree budburst phenology and population levels of insect herbivores among trees. Ecol Entomol 17:91–95

Hunter MD, Price PW (1992) Playing chutes and ladders: heterogeneity and the relative roles of bottom-up and top-down forces in natural communities. Ecology 73:724–732

Li B, Liao CZ, Zhang XD, Chen HL, Wang Q, Chen ZY, Gan XJ, Wu JH, Zhao B, Ma ZJ, Cheng XL, Jiang LF, Chen JK (2009) Spartina alterniflora invasions in the Yangtze River estuary, China: an overview of current status and ecosystem effects. Ecol Eng 35:511–520

Li H, Zhang ZM, Zheng RS, Li X, Elmer WH, Wolfe LM, Li B (2014) Indirect effects of non-native Spartina alterniflora and its fungal pathogen (Fusarium palustre) on native salt marsh plants in China. J Ecol 102:1112–1119

Liao CZ, Luo YQ, Jiang LF, Zhou XH, Wu XW, Chen JK, Li B (2007) Invasion of Spartina alterniflora enhanced ecosystem carbon and nitrogen stocks in the Yangtze estuary, China. Ecosystems 10:1351–1361

Noonburg EG, Byers JE (2005) More harm than good: when invader vulnerability to predators enhances impact on native species. Ecology 86:2555–2560

Orrock JL, Witter MS, Reichman OJ (2008) Apparent competition with an exotic plant reduces native plant establishment. Ecology 89:1168–1174

Singer MC, Thomas CD, Parmesan C (1993) Rapid human-induced evolution of insect-host associations. Nature 366:681–683

Tang Y, Warren RJ II, Kramer TD, Bradford MA (2012) Plant invasion impacts on arthropod abundance, diversity and feeding consistent across environmental and geographic gradients. Biol Invasions 14:2625–2637

Thomas CD, Ng D, Singer MC, Mallet JLB, Parmesan C, Billington HD (1987) Incorporation of a European weed into the diet of a North American herbivore. Evolution 41:892–901

van Hengstum T, Hooftman DAP, Oostermeijer JGB, van Tienderen PH (2014) Impact of plant invasions on local arthropod communities: a meta-analysis. J Ecol 102:4–11

Vander Zanden MJ, Casselman JM, Rasmussen JB (1999) Stable isotope evidence for the food web consequences of species invasions in lakes. Nature 401:464–467

Wolkovich EM (2010) Nonnative grass litter enhances grazing arthropod assemblages by increasing native shrub growth. Ecology 91:756–766

Wolkovich EM, Cleland EE (2011) The phenology of plant invasions: a community ecology perspective. Front Ecol Environ 9:287–294

Wu YT, Wang CH, Zhang XD, Zhao B, Jiang LF, Chen JK, Li B (2009) Effects of saltmarsh invasion by Spartina alterniflora on arthropod community structure and diets. Biol Invasions 11:635–649

Zhao ZL (2003) Fauna Sinica: Insecta, Lepidoptera, Lymantriidae, vol 30. Science Press, Beijing (in Chinese)
Acknowledgments
We thank Prof. Bruce Jaffee of the University of California at Davis for improving the English language of this manuscript. Financial support for this study was provided by the National Basic Research Program of China (Grant No. 2013CB430404), the National Science Foundation of China (Grant No. 30930019), the Science and Technology Commission of Shanghai Municipality (Grant No. 14DZ1206003), and Ministry of Education of China (Grant No. 20120071110017).
Additional information
Guest editors: Alan Gray and Malika Ainouche/Invasive Spartina.
Rui-Ting Ju and Yang-Yun Chen have contributed equally to this work.
About this article
Cite this article
Ju, RT., Chen, YY., Gao, L. et al. The extended phenology of Spartina invasion alters a native herbivorous insect's abundance and diet in a Chinese salt marsh. Biol Invasions 18, 2229–2236 (2016). https://doi.org/10.1007/s10530-015-0981-5
Received:

Accepted:

Published:

Issue Date:

DOI: https://doi.org/10.1007/s10530-015-0981-5
Keywords