Abstract
Citizen science is commonly cited as an effective approach to expand the scale of invasive species data collection and monitoring. However, researchers often hesitate to use these data due to concerns over data quality. In light of recent research on the quality of data collected by volunteers, we aimed to demonstrate the extent to which citizen science data can increase sampling coverage, fill gaps in species distributions, and improve habitat suitability models compared to professionally generated data sets used in isolation. We combined data sets from professionals and volunteers for five invasive plant species (Alliaria petiolata, Berberis thunbergii, Cirsium palustre, Pastinaca sativa, Polygonum cuspidatum) in portions of Wisconsin. Volunteers sampled counties not sampled by professionals for three of the five species. Volunteers also added presence locations within counties not included in professional data sets, especially in southern portions of the state where professional monitoring activities had been minimal. Volunteers made a significant contribution to the known distribution, environmental gradients sampled, and the habitat suitability of P. cuspidatum. Models generated with professional data sets for the other four species performed reasonably well according to AUC values (>0.76). The addition of volunteer data did not greatly change model performance (AUC > 0.79) but did change the suitability surface generated by the models, making them more realistic. Our findings underscore the need to merge data from multiple sources to improve knowledge of current species distributions, and to predict their movement under present and future environmental conditions. The efficiency and success of these approaches require that monitoring efforts involve multiple stakeholders in continuous collaboration via established monitoring networks.
This is a preview of subscription content, log in to check access.
Access options
Buy single article
Instant access to the full article PDF.
US$ 39.95
Price includes VAT for USA
Subscribe to journal
Immediate online access to all issues from 2019. Subscription will auto renew annually.
US$ 99
This is the net price. Taxes to be calculated in checkout.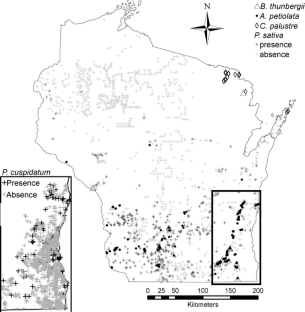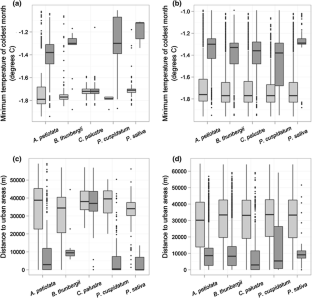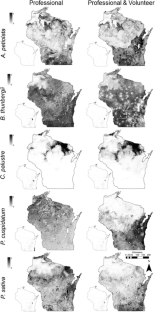 References
Bois ST, Silander JA, Mehrhoff LJ (2011) Invasive Plant Atlas of New England: the role of citizens in the science of invasive alien species detection. Bioscience 61:763–770

Bonter DN, Cooper CB (2012) Data validation in citizen science: a case study from Project FeederWatch. Front Ecol Environ 10:305–307

Boudreau SA, Yan ND (2004) Auditing the accuracy of a volunteer-based surveillance program for an aquatic invader Bythotrephes. Environ Monit Assess 91:17–26

Brandon A, Spyreas G, Molano-Flores B, Carroll C, Ellis J (2003) Can volunteers provide reliable data for forest vegetation surveys? Nat Areas J 23:254–261

Crall AW, Newman GJ, Jarnevich C, Stohlgren TJ, Waller DM, Graham J (2010) Improving and integrating data on invasive species collected by citizen scientists. Biol Invasions 12:3419–3428

Crall AW, Newman G, Waller DM, Stohlgren TJ, Holfelder KA, Graham J (2011) Assessing citizen science data quality: an invasive species case study. Conserv Lett 4:433–442

Crall AW, Renz M, Panke BJ, Newman GJ, Chapin C, Graham J, Bargeron C (2012) Developing cost-effective early detection networks for regional invasions. Biol Invasions 14:2461–2469

Crall AW, Jarnevich C, Panke BJ, Young N, Renz M, Morisette JT (2013) Using habitat suitability models to target invasive plant species surveys. Ecol Appl 23:60–72

Crosier CS, Stohlgren TJ (2004) Improving biodiversity knowledge with data set synergy: a case study of nonnative plants in Colorado. Weed Technol 18:1441–1444

Curtis JT (1959) The vegetation of Wisconsin: an ordination of plant communities. The University of Wisconsin Press, Madison

Danielsen F, Burgess ND, Balmford A (2005) Monitoring matters: examining the potential of locally-based approaches. Biodivers Conserv 14:2507–2542

Delaney DG, Sperling CD, Adams CS, Leung B (2008) Marine invasive species: validation of citizen science and implications for national monitoring networks. Biol Invasions 10:117–128

Dickinson JL, Zuckerberg B, Bonter DN (2010) Citizen science as an ecological research tool: challenges and benefits. Annu Rev Ecol Evol Syst 41:149–172

Elith J, Kearney M, Phillips SJ (2010) The art of modelling range-shifting species. Methods Ecol Evol 1:330–342

Gallo T, Waitt D (2011) Creating a successful citizen science model to detect and report invasive species. Bioscience 61:459–465

Genet KS, Sargent LG (2003) Evaluation of methods and data quality from a volunteer-based amphihian call survey. Wildl Soc Bull 31:703–714

Ibanez I, Silander JA, Allen JM, Treanor SA, Wilson A (2009a) Identifying hotspots for plant invasions and forecasting focal points of further spread. J Appl Ecol 46:1219–1228

Ibanez I, Silander JA, Wilson AM, Lafleur N, Tanaka N, Tsuyama I (2009b) Multivariate forecasts of potential distributions of invasive plant species. Ecol Appl 19:359–375

Invasive Plants Association of Wisconsin (2012) New invasive plants in Wisconsin. Retrieved from http://www.ipaw.org on March 2012

Jarnevich CS, Stohlgren TJ, Barnett D, Kartesz J (2006) Filling in the gaps: modelling native species richness and invasions using spatially incomplete data. Divers Distrib 12:511–520

Kadoya T, Ishii HS, Kikuchi R, Suda S, Washitani I (2009) Using monitoring data gathered by volunteers to predict the potential distribution of the invasive alien bumblebee Bombus terrestris. Biol Conserv 142:1011–1017

Kery M, Royle JA, Schmid H, Schaub M, Volet B, Hafliger G, Zbinden N (2010) Site-occupancy distribution modeling to correct population-trend estimates derived from opportunistic observations. Conserv Biol 24:1388–1397

Larkin DJ (2012) Lengths and correlates of lag phases in upper-Midwest plant invasions. Biol Invasions 14:827–838

Lindsay DR (1953) Climate as a factor influencing the mass ranges of weeds. Ecology 34:308–321

Lobo JM, Jimenez-Valverde A, Real R (2008) AUC: a misleading measure of the performance of predictive distribution models. Glob Ecol Biogeogr 17:145–151

Lodge DM, Williams S, MacIsaac HJ, Hayes KR, Leung B, Reichard S, Mack RN, Moyle PB, Smith M, Andow DA, Carlton JT, McMichael A (2006) Biological invasions: recommendations for US policy and management. Ecol Appl 16:2035–2054

Miller-Rushing A, Primack R, Bonney R (2012) The history of public participation in ecological research. Front Ecol Environ 10:285–290

Newman G, Wiggins A, Crall A, Graham E, Newman S, Crowston K (2012) The future of citizen science: emerging technologies and shifting paradigms. Front Ecol Environ 10:298–304

Phillips SJ, Dudik M (2008) Modeling of species distributions with Maxent: new extensions and a comprehensive evaluation. Ecography 31:161–175

Phillips SJ, Anderson RP, Schapire RE (2006) Maximum entropy modeling of species geographic distributions. Ecol Model 190:231–259

Phillips SJ, Dudik M, Elith J, Graham CH, Lehmann A, Leathwick JR, Ferrier S (2009) Sample selection bias and presence-only distribution models: implications for background and pseudo-absence data. Ecol Appl 19:181–197

PRISM Group (2007) PRISM Climate Group. Retrieved from http://www.prism.oregonstate.edu/ on Feb 2008

Ricciardi A, Steiner WWM, Mack RN, Simberloff D (2000) Toward a global information system for invasive species. Bioscience 50:239–244

Simpson A, Jarnevich C, Madson J, Westbrooks RG, Fournier C, Mehrhoff L, Browne M, Graham J, Sellers E (2009) Invasive species information networks: collaboration at multiple scales for prevention, early detection, and rapid response to invasive alien species. Biodiversity 10:5–13

Snall T, Kindvall O, Nilsson J, Part T (2011) Evaluating citizen-based presence data for bird monitoring. Biol Conserv 144:804–810

Stohlgren TJ (2007) Measuring plant diversity: lessons from the field. Oxford University Press, New York 390 pp

Stohlgren TJ, Schnase JL (2006) Risk analysis for biological hazards: what we need to know about invasive species. Risk Anal 26:163–173

Swets JA (1988) Measuring the accuracy of diagnostic systems. Science 240:1285–1293

Whitelaw G, Vaughan H, Craig B, Atkinson D (2003) Establishing the Canadian community monitoring network. Environ Monit Assess 88:409–418

Wickham H (2009) ggplot2: elegant graphics for data analysis. Springer, New York

Wisconsin State Cartographer's Office (2013). Retrieved from http://www.sco.wisc.edu/mapping-topics/wisconsin-geography-statistics2.html on July 25 2013

Wisconsin State Herbarium (2011) Wisflora Database. Retrieved from http://www.botany.wisc.edu/wisflora/
Acknowledgments
This work was funded by the National Science Foundation under grant number OCI-0636213, the National Park Service as part of the Great Lakes Restoration Initiative, the North Central Integrated Pest Management Center, and the USGS invasive species science program. Logistical support was provided by the USGS Fort Collins Science Center, the Department of Agronomy at the University of Wisconsin-Madison, and the Natural Resource Ecology Laboratory at Colorado State University. We thank all our Wisconsin data contributors. Any use of trade, product, or firm names is for descriptive purposes only and does not imply endorsement by the US government.
Electronic supplementary material
Below is the link to the electronic supplementary material.
About this article
Cite this article
Crall, A.W., Jarnevich, C.S., Young, N.E. et al. Citizen science contributes to our knowledge of invasive plant species distributions. Biol Invasions 17, 2415–2427 (2015). https://doi.org/10.1007/s10530-015-0885-4
Received:

Accepted:

Published:

Issue Date:
Keywords
Citizen science

Community-based monitoring

Data synergy

Environmental monitoring

Habitat suitability models

Volunteer monitoring