Abstract
The yellow-legged hornet, Vespa velutina, was accidentally introduced from Southeast Asia and then invaded France and Korea over the last 10 years. Since its introduction, its predation on honeybee colonies has rapidly become an economic problem in invaded countries. Using mitochondrial cytochrome C oxidase and 22 nuclear microsatellite loci, we showed that native hornet populations were well differentiated and highly diverse. In contrast, introduced populations from France and Korea suffered a genetic bottleneck, which did not prevent their rapid geographic expansion. Analysis of the genetic data indicates that French and Korean populations likely arose from two independent introduction events. The most probable source population is from an area between the Chinese provinces of Zhejiang and Jiangsu. This invasion route is in agreement with knowledge on trade and historical records. By studying colonies of V. velutina, we demonstrated its polyandry, which is very rare among Vespidae. This mating behavior could have favored the success of this Asian hornet in Europe and Korea. Combined, the population and colony results suggest that very few or possibly only one single multi-mated female gave rise to the invasion.
Access options
Buy single article
Instant access to the full article PDF.
US$ 39.95
Tax calculation will be finalised during checkout.
Subscribe to journal
Immediate online access to all issues from 2019. Subscription will auto renew annually.
US$ 79
Tax calculation will be finalised during checkout.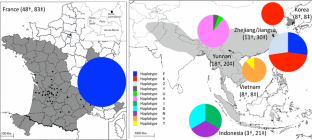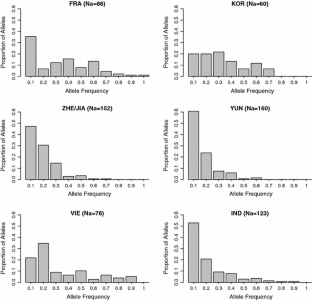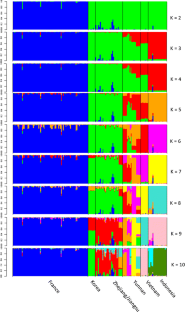 References
Abrol DP (1994) Ecology, behaviour and management of social wasp, Vespa velutina Smith (Hymenoptera: Vespidae), attacking honeybee colonies. Korean J Apic 9:5

Allendorf FW, Lundquist LL (2003) Introduction: population biology, evolution, and control of invasive species. Conserv Biol 17:24–30

Arca M, Capdevielle-Dulac C, Villemant C et al (2011) Development of microsatellite markers for the yellow-legged Asian hornet, Vespa velutina, a major threat for European bees. Conserv Genet Resour 2:283–286

Beggs JR, Brockerhoff EG, Corley JC et al (2011) Ecological effects and management of invasive alien Vespidae. Biocontrol 56:505–526

Benjamini Y, Yekutieli D (2001) The control of the false discovery rate in multiple testing under dependency. Ann Statist 29(4):1165–1188

Carpenter JM, Kojima J (1997) Checklist of the species in the subfamily Vespinae (Insecta: Hymenoptera: Vespidae). Natural history bulletin of Ibaraki University 1:51–92

Chapman RE, Bourke AFG (2001) The influence of sociality on the conservation biology of social insects. Ecol Lett 4:650–662

Choi MB, Martin SJ, Lee JW (2012) Distribution, spread and impact of the invasive hornet Vespa velutina in South Korea. Asia-Pacific Entomol 15:473–477

Choi MB, Lee S-A, Suk HY, Lee JW (2013) Microsatellite variation in colonizing populations of yellow-legged Asian hornet, Vespa velutina nigrithorax. South Korea. Entomol Res 43(4):208–214

Clement M, Posada D, Crandall KA (2000) TCS: a computer program to estimate gene genealogies. Mol Ecol 9:1657–1659

Cornuet JM, Luikart GL (1996) Description and power analysis of two tests for detecting recent population bottlenecks from allele frequency data. Genetics 144:2001–2014

Cornuet JM, Santos F, Beaumont MA et al (2008) Inferring population history with DIY ABC: a user-friendly approach to approximate Bayesian computation. Bioinformatics 24:2713–2719

Crozier R, Fjerdingstad EJ (2001) Polyandry in social Hymenoptera—disunity in diversity? Annls Zool Fennici 38:267–285

Daly D, Archer ME, Watts PC et al (2002) Polymorphic microsatellite loci for eusocial wasps (Hymenoptera: Vespidae). Mol Ecol Notes 2:273

Dlugosch KM, Parker IM (2008) Founding events in species invasions: genetic variation, adaptive evolution, and the role of multiple introductions. Mol Ecol 17:431

Excoffier L, Laval G, Schneider S (2005) Arlequin (version 3.0): an integrated software package for population genetics data analysis. Evol Bioinform 1:47–50

Falush D, Stephens M, Pritchard JK (2003) Inference of population structure using multilocus genotype data: linked loci and correlated allele frequencies. Genetics 164:1567–1587

Folmer O, Black M, Hoeh W, Lutz R, Vrijenhoek R (1994) DNA primers for amplification of mitochondrial cytochrome c oxidase subunit I from diverse metazoan invertebrates. Mol Mar Biol Biotechnol 5:294–299

Frankham R, Ralls K (1998) Conservation biology: inbreeding leads to extinction. Nature 392:441–442

Gilbert KJ, Andrew RL, Bock DG, Franklin MT, Kane NC, Moore JS, Moyers BT, Renaut S, Rennison DJ, Veen T, Vines TH (2012) Recommendations for utilizing and reporting population genetic analyses: the reproducibility of genetic clustering using the program STRUCTURE. Mol Ecol 21:4925–4930

Guillemaud T, Ciosi M, Lombaert E, Estoup A (2011) Biological invasions in agricultural settings: insights from evolutionary biology and population genetics. C R Biol 33:237–246

Hajibabaei M, deWaard JR, Ivanova NV et al (2005) Critical factors for assembling a high volume of DNA barcodes. Philos Trans R Soc Lond B Biol Sci 360:1959–1967

Hall TA (1999) BioEdit: a user-friendly biological sequence alignment editor and analysis program for Windows 95/98/NT. Nucleic Acids Symp Ser 41:95–98

Hasegawa E, Takahashi J (2002) Microsatellite loci for genetic research in the hornet Vespa mandarinia and related species. Mol Ecol Notes 2:306

Holway DA, Lach L, Suarez AV, Tsutsui ND, Case TJ (2002) The causes and consequences of ant invasions. Annu Rev Ecol Evol Syst 33:181–233

Hughes WOH, Ratnieks FLW, Oldroyd BP (2008) Multiple paternity or multiple queens: two routes to greater intracolonial genetic diversity in the eusocial Hymenoptera. J EvolutionBiol 21:1090–1095

Ings TC, Ward NL, Chittka L (2006) Can commercially imported bumble bees out-compete their native conspecifics? J Appl Ecol 43:940–948

Jakobsson M, Rosenberg NA (2007) CLUMPP: a cluster matching and permutation program for dealing with label switching and multimodality in analysis of population structure. Bioinformatics 23:1801

Jennions MD, Petrie M (2000) Why do females mate multiply? A review of the genetic benefits. Biol Rev Camb Philos Soc 75:21–64

Ken T, Hepburn HR, Radloff SE et al (2005) Heat-balling wasps by honeybees. Naturwissenschaften 92:492–495

Luikart G, Allendorf F, Cornuet JM, Sherwin W (1998) Distortion of allele frequency distributions provides a test for recent population bottlenecks. J Hered 89:238

Luikart G, Cornuet JM (1998) Empirical evaluation of a test for identifying recently bottlenecked populations from allele frequency data. Cons Biol 12(1):228–237

Mack RN, Simberloff D, Lonsdale WM et al (2000) Biotic invasions: causes, epidemiology, global consequences, and control. Ecol Appls 10:689–710

Mikheyev AS (2008) History, genetics and pathology of a leaf-cutting ant introduction: a case study of the Guadeloupe invasion. Biol Invasions 10:467–473

Mikheyev AS, Bresson S, Conant P (2009) Single-queen introductions characterize regional and local invasions by the facultatively clonal little fire ant Wasmannia auropunctata. Mol Ecol 18:2937–2944

Moller H (1996) Lessons for invasion theory from social insects. Biol Cons 78:125–142

Monceau K, Arca M, Leprêtre L, Mougel F, Bonnard O, Silvain JF, Maher N, Arnold G, Thiéry D (2013) Native prey and invasive predator patterns of foraging activity: the case of the yellow-legged hornet predation at European honeybee hives. PLoS ONE 8(6):e66492

Nei M (1987) Molecular evolutionary genetics. Columbia University Press, New York

Paetkau D, Slade R, Burden M, Estoup A (2004) Genetic assignment methods for the direct, real-time estimation of migration rate: a simulation-based exploration of accuracy and power. Mol Ecol 13:55–65

Peakall R, Smouse PE (2012) GenAlEx 6.5: genetic analysis in excel. Population genetic software for teaching and research—an update. Bioinformatics 28:2537–2539

Perrard A, Haxaire J, Rortais A, Villemant C (2009) Observations on the colony activity of the Asian hornet Vespa velutina Lepeletier 1836 (Hymenoptera: Vespidae: Vespinae) in France. Ann Soc Entomol Fr 45:119–127

Piry S, Luikart G, Cornuet JM (1999) Bottleneck: a computer program for detecting recent reductions in the effective population size using allele frequency data. J Hered 90:502–503

Piry S, Alapetite A, Cornuet JM et al (2004) GENECLASS 2: a software for genetic assignment and first-generation migrant detection. J Hered 95:536

Pritchard JK, Stephens M, Donnelly P (2000) Inference of population structure using multilocus genotype data. Genetics 155:945–959

Puillandre N, Dupas S, Dangles O et al (2008) Genetic bottleneck in invasive species: the potato tuber moth adds to the list. Biol Invasions 10:319–333

Rannala B, Mountain JL (1997) Detecting immigration by using multilocus genotypes. Proc Natl Acad Sci USA (PNAS) 94:9197–9201

Rasplus JY, Villemant C, Paiva MR, Delvare G, Roques A (2010) Hymenoptera. In: Roques A, Kenis M, Lees D (eds) Arthropod invasions in Europe. BioRisk 4. Pensoft, Sofia, pp 669–776

Rome Q, Dambrine L, Onate C, Muller F, Villemant C, Garcia-Perez L, Maia M, Carvalho Esteves P, Bruneau E (2013) Spread of the invasive hornet Vespa velutina Lepeletier, 1836, in Europe in 2012 (Hym., Vespidae). Bull Soc entomol Fr 118:21–22

Rortais A, Villemant C, Gargominy O, Rome Q, Haxaire J, Papachristoforou A, Arnold G (2010) A new enemy of honeybees in Europe: the Asian hornet Vespa velutina. In: Settele J (ed) Atlas of biodiversity risks—from Europe to the globe, from stories to maps. Pensoft, Sofia

Rosenberg NA, Pritchard JK, Weber JL, Cann HM, Kidd KK, Zhivotovsky LA, Feldman MW (2002) Genetic structure of human populations. Science 298:2381–2385  

Rousset F (2008) Genepop'007: a complete reimplementation of the Genepop software for Windows and Linux. Mol Ecol Resources 8:103–106

Rozas J, Sánchez-DelBarrio JC, Messeguer X, Rozas R (2003) DnaSP, DNA polymorphism analyses by the coalescent and other methods. Bioinformatics 19:2496–2497

Schmid-Hempel P, Crozier RH (1999) Polyandry versus polygyny versus parasites. Philos Trans R Soc B-Biol Sci 354:507–515

Schmid-Hempel P, Schmid-Hempel R, Brunner PC, Seeman OD, Allen GR (2007) Invasion success of the bumblebee, Bombus terrestris, despite a drastic genetic bottleneck. Heredity 99:414–422

Suarez AV, Tsutsui ND (2008) The evolutionary consequences of biological invasions. Mol Ecol 17:351–360

Tan K, Radloff S, Li JJ, Hepburn HR, Yang MX, Zhang LJ, Neumann P (2007) Bee-hawking by the wasp, Vespa velutina, on the honeybees Apis cerana and A. mellifera. Naturwissenschaften 94:469–472

Templeton AR, Crandall KA, Sing CF (1992) A cladistics analysis of phenotypic associations with haplotypes inferred from restriction endonuclease mapping and DNA sequence data, III. Cladogram estimation. Genetics 132:619–633

Tsutsui ND, Suarez AV (2003) The colony structure and population biology of invasive ants. Conserv Biol 17:48–58

Tsutsui ND, Suarez AV, Holway DA, Case TJ (2001) Relationships among native and introduced populations of the Argentine ant (Linepithema humile) and the source of introduced populations. Mol Ecol 10:2151–2161

Villemant C (2008) Apis cerana se défend contre Vespa velutina : observations dans le massif forestier du Bi Doup, Vietnam. Bull Soc entomol Fr 113:312

Villemant C, Haxaire J, Streito JC (2006) Premier bilan de l'invasion de Vespa velutina Lepeletier en France (Hymenoptera, Vespidae). Bull Soc entomol Fr 111:535

Villemant C, Barbet-Massin M, Perrard A et al (2011) Predicting the invasion risk by the alien bee-hawking yellow-legged hornet Vespa velutina nigrithorax across Europe and other continents with niche models. Biol Cons 144:2142–2150

Wang J, Santure AW (2009) Parentage and sibship inference from multilocus genotype data under polygamy. Genetics 181(4):1579–1594

Wares JP, Hughes AR, Grosberg RK (2005) Mechanisms that drive evolutionary change: insights from species introductions and invasions. In: Sax DF, Stachowicz JJ, Gaines SD (eds) Species invasions: insights into ecology, evolution and biogeography. Sinauer, Sunderland, MA, pp 229–257

Sinauer, Sunderland, MA.    Yasui Y (1998) The "genetic benefits" of female multiple mating reconsidered. Trends Ecol Evol 13:246–250

Zayed A, Constantin SA, Packer L (2007) Successful biological invasion despite a severe genetic load. PLoS ONE 2(9):e868
Acknowledgments
We thank Daniel Simberloff for his very useful rereading of an earlier version of the manuscript. We thank all the French beekeepers and associations that kindly provided us with Asian yellow-legged hornet samples from France. We also thank our colleagues Alain Roques (INRA, Orléans), Agnès Rortais (CNRS, Gif-sur-Yvette), Pierre Tripotin (MNHN, Paris), Tan Ken (Chinese Academy of Sciences, China), Yayuk Suhardjono and Oscar Effendy (Museum of Bogor, LIPI, Indonesia), and Truong Quang Tam (Institute of Tropical Biology, Vietnam) for help with sample collection from Asia. Cyril Nadeau, Delia Dupré and Ugoline Godeau provided technical help in the laboratory. This study was financially supported by France AgriMer (Programme communautaire pour l'Apiculture, 2008–2011) and IRD and CNRS core budgets. Collecting missions were supported by the MNHN for Vietnam (PPF 2008); Indonesia (ATM Biodiversité 2010), China (ATM Formes 2010). We thank Emmanuelle Baudry (UPSud, Orsay) for fruitful comments on the manuscript. The English was revised by Helen McCombie.
Additional information
Data accessibility
DNA sequences: Genbank accessions JQ780449–JQ780462.
Electronic supplementary material
Below is the link to the electronic supplementary material.
About this article
Cite this article
Arca, M., Mougel, F., Guillemaud, T. et al. Reconstructing the invasion and the demographic history of the yellow-legged hornet, Vespa velutina, in Europe. Biol Invasions 17, 2357–2371 (2015). https://doi.org/10.1007/s10530-015-0880-9
Received:

Accepted:

Published:

Issue Date:
Keywords
Yellow-legged hornet

Vespa velutina

Invasive species

Approximate Bayesian computation