Abstract
Invasion biologists often think about feasibility of weed control in purely ecological terms, while land managers' feasibility definitions are further informed by social, policy, and institutional considerations. We use the case of cheatgrass (Bromus tectorum) in the Eastern Sierra Nevada in California to examine the origins and practical significance of differences between scientific and managerial definitions of feasibility. A serious invasive weed and a major ecological threat to the region, cheatgrass in the Eastern Sierra still exists in the kinds of low-density patches that are technically amenable to containment through active management. Yet land managers in this region dominated by public land are not using active management. We conducted a study of the reasons for the apparent disconnect between management potential and management realities, combining semi-structured interviews of public land managers in the region with analysis of the policy and institutional landscape in which land managers operate. We found that managers are concerned about cheatgrass impacts on the region but face a number of barriers to the deployment of useful spread prevention techniques. The de-prioritization of cheatgrass, which is not listed as a noxious weed under either California or federal law, along with resource constraints exacerbated by such policy de-prioritization form one important set of barriers. Certain substantive and procedural requirements of federal and state environmental law form another barrier: they can limit swiftness and flexibility of managerial action and make managers more hesitant to launch such action; they also provide a venue for public opposition to herbicide-based management or directly restrict managers' access to useful herbicide treatments. We end with some thoughts on increasing the feasibility of cheatgrass control in eastern California. Many of these are broadly relevant to improving invasion management on public lands.
This is a preview of subscription content, log in to check access.
Access options
Buy single article
Instant unlimited access to the full article PDF.
US$ 39.95
Price includes VAT for USA
Subscribe to journal
Immediate online access to all issues from 2019. Subscription will auto renew annually.
US$ 99
This is the net price. Taxes to be calculated in checkout.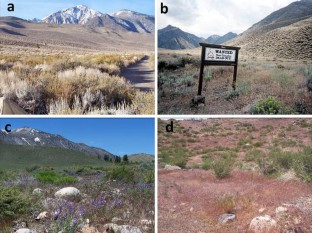 Notes
1.

This was coincident with larger state budget cuts in California over 2010–2012.

2.

In the late 1990s, federal, state, and local government agencies partnered with non-governmental groups to form regionally focused 'Weed Management Area' (WMA) groups throughout California with the goal of increasing collaboration and coordination between the various agencies and stakeholder groups working on eradication and control of noxious weeds. The ESWMA was founded in 1999 with (current) partners listed in Table 1.

3.

4.

Although Bromus tectorum is actually listed as noxious in 5 Wyoming counties, which has been reported to facilitate its management in those counties (Kelley et al. 2013).

5.

6.

7.
References
Agricultural Commissioner's Office (2008, 2009, 2010, & 2011) Noxious weed control and eradication activities on lands in Inyo and Mono Counties. Annual Report. Inyo and Mono Counties Agricultural Commissioner's Office. Bishop, CA

Agricultural Commissioner's Office (2012) Inyo and mono counties agricultural department. http://www.inyomonoagriculture.com/ Accessed 3 March 2012

Anderson GL, Delfosse ES, Spencer NR et al (2003) Lessons in developing successful invasive weed control programs. J Range Manage 56:2–12

APHIS (2009) Action Plan for the Noxious Weeds Program. United States Department of Agriculture Animal and Plant Health Inspection Service. http://www.aphis.usda.gov/plant_health/plant_pest_info/weeds/downloads/weed_action_plan.pdf. Accessed 3 Sept 2013

Aslan CE, Hufford MB, Epanchin-Niell RS, Port JD, Sexton JP, Waring TM (2009) Practical challenges in private stewardship of rangeland ecosystems: yellow starthistle control in Sierra Nevadan foothills. Rangel Ecol Manag 62:28–37

Baker WL (2011) Pre-Euro-American and recent fire in sagebrush ecosystems. In: Knick ST, Connelly JW (eds) Greater sage-grouse: ecology and conservation of a landscape species and its habitats. University of California Press, Berkeley and Los Angeles, pp 185–201

Brooks ML, D'Antonio CM, Richardson DM et al (2004) Effects of invasive alien plants on fire regimes. Bioscience 54:677–688

Buckman TE (1937) Setting up Taylor Grazing Districts in Nevada. Agricultural Extension Service, University of Nevada. Reno, Nevada. Bull 77

Butler KF, Koontz TM (2005) Theory into practice: implementing ecosystem management objectives in the USDA Forest Service. Environ Manage 35:138–150

Californians for Alternatives to Toxics (2006) Comments regarding the Bureau of Land Management's (BLM) Draft Programmatic Environmental Impact Statement (PEIS) on vegetation treatments using herbicides in 17 western states

Carruthers R (2003) Invasive species research in the United States Department of Agiculture—Agricultural Research Service. Pest Manag Sci 59:827–834

CDFA (2012) Encycloweedia. 2010 Pest ratings. California Department of Food and Agriculture. http://www.cdfa.ca.gov/plant/ipc/weedinfo/winfo_list-pestrating.htm. Accessed 1 March 2012

CDFA & CALIWAC (2005) California noxious and invasive weed action plan. California Department of Food and Agriculture, Sacramento

Clarke JN, McCool D (1996) Staking out the terrain: power and performance among natural resource agencies. State University of New York Press, Albany

Concilio A (2013) Effectiveness and cost of downy brome (Bromus tectorum) control at high elevation. Invasive Plant Sci Manag 6:502–511

Concilio AL, Loik ME (2013) Elevated nitrogen effects on Bromus tectorum dominance and native plant diversity in an arid, montane ecosystem. Appl Veg Sci 16:598–609

Concilio AL, Loik ME, Belnap J (2013) Global change effects on Bromus tectorum L. (Poaceae) at its high-elevation range margin. Glob Chang Biol 19:161–172

D'Antonio CM, Thomsen M (2004) Ecological resistance in theory and practice. Weed Technol 18:1572–1577

D'Antonio CM, Vitousek PM (1992) Biological invasions by exotic grasses, the grass/fire cycle, and global change. Ann Rev Ecol Syst 23:63–87

Darin GS (2008) Prioritizing weed populations for eradication at a regional level: The California Department of Food and Agriculture's A-rated weeds. M.S. Thesis, University of California, Davis

Desser R (2007) Summary of the National Environmental Policy Act approach for early detection/rapid response to invasive plants on the Olympic National Forest. USDA Forest Service Pacific Northwest Research Station GTR. 23–24

Diamond JM, Call CA, Devoe N (2009) Effects of targeted cattle grazing on fire behavior of cheatgrass-dominated rangeland in the northern Great Basin, USA. Int J Wild Fire 18:944–950

DiTomaso JM (2000) Invasive weeds in rangelands: species, impacts, and management. Weed Sci 48:255–265

Doremus H (2001) Adaptive management, the Endangered Species Act, and the institutional challenges of new age environmental protection, 41 Washington L.J. 50

DPR (2011) A Guide to Pesticide Regulation in California. Department of Pesticide Regulations, California Environmental Protection Agency. Sacramento, CA, p 160

ELI (2002) Halting the invasion: state tools for invasive species management. Environmental Law Institute, Washington

ELI (2010) Status and trends in state invasive species policy: 2002–2009. Environmental Law Institute, Washington

Epanchin-Niell RS, Hufford MB, Aslan CE et al (2010) Controlling invasive species in complex social landscapes. Front Ecol Environ 8:210–216

ESWMA (2012) Eastern Sierra Weed Management Area. Inyo and Mono Counties Agricultural Commissioner's Office. http://www.inyomonoagriculture.com/eastern-sierra-weed-management-area.html Accessed 1 March 2012

Gorte RW, Vincent CH, Hanson LA et al (2012) Federal land ownership: overview and data. Congressional Research Service. R42346

Grice AC, Clarkson JR, Calvert M (2011) Geographic differentiation of management objectives for invasive species: a case study of Hymenachne amplexicaulis in Australia. Environ Sci Policy 14:986–997

Grumbine RE (1997) What is ecosystem management? Conserv Biol 11:41–47

[GAO] United States Government Accountability Office (2005) Invasive Species. Cooperation and Coordination are Important for Effective Management of Invasive Weeds. Report to the Chairman, Committee on Resources, House of Representatives. GAO-05-185

Hobbs RJ, Humphries SE (1995) An integrated approach to the ecology and management of plant invasions. Conserv Biol 9:761–770

Huang QQ, Qian C, Wang Y et al (2010) Determinants of the geographical extent of invasive plants in China: effects of biogeographical origin, life cycle and time since introduction. Biodivers Conserv 19:1251–1259

Januchowski-Hartley SR, Visconti P, Pressey RL (2011) A systematic approach for prioritizing multiple management actions for invasive species. Biol Invasions 13:1241–1253

Johnson D (2011) Policy update: cuts and more cuts. Cal-IPC News 19(1):15

Johnston DB (2011) Movement of weed seeds in reclamation areas. Rest Ecol 19:446–449

Karst T (2012) Pest protection to suffer with budget deficit. The Grower 16

Kelley WK, Fernandez-Gimenez ME, Brown CS (2013) Managing downy brome (Bromus tectorum) in the Central Rockies: land manager perspectives. Invasive Plant Sci Manag 6:521–535

Knapp PA (1996) Cheatgrass (Bromus tectorum L) dominance in the Great Basin Desert—history, persistence, and influences to human activities. Glob Environ Change 6:37–52

Knick ST (1999) Requiem for a sagebrush ecosystem? Northwest Sci 73:53–57

Knick S, Connelly JW (2011) Greater sage-grouse and sagebrush: an introduction to the landscape. In: Knick ST, Connelly JW (eds) Greater sage-grouse: ecology and conservation of a landscape species and its habitats. University of California Press, Berkeley and Los Angeles, pp 1–12

Koontz TM, Bodine J (2008) Implementing ecosystem management in public agencies: lessons from the US Bureau of Land Management and the Forest Service. Conserv Biol 22:60–69

LADWP (2012a) The story of the Los Angeles aqueduct: a shared resource. Los Angeles Department of Water and Power. http://wsoweb.ladwp.com/Aqueduct/historyoflaa/ Accessed 8 May 2012

LADWP (2012b) Lower owens river project annual report. Los Angeles Department of Water and Power

Link SO, Keeler CW, Hill RW et al (2006) Bromus tectorum cover mapping and fire risk. Int J Wild Fire 15:113–119

Lodge DM, Williams S, MacIsaac HJ et al (2006) Biological invasions: recommendations for US policy and management. Ecol Appl 16:2035–2054

Mack RN (1981) Invasion of Bromus-tectorum L into western North-America—an ecological chronicle. Agro-Ecosyst 7:145–165

Mack RN, Lonsdale WM (2002) Eradicating invasive plants: hard-won lessons for islands. In: Veitch D, Clout M (eds) Turning the tide: the eradication of invasive species. IUCN SSC Invasive Species Specialist Group, Switzerland/Cambridge, pp 164–172

Marchante E, Kjoller A, Struwe S et al (2008) Short- and long-term impacts of Acacia longifolia invasion on the belowground processes of a Mediterranean coastal dune ecosystem. Appl Soil Ecol 40:210–217

McDougall KL, Khuroo AA, Loope LL et al (2011) Plant invasions in mountains: global lessons for better management. Mt Res Dev 31:380–387

Miller ML (2004) The paradox of U.S. alien species law. In: Miller ML, Fabian RN (eds) Harmful invasive species: legal responses. Environmental Law Institute, Washington, pp 125–184

Moody ME, Mack RN (1988) Controlling the spread of plant invasions—the importance of nascent foci. J Appl Ecol 25:1009–1021

National Invasive Species Council (2005) Guidelines for ranking invasive species control projects. Version 1

Norgaard KM (2007) The politics of invasive weed management: gender, race, and risk perception in rural California. Rural Soc 72:450–477

O'Malley M (2014) Recognizing illnesses related to forestry pesticides. California Department of Pesticide Regulations. http://www.cdpr.ca.gov/docs/specproj/tribal/tox_exp2002.pdf. Accessed 23 March 2014

PAN (2014) California regulatory information. Pesticide action network. http://www.pesticideinfo.org/Docs/ref_regulatoryCA.html#CAReg. Accessed 16 March 2014

Pellant M (1996) Cheatgrass: the invader that won the west. Bureau of Land Management. Idaho State Office, Boise, Idaho

Pellant M, Abby B, Karl S (2004) Restoring the Great Basin desert, USA: integrating science, management, and people. Environ Monit Assess 99:169–179

Rejmanek M, Pitcairn J (2002) When is eradication of exotic pest plants a realistic goal?. In: Veitch D, Clout M (eds) Turning the Tide: the Eradication of Invasive Species IUCN SSC Invasive Species Specialist Group, Switzerland/Cambridge, pp 249–253

Ruhl JB (2005) Regulation by adaptive management—is it possible? 7 Minn J L Sci Tech 21

Ruhl JB (2008) Adaptive management for natural resources—inevitable, impossible, or both? Rocky Mountain Mineral Law Institute Proceedings, 54(11)

Shindler B, Gordon R, Brunson MW et al (2011) Public perception of sagebrush ecosystem management in the Great Basin. Range Ecol Manag 64:335–343

Simberloff D (2009) We can eliminate invasions or live with them. Successful management projects. Biol Invasions 11:149–157

Speckman S (2008) Cheatgrass adds fuel to fire, Utah official says. Deseret News

Steelman T (2010) Implementing innovation: fostering enduring change in environmental and natural resource governance. Georgetown University Press, Washigton

Tempel D et al (2004) The status and management of exotic and invasive species in national wildlife refuge wilderness areas. Nat Areas J 24:300–306

Thomas C (2003) Bureaucratic landscapes: interagency cooperation and the preservation of biodiversity. MIT Press, Cambridge

USDA (2014) Federal noxious weeds. United States Department of Agriculture Plants Database. http://plants.usda.gov/java/noxious. Accessed 20 March 2014

USDA Forest Service (2009) Environmental assessment for crowley lake watershed grazing allotment assessment. US Department of Agriculture Forest Service Pacific Southwest Region. Inyo National Forest, California

USDA Forest Service (2011) Environmental assessment for the mono basin grazing analysis. US Department of Agriculture Forest Service Pacific Southwest Region. Inyo National Forest, California

USDA Forest Service (2013) Final environmental impact statement. record of decision. Casa Diablo iV Geothermal Development Project. US Department of Agriculture Forest Service Pacific Southwest Region. Inyo National Forest, California

USDI-BLM (2000) The great basin: healing the land. USDI Bureau of Land Management

USDI-BLM (2007) Final programmatic environmental impact statement- vegetation treatments using herbicides on bureau of land management land in 17 western states. US Department of the Interior, Bureau of Land Management, Washington

USDI-BLM (2010) Environmental assessment crowley communities fuels reduction project. central california district. Bishop Field Office. BLM EA# DOI-BLM-CAC-070-2010-0038

USDI-BLM (2012) Grazing. USDI Bureau of land management. http://www.blm.gov/ca/st/en/fo/bishop/range0.html. Accessed 11 April 2012

Vollmer JL, Vollmer JG (2008) Controlling cheatgrass in winter range to restore habitat and endemic fire. In: Kitchen SG, Pendelton RL, Monaco TA, Vernon J (eds) Proceedings- shrublands under fire: disturbance and recovery in a changing world. 2006 June 6–8, Cedar City UT, Proc RMRS-P-52, Fort Collins, CO, USDA Forest Service, Rocky Mountain Research Station, pp 57–60

Yaffee SL (1996) Ecosystem management in practice: the importance of human institutions. Ecol Appl 6:724–727
Acknowledgments
We are really grateful to land managers in the Eastern Sierra Nevada for taking time to discuss their work and challenges with us. We thank Adriana Sulak and Lynn Huntsinger for feedback on interview questions and suggestions for contacting public lands users and managers. Sarah Carvill and Doug Johnson provided valuable feedback on earlier drafts of this manuscript. Dan Dawson and staff at the Eastern Sierra Valentine Reserve provided logistical support. We thank three anonymous reviewers for their constructive and insightful feedback, which greatly helped us to improve this manuscript. This study was reviewed and approved by the UCSC Institutional Review Board (Human Subjects Protocol #1411).
Electronic supplementary material
Below is the link to the electronic supplementary material.
About this article
Cite this article
Tzankova, Z., Concilio, A. Controlling an invasive plant at the edge of its range: towards a broader understanding of management feasibility. Biol Invasions 17, 507–527 (2015) doi:10.1007/s10530-014-0747-5
Received:

Accepted:

Published:

Issue Date:
Keywords
Bromus tectorum

California

Cheatgrass

Invasive species management

Public lands

Non-noxious weed