Abstract
Zaprionus indianus, also known as the African fig fly, is an invasive pest of a variety of commercial and native fruit. The species was first reported in Brazil in 1999, but has established itself in much of the New World within the last 10–15 years. We used nucleotide sequences from a segment of the mitochondrial cytochrome c oxidase subunit I (COI) gene to examine haplotype relationships, population structure, and infer the colonization history of Z. indianus in Mexico and Panama. Construction of a haplotype network showed that six COI haplotypes, obtained from flies collected at six localities in Mexico and one in Panama, clustered into three distinct clades. Clade composition was generally consistent in flies from Panama to northwestern Mexico, and analysis of molecular variance indicated no significant structure among populations. Three of the six haplotypes from Mexico and Panama were identical to previously reported haplotypes from Brazil. None of the six haplotypes, however, were shared with previously reported haplotypes from potential source populations in the Old World. The results of our genetic analysis suggest that the invasion of Z. indianus into Central America and Mexico most probably includes a northward migration of individuals from Brazil, with the possibility of at least one additional introduction of Z. indianus to the New World. Additional sequence data from potential source populations in the Old World will be required to confidently determine the number of introductions of Z. indianus into the New World, and to identify the geographic source.
This is a preview of subscription content,
to check access.
Access this article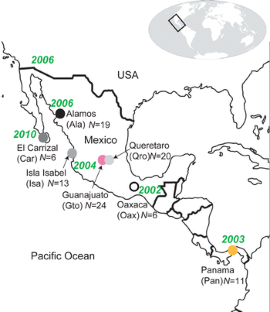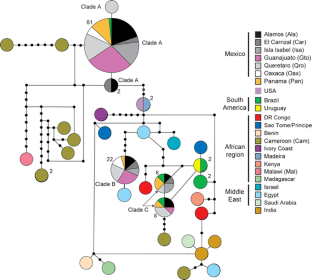 References
Ananina G, Rohde C, David JR, Valente VLS, Klaczko LB (2007) Inversion polymorphism and a new polytene chromosome map of Zaprionus indianus Gupta (1970) (Diptera: Drosophilidae). Genetica 131:117–125

Castrezana S (2011) New record on novel hosts for the Drosophilid pest Zaprionus indianus. Drosoph Inf Serv 94:1–2

Castrezena S (2007) New records of Zaprionus indianus Gupta, 1970 (Diptera, Drosophilidae) in North America and a key to identify some Zaprionus species deposited in the Drosophila Tucson Stock Center. Drosoph Inf Serv 90:34–36

Clement M, Posada D, Crandall KA (2000) TCS: a computer program to estimate gene genealogies. Mol Ecol 9:1657–1659

Commar LS, Galego LGC, Ceron CR, Carareto CMA (2012) Taxonomic and evolutionary analysis of Zaprionus indianus and its colonization of Palearctic and Neotropical regions. Genet Mol Biol 35:395–406

da Mata RA, Tidon R, Côrtes LG, DeMarco P, Diniz-Filho JAF (2010) Invasive and flexible: niche shift in the drosophilid Zaprionus indianus (Insecta, Diptera). Biol Invasions 12:1231–1241

David JR, Araripe LO, Bitner-Mathé BC, Capy P, Goñi B, Klaczko LB, Legout H, Martins MB, Vouidibio J, Yassin A, Moreteau B (2006) Quantitative trait analysis and geographic variability of natural populations of Zaprionus indianus, a recent invader in Brazil. Heredity 96:53–62

Excoffier L, Lischer HEL (2010) Arlequin suite ver. 3.5: a new series of programs to perform population genetics analyses under Linux and Windows. Mol Ecol Resour 10:564–567

Excoffier L, Smouse PE, Quattro JM (1992) Analysis of molecular variance inferred from metric distances among DNA haplotypes: application to human mitochondrial DNA restriction data. Genetics 131:479–491

Folmer O, Black M, Hoeh W, Lutz R, Vrijenhoek R (1994) DNA primers for amplification of mitochondrial cytochrome c oxidase subunit I from diverse metazoan invertebrates. Mol Mar Biol Biotech 3:294–299

Franks SJ, Pratt PD, Tsutsui ND (2011) The genetic consequences of a demographic bottleneck in an introduced biological control insect. Conserv Genet 12:201–211

Fu Y-X (1997) Statistical tests of neutrality of mutations against population growth, hitchhiking and background selection. Genetics 147:915–925

Galego LGC, Carareto CMA (2007) Analysis of the drosophilid Zaprionus indianus introduction in Brazil: contribution of esterase loci polymorphisms. Drosoph Inf Serv 90:79–84

Galego LGC, Carareto CMA (2010) Scenario of the spread of the invasive species Zaprionus indianus Gupta, 1970 (Diptera, Drosophilidae) in Brazil. Genet Mol Biol 33:767–773

Kimura M (1980) A simple method for estimating evolutionary rate of base substitutions through comparative studies of nucleotide sequences. J Mol Evol 16:111–120

Lavagnino NJ, Carreira VP, Mensch J, Hasson E, Fanara JJ (2008) Geographic distribution and hosts of Zaprionus indianus (Diptera: Drosophilidae) in North-Eastern Argentina. Rev Soc Entomol Argent 67:189–192

Librado P, Rozas J (2009) DnaSP v5: a software for comprehensive analysis of DNA polymorphism data. Bioinformatics 25:1451–1452

Mattos-Machado T, Solé-Cava AM, David JR, Bitner-Mathé BC (2005) Allozyme variability in an invasive drosophilid, Zaprionus indianus (Diptera: Drosophilidae): comparison of a recently introduced Brazilian population with Old World populations. Ann Soc Entomol Fr (NS) 41:7–13

Muirhead JR, Gray DK, Kelly DW, Ellis SM, Heath DD, MacIsaac HJ (2008) Identifying the source of species invasions: sampling intensity vs. genetic diversity. Mol Ecol 17:1020–1035

Pfeiler E, Ngo NM, Markow TA (2005) Linking behavioral ecology with population genetics: insights from Drosophila nigrospiracula. Hereditas 142:1–6

Pfeiler E, Vergara-Quintanar JE, Castrezana S, Caterino MS, Markow TA (2010) Phylogenetic relationships of Sonoran Desert cactus beetles in the tribe Hololeptini (Coleoptera: Histeridae: Histerinae), with comments on the taxonomic status of Iliotona beyeri. Mol Phylogenet Evol 56:474–479

Ratnasingham S, Hebert PDN (2007) BOLD: the barcode of life data system (www.barcodinglife.org). Mol Ecol Notes 7:355–364

Santos JF, Rieger TT, Campos SRC, Nascimento ACC, Félix PT, Silva SVO, Freitas FMR (2003) Colonization of northeast region of Brazil by the drosophilid flies Drosophila malerkotliana and Zaprionus indianus, a new potential insect pest for Brazilian fruitculture. Drosoph Inf Serv 86:92–95

Soto I, Corio C, Fanara JJ, Hasson E (2006) First record of Zaprionus indianus Gupta, 1970 (Diptera, Drosophilidae) in Argentina. Drosoph Inf Serv 89:13–14

Tajima F (1989) Statistical method for testing the neutral mutation hypothesis by DNA polymorphism. Genetics 123:585–595

Tamura K, Peterson D, Peterson N, Stecher G, Nei M, Kumar S (2011) MEGA5: molecular evolutionary genetics analysis using maximum likelihood, evolutionary distance, and maximum parsimony methods. Mol Biol Evol 28:2731–2739

Thompson JD, Gibson TJ, Plewniak F, Jeanmougin F, Higgins DG (1997) The ClustalX windows interface: flexible strategies for multiple sequence alignment aided by quality analysis tools. Nucleic Acids Res 25:4876–4882

van der Linde K (2010) Zaprionus indianus: species identification and taxonomic position. Drosoph Inf Serv 93:95–98

van der Linde K, Steck GJ, Hibbard K, Birdsley JS, Alonso LM, Houle D (2006) First records of Zaprionus indianus (Diptera: Drosophilidae), a pest species on commercial fruits from Panama and the United States of America. Fla Entomol 89:402–404

Vilela CR (1999) Is Zaprionus indianus Gupta, 1970 (Diptera, Drosophilidae) currently colonizing the Neotropical region? Drosoph Inf Serv 82:37–39

Yassin A, Capy P, Madi-Ravazzi L, Ogereau D, David JR (2008) DNA barcode discovers two cryptic species and two geographical radiations in the invasive drosophilid Zaprionus indianus. Mol Ecol Resour 8:491–501

Yassin A, Borai F, Capy P, David JR, Elias E, Riad SA, Shalaby HG, Serour S, Abou-Youssef AY (2009) Evolutionary genetics of Zaprionus. II. Mitochondrial DNA and chromosomal variation of the invasive drosophilid Zaprionus indianus in Egypt. Mitochondrial DNA 20:34–40
Acknowledgments
We thank Dan L. Lindsley, John Pool, Sergio Castrezana and Sarah Johnson for their help with this project. This work was supported by National Science Foundation (NSF) Grants DEB 00-75312 and OISE-0440648 to T.A.M., University of California Institute for Mexico and the United States (UC MEXUS) Grants FA11-75 to T.A.M., ST11/12-06 to G.H. and CN12-583 to M.P.R and J.R.E., Consejo Nacional de Ciencia y Tecnología (CONACYT) Proyecto 180385 and funds from LANGEBIO to T.A.M., and the Programa de Apoyo a Proyectos de Investigación e Innovación Tecnológica de la Universidad Autónoma Nacional de México (PAPIIT) Grant #IN200313 to J.R.E.
About this article
Cite this article
Markow, T.A., Hanna, G., Riesgo-Escovar, J.R. et al. Population genetics and recent colonization history of the invasive drosophilid Zaprionus indianus in Mexico and Central America. Biol Invasions 16, 2427–2434 (2014). https://doi.org/10.1007/s10530-014-0674-5
Received:

Accepted:

Published:

Issue Date:

DOI: https://doi.org/10.1007/s10530-014-0674-5
Keywords