Abstract
The control of grey squirrels (Sciurus carolinensis) is widely undertaken as a conservation measure to protect red squirrel (Sciurus vulgaris) populations in the UK. However, inconsistencies and omissions in data collection, as well as fluctuating financial resourcing of control efforts, have meant that it has to date proved difficult to quantify the impact of any regional control initiative upon populations. Here we have scrutinized a 13 years period (1998–2010) within an ongoing grey squirrel control project that reflects the resource challenges typically faced by red squirrel conservation programmes. We present evidence that despite variation in grey squirrel control intensity, the abundance of grey squirrels ultimately decreased significantly. Trapping success was significantly higher in spring and summer months and a greater abundance of grey squirrels was found in deciduous woodland and hazel dominated scrub relative to other habitats; two findings that reinforce existing guidance within national control best practice. Grey squirrels carry an infection that causes epidemic pathogenic disease if spread to the native red squirrel. We observed that the proportion of seropositive grey squirrels decreased constantly from 2003 to 2010 when only 4 % of sampled animals were seropositive. This discovery indicates that culling can in parallel remove both the competitive and disease threat posed to red by grey squirrels. The historical paucity of scientific data on the effectiveness of grey squirrel control as a tactic in UK red squirrel conservation means that the findings of this study will significantly advance conservation best practice and inform the development of future national strategy.
We're sorry, something doesn't seem to be working properly.
Please try refreshing the page. If that doesn't work, please contact support so we can address the problem.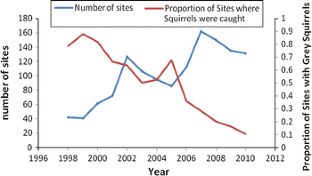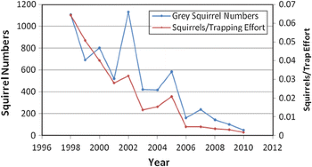 References
Atkin JK, Radford AD, Coyne KP, Stavisky J, Chantrey J (2010) Detection of Squirrelpox virus squirrel poxvirus by nested and real-time PCR from red (Sciurus vulgaris) and grey (Sciurus carolinensis) squirrels. Vet Res 6 doi:10.1186/1746-6148-6-33

Baker SJ (2006) The eradication of coypus (Myocastor coypus) from Britain: the elements required for a successful campaign. In: Koike F, Clout MN, Kawamichi M, DePoorter M, Iwatsuki K (eds) Assessment and control of biological invasion risks. Shoukadoh Book Sellers and IUCN, Kyoto, pp 142–147

Baker SJ (2010) Control and eradication of invasive mammals in Great Britain. Revue Scientifique Et Technique-Office International Des Epizooties 29:311–327

Bolker BM, Brooks ME, Clarke CJ, Geange SW, Poulsen JR et al (2009) Generalized linear mixed models: a practical guide for ecology and evolution. Trends Ecol Evol 24:127–135

Broström G (2013) glmmML: generalized linear models with clustering. R package version 1.0. http://cran.r-project.org/package=glmmML

Broström G, Holmberg H (2011) Generalised Linear Models with Clustered Data: Fixed and random effects models with glmmML. Retrieved 02 Feb 2012 from http://cran.r-project.org/web/packages/eha/vignettes/glmmML.pdf

Bruemmer CM, Rushton SP, Gurnell J, Lurz PWW, Nettleton P et al (2010) Epidemology of squirrel poxvirus in grey squirrels in the UK. Epidemiol Infect 138:941–950

Burnham KP, Anderson DR (2002) Model selection and multimodel inference. A practical information-theoretic approach. Springer, London

Carroll B, Russel P, Gurnell J, Nettleton P, Sainsbury AW (2009) Epidemics of squirrelpox virus disease in red squirrels (Sciurus vulgaris): temporal and serological findings. Epidemiol Infect 137:257–265

Clout MN, Russell JC (2006) The eradication of mammals from New Zealand islands. In: Koike F, Clout MN, Kawamichi M, DePoorter M, Iwatsuki K (eds) Assessment of control of biological invasion risks. Shoukadoh Book Sellers and IUCN, Kyoto, pp 127–141

Cooke A (2004) Muntjac and conservation woodlands. In: Quine C, Shore R, Trout R (eds) Managing woodlands and their mammals. Edinburgh, Forestry Commission, pp 65–69

Genovesi P (2005) Eradication of invasive alien species in Europe: a review. Biol Invasions 7:127–133

Gosling LM, Baker SJ (1989) The eradication of muskrats and coypus from Britain. Biol J Linn Soc 38:39–51

Greaves RK, Sanderson RA, Rushton S (2006) Predicting species occurrence using information-theoretic approaches and significance testing: an example of dormouse distribution in Cumbria, UK. Biol Conserv 130:239–250

Gurnell J (1996) The effects of food availability and winter weather on the dynamics of a grey squirrel population in southern England. J Appl Ecol 33:325–328

Gurnell J, Steele J (2002) Grey squirrel control for red squirrel conservation. A study in Thetford Forest. Engl Nat Res Rep 453:1–49

Gurnell J, Wauters LA, Preatoni D, Tosi G (2001) Spacing behaviour, kinship, and population dynamics of grey squirrels in a newly colonized broadleaf woodland in Italy. Can J Zool 79:1533–1543

Gurnell J, Wauters L, Lurz PWW, Tosi G (2004) Alien species and interspecific competition: effects of introduced eastern grey squirrels on red squirrel population dynamics. J Anim Ecol 73:26–35

Harris S, Morris P, Wray S, Yalden D (2005) A review of British mammals: population estimates and conservation status of British mammals other than cetaceans. JNCC, Peterborough, pp 1–216

Holm JL (1991) The ecology of red squirrels in deciduous woodland. PhD Thesis, London University, London

Howald G, Donlan CJ, Galvan JP, Russell JC, Parkes J et al (2007) Invasive rodent eradication on islands. Conserv Biol 21:1258–1268

Kenward RE (1985) Ranging behaviour and population dynamics in grey squirrels. In: Sibly RM, Smith RH (eds) Behavioural ecology: ecolological consequences of adaptive behaviour. Blackwell Scientific Publications, Oxford, pp 319–330

Kenward RE, Holm JL (1989) What future for British red squirrels? In: Harris S (ed) British mammals: past, present and future. The Linnean Society of London and Academic Press, Waltham

Kenward RE, Holm JL (1993) On the replacement of the red squirrel in Britain. A phytotoxic explanation. Proc R Soc Lond B 251:187–194

Kenward RE, Dutton JCF et al (1996) Damage by grey squirrels. I. Bark-stripping correlates and treatment. Q J For 90:135–142

Lawton C, Rochford J (2007) The recovery of Grey Squirrel (Sciurus carolinensis) populations after intensive control programmes. Proc R Ir Acad B 107:19–29

LLoyd HG (1983) Past and present distributions of Red and Grey squirrels. Mamm Rev 13:69–80

Lurz PWW, Garson PJ (1992) The distribution of red and grey squirrels in northeast England in relation to available woodland habitats. Br Ecol Soc Bull 23:133–139

Martinoli A, Bertolino S, Preatoni DG, Balduzzi A, Marsan A et al (2010) Headcount 2010: the multiplication of the grey squirrel intrdouced in Italy. Hystrix Ital J Mamm 21:127–136

Mayle BH, Pepper H, Ferryman M (2003) Controlling grey squirrel damage to woodlands. Forestry Commission Practice Note 4, pp 1–16

Mayle BA, Ferryman M, Pepper H (2007) Controlling grey squirrel damage to woodlands. Forestry Commission Practice Note 4 (revised). Forestry Commission, Edinburgh

McClelland P (1992) Preparation for the eradication of Norway rats (Rattus norvegicus) from Campbell Island. In: Veitch C, Clout MN (eds) Turning the tide in the eradication of invasive species, IUCN SSC Invasive Species Specialist Group

Middleton A (1930) The ecology of the American Grey Squirrel (Sciurus carolinensis Gmelin) in the British Isles. Proc Zool Soc Lond 100:809–843

Palmer GH, Koprowski JL, Pernas T (2007) Tree squirrels as invasive species: conservation and management implications. Managing Vertebrate Invasive species, USDA National wildlife Research Symposia, University of Nebraska

Parrott D, Quy R, Lurz PWW, Rushton S, Gurnell J, Aebicher N, Reynolds J (2009) Review of red squirrel conservation activity in northern England Natural England Research report 019. Peterborough, England

Pepper H and Patterson G (1998) Red squirrel conservation. Forest Practice Note 5, Her Majesty's Stationary Office, London, England

Rhodes JR, McAlpine CA, Zuur AF, Smith GM, Ieno EN (2009) GLMM applied on the spatial distribution of koalas in a fragmented landscape. Mixed Effects Models and Extensions in Ecology with R. Springer, New York, pp 469–492

Rushton SP, Lurz PWW, South AB, Mitchel-Jones A (1999) Modelling the distribution of red squirrels (Sciurus vulgaris) on the Isle of Wight. Anim Conserv 2:111–120

Rushton SP, Humphrey TJ, Shirley MDF, Bull S, Jorgensen F (2009) Campylobacter in housed broiler chickens: a longitudinal study of risk factors. Epidemiol Infect 137:1099–1110

Sainsbury AW, Deaville R, Lawson B, Cooley WA et al (2008) Poxviral disease in Red Squirrels Sciurus vulgaris in the UK: spatial and Temporal Trends of an Emerging Threat. EcoHealth 5:305–316

Sheail J (2003) Government and the management of an alien pest species. A British perspective. Landsc Res 28:101–111

Shorten MR (1954) Squirrels. Collins, London

Shuttleworth CM (2003) A tough nut to crack: red squirrel conservation in Wales. Biologist 50:231–235

Shuttleworth CM (2010) Turning the grey tide: progress in red squirrel recovery. Ecos 31:27–35

Shuttleworth CM, Kenward RE, Jackson N (2008) Re-introduction of the red squirrel into Newborough forest on the island of Anglesey. In: Soorae PS (ed) Global re-introduction perspectives: re-introduction case studies from around the globe. IUCN/SSC Re-introduction Specialist Group, Abu Dhabi, UAE, pp 163–166

Stolwijk AM, Straatman H, Zielhuis GA (1999) Studying seasonality by using sine and cosine functions in regression analysis. J Epidemiol Commun H 53:235–238

Taylor KD (1963) Some aspects of grey squirrel control. Ann Appl Biol 51:334–338

Thompson DC (1978) The social system of the grey squirrel. Behaviour 64:305–328

Tompkins DM, Sainsbury AW, Nettleton P, Buxton D, Gurnell J (2002) Parapoxvirus causes a deleterious disease in red squirrels associated with UK population declines. Proc R Soc Lond B 269:529–533

Walker TG (1968) The mammals on Anglesey. In: Jones WE (ed) Studies in Anglesey History, vol 2., Natural history of AngleseyThe Anglesey Antiquarian Society, Llangefni, pp 204–224

Wauters L, Lurz PWW, Gurnell J (2000) Interspecific effects of grey squirrels (Sciurus carolinensis) on the space use and population demography of red squirrels (Sciurus vulgaris) in conifer plantations. Ecol Res 15:271–284
Acknowledgments
The Grey Squirrel Eradication Programme received financial support from Grantscape, Cwmni Gwastraff Môn, the Countryside Council for Wales and European Community Leader II and Objective I Programmes. Data analysis was funded through the Heritage Lottery Fund (Wales) and with grants from European Squirrel Initiative (ESI) and the Red Squirrels Trust Wales. Woodland cover data was provided by Simon Hunt of Coed Cymru. The authors would like to thank both anonymous referees whose comments greatly improved the paper.
About this article
Cite this article
Schuchert, P., Shuttleworth, C.M., McInnes, C.J. et al. Landscape scale impacts of culling upon a European grey squirrel population: can trapping reduce population size and decrease the threat of squirrelpox virus infection for the native red squirrel?. Biol Invasions 16, 2381–2391 (2014). https://doi.org/10.1007/s10530-014-0671-8
Received:

Accepted:

Published:

Issue Date:
Keywords
Invasive species control

Grey squirrel

Anglesey

Squirrelpox virus