Abstract
Invasive species can have dramatic and detrimental effects on native species, and the magnitude of these effects can be mediated by a plethora of factors. One way to identify mediating factors is by comparing attributes of natural systems in species with heterogeneity of responses to the invasive species. This method first requires quantifying impacts in different habitats, ecosystems or geographic locations. We used a long-term, before-and-after study to quantify the impacts of the invasive and toxic cane toad (Rhinella marina) on two predators in a highly modified ecosystem: an irrigation channel in an agricultural landscape. Survey counts spanning 8 years indicated a severe population-level decline of 84 % in Merten's Water Monitor (Varanus mertensi) that was coincident with the arrival of cane toads. The impact of cane toads on V. mertensi was similar to that found in other studies in other habitats, suggesting that cane toads severely impact V. mertensi populations, regardless of habitat type or geographic location. In contrast, a decline was not detected in the Freshwater Crocodile (Crocodylus johnstoni). There is now clear evidence that some C. johnstoni populations are vulnerable to cane toads, while others are not. Our results reinforce the need for the replication of impact studies within and among species; predicting impacts based on single studies could lead to overgeneralizations and potential mismanagement.
Access options
Buy single article
Instant access to the full article PDF.
USD 39.95
Price includes VAT (USA)
Tax calculation will be finalised during checkout.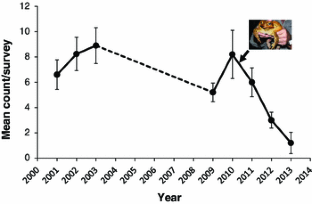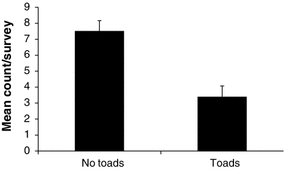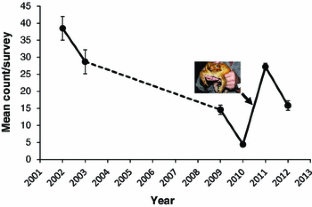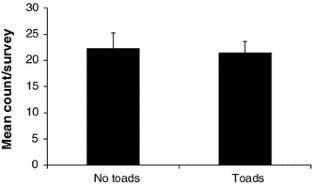 References
Barr AD, Salama RB (2002) Preliminary surface water–groundwater interaction modeling: water balances. CSIRO Land and Water, Perth. Technical Report 22/02

Britton ARC, Britton EK, McMahaon CR (2013) Impact of a toxic invasive species on freshwater crocodile (Crocodylus johnstoni) populations in upstream escarpments. Wildl Res. doi:10.1071/WR12215

Catling PC, Hertog A, Burt RJ, Wombey JC, Forrester RI (1999) The short-term effect of cane toads (Bufo marinus) on native fauna in the Gulf Country of the Northern Territory. Wildl Res 26:161–185

Christian KA (2004) Varanus mertensi. In: King D, Pianka E (eds) Varanoid lizards of the world. Indiana University Press, Bloomington, pp 410–415

Christian KA, Weavers BW (1996) Thermoregulation of monitor lizards in Australia: an evaluation of methods in thermal biology. Ecol Monogr 66:139–157

Cott H (1961) Scientific results of an inquiry into the ecology and economic status of the Nile crocodile (Crocodylus niloticus) in Uganda and Northern Rhodesia. Trans Zool Soc Lond 29:211–356

Doody JS, Green B, Rhind D, Castellano CM, Sims R, Robinson T (2009) Population-level declines in Australian predators caused by an invasive species. Anim Conserv 12:46–53

Griffiths AD, McKay JL (2007) Cane toads reduce the abundance and site occupancy of Merten's water monitor (Varanus mertensi). Wildl Res 34:609–615

Letnic M, Webb JK, Shine R (2008) Invasive cane toads (Bufo marinus) cause mass mortality of freshwater crocodiles (Crocodylus johnstoni) in tropical Australia. Biol Conserv 141:1773–1782

Lever C (2001) The cane toad: the history and ecology of a successful colonist. Westbury Academic and Scientific Publishing, West Yorkshire

Lonsdale W (1999) Global patterns of plant invasions and the concept of invasibility. Ecology 80:1522–1536

Losos JB, Green HW (1988) Ecological and evolutionary implications of diet in monitor lizards. Biol J Linn Soc 35:379–407

Mayes PJ (2006) The ecology and behavior of Varanus mertensi (Reptilia: Varanidae). Dissertation, Edith Cowan University

Mayes PJ, Thompson GG, Withers PC (2005) Diet and foraging behaviour of Varanus mertensi (Reptilia: Varanidae). Wildl Res 32:67–74

Phillips BL, Brown GP, Greenlees M, Webb JK, Shine R (2007) Rapid expansion of the cane toad (Bufo marinus) invasion front in tropical Australia. Austral Ecol 32:169–176

Shine R (1986) Food habits, habitats, and reproductive biology of varanid lizards in tropical Australia. Herpetologica 42:346–360

Shine R (2010) The ecological impact of invasive cane toads (Bufo marinus) in Australia. Q Rev Biol 85:253–291

Shine R, Doody JS (2011) Invasive species control: understanding conflicts between researchers and the general community. Front Ecol Environ 9:400–406

Simberloff D, Von Holle B (1999) Positive interactions of nonindigenous species: invasional meltdown? Biol Invasions 1:21–32

Somaweera R, Shine R (2012) The (non) impact of invasive cane toads on freshwater crocodiles at Lake Argyle in tropical Australia. Anim Conserv 15:152–163

Somaweera R, Shine R, Webb J, Dempster T, Letnic M (2013) Why does vulnerability to toxic invasive cane toads vary among populations of Australian freshwater crocodiles? Anim Conserv 16:86–96

Tucker AD, Limpus CJ, McCallum HI, McDonald KR (1996) Ontogenetic dietary partitioning by Crocodylus johnstoni during the dry season. Copeia 1996:978–988

Ujvari B, Madsen T (2009) Increased Mortality of naïve varanid lizards after the invasion non-native cane toads (Bufo marinus). Herpetol Conserv Biol 4:248–251

Ward S, Woinarski J, Griffiths T, McKay L (2006) Threatened species of the Northern Territory. Mertens water monitor. Varanus mertensi. Department of Natural Resources, Environment and the Arts, Northern Territory Government, Darwin

Wardle DA, Bellingham PJ, Fukami T, Bonner K (2012) Soil-mediated indirect impacts of an invasive predator on plant growth. Biol Lett 8:574–577

Webb GJW, Manolis SC (1989) Crocodiles of Australia. Reed, Sydney

Webb GJW, Messel H (1978) Movement and dispersal patterns of Crocodylus porosus in some rivers of Arnhem Land, northern Australia. Aust Wildl Res 5:263–283

Webb GJW, Manolis SC, Buckworth R (1982) Crocodylus johnstoni in the McKinlay River area, NT. I. Variation in the diet and a new method of assessing the relative importance of prey. Aust J Zool 30:877–899

Woinarski JCZ, Armstrong M, Brennan K, Griffiths AD, Fisher A, Hill B, Milne DJ, Palmer C, Ward S, Watson M, Winderlich S, Young S (2010) Monitoring indicates raid and severe decline of native small mammals in Kakadu National Park, northern Australia. Wildl Res 37:116–126
Acknowledgments
We thank Kim Hands, the Stop the Toad Foundation, Frogwatch Northern Territory, and Discovery Holiday Park for logistical support. The study was funded by the Australian Government (Caring for our Country scheme) and the Australian Geographic Society.
About this article
Cite this article
Doody, J.S., Mayes, P., Clulow, S. et al. Impacts of the invasive cane toad on aquatic reptiles in a highly modified ecosystem: the importance of replicating impact studies. Biol Invasions 16, 2303–2309 (2014). https://doi.org/10.1007/s10530-014-0665-6
Received:

Accepted:

Published:

Issue Date:
Keywords
Lethal toxic ingestion

Heterogeneity in responses

Agricultural landscape

Monitor lizard

Crocodile

Rhinella