Abstract
Farmed non-native Atlantic salmon (Salmo salar) is the largest agriculture export product of British Columbia, Canada. Chronic low-volume escapes of salmon from farms into Pacific waters ("leakage") are typically undetectable (Britton et al. 2011). Analysis of escape-reporting from farmers indicates that reports greatly underestimate the true number of Atlantic salmon inadvertently released from open-net pen rearing sites (Morton and Volpe 2002). To quantify the spatial extent of escaped Atlantic salmon in Canadian Pacific rivers, we systematically snorkel-surveyed 41 known Pacific salmon (Oncorhynchus spp.)-supporting rivers and creeks on Vancouver Island over a span of 3 years. We estimated and accounted for imperfect detections using multi-season occupancy models. We detected Atlantic salmon in 36.6 % of surveyed rivers. After accounting for imperfect detection, occupancy models estimated that over half of surveyed streams across the study area contained Atlantic salmon, and that 97 % of streams with high native salmon diversity were occupied by Atlantic salmon. Even in intensive snorkel surveys, Atlantic salmon are detected in occupied streams only 2/3 the time, suggesting abundance and distribution of non-native salmon is greater than indicated by the only existing data. Further, Atlantic salmon are more likely to occupy streams with high native Pacific salmon diversity—and more likely to maintain occupancy across years—potentially increasing competitive pressure on native salmonids. Understanding local biotic and abiotic predictors of Atlantic salmon occupancy, stream colonization, and local extinction requires more data; the same is true for the effects of escaped Atlantic salmon on local salmon diversity and sustainability. These data for the first time show that Atlantic salmon occupy Pacific coastal rivers for multiple years. The impact of Atlantic salmon occupancy in British Columbia rivers must be factored into policy decisions regarding the future of salmon farming in the provincial waters.
This is a preview of subscription content, log in to check access.
Access options
Buy single article
Instant access to the full article PDF.
US$ 39.95
Price includes VAT for USA
Subscribe to journal
Immediate online access to all issues from 2019. Subscription will auto renew annually.
US$ 99
This is the net price. Taxes to be calculated in checkout.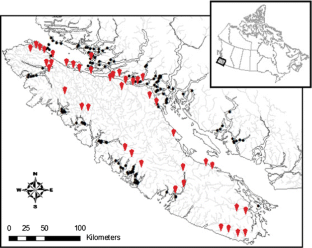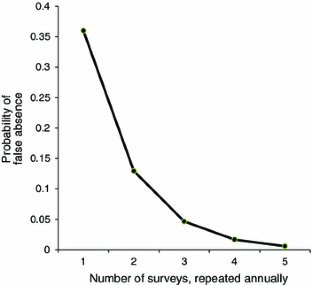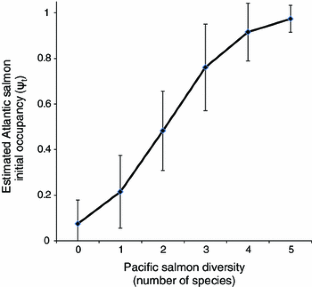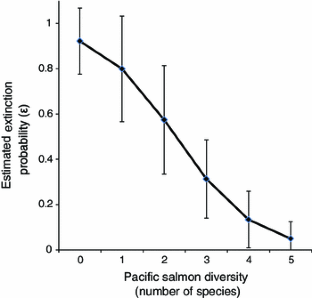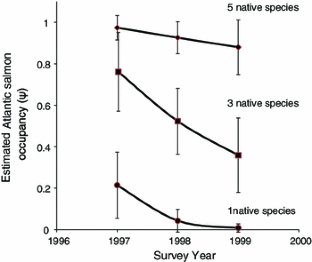 References
Bailey LL, Simons TR, Pollock KH (2004) Estimating site occupancy and species detection probability parameters for terrestrial salamanders. Ecol Appl 14(3):692–702

British Columbia Ministry of Environment. Seafood Statistics—2010 http://www.env.gov.bc.ca/omfd/fishstats/index.html

Britton JR, Pegg J, Gozlan RE (2011) Quantifying imperfect detection in an invasive pest fish and the implications for conservation management. Biol Conserv 144(9):2177–2181

Burnham KP, Anderson DR (2002) Model selection and multimodel inference: a practical information-theoretic approach, 2nd edn. Springer, London

Cosentino BJ, Schooley RL, Phillips CA (2011) Spatial connectivity moderates the effect of predatory fish on salamander metapopulation dynamics. Ecosphere 2(8):95

Falke J, Fausch K, Bestgen K, Bailey LL (2010) Spawning phenology and habitat use in a Great Plains, USA, stream fish assemblage: an occupancy estimation approach. Can J Fish Aquat Sci 67(12):1942–1956

Fisher JT, Bradbury S, Wheatley M, Anholt B, Roy L, Volpe JP, Nolan L (2013) Wolverines on the Rocky Mountain slopes: natural heterogeneity and landscape alteration as predictors of distribution. Can J Zool 91:706–716

Fisher JT, Wheatley M, MacKenzie D (in press) Estimating spatial patterns of breeding success for at-risk carnivores with hierarchical multi-state models. Conserv Biol

Haddad M, Hudgens B, Damchen EI, Levey DJ, Orrock JL, Tweksbury JJ, Weldon AJ (2011) Assessing positive and negative ecological effects of corridors. In: Liu J, Hull V, Morzillo A, Wiens JA (eds) Sources, sinks, and sustainability. Cambridge University Press, Cambridge, pp 475–506

Hines JE (2006) Presence2—software to estimate patch occupancy and related parameters. USGS-PWRC. http://www.mbr-pwrc.usgs.gov/software/presence.html

Hull V, Morzillo AT, Liu J (2011) Impact of a classic paper by H. Ronald Pulliam: the first 20 years. In: Liu J, Hull V, Morzillo A, Wiens JA (eds) Sources, sinks, and sustainability. Cambridge University Press, Cambridge, pp 3–22

Living Oceans Society (2013) BC Salmon farms: production and problems. http://www.arcgis.com/home/webmap/viewer.html?webmap=a2d0f3bc5a9847548774bd338b9d7f3b. Accessed 27 Sept 2013

Lubchenco J (2003) The blue revolution: a global ecological perspective. World Aquac 34:8–10

MacKenzie DI (2005) What are the issues with presence-absence data for wildlife managers? J Wildl Manag 69(3):849–860

MacKenzie DI, Nichols JD, Lachman GB, Droege S, Royle JA, Langtimm CA (2002) Estimating site occupancy rates when detection probabilities are less than one. Ecology 83(8):2248–2255

MacKenzie DI, Nichols JD, Hines JE, Knutson MG, Franklin AB (2003) Estimating site occupancy, colonization, and local extinction when a species is detected imperfectly. Ecology 84(8):2200–2207

MacKenzie DI, Nichols JD, Royle JA, Pollock KH, Bailey LL, Hines JE (2006) Occupancy estimating and modelling. Elsevier, New York

Mazerolle MJ, Desrochers A, Rochefort L (2005) Landscape characteristics influence pond occupancy by frogs after accounting for detectability. Ecol Appl 15:824–834

Morton A, Volpe JP (2002) A description of escaped farmed Atlantic Salmon Salmo salar captures and their characteristics in one pacific salmon fishery area in British Columbia, Canada, in 2000. Alsk Fish Res Bull 9(2):102–110

Piccolo JJ, Orlikowska EH (2012) A biological risk assessment for an Atlantic salmon (Salmo salar) invasion of Alaskan waters. Aquat Invasions 7:259–270

Porter G (2003) Protecting wild Atlantic salmon from impacts of salmon aquaculture: a country-by-country progress report. World Wildlife Fund and St Andrews/Atlantic Salmon Federation, Washington/Canada http://www.asf.ca/Aquaculture/2003osloprogress/01-osloresprogress.pdf

Pulliam HR (1988) Sources, sinks, and population regulation. Am Nat 132:652–661

Pulliam HR, Danielson BJ (1991) Sources, sinks, and habitat selection: a landscape perspective on population dynamics. Am Nat 137:S5–S66

Schaffer WM, Elson PF (1975) The adaptive significance of variations in life history among local populations of Atlantic Salmon in North America. Ecology 56:577–590. doi:10.2307/1935492

Sumaila UR, Volpe JP, Liu Y (2005) Ecological and economic impact assessment of sablefish aquaculture in British Columbia. Fish Cent Res Rep 13(3):33

Volpe JP, Shaw K (2008) Fish farms and neoliberalism: Salmon aquaculture in British Columbia. In: Gore C, Stoett P (eds) Environmental challenges and opportunities: local-global perspectives on Canadian issues. Emond Montgomery, Toronto

Volpe JP, Taylor EB, Rimmer DW, Glickman BW (2000) Natural reproduction of aquaculture escaped Atlantic salmon (Salmo salar) in a coastal British Columbia river. Conserv Biol 14:899–903

Volpe JP, Glickman BW, Anholt BR (2001a) Reproduction of Atlantic salmon (Salmo salar) in a controlled stream channel on Vancouver Island, British Columbia. Trans Am Fish Soc 130:489–494

Volpe JP, Anholt BR, Glickman BW (2001b) Competition among juvenile Atlantic salmon (Salmo salar) and steelhead trout (Oncorhynchus mykiss): relevance to invasion potential in British Columbia. Can J Fish Aquat Sci 58:197–207

Volpe JP, Beck M, Ethier V, Gee J, Wilson A (2010) Global aquaculture performance index. University of Victoria, Victoria

Weller TJ (2008) Using occupancy estimation to assess the effectiveness of a regional multiple-species conservation plan: bats in the Pacific Northwest. Biol Conserv 141:2279–2289
Acknowledgments
A BC Habitat Conservation Trust Fund (HCTF) Grant to JPV supported field data collection. Alberta Innovates - Technology Futures provided in kind support for data analysis.
About this article
Cite this article
Fisher, A.C., Volpe, J.P. & Fisher, J.T. Occupancy dynamics of escaped farmed Atlantic salmon in Canadian Pacific coastal salmon streams: implications for sustained invasions. Biol Invasions 16, 2137–2146 (2014). https://doi.org/10.1007/s10530-014-0653-x
Received:

Accepted:

Published:

Issue Date:
Keywords
Atlantic salmon

Pacific salmon

Salmo
Oncorhynchus

Occupancy

Aquaculture

Invasion