Abstract
The American mink (Neovison vison) has been described as one of the worst invasive species in the northern hemisphere. Although some studies on the mink exist for the southern hemisphere, aside from impacts on marine and freshwater birds, its effect on other components of the biota is not well understood. Here, as a result of 3 different studies, we report evidence for the mink as a predator of the Magellanic woodpecker (Campephilus magellanicus). To our knowledge, these are the first evidences of predation on this charismatic and endemic woodpecker and indicate that mink might have a more widespread impact on forest birds than was initially suspected.
Access options
Buy single article
Instant access to the full article PDF.
US$ 39.95
Tax calculation will be finalised during checkout.
Subscribe to journal
Immediate online access to all issues from 2019. Subscription will auto renew annually.
US$ 79
Tax calculation will be finalised during checkout.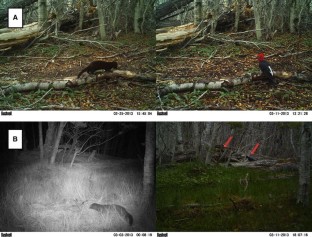 References
Arango X, Rozzi R, Massardo F, Anderson CB, Ibarra T (2007) Descubrimiento e implementación del pájaro carpintero gigante (Campephilus magellanicus) como especie carismática: una aproximación biocultural para la conservación en la Reserva de Biosfera Cabo de Hornos. Magallania 35:71–88

Blackburn T, Cassey P, Duncan RP, Evans KL, Gaston KJ (2004) Avian extinctions and mammalian introductions on oceanic islands. Science 305:1955–1958

Bodey TW, Bearhop S, Roy SS, Newton J, McDonald RA (2010) Behavioural responses of invasive American mink Neovison vison to an eradication campaign, revealed by stable isotope analysis. J Appl Ecol 47:114–120

Bonesi L, Palazon S (2007) The American mink in Europe: status, impacts, and control. Biol Conserv 134:470–483

Bonesi L, Chanin P, Macdonald DW (2004) Competition between Eurasian otter Lutra lutra and American mink Mustela vison probed by niche shift. Oikos 106:19–26

Chazarreta L, Ojeda V, Lammertink M (2012) Morphological and foraging behavioral differences between sexes of the Magellanic woodpecker (Campephilus magellanicus). Ornitol Neotrop 23:529–544

Gomez JJ, Gozzi AC, Macdonald DW, Gallo E, Centrón D, Cassini MH (2010) Interactions of exotic and native carnivores in an ecotone, the coast of the Beagle Channel, Argentina. Polar Biol 33:1371–1378

Gorman G (2011) The black woodpecker, a monograph on Dryocopus martius. Lynx editions, Barcelona

Ibarra JT, Fasola L, Macdonald DW, Rozzi R, Bonacic C (2009) Invasive American mink Mustela vison in wetlands of the Cape Horn Biosphere Reserve, southern Chile: what are they eating? Oryx 43:87–90

Jackson JA (2004) In search of the ivory-billed woodpecker. Smithsonian books, Washington

Jaksic FM, Iriarte JA, Jiménez JE, Martínez DR (2002) Invaders without frontiers: cross-border invasions of exotic mammals. Biol Invasions 4:157–173

Lariviere S (1999) Mustela vison. Mamm Species 608:1–9

Lockwood JL, Hoopes MF, Marchetti MP (2007) Invasion ecology. Blackwell Publishing, Malden

Lombardi F, Cocozza C, Lasserre B, Tognetti R, Marchetti M (2011) Dendrochronological assessment of the time since death of dead wood in an old growth Magellan's beech forest, Navarino Island (Chile). Austral Ecol 36:329–340

Macdonald DW, Harrington LA (2003) The American mink: the triumph and tragedy of adaptation out of context. NZ J Zool 30:421–441

McGehee SM, Eitniear JC, Glickman BW (2010) Unusual ground level tree cavity nesting in the thorn-tailed rayadito (Aphrastura spinicauda). Bol SAO 20:12–17

Medina G (1997) A comparison of the diet and distribution of southern river otter (Lutra provocax) and mink (Mustela vison) in southern Chile. J Zool 242:291–297

Ojeda VS (2004) Breeding biology and social behavior of Magellanic woodpeckers (Campephilus magellanicus) in Argentine Patagonia. Europ J Wildl Res 50:18–24

Peris S, Sanguinetti J, Pescador M (2009) Have Patagonian waterfowl been affected by the introduction of the American mink Mustela vison? Oryx 43:648–654

Pescador M, Díaz S, Peris S (2012) Abundances of waterbird species on lakes in Argentine Patagonia as a function of season, lake size and the presence of mink. Hydrobiol 697:111–125

Previtali A, Cassini MH, Macdonald DW (1998) Habitat use and diet of mink in Argentine Patagonia. J Zool 24:482–486

Rozzi R, Jiménez JE (2013) Magellanic Sub-Antarctic ornithology, first decade of bird studies at the Omora Ethnobotanical Park, Cape Horn Biosphere Reserve. University of North Texas press, Denton-Ediciones Universidad de Magallanes (in press)

Rozzi R, Sherriffs M (2003) El visón (Mustela vison Schreber, Carnivora: Mustelidae), un nuevo mamífero exótico para la isla Navarino. An Inst Patagon 31:97–104

SAG (2009) La ley de caza y su reglamento. Ministerio de Agricultura, Servicio Agrícola y Ganadero, Santiago

Schüttler E, Cárcamo J, Rozzi R (2008) Diet of the American mink Mustela vison and its potential impact on the native fauna of Navarino Island, Cape Horn Biosphere Reserve, Chile. Rev Chil Hist Nat 81:585–598

Schüttler E, Klenke R, McGehee S, Rozzi R, Jax K (2009) Vulnerability of ground-nesting waterbirds to predation by invasive American mink in the Cape Horn Biosphere Reserve, Chile. Biol Conserv 142:1450–1460

Schüttler E, Ibarra JT, Gruber B, Rozzi R, Jax K (2010) Abundance and habitat preferences of the southernmost population of mink: implications for managing a recent island invasion. Biodivers Conserv 19:725–743

Snyder NFR, Brown DE, Clark KB (2009) The travails of two woodpeckers, ivory-bill and imperialis. University of New Mexico Press, Albuquerque

Winkler H, Christie DA (2002) Family Picidae. In: Del Hoyo J, Elliott A, Sargatal J (eds) Handbook of the birds of the world, Vol. 7 Jacamars to woodpeckers. Lynx editions, Barcelona, pp 296–555
Acknowledgments
These studies were supported by the Omora Foundation, the Institute of Ecology and Biodiversity (ICM P05-002, and CONICYT PFB-23), Universidad de Magallanes, the University of North Texas, and the Universidad de Santiago (FONDECYT 1131133). We appreciate the help in the field of Marlene Lizama, Omar Barroso, Quiterie Durón, Cristian Celis and Benoit Gangloff. Telemetry advice was provided by Jorge Tomasevic. Lastly, we want to thank to anonymous reviewers for their valuable comments that considerably improved our manuscript. Permits to radio-track Magellanic woodpeckers were issued by Chile's Agricultural and Livestock Bureau (SAG, permits No. 5037 and 7137).
About this article
Cite this article
Jiménez, J.E., Crego, R.D., Soto, G.E. et al. Potential impact of the Alien American Mink (Neovison vison) on Magellanic woodpeckers (Campephilus magellanicus) in Navarino Island, Southern Chile. Biol Invasions 16, 961–966 (2014). https://doi.org/10.1007/s10530-013-0549-1
Received:

Accepted:

Published:

Issue Date:
Keywords
American mink

Campephilus

Cape Horn

Invasive

Neovison

Predation

Subantarctic forests