Abstract
The aquarium trade has been identified as an important vector of aquatic invasive species but this question has mostly been investigated in North America. We investigated the variation in diversity and species composition in different trade types in southwestern Europe (three major international wholesalers, different retail store types, and local internet forums), mostly in Spain and Portugal. As in previous studies, the diversity of fishes in the aquarium trade was vast, with a total of 20 orders, 79 families, and 1,133 fish species detected in the trade types analyzed. 248 species were observed in a single metropolitan area (Barcelona), with estimates of about 294 species being present. International wholesalers had higher species richness and evenness, with a single one having over 700 species. General pet stores had much lower evenness but due to high turnover had a total richness of over 200 species. Internet forums had the lowest evenness but similar richness. The different commerce types varied significantly in relative species abundance with about a dozen of popular fish species (e.g., goldfish, Siamese fighting fish, common carp, guppy, swordtails) dominating the retail stores, particularly the general pet stores. Our results imply that frequency in the trade varies strongly among species and commerce types and although general pet stores have usually low diversity, this is compensated with a higher species turnover. Many of the most popular species are well known invasive species and some of the species available are temperate species that might establish in Europe, reinforcing the need for more careful implementation of education programs, regulation and monitoring of trade, and internalization of environmental costs by the industry.
This is a preview of subscription content, log in to check access.
Access options
Buy single article
Instant access to the full article PDF.
US$ 39.95
Price includes VAT for USA
Subscribe to journal
Immediate online access to all issues from 2019. Subscription will auto renew annually.
US$ 99
This is the net price. Taxes to be calculated in checkout.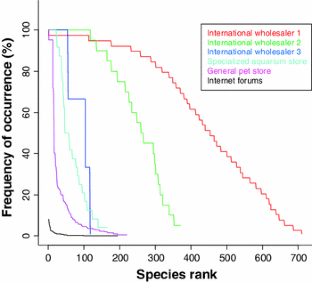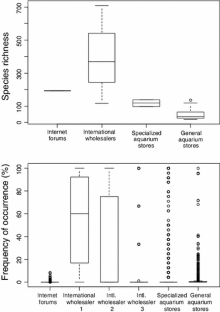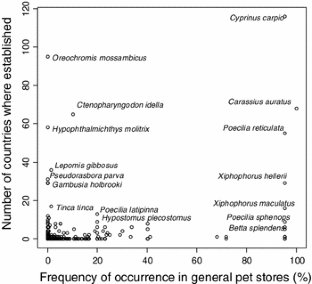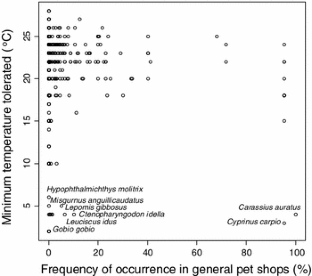 References
Anderson MJ (2001) A new method for non-parametric multivariate analysis of variance. Austral Ecol 26:32–46

Anderson MJ (2006) Distance-based tests for homogeneity of multivariate dispersions. Biometrics 62:245–253

Andrews C (1990) The ornamental fish trade and fish conservation. J Fish Biol 37:53–59

Axelrod HR, Burgess WE, Emmens CW, Pronek N, Wallis JG, Hunziker R (1997) Atlas of aquarium freshwater fishes. TFH Publications, Inc., Germany

Bertolino S (2009) Animal trade and non-indigenous species introduction: the world-wide spread of squirrels. Divers Distrib 15:701–708

Caiola N, Sostoa A (2002) First record of the Asiatic cyprinid Pseudorasbora parva in the Iberian Peninsula. J Fish Biol 61:1058–1060

Cánovas A, Puigcerver M (2002) Los peces tropicales de agua dulce. Guía práctica. OMEGA Ediciones, Spain

Chang AL, Grossman JD, Spezio TS, Weiskel HW, Blum JC, Burt JW, Muir A, Piovia-Scott J, Veblen KE, Grosholz ED (2009) Tackling aquatic invasions: risks and opportunities for the aquarium fish industry. Biol Invasions 11:773–785

Chapman FA, Fitz-Coy S, Thunberg EM, Adams CM (1997) United States of America trade in ornamental fish. J World Aquac Soc 28:1–10

Clavero M, García-Berthou E (2005) Invasive species are a leading cause of animal extinctions. Trends Ecol Evol 20:110

Clavero M, García-Berthou E (2006) Homogenization dynamics and introduction routes of invasive freshwater fish in the Iberian Peninsula. Ecol Appl 16:2313–2324

Cobo F, Vieira-Lanero R, Rego E, Servia MJ (2010) Temporal trends in non-indigenous freshwater species records during the 20th century: a case study in Iberian Peninsula. Biodivers Conserv 19:3471–3487

Cohen J, Mirotchnick N, Leung B (2007) Thousands introduced annually: the aquarium pathway for non-indigenous plants to the St Lawrence Seaway. Front Ecol Environ 5:528–532

Copp GH, Templeton M, Gozlan RE (2007) Propagule pressure and the invasion risks of non-native freshwater fishes: a case study in England. J Fish Biol 71:148–159

Copp GH, Vilizzi L, Gozlan RE (2010) The demography of introduction pathways, propagule pressure and occurrences of non-native freshwater fish in England. Aquatic Conserv Mar Freshw Ecosyst 20:595–601

Coulatti RI, Grigorovich IA, MacIsaac HJ (2006) Propagule pressure: a null model for biological invasions. Biol Invasions 8:1023–1037

Courtenay WR Jr, Stauffer JR (1990) The introduced fish problem and the aquarium fish industry. J World Aquac Soc 21:145–159

Cucherousset J, Olden JD (2011) Ecological impacts of nonnative freshwater fishes. Fisheries 36:215–230

Derraik JGB, Phillips S (2009) Online trade poses a threat to biosecurity in New Zealand. Biol Invasions 12:1477–1480

Doadrio I (2002) Atlas y libro rojo de los peces continentales de España. Dirección General de Conservación de la Naturaleza. Ministerio de Medio Ambiente, Madrid

Duggan IC (2010) The freshwater aquarium trade as a vector for incidental invertebrate fauna. Biol Invasions 12:3757–3770

Duggan IC, Rixon CAM, MacIsaac HJ (2006) Popularity and propagule pressure: determinants of introduction and establishment of aquarium fish. Biol Invasions 8:377–382

Elvira B, Almodóvar A (2001) Freshwater fish introductions in Spain: facts and figures at the beginning of the 21st century. J Fish Biol 59:323–331

Franch N, Clavero M, Garrido M, Gaya N, López V, Pou-Rovira Q, Queral J (2008) On the establishment and range expansion of oriental weatherfish (Misgurnus anguillicaudatus) in NE Iberian Peninsula. Biol Invasions 10:1327–1331

Froese R, Pauly D (2010) FishBase. World wide web electronic publication. http://www.fishbase.org

Gante HF, Moreira da Costa L, Micael J, Alves MJ (2008) First record of Barbonymus schwanenfeldii (Bleeker) in the Iberian Peninsula. J Fish Biol 72:1089–1094

García-Berthou E (2007) The characteristics of invasive fishes: what has been learned so far? J Fish Biol 71(Suppl. D):33–55

García-Berthou E, Boix D, Clavero M (2007) Non-indigenous animal species naturalized in Iberian inland waters. In: Gherardi F (ed) Biological invaders in inland waters: profiles, distribution, and threats, vol 2. Springer, Netherlands, pp 123–140

Gertzen E, Familiar O, Leung B (2008) Quantifying invasion pathways: fish introductions from the aquarium trade. Can J Fish Aquat Sci 65:1265–1273

Gisbert E, López MA (2007) First record of a population of the exotic mummichog Fundulus heteroclitus (L., 1766) in the Mediterranean Sea basin (Ebro River delta). J Fish Biol 71:1220–1224

Gozlan RE, Andreou D, Asaeda T, Beyer K, Bouhadad R, Burnard D, Caiola N, Cakic P, Djikanovic V, Esmaeili HR, Falka I, Golicher D, Harka A, Jeney G, Kováč V, Musil J, Nocita A, Povz M, Poulet N, Virbickas T, Wolter C, Serhan Tarkan A, Tricarico E, Trichkova T, Verreycken H, Witkowski A, Guang Zhang C, Zweimueller I, Robert Britton J (2010) Pan-continental invasion of Pseudorasbora parva: towards a better understanding of freshwater fish invasions. Fish Fish 11:315–340

Hulme PE, Pyšek P, Nentwig W, Vilà M (2009) Will threat of biological invasions unite the European Union? Science 324:40–41

Kolar CS, Lodge DM (2001) Progress in invasion biology: predicting invaders. Trends Ecol Evol 16:199–204

Legendre P (2010) Coefficient of concordance. In: Salkind NJ (ed) Encyclopedia of research design, vol 1. SAGE Publications, Inc., Los Angeles, pp 164–169

Leunda PM (2010) Impacts of non-native fishes on Iberian freshwater ichthyofauna: current knowledge and gaps. Aquat Invasion 5:239–262

Lockwood JL, Cassey P, Blackburn TM (2009) The more you introduce the more you get: the role of colonization pressure and propagule pressure in invasion ecology. Divers Distrib 15:904–910

López MA, Altaba CR, Andree KB, López V (2010) First invasion of the apple snail Pomacea insularum in Europe. Tentacle 18:26–28

Maceda-Veiga A (2013) Towards the conservation of freshwater fish: Iberian Rivers as an example of threats and management practices. Rev Fish Biol Fisheries 23:1–22

Maceda-Veiga A, Salvadó H, Vinyoles D, Sostoa A (2009) Outbreaks of Ichthyophthirius multifiliis in Redtail Barbs Barbus haasi in a Mediterranean stream during drought. J Aquat Anim Health 21:189–194

Magurran AE (2004) Measuring biological diversity. Blackwell Publishing, Malden

Mandrak NE, Cudmore B (2010) The fall of native fishes and the rise of non-native fishes in the Great Lakes Basin. Aquat Ecosyst Health Manag 13:255–268

Moyle PB, Marchetti MP (2006) Predicting invasion success: freshwater fishes in California as a model. Bioscience 56:515–524

Myers JH, Simberloff D, Kuris AM, Carey JR (2000) Eradication revisited: dealing with exotic species. Trend Ecol Evol 15:316–320

Oksanen J, Blanchet FG, Kindt R, Legendre P, Minchin PR, O'Hara RG, Simpson GL, Solymos P, Stevens MHH, Wagner H (2012). Vegan: community ecology package. R package version 2.0-4. http://CRAN.R-project.org/package=vegan

Padilla DK, Williams SL (2004) Beyond ballast water: aquarium and ornamental trades as sources of invasive species in aquatic ecosystems. Front Ecol Environ 2:131–138

Perdices A, Doadrio I (1992) Presence of the asiatic cyprinid Pseudorasbora parva (Schlegel, 1842) in North Africa. Misc Zool 16:236–239

Reyjol Y (2007) Internet forums as potential invasion routes for exotic plants. Biodivers Conserv 16:2231–2232

Ribeiro F, Elvira B, Collares-Pereira M, Moyle P (2008) Life-history traits of non-native fishes in Iberian watersheds across several invasion stages: a first approach. Biol Invasions 10:89–102

Ribeiro F, Collares-Pereira MJ, Moyle PB (2009) Non-native fish in the fresh waters of Portugal, Azores and Madeira Islands: a growing threat to aquatic biodiversity. Fish Manage Ecol 16:255–264

Ricciardi A, Rasmussen JB (1998) Predicting the identity and impact of future biological invaders: a priority for aquatic resource management. Can J Fish Aquat Sci 55:1759–1765

Riehl R, Baensch HA (2002) Aquarium atlas. MERGUS Press, Singapore

Rixon C, Duggan IC, Bergeron NMN, Ricciardi A, Macisaac HJ (2005) Invasion risks posed by the aquarium trade and live fish markets on the Laurentian Great Lakes. Biodivers Conserv 14:1365–1381

Simberloff D (2009) The role of propagule pressure in biological invasions. Annual Rev Ecol Evol Syst 40:81–102

Strecker AL, Campbell PM, Olden JD (2011) The aquarium trade as an invasion pathway in the Pacific Northwest. Fisheries 36:74–85

R Development Core Team (2012) R: a language and environment for statistical computing. R Foundation for Statistical Computing, Vienna, Austria. ISBN 3-900051-07-0, http://www.R-project.org/

Vander Zanden MJ, Olden JD (2008) A management framework for preventing the secondary spread of aquatic invasive species. Can J Fish Aquat Sci 65:1512–1522

Vesely T, Cinkova K, Reschova S, Gobbo F, Ariel E, Vicenova M, Pokorova D, Kulich P, Bovo G (2011) Investigation of ornamental fish entering the EU for the presence of ranaviruses. J Fish Dis 34:159–166

Vitule JRS, Freire CA, Simberloff D (2009) Introduction of non-native freshwater fish can certainly be bad. Fish Fisheries 10:98–108

Welcomme RL (1991) International introductions of freshwater fish species into Europe. Finn Fisheries Res 12:11–18
Acknowledgments
We thank the aquarium websites mentioned in the methods for the valuable information provided, the Spanish Ministry of Science for financial support (CGL2009-12877-C02-01 and Consolider-Ingenio 2010 CSD2009-00065), and Julian D. Olden, the associate editor, and anonymous reviewers for insightful comments on the manuscript. JEA and AMV thank all aquarium hobbyists that they have met along their lives as aquarium keepers, in particular in Acuarios Condal and Associació Aquariòfila de Barcelona. AMV and EGB contributed equally to this paper.
About this article
Cite this article
Maceda-Veiga, A., Escribano-Alacid, J., de Sostoa, A. et al. The aquarium trade as a potential source of fish introductions in southwestern Europe. Biol Invasions 15, 2707–2716 (2013). https://doi.org/10.1007/s10530-013-0485-0
Received:

Accepted:

Published:

Issue Date:
Keywords
Introduction pathways

Climate matching

Establishment success

Invasive non-native species

Freshwater fish

Iberian Peninsula