Abstract
Ka'ena Point Natural Area Reserve on O'ahu hosts one of the largest seabird colonies in the main Hawaiian Islands and supports three species of endangered plants. In order to stop chronic predation by invasive alien mammals on native species, a peninsula-style predator-proof fence was constructed around a 20-ha portion of the reserve in 2011. Multi-species predator removal efforts began upon fence completion; diphacinone poison in bait boxes spaced 25 m apart was used to remove black rats, house mice, and small Indian mongooses. House mice also were removed with multiple-catch live traps spaced 12.5 m apart. Feral cats were removed with padded leg-hold traps. Feral cats and mongooses were eradicated in 1 month, black rats were eradicated in 2.5 months, and house mice were eradicated in about 9 months. Since eradication, incursions of cats and mongoose have been rare (1/7.2 months), but incursion frequency has been higher for black rats (1/56 days) and house mice (1/36–47 days). Buffer predator control was conducted to limit predator access and prevent reinvasion around the fence ends along the shoreline. Even with the high initial fence cost and ongoing predator incursion management, this method is expected to become more cost effective than previous predator control efforts after 16 years. Record numbers of Wedge-tailed shearwaters and Laysan albatrosses have fledged from the reserve after predator eradication, and regeneration of native plants and invertebrates is being observed. With careful planning and persistence, predator fences can be a cost-effective method of protecting natural resources, and multiple species of predators can be eradicated with traps and first-generation anti-coagulents.
Access options
Buy single article
Instant access to the full article PDF.
US$ 39.95
Tax calculation will be finalised during checkout.
Subscribe to journal
Immediate online access to all issues from 2019. Subscription will auto renew annually.
US$ 79
Tax calculation will be finalised during checkout.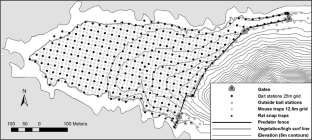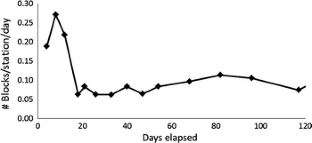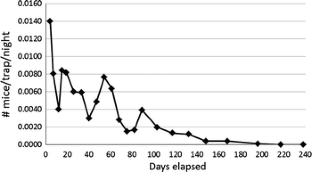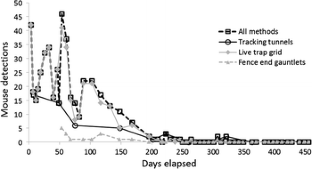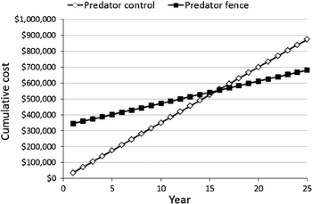 References
Barun A, Hanson CC, Campbell KJ, Simberloff D (2011) A review of small Indian mongoose management and eradications on islands. In: Veitch CR, Clout MN, Towns DR (eds) Island invasives: eradication and management. IUCN, Gland, Switzerland, pp 17–25

Burgett J, Day TD, Day K, Pitt W, Sugihara R (2007) From mice to mouflon: development and test of a complete mammalian pest barrier from Hawai'i. Hawai'i Conservation Conference poster presentation

Burney DA, James HF, Burney LP et al (2001) Fossil evidence for a diverse biota from Kaua'i and its transformation since human arrival. Ecol Monogr 71:615–641

Burns B, Innes J, Day T (2011) The use and potential of pest-proof fencing for ecosystem restoration and fauna conservation. In: New Zealand In Hayward MW and Somers MJ (eds) Fencing for conservation, Springer, New York, USA, pp 65–90

Croll DA, Maron JL, Estes JA, Danner EM, Byrd GV (2005) Introduced predators transform subarctic islands from grassland to tundra. Science 307:1959–1961

Griffiths R (2011) Targeting multiple species—a more efficient approach to pest eradication. In: Veitch CR, Clout MN, Towns DR (eds) Island invasives: eradication and management. IUCN, Gland, Switzerland, pp 172–176

Honolulu Star-Bulletin (2006) Dogs blamed in bird deaths November 8

Howald G, Donlan CJ, Galván JP, Russell JC, Parkes J, Samaniego A, Wang Y, Veitch D, Genovesi P, Pascal M, Saunders A, Tershy B (2007) Invasive rodent eradication on islands. Conserv Biol 21:1258–1268

Innes J, Saunders A (2011) Eradicating multiple pests: an overview. In: Veitch CR, Clout MN, Towns DR (eds) Island invasives: eradication and management. IUCN, Gland, Switzerland, pp 177–181

Innes J, Watts C, Fitzgerald NL, Thornburrow D, Burns B, MacKay J, Speedy C (2011) Behavior of invader ship rats experimentally released behind a pest-proof fence, maungatautari, New Zealand. In: Veitch CR, Clout MN, Towns DR (eds) Island invasives: eradication and management. IUCN, Gland, Switzerland, pp 437–440

Innes J, Lee WG, Burns B, Campbell-Hunt C, Watts C, Phipps H, Stephens T (2012) Role of predator-proof fences in restoring New Zealand's biodiversity: a response to Scofield et al. (2012). N Z J Ecol 36:232–238

Keitt B, Campbell K, Saunders A, Clout M, Wang Y, Heinz R, Newton K, Tershy B (2011) The global islands invasive vertebrate eradication database: a tool to improve and facilitate restoration of island ecosystems. In: Veitch CR, Clout MN, Towns DR (eds) Island invasives: eradication and management. IUCN, Gland, Switzerland, pp 74–77

Kirch PV (1982) The impact of prehistoric polynesians on the Hawaiian ecosystem Pacific. Science 36:1–14

Lindsey GD, Hess SC, Campbell EW III, Sugihara RT (2009) Small mammals as predators and competitors. In: Pratt TK, Atkinson CT, Banko PC, Jacobi JD, Woodworth BL (eds) Conservation biology of Hawaiian forest birds: implications for island avifauna. Yale University Press, New Haven, Connecticut, ch 11

Lohr MT, Young LC, VanderWerf EA, Miller CJ, Leong H (2013) Dietary analysis of free-ranging cats at Ka'ena Point, Hawai'i. Elepaio 73:1–3

Maitland M (2011) Tawharanui open sanctuary—detection and removal of pest incursions. In: Veitch CR, Clout MN, Towns DR (eds) Island invasives: eradication and management. IUCN, Gland, Switzerland, pp 441–444

Parkes JP (1993) Feral goats: designing solutions for a designer pest. N Z J Ecol 17:71–83

Parkes JP, Fisher P (2011) Review of the Lehua Island rat eradication project. Special report. The Hawai'i-Pacific Islands cooperative ecosystem studies unit & Pacific cooperative studies unit, University of Hawai'i, Honolulu, Hawai'I, pp 50

Parkes JP, Fisher P, Forrester G (2011) Diagnosing the cause of failure to eradicate rodents on islands: brodifacoum versus diphacinone and method of bait delivery. Conserv Evid 8:100–106

Reaser JK, Meyerson LA, Cronk Q, Poorter MD, Eldrege LD, Green E, Kairo M, Latasi P, Mack RN, Mauremootoo J, O'Dowd D, Orapa W, Sastroutomo S, Saunders A, Shine C, Thrainsson S, Vaiutu L (2007) Ecological and socioeconomic impacts of invasive alien species in island ecosystems. Environ Conserv 34:98–111

Rieth TM, Hunt TL, Lipo C, Wilmshurst JM (2011) The 13th century polynesian colonization of Hawai'i Island. J Arch Sci 38:2740–2749

Salo P, Korpimäki E, Banks PM, Nordström M, Dickman CR (2007) Alien predators are more dangerous than native predators to prey populations. Proc Royal Soc B 274:1237–1243

Saunders A (2001) Ecological restoration at mainland islands in New Zealand. Biol Conserv 99:109–119

Scofield RP, Cullen R, Wang M (2011) Are predator-proof fences the answer to New Zealand's terrestrial faunal diversity crisis? N Z J Ecol 35:312–317

Sih A, Bolnick DI, Luttbeg B, Orrock JL, Peacor SD, Pintor LM, Preisser E, Rehage JS, Vonesh JR (2010) Predator-prey naïveté, antipredator behavior, and the ecology of predator invasions. Oikos 119:1–12

Smith DG, Polhemus JT, VanderWerf EA (2000) Efficacy of fish-flavored diphacinone bait blocks for controlling small Indian mongoose (Herpestes auropunctatus) populations in Hawai'i. Elepaio 60:47–51

Solow A, Seymour A, Beet A, Harris S (2008) The untamed shrew: on the termination of an eradication programme for an introduced species. J Appl Ecol 45:424–427

Tomich PQ (1969) Mammals in Hawai'i. Bishop Museum special publication No 67. Honolulu

VanderWerf EA (2009) Importance of nest predation by alien rodents and avian poxvirus in conservation of Oahu elepaio. J Wildl Manag 73:737–746

VanderWerf EA (2012) Evolution of nesting height in an endangered Hawaiian forest bird in response to a non-native predator. Conserv Biol 26:905–911

VanderWerf EA, Young LC (2011) Estimating survival and life stage transitions in the Laysan albatross using multi-state mark-recapture models. Auk 128:726–736

Witmer GW, Boyd F, Hillis-Starr Z (2007) The successful eradication of introduced roof rats (Rattus rattus) from Buck Island using diphacinone, followed by an irruption of house mice (Mus musculus). Wildl Res 34:108–115

Young LC, VanderWerf EA, Smith DG, Polhemus J, Swenson N, Swenson C, Liesemeyer BR, Gagne B, Conant S (2009) Demography and natural history of Laysan albatross on Oahu, Hawai'i. Wilson J Ornithol 121:722–729

Young LC, VanderWerf EA, Mitchell C, Yuen E, Miller CJ, Smith DG, Swenson C (2012) The use of predator proof fencing as a management tool in the Hawaiian Islands: a case study of Ka'ena Point Natural Area Reserve. Technical Report #180 The Hawai'i-Pacific Islands Cooperative Ecosystem Studies Unit & Pacific Cooperative Studies Unit, University of Hawai'i, Honolulu, Hawai'i, pp 82

Ziegler AC (2002) Hawaiian natural history, ecology, and evolution. University of Hawai'i Press, Honolulu
Acknowledgments
We thank the US Fish and Wildlife Service and the Hawaii Division of Forestry and Wildlife for funding, permits to conduct the work, and field assistance. We also thank the David and Lucille Packard Foundation for funding the eradication and seabird monitoring. We thank the US Department of Agriculture Wildlife Services, particularly Homer Leong and Tyler Ota, for conducting large mammal predator control and providing data on previous trapping efforts. We thank Xcluder Pest Proof Fencing for constructing the fence and providing feedback, and Alan Saunders, Keith Broome, and John Parkes of Landcare Research for reviewing our initial eradication plan. Finally, we thank all the volunteers, particularly Dave Anderson, Sheldon Plentovich, and Amanda Hardman, who assisted in checking traps.
About this article
Cite this article
Young, L.C., VanderWerf, E.A., Lohr, M.T. et al. Multi-species predator eradication within a predator-proof fence at Ka'ena Point, Hawai'i. Biol Invasions 15, 2627–2638 (2013). https://doi.org/10.1007/s10530-013-0479-y
Received:

Accepted:

Published:

Issue Date:
Keywords
Hawai'i

Island species

Predator eradication

Predator fence