Abstract
The invasion paradox describes the scale dependence of native-exotic richness relationships (NERRs), where NERRs are negative at neighborhood scales and positive at landscape scales. However, a lack of tropical surveys and past failures to isolate potential confounding variables contribute to significant gaps in our understanding of the processes producing these patterns. We surveyed the vascular flora of 13 tropical hardwood hammocks for community characteristics (e.g., native and exotic species richness, vegetative cover) with a hierarchical sampling design. Using model selection, we determined which variables best predicted patterns of exotic species richness at each spatial scale of consideration. We found that native and exotic species richness were positively correlated at neighborhood scales, but negatively correlated at landscape scales. The latter result stands in stark opposition to the patterns published in the literature thus far. We found that natural disturbance history (as approximated by vegetative cover) was positively correlated with exotic species richness at intermediate and landscape scales only. Overall, hammock identity was the most important factor driving exotic species richness patterns at all spatial scales. Hammocks with highly-disturbed hydrologies, brought about by water management, had fewer native species and more exotic species than hammocks with more natural hydrological conditions. Our results are among the first from examination of subtropical communities, and may support the hypothesis that tropical and subtropical communities are subject to more intense biotic interactions. However, given our unique sampling design, our results do not reject the hypothesis that environmental heterogeneity drives the relationship between native and exotic species richness patterns.
Access options
Buy single article
Instant access to the full article PDF.
US$ 39.95
Tax calculation will be finalised during checkout.
Subscribe to journal
Immediate online access to all issues from 2019. Subscription will auto renew annually.
US$ 79
Tax calculation will be finalised during checkout.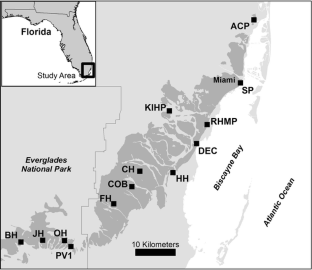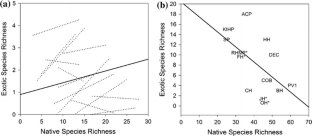 References
Armentano TV, Jones DT, Ross MS, Gamble BW (2003) Vegetation pattern and process in tree islands of the southern Everglades and adjacent areas. In: Sklar FH, Van Der Valk A (eds) Tree islands of the Everglades. Kluwer, Dordrecht, pp 225–282

Brown PM (2006) Wild orchids of Florida, updated and expanded edition: with references to the Atlantic and Gulf Coastal Plains. University Press of Florida, Gainesville

Brown RL, Peet RK (2003) Diversity and invasibility of southern Appalachian plant communities. Ecology 84:32–39. doi:10.1890/0012-9658(2003)084[0032:DAIOSA]2.0.CO;2

Bruno JF, Stachowicz JJ, Bertness MD (2003) Inclusion of facilitation into ecological theory. Trends Ecol Evol 18:119–125. doi:10.1016/S0169-5347(02)00045-9

Colwell RK (2006) EstimateS: statistical estimation of species richness and shared species from samples, version 8. Available at: purl.oclc.org/estimates

Davies KF, Chesson P, Harrison S, Inouye BD, Melbourne BA, Rice KJ (2005) Spatial heterogeneity explains the scale dependence of the native-exotic diversity relationship. Ecology 86:1602–1610

Dickinson MB, Hermann SM, Whigham DF (2001) Low rates of background canopy-gap disturbance in a seasonally dry forest in the Yucatan Peninsula with a history of fires and hurricanes. J Trop Ecol 17:895–902. doi:10.1017/S0266467401001663

Elzinga CL, Salzer DW, Willoughby JW (1998) Measuring and monitoring plant populations. BLM Technical Reference 1730-1, Denver

Fridley JD, Brown RL, Bruno JF (2004) Null models of exotic invasion and scale- dependent patterns of native and exotic species richness. Ecology 85:3215–3222. doi:10.1890/03-0676

Fridley JD, Stachowicz JJ, Naeem S, Sax DF, Seabloom EW, Smith MD, Stohlgren TJ, Tilman D, Von Holle B (2007) The invasion paradox: reconciling pattern and process in species invasions. Ecology 88:3–17. doi:10.1890/0012-9658(2007)88[3:TIPRPA]2.0.CO;2

Gann GD, Bradley KA, Woodmansee SW (2002) Rare plants of South Florida: their history, conservation, and restoration. The Institute for Regional Conservation, Miami

Gann GD, Bradley KA, Woodmansee SW (2012) Floristic Inventory of South Florida. The Institute for Regional Conservation, Miami. Available at: www.regionalconservation.org

Gillespie TW (2006) Diversity, biogeography and conservation of woody plants in tropical dry forest of South Florida. In: Pennington RT, Lewis GP, Ratter JA (eds) Neotropical savannas and seasonally dry forests: plant diversity, biogeography, and conservation. CRC Press, Boca Raton, pp 383–394

Herben T, Mandak B, Bimova K, Munzbergova Z (2004) Invasibility and species richness of a community: a neutral model and a survey of published data. Ecology 85:3223–3233. doi:10.1890/03-0648

Horvitz CC, Koop A (2001) Removal of nonnative vines and post-hurricane recruitment in tropical hardwood forests of Florida. Biotropica 33:268–281. doi:10.1111/j.1744-7429.2001.tb00178.x

Hubbell SP (1979) Tree dispersion, abundance, and diversity in a tropical dry forest. Science 203:1299–1309. doi:10.1126/science.203.4387.1299

Land Boundary Information System (LABINS) (2007) Digital orthographic quarter-quads. Florida Department of Environmental Protection, Available at: http://data.labins.org

Lilley PL, Vellend M (2009) Negative native-exotic diversity relationship in oak savannas explained by human influence and climate. Oikos 118:1373–1382. doi:10.1111/j.1600-0706.2009.17503.x

Lockwood JL, Cassey P, Blackburn TM (2009) The more you introduce the more you get: the role of colonization pressure and propagule pressure in invasion ecology. Divers Distrib 15:904–910. doi:10.1111/j.1472-4642.2009.00594.x

Nelson G (2000) The ferns of Florida: a reference and field guide. Pineapple Press, Inc., Sarasota

PASW Statistics GradPack 17.0.2 (2009) SPSS. Inc, Chicago

Reardon BJ, Brooks WR (2009) Vegetative community compositional gradients of tropical hardwood hammocks along the Florida Keys. Biotropica 41:27–36. doi:10.1111/j.1744-7429.2008.00456.x

Rejmanek M (1996) Species richness and resistance to invasion. In: Orians GH, Dirzo R, Cushman JH (eds) Biodiversity and ecosystem processes in tropical forests. Ecological studies, vol 122. Springer-Verlag, Berlin, pp 153–172

Sandel B, Corbin JD (2010) Scale, disturbance and productivity control the native-exotic richness relationship. Oikos 119:1281–1290. doi:10.1111/j.1600-0706.2010.18230.x

Sax DF, Gaines SD (2005) The biogeography of naturalized species and the species-area relationship: reciprocal insights to biogeography and invasion biology. In: Cadotte MW, McMahon SM, Fukami T (eds) Conceptual ecology and invasions biology: reciprocal approaches to nature. Kluwer, Dordrecht, pp 449–480

Souza L, Bunn WA, Simberloff D, Lawton RM, Sanders NJ (2011) Biotic and abiotic influences on native and exotic richness relationship across spatial scales: favourable environments for native species are highly invasible. Funct Ecol 25:1106–1112. doi:10.1111/j.1365-2435.2011.01857.x

Stohlgren TJ, Barnett D, Flather C, Fuller P, Peterjohn B, Kartesz J, Master LL (2006) Species richness and patterns of invasion in plants, birds, and fishes in the United States. Biol Invasions 8:427–447. doi:10.1111/j.1600-0706.2010.18230.x

Tomlinson PB (2001) The biology of trees native to tropical Florida, 2nd edn. Harvard Printing and Publications Services, Allston

US Fish and Wildlife Service (USFWS) (1999) Tropical hardwood hammock. South Florida multi-species recovery plan, Atlanta, pp 121–160

Van Bloem SJ, Murphy PG, Lugo AE, Ostertag R, Costa MR, Bernard IR, Colon SM, Mora MC (2005) The influence of hurricane winds on Caribbean dry forest structure and nutrient pools. Biotropica 37:571–583. doi:10.1111/j.1744-7429.2005.00074.x

van der Heijden MGA, Horton TR (2009) Socialism in soil? The importance of mycorrhizal fungal networks for facilitation in natural ecosystems. J Ecol 97:1139–1150. doi:10.1111/j.1365-2745.2009.01570.x

Wunderlin RP (1998) Guide to the vascular plants of Florida. University Press of Florida, Gainesville
Acknowledgments
We are extremely grateful to M. Anderson Brooks, A. Brooks, L. Brooks, J. Fernandez, D. Howe, J. Klein, C. Rodriguez, J. Sadle, S. Thompson, J. Trimble, and S. Woodmansee for their contributions. We also thank C. Horvitz and P. Morin, as well as D. Simberloff, L. Wolfe, and four anonymous reviewers, for their thoughtful comments of earlier versions of the manuscript. Funding sources for this project were provided by a Pre-Dissertation Award from The Graduate School- New Brunswick and an Academic Excellence Fund Award from the Graduate Program in Ecology and Evolution at Rutgers University, as well as graduate support from USDA NRI 05-2221. Access and permits for field work were secured from the City of Miami Department of Parks and Recreation, Miami-Dade County Department of Parks and Recreation Natural Areas Management Division, Miami-Dade County Department of Environmental Resource Management, and Everglades National Park.
Electronic supplementary material
Below is the link to the electronic supplementary material.
About this article
Cite this article
Brooks, W.R., Lockwood, J.L. & Jordan, R.C. Tropical paradox: a multi-scale analysis of the invasion paradox within Miami Rock Ridge tropical hardwood hammocks. Biol Invasions 15, 921–930 (2013). https://doi.org/10.1007/s10530-012-0340-8
Received:

Accepted:

Published:

Issue Date:
Keywords
Exotic

Hierarchical modeling

Model selection

Species richness

Vegetative communities