Abstract
The increasing amount of internet trade in live animals has facilitated the sale and circulation of exotic species all over the world. This is an area of concern, as the deliberate or accidental release of pets is an important pathway by which exotic species are often introduced into new environments, often with negative effects on the local species and ecosystems. Internet trading sites were used to determine the distribution and magnitude of propagule pressure of red-eared slider turtles (RES; Trachemys scripta elegans) within the New Zealand pet trade. Sites were tracked daily from October 1, 2007 to September 30, 2009 and information on age, sex, season, and location was recorded. More than 1,500 sales and 80 reports of lost/found RES were recorded. Unsurprisingly, the highest number of sales and lost/found RES was in Auckland, the region with the highest human population. Females were more often reported as lost or found than males, despite a similar sex ratio of sales. The type and quality of information gathered in this manner is not perfect, as it only provides an estimate of minimum numbers of animals that are being traded/lost into the environment, but nonetheless, provides useful data when planning a management or eradication plan for feral turtles in New Zealand. Of concern, our results highlighted areas where turtles were most often being released in New Zealand, being those areas predicted to be the most climatically-suitable for this species, and in which incubation conditions were most likely to be met. Monitoring online sales of exotic species provides useful demographic information, as well as an indication of propagule pressure via the pet-release pathway. This technique is applicable to other species and may be a useful tool to help determine locations at risk of the establishment of other exotic species.
Access options
Buy single article
Instant access to the full article PDF.
USD 39.95
Price includes VAT (USA)
Tax calculation will be finalised during checkout.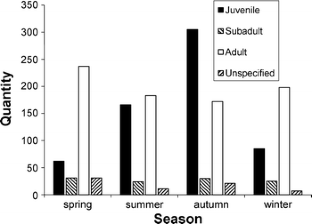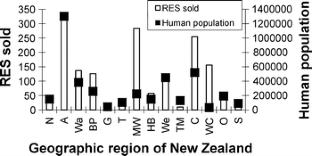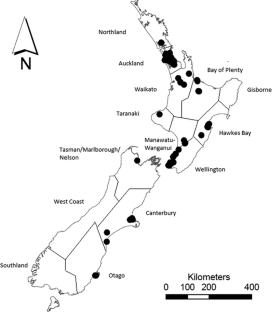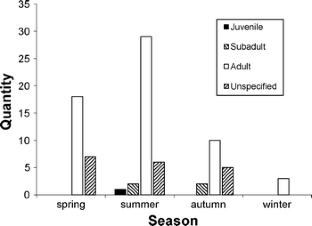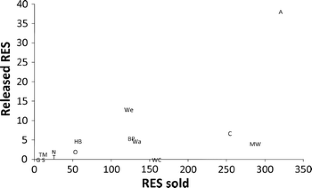 Abbreviations
RES:

Red-eared slider turtle (Trachemys scripta elegans)
References
Auckland Regional Council (2007) Regional pest management strategy 2007–2012 Auckland regional council. Auckland, New Zealand

Bertolino S (2009) Animal trade and non-indigenous species introduction: the world-wide spread of squirrels. Biodivers Res 15:701–708

Bomford M (2003) Risk Assessment for the import and keeping of exotic vertebrates in Australia. Bureau of Rural Sciences, Canberra, Australia

Bomford M, Kraus F, Barry C, Lawrence E (2009) Predicting establishment success for alien reptiles and amphibians: a role for climate matching. Biol invasions 11:713–724

Bringsøe H (2006) NOBANIS—Invasive alien species fact sheet—Trachemys scripta. North European and Baltic Network on Invasive Alien Species—NOBANIS. www.nobanis.org

Derraik J, Phillips S (2010) Online trade poses a threat to biosecurity in New Zealand. Biol invasions 12:1477–1480

Duncan R, Bomford M, Forsyth D, Conibear L (2001) High predictability in introduction outcomes and the geographical range size of introduced Australian birds: a role for climate. J Anim Ecol 70:621–632

Ernst C, Lovich J (2009) Turtles of the United States and Canada. The Johns Hopkins University Press, Baltimore

Gibbons J, Lovich J (1990) Sexual dimorphism in turtles with emphasis on the slider turtle (Trachemys scripta). Herpetol Monogr 4:1–29

Hayes K, Barry S (2008) Are there any consistent predictors of invasion success? Biol invasions 10:483–506

International Fund for Animal Welfare (IFAW) (2008) Killing with Keystrokes. http://www.ifaw.org/Publications/Program_Publications/Wildlife_Trade/Campaign_Scientific_Publications/asset_upload_file848_49629.pdf. Accessed 5 March 2010

Invasive Species Specialist Group (ISSG) (2004) 100 of the world's worst invasive alien species. http://issg.org/booklet.pdf. Accessed 5 March 2010

Kay S, Hoyle S (2001) Mail order, the internet, and invasive aquatic weeds. J Aquat Plant Manage 39:88–91

Kikillus K (2010) Exotic reptiles in the pet trade: are they a threat to New Zealand? PhD thesis, Victoria University of Wellington, Wellington, New Zealand. http://researcharchive.vuw.ac.nz/bitstream/handle/10063/1449/thesis.pdf?sequence=1

Kikillus K, Hare K, Hartley S (2010) Minimizing false–negatives when predicting the potential distribution of an invasive species: a bioclimatic envelope for the red-eared slider at global and regional scales. Anim Conserv 13:5–15

Kitowski I, Pachol D (2009) Monitoring the trade turnover of red-eared terrapins (Trachemys scripta elegans) in pet shops of the Lublin region, Poland. NW J Zool 5:34–39

Kraus F (2009) Alien reptiles and amphibians: a scientific compendium and analysis Invading nature—Springer series in Invasion Ecology. Verlag, The Netherlands

Krishnakumar K, Raghavan R, Prasad G, Bijukumar A, Sekharan M, Pereira B, Ali A (2009) When pets become pests—exotic aquarium fishes and biological invasions in Kerala, India. Curr Sci 97:474–476

Lever C (2003) Naturalized reptiles and amphibians of the world. Oxford University Press, New York

Lockwood J, Cassey P, Blackburn T (2005) The role of propagule pressure in explaining species invasions. Trends Ecol Evol 20:223–228

Martin G, Coetzee J (2011) Pet stores, aquarists and the internet trade as modes of introduction and spread of invasive macrophytes in South Africa. Water SA 37:371–380

Morreale SJ, Gibbons JW (1986) Habitat suitability index models: slider turtle. United States Fish and Wildlife Service vol 82. Aiken, South Carolina, USA

Morrisey D, Inglis G, Neil K, Bradley A, Fitridge I (2011) Characteriztion of the marine aquarium trade and management of associated marine pests in Australia, a country with stringent import biosecurity regulation. Environ Conserv 38:89–100

Newbery R (1984) The American red-eared terrapin in South Africa. African Wildl 38:186–189

Peterson AT, Papeş M, Soberón J (2008) Rethinking receiver operating characteristic analysis applications in ecological niche modelling. Ecol Model 213:63–72

Reed R, Kraus F (2010) Invasive reptiles and amphibians: global perspectives and local solutions. Anim Conserv 13:3–4

Rixon C, Duggan I, Bergeron N, Ricciardi A, Macisaak H (2005) Invasion risks posed by the aquarium trade and live fish markets on the Laurentian Great Lakes. Biodivers Conserv 14:1365–1381

Shine R, Williams N, Gündling L (2000) A guide to designing legal institutional frameworks on alien invasive species. IUCN, the World Conservation Union, Gland, Switzerland, IUCN

Suiter K, Sferrazza S (2007) Monitoring the sale and trafficking of invasive vertebrate species using automated internet search and surveillance tools. In: Witmer G, Pitt W, Fagerstone K (eds) managing vertebrate invasive species: proceedings of an international symposium, Fort Collins, Colorado, USA, USDA/APHIS/Wildlife Research Center, pp 90–93

Thomas R, Parker W (2000) Intrasexual variations in overland movements of slider turtles (Trachemys scripta). J Herpetol 34:469–472

Thornton T (1999) Keeping red-eared turtles in New Zealand. TJ's Books, New Zealand

Thuiller W, Richardson D, Pyšek§ P, Midgley G, Hughes G, Rouget M (2005) Niche-based modelling as a tool for predicting the risk of alien plant invasions at a global scale. Glob Change Biol 11:2234–2250

TradeMe (2010). http://www.trademe.co.nz/About-trade-me/Site-stats. Accessed 5 March 2010

Tuberville T, Gibbons J, Greene J (1996) Invasion of new aquatic habitats by male freshwater turtles. Copeia 3:713–715

Tucker J (2001) Clutch frequency in the red-eared slider (Trachemys scripta elegans). J Herpetol 35:664–668

Walters L, Brown K, Stam W, Olsen J (2006) E-Commerce and Caulerpa: unregulated dispersal of invasive species. Front Ecol Environ 4:75–79

White P, Ford A, Clout M, Engeman R, Roy S, Saunders G (2008) Alien invasive vertebrates in ecosystems: pattern, process and the social dimension. Wildl Res 35:171–179

Williamson M, Fitter A (1996) The varying success of invaders. Ecology 77:1666–1670
Acknowledgments
Funding was provided to KHK by a Victoria University of Wellington PhD Scholarship. We thank the Victoria University of Wellington Bug Club, Herpetological Hatchet Group, and two anonymous reviewers for comments to improve this manuscript.
About this article
Cite this article
Kikillus, K.H., Hare, K.M. & Hartley, S. Online trading tools as a method of estimating propagule pressure via the pet-release pathway. Biol Invasions 14, 2657–2664 (2012). https://doi.org/10.1007/s10530-012-0262-5
Received:

Accepted:

Published:

Issue Date:
Keywords
Invasive species

Reptiles

Red-eared slider turtles

Trachemys scripta elegans

New Zealand

Pet trade