Abstract
Invasive alien species constitute a major threat to biodiversity and cases of extinction caused by invasive alien animals are abundant. However, while invasive alien plants also harm native biota there exists a lack of cases demonstrating their ability to cause extinction of native plant species. Different alien species (vertebrates, invertebrates, pathogens etc.) commonly deliver different simultaneous impacts like predation, disease or competition. In such situations, assessing the contribution of plant invasion in causing decline of a given plant population in its natural habitat can be difficult, yet is desirable to avoid or minimize wastage of managers' resources. Using native angiosperms in lowland wet forests of Mauritius, we first compared native seedling diversity in forest areas that have been weeded of invasive alien plants about a decade previously, with adjacent similar but non-weeded areas. Then, using the weeded area, we compared results of native plant surveys carried out around the time that invasive alien plants were controlled, with the same community about a decade latter. Species richness and abundance of seedlings were higher in the weeded areas compared to the adjacent non weeded forest. We also found that several species that were presumed extinct or critically threatened with extinction had recovered dramatically as a consequence of the sole removal of invasive alien plants. This shows that the threat posed by invasive alien plants can be overwhelmingly important in driving native plant population declines in tropical forests and that imminent plant extinctions can be averted by timely control of alien plants.
Access options
Buy single article
Instant access to the full article PDF.
US$ 39.95
Tax calculation will be finalised during checkout.
Subscribe to journal
Immediate online access to all issues from 2019. Subscription will auto renew annually.
US$ 79
Tax calculation will be finalised during checkout.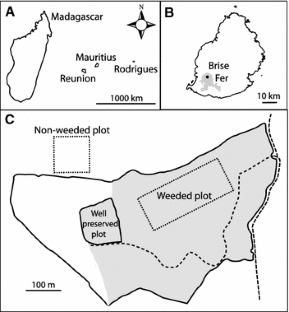 References
Baider C, Florens FBV (2006) Current decline of the 'Dodo-tree': a case of broken-down interactions with extinct species or the result of new interactions with alien invaders? In: Laurance WF, Peres CA (eds) Emerging threats to tropical forests. University of Chicago Press, Chicago, pp 199–214

Blackburn TM, Cassey P, Duncan RP, Evans KL, Gaston KJ (2004) Avian extinction and mammalian introductions on oceanic islands. Science 305:1955–1958

Caujapé-Castells J, Tye A, Crawford DJ et al (2010) Conservation of oceanic island floras: present and future global challenges. Persp Plant Ecol Evol Syst 12:107–129

Cheke AS, Hume J (2008) Lost land of the Dodo. T & AD Poyser, London

Clark DB, Clark DA (1989) The role of physical damage in the seedling mortality regime of a Neotropical rain forest. Oikos 55:225–230

Cronk QCB, Fuller JL (1995) Plant invaders. Chapman & Hall, London

D'Antonio CM, Meyerson LA, Denslow J (2001) Exotic species and conservation. In: Soulé ME, Orians GH (eds) Conservation biology. Research priorities for the next decade. Island Press, Washington, DC, pp 59–80

Florens, FBV (2008) Ecologie des forêts tropicales de l'île Maurice et impact des espèces introduites envahissantes. Dissertation, Université de la Réunion

Florens FBV, Baider C (2007) Relocation of Omphalotropis plicosa (Pfeiffer, 1852), a Mauritius endemic landsnail believed extinct. J Molluscan Stud 73:205–206

Florens FBV, Daby D, Jones CG (1998a) Impact of weeding and rat control on the diversity and abundance of land snails in the Mauritian upland forest. J Conchology Spec Pub 2:87–88

Florens FBV, Dulloo ME, Baissac P (1998b) Brise Fer forest management plan 1999–2003. Mauritian Wildlife Foundation, Port Louis, Mauritius

Florens FBV, Baider C, Bosser JM (2008) On the Mauritian origin of Badula ovalifolia (Myrsinaceae), hitherto believed extinct, with complementary description. Kew Bulletin 63:481–483

Florens FBV, Mauremootoo JR, Fowler SV, Winder L, Baider C (2010) Recovery of indigenous butterfly community following control of invasive alien plants in a tropical island's wet forests. Biodivers Conserv 19:3835–3848

Gurevitch J, Padilla DK (2004) Are invasive species a major cause of extinctions? Trends Ecol Evol 19:470–474

Hejda M, Pyšek P, Jarošik V (2009) Impact of invasive plants on the species richness, diversity and composition of invaded communities. J Ecol 97:393–403

International Union for Conservation of Nature (IUCN) (2001) Red list categories and criteria. Version 3.1. Gland, Switzerland

Kreft H, Jetz W, Mutke J, Kier G, Barthlott W (2008) Global diversity of island floras from a macroecological perspective. Ecol Lett 11:116–127

Lorence DH, Sussman RW (1986) Exotic species invasion into Mauritius wet forest remnants. J Tropical Ecol 2:147–162

Mack RN, Simberloff D, Lonsdale WM, Evans HC, Clout M, Bazzaz FA (2000) Biotic invasions: causes, epidemiology, global consequences and control. Ecol App 10:689–710

Meyer J-Y, Florence J (1996) Tahiti's native flora endangered by the invasion of Miconia calvescens DC. (Melastomataceae). J Biogeograpy 23:775–781

Mooney HA, Hobbs RJ (2000) Invasive species in a changing world. Island Press, Washington, DC

Mooney HA, Mack RN, McNeely JA, Neville LE, Schei P, Waage JK (2005) Invasive alien species: a new synthesis. Island Press, Washington, DC

Myers N, Mittermeier RA, Mittermeier CG, da Fonseca GAB, Kent J (2000) Biodiversity hotspots for conservation priorities. Nature 403:853–858

Page W, D'Argent G (1997) A vegetation survey of Mauritius (Indian Ocean) to identify priority rainforest areas for conservation management. Mauritian Wildlife Foundation, Port Louis, Mauritius

Roberts DL (2001) Reproductive biology and conservation of orchids of Mauritius. Dissertation, University of Aberdeen

Savidge JA (1987) Extinction of an island forest avifauna by an introduced snake. Ecology 68:660–668

Sax DF, Gaines SD (2008) Species invasions and extinction: the future of native biodiversity on islands. Proc Natl Acad Sci 105:11490–11497

Simberloff D (1995) Why do introduced species appear to devastate islands more than mainland areas? Pacific Sci 49:87–97

Strahm WA (1993) The conservation and restoration of the flora of Mauritius and Rodrigues. Dissertation, University of Reading

Vaughan RE, Wiehe PO (1941) Studies on the vegetation of Mauritius III. The structure and development of the upland climax forest. J Ecol 29:127–160

Walter KS, Gillet HJ (1998) 1997 IUCN red list of threatened plants. IUCN, Cambridge, United Kingdom
Acknowledgments
We thank the National Parks and Conservation Services for granting permission to conduct research in the Black River Gorges National Park and two anonymous reviewers for improving the manuscript. Part of the surveys was enabled with funding from the British Ecological Society through its Overseas Bursary Scheme of 2003 to FBVF.
About this article
Cite this article
Baider, C., Florens, F.B.V. Control of invasive alien weeds averts imminent plant extinction. Biol Invasions 13, 2641–2646 (2011). https://doi.org/10.1007/s10530-011-9980-3
Received:

Accepted:

Published:

Issue Date:
Keywords
Conservation management

Critically threatened plants

Invasive alien plants

Lowland wet forest

Mauritius

Restoration