Abstract
The impact of over-abundant exotic herbivores is well recognised, but their impact at low population densities is poorly understood. This study examined interactions between European rabbits and native herbivores, and their impact on seedling recruitment in coastal South Australia, 2 years after rabbit haemorrhagic disease (RHD) had reduced rabbit density to 4.48 rabbits ha−1. Rabbit density was further reduced to 0.44 rabbits ha−1 in replicated experimental treatments. Rabbit control reduced total grazing pressure by 39% despite compensatory grazing increases of >100% for both western grey kangaroos and common wombats. Rabbit control slowed the rate of grazing and mortality for planted drooping sheoak and sweet bursaria seedlings, but few survived for 12 months: 0 and 3% of sheoak, in untreated areas and rabbit control treatments, respectively, and 3 and 11% of bursaria, respectively. Planted sheoaks survived well if protected by rabbit-proof netting (60%). Within treatments, seedling grazing and survival rates were negatively correlated with rabbit density but kangaroo and wombat density had no measurable effect. We conclude that RHD may briefly have reduced rabbit densities enough to allow recruitment of bursaria but that sheoak require much lower rabbit densities than those provided by existing biological control agents. If left unaddressed, rabbit grazing could ultimately lead to the loss of sheoaks throughout most of their current range, irrespective of other attempts to conserve them. More generally, these data show how species-specific damage caused by low-density exotic herbivore populations may occur in the presence of more abundant but less-damaging native herbivores.
Access options
Buy single article
Instant access to the full article PDF.
USD 39.95
Price excludes VAT (USA)
Tax calculation will be finalised during checkout.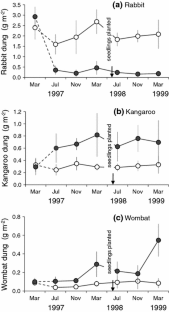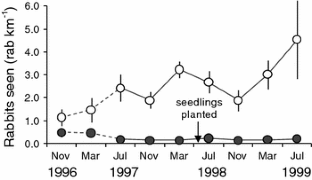 References
Allcock KG, Hik DS (2004) Survival, growth and escape from herbivory are determined by habitat and herbivore species for three Australian woodland plants. Oecologia 138:231–241

Alverson WS, Waller DM, Solheim SL (1988) Forests too deer: edge effects in northern Wisconsin. Conserv Biol 2:348–358

Andrew MH, Noble IR, Lange RT (1976) A non-destructive method for estimating the weight of forage on shrubs. Aust Rangel J 1:225–231

Bishop GL, Venning J (1986) Sheoak decline in western Eyre Peninsula, South Australia. South Aust Nat 60:60–66

Cameron M (2006) Distribution and cone production in Allocasuarina diminuta and A. gymnanthera (Casuarinaceae) in central New South Wales. Rangel J 28:153–161

Chapuis J-L, Frenot Y, Lebouvier M (2004) Recovery of native plant communities after eradication of rabbits from the subantarctic Kerguelen Islands, and influence of climate change. Biol Conserv 117:167–179

Choquenot D (1992) The outsiders: competition between introduced herbivores and domestic stock in rangeland grazing systems. In: Australian rangelands in a changing environment, 7th biennial conference of the Australian Rangeland Society. Australian Rangeland Society, Cobar, pp 106–116

Cooke BD (1988) The effects of rabbit grazing on regeneration of sheoaks, Allocasuarina verticillata and saltwater ti-trees, Melaleuca halmaturorum, in the Coorong National Park, South Australia. Aust J Ecol 13:11–20

Cooke BD (1998) Did wild rabbits, Oryctolagus cuniculus (L.), displace common wombats, Vombatus ursinus (Shaw), from parts of their range in South Australia? In: Wells RT, Pridmore PA (eds) Wombats. Surrey Beatty and Sons, Sydney, pp 262–270

Coulson G (2008) Western grey kangaroo. In: Van Dyck S, Strahan R (eds) Mammals of Australia, 3rd edn. Reed New Holland, Sydney, pp 333–334

Coyne P (2010) Ecological rebound on Phillip Island, South Pacific. Ecol Manage Restor 11:4–15

Davey C, Sinclair ARE, Pech RP et al (2006) Do exotic vertebrates structure the biota of Australia? An experimental test in New South Wales. Ecosystems 9:992–1008

Denham AJ, Auld TD (2004) Survival and recruitment of seedlings and suckers of trees and shrubs of the Australian arid zone following habitat management and the outbreak of Rabbit Calicivirus Disease (RCD). Aust Ecol 29:585–599

Department of Sustainability, Environment, Water, Population and Communities (2008) Threat abatement plan for competition and land degradation by feral rabbits, pp 17–27. http://environment.gov.au/biodiversity/threatened/publications/tap/rabbits08.html. Accessed 29 Oct 2010

Donlan CJ, Tershy BR, Croll DA (2002) Islands and introduced herbivores: conservation action as ecosystem experimentation. J Appl Ecol 39:235–246

Eldridge DJ, Simpson R (2002) Rabbit (Oryctolagus cuniculus L.) impacts on vegetation and soils, and implications for management of wooded rangelands. Basic Appl Ecol 3:19–29

Evans M, Green B, Newgrain K (2003) The field energetics and water fluxes of free-living wombats (Marsupialia: Vombatidae). Oecologia 137:171–180

Higgins PJ (ed) (1999) Handbook of Australian, New Zealand and Antarctic birds. Vol 4: parrots to dollarbird. Oxford University Press, Melbourne

Hone J (2007) Wildlife damage control. CSIRO Publishing, Collingwood

Johnson C (2006) Australia's mammal extinctions. A 50,000 year history. Cambridge University Press, Melbourne

Landsberg J, Stol J (1996) Spatial distribution of sheep, feral goats and kangaroos in woody rangeland paddocks. Rangel J 18:270–291

Lange RT, Graham CR (1983) Rabbits and the failure of regeneration of Australian arid zone Acacia. Aust J Ecol 8:377–381

Leigh JH, Wimbush DJ, Wood DH et al (1987) Effects of rabbit grazing and fire on a subalpine environment. I. Herbaceous and shrubby vegetation. Aust J Bot 35:433–464

Mallett KJ, Cooke BD (1986) The ecology of the common wombat in South Australia. Nature Conservation Society of South Australia, Adelaide

Martin GR, Twigg LE, Zampichelli L (2007) Seasonal changes in the diet of the European rabbit (Oryctolagus cuniculus) from three different Mediterranean habitats in south-western Australia. Wildl Res 34:25–42

McIlroy JC (2008) Common wombat. In: Van Dyck S, Strahan R (eds) Mammals of Australia, 3rd edn. Reed New Holland, Sydney, pp 206–208

Murdoch F (2005) Restoration ecology in the semi-arid woodlands of north-west Victoria. PhD thesis, University of Ballarat, Ballarat

Mutze GJ, Cooke BD (1998) Rabbit control and marsupial abundance. In: Managing marsupial abundance for conservation benefits. Marsupial CRC Occasional Papers No 1. Marsupial Co-operative Research Centre, Newcastle, pp 49–54

Mutze G, Bird P, Peacock D, Jennings S, Cooke BD (2002) Emerging epidemiological patterns in rabbit haemorrhagic disease and myxomatosis and their effects on rabbit populations in South Australia. Wildl Res 29:577–590

Mutze G, Bird P, Cooke B, Henzell R (2008) Geographic and seasonal variation in the impact of rabbit haemorrhagic disease on European rabbits, Oryctolagus cuniculus, and rabbit damage in Australia. In: Alves PC, Ferrand N, Hackländer K (eds) Lagomorph biology: evolution, ecology and conservation. Springer, Heidelberg, pp 279–293

Myers K, Poole WE (1963) A study of the biology of the wild rabbit Oryctolagus cuniculus (L.) in confined populations. IV. The effects of rabbit grazing on sown pasture. J Ecol 51:435–451

Neagle N (1995) An update on the conservation status of the major plant associations of South Australia. Department of Environment and Natural Resources, Adelaide

Nunez MA, Relva MA, Simberloff D (2008) Enemy release or invasional meltdown? Deer preference for exotic and native trees on Isla Victoria, Argentina. Aust Ecol 33:317–323

Nunez MA, Bailey JK, Schweitzer JA (2010) Population, community and ecosystem effects of exotic herbivores: a growing global concern. Biol Invasions 12:297–301

Oduor AMO, Gomez JM, Strauss SY (2010) Exotic vertebrate and invertebrate herbivores differ in their impacts on native and exotic plants. Biol Invasions 12:407–419

Parker JD, Burkepile DE, Hay ME (2006) Opposing effects of native and exotic herbivores on plant invasions. Science 311:1459–1461

Sandell PR (2002) Implications of rabbit haemorrhagic disease for the short-term recovery of semi-arid woodland communities in north-west Victoria. Wildl Res 29:591–598

Short J (1985) The functional response of kangaroos, sheep and rabbits in an arid grazing system. J Appl Ecol 22:435–447

Short J (1986) The effect of pasture availability on food intake, species selection and grazing behaviour of kangaroos. J Appl Ecol 23:559–571

Simberloff D, Von Holle B (1999) Positive interactions of nonindigenous species: invasional meltdown? Biol Invasions 1:21–32

Smith DF (1963) The plant ecology of lower Eyre Peninsula, South Australia. Trans R Soc SA 87:93–118

Stritar ML, Schweitzer JA, Bailey JK et al (2010) Introduced ungulate herbivore alters soil processes after fire. Biol Invasions 12:313–324

Taylor D, Katahira L (1988) Radio telemetry as an aid in eradicating feral goats. Wildl Soc Bull 16:297–299

Williams K, Parer I, Coman B, Burley J, Braysher M (1995) Managing vertebrate pests: rabbits. Australian Government Publishing Service, Canberra

Wood DH (1988) Estimating rabbit density by counting dung pellets. Aust Wildl Res 15:665–671

Wood DH, Leigh JH, Foran BD (1987) The ecological and production costs of rabbit grazing. In: Working papers of the 8th Australian vertebrate pest conference, Coolangatta, pp 18–27
Acknowledgments
We would like to thank Brian Cooke who established the rabbit control experiments at this site in 1991 and Roger Roberts and the Tiver families for assistance during field work at Salt Creek. Chris Holden and anonymous referees provided helpful comments on earlier drafts of the manuscript. This work was conducted with funding support from the Australia and New Zealand Rabbit Calicivirus Disease Program.
About this article
Cite this article
Bird, P., Mutze, G., Peacock, D. et al. Damage caused by low-density exotic herbivore populations: the impact of introduced European rabbits on marsupial herbivores and Allocasuarina and Bursaria seedling survival in Australian coastal shrubland. Biol Invasions 14, 743–755 (2012). https://doi.org/10.1007/s10530-011-0114-8
Received:

Accepted:

Published:

Issue Date:

DOI: https://doi.org/10.1007/s10530-011-0114-8
Keywords
Drooping sheoak

Sweet bursaria

Rabbit control

RHD

Seedling survival

Western grey kangaroo

Common wombat