Abstract
Human activity has promoted the invasion of the Galápagos Islands by alien species from each of the five classes of vertebrates. We review the current distribution of alien vertebrates in the archipelago, their impacts on native species, and management efforts aimed at alien vertebrates. A total of 44 species have been reported in the archipelago, with 20 species establishing feral populations. Mammals were the first group arriving in the archipelago and remain the most numerous, with 10 established species. Alien birds invaded after mammals and four species have established populations. Reptiles, amphibians, and fish invaded later and are represented by three, one, and two species, respectively. Alien mammals are the most injurious to native biota, contributing to the decline or extinction of several species. Aside from mammals, no other class of alien vertebrate has had documented impacts on native species. Several populations of large and medium-sized mammals and birds have been eradicated.
This is a preview of subscription content, log in to check access.
Access options
Buy single article
Instant access to the full article PDF.
US$ 39.95
Price includes VAT for USA
Subscribe to journal
Immediate online access to all issues from 2019. Subscription will auto renew annually.
US$ 99
This is the net price. Taxes to be calculated in checkout.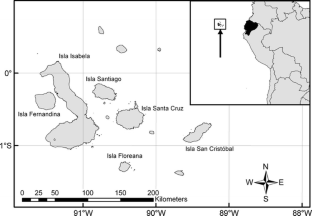 References
Altamirano M (2002) Interactions of native and exotic geckos in the Galápagos Islands: temporal patterns and competitive experiments. Dissertation, University of New Mexico

Atkinson IAE (1985) The spread of commensal species of Rattus to oceanic islands and their effects on island avifaunas. In: Moors PJ (ed) Conservation of island birds. International Council for Bird Preservation Technical Publication, No. 3, Cambridge, pp 35–81

Atkinson R, Gardener M, Harper G, Carrion V (2011) 50 years of eradication as a conservation tool in Galapagos: What are the limits? In: Wolff M, Gardener M (eds) The role of science for the conservation of the Galapagos: a 50 year experience and challenges for the future. Routledge, Oxford

Baur G (1891) On the origin of the Galapagos Islands. Am Nat 25:631–639

Blackburn TM, Cassey P, Duncan RP, Evans KL, Gaston KJ (2004) Avian extinction and mammalian introductions on oceanic islands. Science 305:1955–1958

Boschung HT, Mayden RL (2004) Fishes of Alabama. Smithsonian Books, Washington

Bryan JC, Miller SJ, Yates CS, Minno M (2003) Variation in size and location of wading bird colonies in the Upper St. Johns River Basin, Florida, USA. Waterbirds 26:239–251

Calvopia J (1986) Reconocimiento de los ratones introducidos, Mus musculus, en las Islas Plazas. Informe de Campo No 2, Estacíon Científica Charles Darwin, Puerto Ayora

Carrion V, Donlan CJ, Campbell K, Lavoie C, Cruz F (2007) Feral donkey (Equus asinus) eradications in the Galápagos. Biodivers Conserv 16:437–445

Carrion V, Donlan CJ, Campbell KJ, Lavoie C, Cruz F (2011) Archipelago-wide island restoration in the Galápagos Islands: reducing costs of invasive mammal eradication programs and reinvasion risk. PLoS ONE 6:e18835

Case TJ, Bolger DT, Petren K (1994) Invasions and competitive displacement among house geckos in the tropical Pacific. Ecology 75:464–477

Causton CE, Peck SB, Sinclair BJ, Roque-Albelo L, Hodgson CJ, Landry B (2006) Alien insects: threats and implications for conservation of Galápagos Islands. Ann Entomol Soc Am 99:121–143

Cayot LJ, Snell HL, Llerena W, Snell HM (1994) Conservation biology of Galápagos reptiles: twenty-five years of successful research and management. In: Murphy JB, Adler K, Collins JT (eds) Captive management and conservation of amphibians and reptiles. Society for the Study of Amphibians and Reptiles, Ithaca, pp 297–305

CDF (2010) Charles Darwin foundation galapagos species checklist, Phyllodactylus tuberculosus. Available from: http://www.darwinfoundation.org/datazone/checklists/vertebrates/reptilia/phyllodactylus-tuberculosus-wiegmann-1835/. Accessed Nov 2010

Clark DA (1984) Native land mammals. In: Perry R (ed) Key environments: Galápagos. Pergamon Press, Oxford, pp 225–231

Coblentz BE, Baber DW (1987) Biology and control of feral pigs on Isla Santiago, Galápagos, Ecuador. J Appl Ecol 24:403–418

Cole NC, Jones CG, Harris S (2005) The need for enemy-free space: the impact of an invasive gecko on island endemics. Biol Conserv 125:467–474

Conway A, Conway F (1947) The enchanted islands. Putnam's Sons, New York

Cookson WE (1875) Report of visit by her majesty's ship "Petrel" to the Galapagos Islands in July 1875. Public Records Office, Kew

Coulter J (1845) Adventures in the Pacific; with observations on the natural productions, manners and customs of the natives of the various islands; together with remarks on missionaries, British and other residents, Etc. William Curry, Jun. and Co., Dublin

Courchamp F, Chapuis JL, Pascal M (2003) Mammal invaders on islands: impact, control and control impact. Biol Rev 78:347–383

Cruz JB, Cruz F (1987) Conservation of the dark-rumped petrel (Pterodroma phaepygia) in the Galápagos Islands, Ecuador. Biol Conserv 42:303–311

Cruz F, Donlan CJ, Campbell K, Carrion V (2005) Conservation action in the Galápagos: feral pig (Sus scrofa) eradication from Santiago Island. Biol Conserv 121:473–478

Cruz-Delgado F, González JA, Wiedenfeld DA (2010) Breeding biology of the critically endangered Glapagos petrel Pterodroma phaeopygia on San Cristóbal Island: conservation and management implications. Bird Conserv Int 20:306–319

de Vries T, Black J (1983) Of men, goats and guava: problems caused by introduced species in the Galapagos. Not Galáp 38:18–21

Dexter N, Dowler RC, Flanagan JP, Hart S, Revelez MA, Lee TE Jr (2004) The influence of feral cats Felis catus on the distribution and abundance of introduced and endemic Galápagos rodents. Pac Conserv Biol 10:210–215

Dowler RC, Carroll DS, Edwards CW (2000) Rediscovery of rodents (Genus Nesoryzomys) considered extinct in the Galápagos Islands. Oryx 34:109–117

Duffy DC (1981) Ferals that failed. Not Galáp 33:21–22

Dugger BD, Melvin SL, Finger RS (2005) Abundance and community composition of water birds using the channelized Kissimmee River Floodplain, FL. Southeast Nat 4:435–446

Eckhardt RC (1972) Introduced plants and animals in Galápagos Islands. Bioscience 22:585–590

Ernst CH, Barbour RW (1989) Turtles of the world. Smithsonian Institution Press, Washington

Fielder LA (1984) The status of vertebrate pest problems in Ecuador (including the Galápagos Islands) and Honduras. Unpublished trip report, August 27-September 18, Denver Wildlife Research Center

Fitter J, Fitter D, Hosking D (2000) Wildlife of the Galapagos. Harper Collins, London

Flux JEC, Fullagar PJ (1992) World distribution of the rabbit Oryctolagus cuniculus on islands. Mamm Rev 22:151–205

Fowler de Neira LE, Johnson MK (1985) Diets of giant tortoises and feral burros on Volcan Alcedo, Galapagos. J Wildl Manage 49:165–169

Fowler de Neira LE, Roe JH (1984) Emergence success of tortoise nests and effect of feral burros on nest success on Volcan Alcedo, Galapagos. Copeia 1984:702–707

Garman S (1892) The reptiles of the Galapagos Islands. Bull Essex Inst 24:73–87

Gassett JW, Folk TH, Alexy KJ, Miller KV, Chapman BR, Boyd FL, Hall DI (2000) Food habits of cattle egrets on St. Croix, US Virgin Islands. Wilson Bull 112:268–271

Gottdenker NL, Walsh T, Vargas H, Merkel J, Jiménez GU, Miller RE, Dailey M, Parker PG (2005) Assessing the risks of introduced chickens and their pathogens to native birds in the Galápagos Archipelago. Biol Conserv 126:429–439

Grant PR, de Vries T (1993) The unnatural colonization of Galápagos by smooth-billed anis (Crotophaga ani). Not Galáp 52:21–23

Green D (1979) The effects of feral pigs on the nesting success of the East Pacific green sea turtle in the Galápagos Islands. Preliminary Report, Charles Darwin Research Station, pp 9

Guézou A, Trueman M, Buddenhagen CE, Chamorro S, Guerrero AM, Pozo P, Atkinson R (2010) An extensive alien plant inventory from the inhabited areas of Galapagos. PLoS ONE 5:1–8

Hamann O (1981) Plant communities of the Galápagos Islands. Dansk Botanisk Arkiv 34:1–63

Hamann O (1984) Changes and threats to the vegetation. In: Perry R (ed) Key environments: Galápagos. Pergamon Press, Oxford, pp 115–131

Harmon WM, Clark WA, Hawbecker AC, Stafford M (1987) Trichomonas gallinae in columbiform birds from the Galapagos Islands. J Wildl Dis 23:492–494

Harris MP (1973) Galápagos avifauna. Condor 75:265–278

Heller E (1903) Papers from the hopkins stanford galapagos expedition, 1898–1899. XIV. Reptiles. Proc Wash Acad Sci 5:39–98

Hensley DA, Courtenay WR Jr (1980) Tilapia mossambica (Peters) Mozambique tilapia. In: Lee DS, Gilbert CR, Hocutt CH, Jenkins RE, McAllister DE, Stauffer JR Jr (eds) Atlas of North American freshwater fishes. North Carolina State Museum of Natural History, Raleigh, p 774

Hicks DJ, Mauchamp A (1995) Size-dependent predation by feral mammals on Galápagos Opuntia. Not Galáp 55:15–17

Hoeck HN (1984) Introduced fauna. In: Perry R (ed) Key environments: Galápagos. Pergamon Press, Oxford, pp 233–245

Holdaway RN (1999) Introduced predators and avifaunal extinctions in New Zealand. In: MacPhee RDE (ed) Extinctions in near time: causes, contexts and consequences. Kluwer Academic/Plenum Publishers, New York, pp 189–238

Holdgate MW (1967) The influence of introduced species on the ecosystems of temperate oceanic islands. In: Proceedings and papers of the 10th technical meeting international union for conservation of nature and natural resources publication, pp 151–176

Hoogmoed MS (1989) Introduced geckos in Puerto Ayora, Santa Cruz, with remarks on other areas. Not Galáp 47:12–16

Hunter JS (1906) Field notes. California Academy of Sciences Collection

Jiménez-Uzcátegui G, Carrión V, Zabala J, Buitrón P, Milstead B (2007) Status of introduced vertebrates in Galapagos. Galapagos Report 2006–2007. Charles Darwin Foundation, Puerto Ayora, pp 136–141

Jorgensen PD, Ferguson HL (1984) The birds of San Clemente Island. Western Birds 15:111–130

Kastdalen A (1982) Changes in the biology of Santa Cruz Island between 1935 and 1965. Not Galáp 35:7–12

Key G, Muñoz Heredia E (1994) Distribution and current status of rodents in the Galápagos. Not Galáp 53:21–25

Key G, Wilson E, Conner J (1994) Present status of Rattus norvegicus on Santa Cruz Island, Galapagos, Ecuador. In: Halverson WS, Crabb AC (eds) 16th Vertebrate pest conference University of California, pp 118–123

Klinger RC, Schuyler P, Sterner JD (2002) The response of herbaceous vegetation and endemic plant species to the removal of feral sheep from Santa Cruz Island, California. In: Veitch CR, Clout MN (eds) Turning the tide: the eradication of invasive species. IUCN, Cambridge, pp 141–154

Koford CB (1966) Economic resources of the Galápagos Islands. In: Bowman RI (ed) The Galápagos proceedings of the symposia of the Galapagos international scientific project. University of California Press, Berkeley, pp 286–290

Konecny MJ (1987) Food habits and energetics of feral house cats in the Galápagos Islands. Oikos 50:24–32

Kruuk H (1979) Ecology and control of feral dogs in Galapagos. Unpublished report, Institute of Terrestrial Ecology, Scotland, pp 100–108

Kruuk H, Snell HL (1981) Prey selection by feral dogs from a population of marine iguanas (Amblyrhynchus cristatus). J Appl Ecol 18:197–204

Laurie A (1983) Marine iguanas in Galapagos. Oryx 17:18–25

Lévêque R, Bowman RI, Billeb SL (1966) Migrants in the Galápagos area. Condor 68:81–101

Lobel PS (1980) Invasion by the Mozambique tilapia (Sarotherodon mossambicus; Pisces; Cichlidae) of a Pacific atoll marine ecosystem. Micronesica 16:349–356

Lockwood JL, Brooks TM, McKinney ML (2000) Taxonomic homogenization of the global avifauna. Anim Conserv 3:27–35

Lundh JP (1998) Insidious invaders. Not Galáp 59:33–34

MacFarland CG, Villa J, Toro B (1974) The Galápagos giant tortoises (Geochelone elephantopus). Part I. Status of the surviving populations. Biol Conserv 6:198–212

Massay S, Mosquera R (1992) Presence of Chame Dormitator latifrons (Richardson, 1844) (Pisces: Eleotridae) in the Galapagos Islands, Ecuador. J Fish Biol 40:815–816

McCracken GF, Hayes JP, Cevallos J, Guffey SZ, Romero FC (1997) Observations on the distribution, ecology, and behaviour of bats on the Galapagos Islands. J Zool 243:757–770

McKilligan NG (1997) A long term study of factors influencing the breeding success of the cattle egret in Australia. Colonial Waterbirds 20:419–428

Mertens R (1963) Die Wiederentdeckung der Geckonengattung Gonatodes auf den Galapagos. Senckenb Biol 44:21–23

Moyle PB (1976) Inland fishes of California. University of California Press, Berkeley

Myers N, Mittermeier RA, Mittermeier CG, da Fonseca GAB, Kent J (2000) Biodiversity hotspots for conservation priorities. Nature 403:853–858

Nico LG, Walsh SJ (2011) Nonindigenous freshwater fishes on tropical Pacific islands: a review of eradication efforts. In: Veitch CR, Clout MN, Towns DR (eds) Island invasive: eradication and management. IUCN, Rome (in press)

Nogales M, Martin A, Tershy BR, Donlan CJ, Witch D, Puerta N, Wood B, Alonso J (2004) A review of feral cat eradication on islands. Conserv Biol 18:310–319

O'Dowd DJ, Green PT, Lake PS (2003) Invasional 'meltdown' on an oceanic island. Ecol Lett 6:812–817

Olmedo J, Cayot LJ (1994) Introduced geckos in the towns of Santa Cruz, San Cristóbal and Isabela. Not Galáp 53:7–12

Patton JL, Yang SY, Myers P (1975) Genetic and morphologic divergence among introduced rat populations (Rattus rattus) of Galápagos Archipelago, Ecuador. Syst Zool 24:296–310

Perry R (1984) The islands and their history. In: Perry R (ed) Key environments: Galápagos. Pergamon Press, Oxford, pp 1–14

Phillips RB, Snell HL, Vargas H (2003) Feral rock doves in the Galapágos Islands: biological and economic threats. Not Galáp 62:6–11

Phillips RB, Cooke BD, Campbell K, Carrion V, Marquez C, Snell HL (2005) Eradicating feral cats to protect Galapagos land iguanas: methods and strategies. Pac Conserv Biol 11:257–267

Rodda GH, Savidge JA (2007) Biology and impacts of pacific island invasive species. 2. Boiga irregularis, the Brown Tree Snake (Reptilia: Colubiridae). Pac Sci 61:307–324

Russell JC, Towns DR, Anderson SH, Clout MN (2005) Intercepting the first rat ashore. Nature 437:1107

Savidge JA (1987) Extinction of an island forest avifauna by an introduced snake. Ecology 68:660–668

Schofield EK (1989) Effects of introduced plants and animals on island vegetation: examples from the Galapagos Archipelago. Conserv Biol 3:227–238

Schultz AD (2003) The Galapagos giant tortoise (Geochelone elephantopus) and the spread of invasive plants. Thesis, University of New Mexico

Siegfried WR (1971) Food of cattle egret. J Appl Ecol 8:447–468

Sivinta-Mena B (1988) Ecologia de la rata noruega Rattus norvegicus, especie de recient establecimiento en Puerto Ayora, Santa Cruz, Galápagos. Thesis, Universidad Técnica de Ambato

Slevin JR (1931) Log of the schooner 'Academy'. Occasional Paper of the California Academy of Science 17

Slevin JR (1935) An account of the reptiles inhabiting the Galapagos Islands. Bull N Y Zool Soc 38:2–24

Snell HL, Snell HM, Stone PA (1994) Accelerated mortality of Opuntia on Isla Plaza Sur: another threat from an introduced vertebrate? Not Galáp 53:19–20

Snell HM, Stone PA, Snell HL (1996) A summary of geographical characteristics of the Galápagos Islands. J Biogeogr 23:619–624

Snodgrass RE, Heller E (1899) Field notes. California Academy of Sciences Collection

Stone CP, Anderson SJ (1988) Introduced animals in Hawaii's natural areas. In: Crabb AC, Marsh RE (eds) Proceedings of the thirteenth vertebrate pest conference University of California, pp 134–140

Stone PA, Snell HL, Snell HM (1994) Behavioral diversity as biological diversity: introduced cats and lava lizard wariness. Conserv Biol 8:569–573

Swash A, Still R (2000) Birds, mammals & reptiles of the Galápagos Islands: an identification guide. Pica Press, London

Taylor EH (1942) Some geckoes of the genus Phyllodactylus. Univ Kansas Sci Bull 28:91–112

Telfair RC (1994) Cattle egret (Bubulcus ibis). The birds of North America, No 113, The Academy of Natural Sciences

Thomas RA (1997) Galapagos terrestrial snakes: biogeography and systematics. Herpetol Nat Hist 5:19–40

Todd NB (1977) Cats and commerce. Sci Am 237:100–107

Toral MV, Poulsom T (2006) La tilapia Oreocrhomis niloticus en la laguna de El Junco, San Cristóbal: Propuest para su erradicación. Charles Darwin Foundation, pp 13

Tye A (2006) Can we infer island introduction and naturalization rates from inventory data? Evidence from introduced plants in Galapagos. Biol Invasions 8:201–215

Tye A, Snell HL, Peck SB, Adsersen H (2002) Outstanding terrestrial features of the Galapagos archipelago. In: Bensted-Smith R (ed) A biodiversity vision for the Galapagos Islands. CDF, Puerto Ayora, pp 12–23

UNESCO (2010) Reactive monitoring mission report, Galapagos Islands. United Nations Educational, Scientific and Cultural Organization, Brasilia, p 38

Van Denburgh J (1912) Expedition of the California Academy of Sciences to the Galápagos Islands, 1905–1906. The geckos of the Galápagos Archipelago, Vol. 1. Proceedings of the California Academy of Science 4th Series, pp 405–430

Van Denburgh J (1914) Expedition of the California Academy of Sciences to the Galápagos Islands, 1905–1906. The gigantic tortoises of the Galapagos Archipelago, Vol. 2. Proceedings of the California Academy of Science 4th Series, pp 203–374

van der Werff H (1979) Conservation and vegetation of the Galápagos Islands. In: Bramwell D (ed) Plants and islands. Academic Press, New York, pp 391–404

van der Werff H (1982) Effects of feral pigs and donkeys on the distribution of selected food plants. Not Galáp 36:17–18

Vanzolini PE (1965) On the Gonatodes of the Galapagos Islands (Sauria. Gekkonidae). Papéis Avulsos 17:17–19

Vargas H (1996) What is happening with the avifauna of San Cristóbal? Not Galáp 57:23–24

Vargas H, Bensted-Smith R (2000) Past and present ornithology in Galapagos. In: Sitwell N, Baert L, Cuppois G (eds) Proceedings of the symposium science and conservation in galapagos bulletin de′l Institut Royal des Sciences Naturalles de Belgique, pp 47–52

Vitousek PM, Dantonio CM, Loope LL, Rejmanek M, Westbrooks R (1997) Introduced species: a significant component of human-caused global change. N Z J Ecol 21:1–16

Walter HS, Levin GA (2008) Feral sheep on Socorro Island: facilitators of alien plant colonization and ecosystem decay. Divers Distrib 14:422–431

Wanless RM, Angel A, Cuthbert RJ, Hilton GM, Ryan PG (2007) Can predation by invasive mice drive seabird extinctions? Biol Lett 3:241–244

Weber WJ (1972) New world for cattle egret. Nat Hist 81:56–63

Wiedenfeld DA (2005) Floreana Mockingbird survey 2005. Unpublished report to Charles Darwin Foundation and Galapagos National Park Service, Charles Darwin Foundation

Wiedenfeld DA (2006) Aves, the Galapagos Islands. Check List 2:1–27

Wolf T (1879) Apuntes sobre el clima de las islas Galapagos, segun las observacions hechas durante un viaje en los meses de Agosto á Noviembre de 1872. Quito, 1879. Verhandlungen der Gesellschaft für Erdkunde zu Berlin pp 245–256

Wood GC (1939) Results of the Pinchot South Expedition III. Galapagos reptiles. Notulae Nat 15:1–4

Wright JW (1983a) The distribution and status of Gonatodes collaris in the Galapagos Archipelago. Herpetol Rev 14:32

Wright JW (1983b) Unpublished report. Reptiles of the Galápagos Archipelago, Los Angeles Natural History Museum
Acknowledgments
We thank F. Azuero, E. Cadena, W. Espinosa, C. Gaona, F. Gaona, and R. Jiménez (GNPS and CDRS) for field assistance. C. W. Edwards and R. C. Dowler contributed data on rodent distribution. J. H. Brown and an anonymous reviewer provided helpful comments that improved the manuscript. Fieldwork was supported by grants from the United Nations Foundation via the United Nations Educational, Scientific, and Cultural Organization (UNESCO) World Heritage Center, Frankfurt Zoological Society, the Global Environmental Facility via the World Bank, and Fundación Natura. Support was also provided by the Charles Darwin Foundation and the University of New Mexico.
Appendix
Appendix
About this article
Cite this article
Phillips, R.B., Wiedenfeld, D.A. & Snell, H.L. Current status of alien vertebrates in the Galápagos Islands: invasion history, distribution, and potential impacts. Biol Invasions 14, 461–480 (2012). https://doi.org/10.1007/s10530-011-0090-z
Received:

Accepted:

Published:

Issue Date:
Keywords
Alien impacts

Alien vertebrates

Galápagos Islands

Invasion history

Review