Abstract
In the South American temperate evergreen rainforest (Valdivian forest), invasive plants are mainly restricted to open sites, being rare in the shaded understory. This is consistent with the notion of closed-canopy forests as communities relatively resistant to plant invasions. However, alien plants able to develop shade tolerance could be a threat to this unique forest. Phenotypic plasticity and local adaptation are two mechanisms enhancing invasiveness. Phenotypic plasticity can promote local adaptation by facilitating the establishment and persistence of invasive species in novel environments. We investigated the role of these processes in the recent colonization of Valdivian forest understory by the perennial alien herb Prunella vulgaris from nearby populations in open sites. Using reciprocal transplants, we found local adaptation between populations. Field data showed that the shade environment selected for taller plants and greater specific leaf areas. We found population differentiation and within-population genetic variation in both mean values and reaction norms to light variation of several ecophysiological traits in common gardens from seeds collected in sun and shade populations. The colonization of the forest resulted in a reduction of plastic responses to light variation, which is consistent with the occurrence of genetic assimilation and suggests that P. vulgaris individuals adapted to the shade have reduced probabilities to return to open sites. All results taken together confirm the potential for rapid evolution of shade tolerance in P. vulgaris and suggest that this alien species may pose a threat to the native understory flora of Valdivian forest.
This is a preview of subscription content, log in to check access.
Access options
Buy single article
Instant access to the full article PDF.
US$ 39.95
Price includes VAT for USA
Subscribe to journal
Immediate online access to all issues from 2019. Subscription will auto renew annually.
US$ 99
This is the net price. Taxes to be calculated in checkout.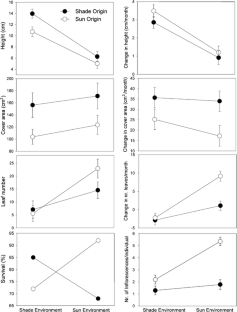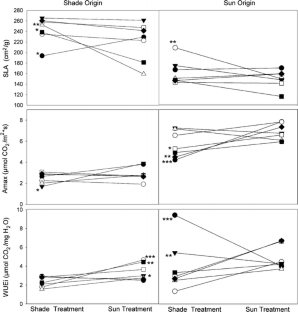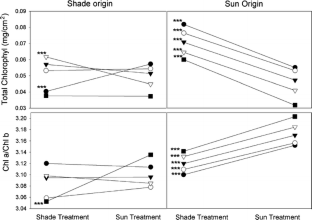 References
Agrawal AA (2001) Phenotypic plasticity in the interactions and evolution of species. Science 294:321–326

Allendorf FW, Lundquist LL (2003) Introduction: Population biology, evolution, and control of invasive species. Conserv Biol 17:24–30

Arroyo MTK, Marticorena C, Matthei O et al (2000) Plant invasions in Chile: present patterns and future predictions. In: Mooney HA, Hobbs RJ (eds) Invasive species in a changing world. Island Press, USA, pp 385–421

Blair AC, Wolfe LM (2004) The evolution of an invasive plant: an experimental study with silene latifolia. Ecology 85:3035–3042

Bossdorf O, Auge H, Lafuma L et al (2005) Phenotypic and genetic differentiation between native and introduced plant populations. Oecologia 144:1–11

Bossdorf O, Lipowsky A, Prati D (2008) Selection of preadapted populations allowed Senecio inaequidens to invade Central Europe. Divers Distrib 14:676–685

Crispo E (2007) The Baldwin effect and genetic assimilation: revisiting two mechanisms of evolutionary change mediated by phenotypic plasticity. Evolution 61:2469–2479

Dlugosch KM, Parker IM (2008) Invading populations of an ornamental shrub show rapid life history evolution despite genetic bottlenecks. Ecol Lett 11:701–709

Dorsch K, Böhm F, Sepúlveda F (2003) Hydrochemistry and hydrology of the Puyehue Cordón, Caulle geothermal systems, Chile. Geowissenschaftliches Lateinamerika-kolloquiem. TU Bergakademie Freiberg

Etterson JR (2004) Evolutionary potential of Chamaecrista fasciculata in relation to climate change. II. Genetic architecture of three populations reciprocally planted along an environmental gradient in the great plains. Evolution 58:1459–1471

Geber MA, Griffen LR (2003) Inheritance and natural selection on functional traits. Int J Plant Sci 164:S21–S42

Ghalambor CK, McKay JK, Carroll SP et al (2007) Adaptive versus non-adaptive phenotypic plasticity and the potential for contemporary adaptation in new environments. Funct Ecol 21:394–407

Gianoli E, Saldaña A, Jiménez-Castillo M et al (2010) Distribution and abundance of vines along the light gradient in a southern temperate rainforest. J Veg Sci 21:66–73

Herrera CM (1995) Microclimate and individual variation in pollinators: flowering plants are more than their flowers. Ecology 76:1516–1524

Hulme PE (2006) Beyond control: wider implications for the management of biological invasions. J Appl Ecol 43:835–847

Hulme PE (2008) Phenotypic plasticity and plant invasions: is it all Jack? Funct Ecol 22:3–7

Janzen FJ, Stern HS (1998) Logistic regression for empirical studies of multivariate selection. Evolution 52:1564–1571

Kawecki TJ, Ebert D (2004) Conceptual issues in local adaptation. Ecol Lett 7:1225–1241

Lande R, Arnold SJ (1983) The measurement of selection on correlated characters. Evolution 37:1210–1226

Lavergne S, Molofsky J (2007) Increased genetic variation and evolutionary potential drive the success of an invasive grass. Proc Natl Acad Sci USA 104:3883–3888

Macek P, Lepš J (2003) The effect of environmental heterogeneity on clonal behaviour of Prunella vulgaris L. Plant Ecol 168:31–43

Maron JL, Vila M, Bommarco R et al (2004) Rapid evolution of an invasive plant. Ecol Monogr 74:261–280

Martin PH, Marks PL (2006) Intact forests provide only weak resistance to a shade-tolerant invasive Norway maple (Acer platanoides L.). J Ecol 94:1070–1079

Martin PH, Canham CD, Marks PL (2009) Why forests appear resistant to exotic plant invasions: intentional introductions, stand dynamics, and the role of shade tolerance. Front Ecol Environ 7:142–149

Matesanz S, Gianoli E, Valladares F (2010) Global change and the evolution of phenotypic plasticity in plants. The year in evolutionary biology 2010. Ann N Y Acad Sci 1206:35–55

Matthei OJ (1995) Manual de las malezas que crecen en Chile. Alfabeta impresiones, Santiago de Chile

Myers N, Mittermeier RA, Mittermeier CG et al (2000) Biodiversity hotspots for conservation priorities. Nature 403:853–858

Parker IM, Rodriguez J, Loik ME (2003) An evolutionary approach to understanding the biology of invasions: local adaptation and general-purpose genotypes in the weed Verbascum thapsus. Conserv Biol 17:59–72

Pauchard A, Alaback PB (2004) Influence of elevation, land use, and landscape context on patterns of alien plant invasions along roadsides in protected areas of south-central Chile. Conserv Biol 18:238–248

Philippi RA (1881) Catálogo de las plantas cultivadas para el Jardín Botánico de Santiago hasta el 1° de Mayo de 1881. Anales Universidad de Chile 59:519–581

Pigliucci M (2001) Phenotypic plasticity: beyond nature and nurture. John Hopkins University Press, Baltimore

Pigliucci M, Murren CJ, Schlichting CD (2006) Phenotypic plasticity and evolution by genetic assimilation. J Exp Biol 209:2362–2367

Pyšek P, Richardson DM (2007) Traits associated with invasiveness in alien plants: where do we stand? In: Caldwell MM (ed) Biological invasions. Springer, Berlin, pp 97–125

Richards CL, Bossdorf O, Muth NZ et al (2006) Jack of all trades, master of some? On the role of phenotypic plasticity in plant invasions. Ecol Lett 9:981–993

Richardson AD, Duigan SP, Berlyn GP (2002) An evaluation of noninvasive methods to estimate foliar chlorophyll content. New Phytol 153:185–194

Ross CA, Faust D, Auge H (2009) Mahonia invasions in different habitats: local adaptation or general-purpose genotypes? Biol Invasions 11:441–452

Sakai AK, Allendorf FW, Holt JS et al (2001) The population biology of invasive species. Annu Rev Ecol Syst 32:305

Saldaña A, Lusk CH (2003) Influencia de las especies del dosel en la disponibilidad de recursos y regeneración avanzada en un bosque templado lluvioso del sur de Chile. Revista Chilena de Historia Natural 76:639–650

Schlaepfer DR, Glättli M, Fischer M et al (2010) A multi-species experiment in their native range indicates pre-adaptation of invasive alien plant species. New Phytol 185:1087–1099

Sexton JP, McKay JK, Sala A (2002) Plasticity and genetic diversity may allow saltcedar to invade cold climates in North America. Ecol Appl 12:1652–1660

Smith H, Withelam GC (1997) The shade avoidance syndrome: multiple responses mediated by multiple phytochromes. Plant Cell Environ 20:840–844

Strauss SY, Lau JA, Carroll SP (2006) Evolutionary responses of natives to introduced species: what do introductions tell us about natural communities? Ecol Lett 9:354–371

Ugarte E, Fuentes N, Klotz S (2010) European plant in Southern South America, unwanted visitors? In: Settele J, Penev L, Georgiev T, Grabaum R, Grobelnik V, Hammen V, Klotz S, Kotarac M, Kuhn I (eds) Atlas of biodiversity risks—from Europe to the globe, from stories to maps. Pensoft, Sofia

Valladares F, Niinemets U (2008) Shade tolerance, a key plant trait of complex nature and consequences. Ann Rev Ecol Syst Evol 39:237–257

Valladares F, Wright SJ, Lasso E et al (2000) Plastic phenotypic response to light of 16 congeneric shrubs from a Panamanian rainforest. Ecology 81:1925–1936

Valladares F, Gianoli E, Gomez JM (2007) Ecological limits to plant phenotypic plasticity. New Phytol 176:749–763

van Kleunen M, Fischer M (2005) Constraints on the evolution of adaptive phenotypic plasticity in plants. New Phytol 166:49–60

Winn AA (1988) Ecological and evolutionary consequences of seed size in Prunella vulgaris. Ecology 69:1537–1544

Winn AA, Evans AS (1991) Variation among populations of Prunella vulgaris L in plastic responses to light. Funct Ecol 5:562–571

Winn AA, Werner PA (1987) Regulation of seed yield within and among populations of Prunella vulgaris. Ecology 68:1224–1233
Acknowledgments
We are grateful to Fernando Carrasco for field help. OG wants to acknowledge financial support provided by the Spanish Ministry for Education and Science grants RASINV GL2004-04884-C02 02/BOS (as part of the coordinate project RINVE). A CSIC-CONICYT collaborative grant to FV and EG contributed to the development of this study.
About this article
Cite this article
Godoy, O., Saldaña, A., Fuentes, N. et al. Forests are not immune to plant invasions: phenotypic plasticity and local adaptation allow Prunella vulgaris to colonize a temperate evergreen rainforest. Biol Invasions 13, 1615–1625 (2011). https://doi.org/10.1007/s10530-010-9919-0
Received:

Accepted:

Published:

Issue Date:
Keywords
Adaptive divergence

Evolutionary response

Genetic assimilation

Invasive plants

Temperate rainforest