Abstract
Posidonia oceanica, a key seagrass species of the Mediterranean Sea, shows clear signs of regression throughout the Mediterranean and illegal trawling is recognized as one of the main causes. We examined the condition of a P. oceanica meadow in Alykes Bay (Zakynthos Island, western Greece), a typical Mediterranean littoral area where illegal trawling is common practice, in respect to the total area affected, and in terms of possible ecological substitution. A side scan sonar (SSS) survey of the seafloor provided an image of the condition of the meadow and biological sampling evaluated the ecological status in affected meadow areas. SSS images revealed that trawling has a serious effect on the meadow, with 11% of the vegetated area being abraded, and the affected areas were also found to be fully colonized by the invasive alga Caulerpa racemosa. Moreover, unusually high densities of the polychaete Sabella pavonina were detected in the affected areas among C. racemosa fronds. Recolonization by P. oceanica of the affected meadow areas that have been colonized by C. racemosa seems improbable considering the allelopathic interactions between the species, with the alga displaying phytotoxic properties through caulerpenyne production and deterioration of the sediment quality.
Access options
Buy single article
Instant access to the full article PDF.
US$ 39.95
Tax calculation will be finalised during checkout.
Subscribe to journal
Immediate online access to all issues from 2019. Subscription will auto renew annually.
US$ 79
Tax calculation will be finalised during checkout.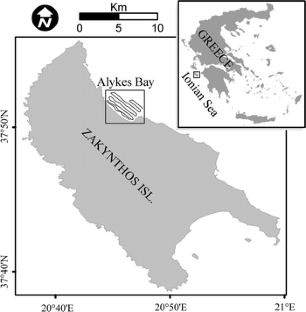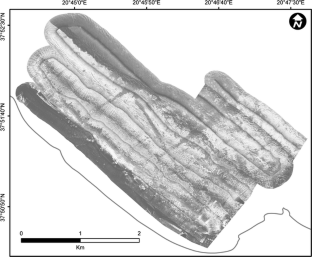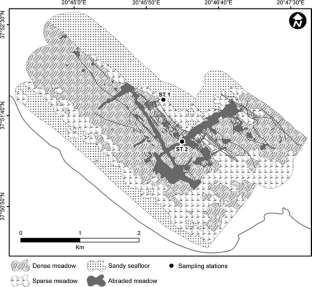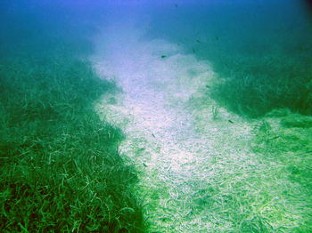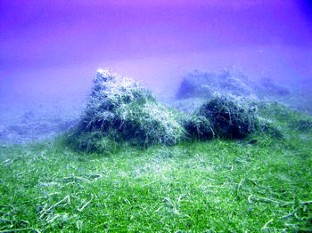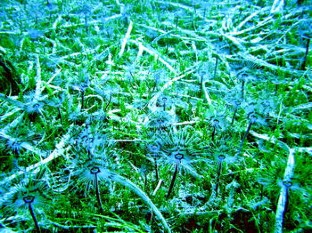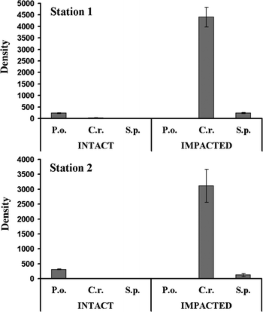 References
Ardizzone G, Pelusi P (1983) Regression of a Tyrrhenian Posidonia oceanica prairie exposed to nearshore trawling. Rapp Comm Int Mer Médit 28:3

Ardizzone G, Belluscio A, Maiorano L (2006) Long-term change in the structure of a Posidonia oceanica landscape and its reference for a monitoring plan. Mar Ecol 27:299–309. doi:10.1111/j.1439-0485.2006.00128.x

Argyrou M, Demetropoulos A, Hadjichristophorou M (1999) Expansion of the macroalga Caulerpa racemosa and changes in softbottom macrofaunal assemblages in Moni Bay, Cyprus. Oceanol Acta 22:517–528

Bay D (1978) Etude in situ de la production primaire d'un herbier de Posidonies (Posidonia oceanica (L.) Delile) de la baie de Calvi-Corse. Dissertation, University of Liège, Belgium

Bell JD, Harmelin-Vivien M (1982) Fish fauna of French mediterranean Posidonia oceanica seagrass meadows. 1. Community structure. Tethys 10:337–347

Ceccherelli G, Piazzi L (2001) Dispersal of Caulerpa racemosa fragments in the Mediterranean: lack of detachment time effect on establishment. Bot Mar 44:209–213. doi:10.1515/BOT.2001.027

Ceccherelli G, Piazzi L (2005) Exploring the success of manual eradication of Caulerpa racemosa var. cylindracea (Caulerpales, Chlorophyta): the effect of habitat. Cryptogam Algol 26:319–328

Didham RK, Tylianakis JM, Hutchinson MA, Ewers RM, Gemmell NJ (2005) Are invasive species the drivers of ecological change? Trends Evol Ecol 20:470–474. doi:10.1016/j.tree.2005.07.006

Duarte CM (1991) Allometric scaling of seagrass form and productivity. Mar Ecol Prog Ser 77:289–300. doi:0171-8630/91/0077/0289/$03.00

Dumay O, Fernandez C, Pergent G (2002) Primary production and vegetative cycle in Posidonia oceanica when in competition with the green algae Caulerpa taxifolia and Caulerpa racemosa. J Mar Biol Assoc UK 82:379–387

Francour P (1997) Fish assemblages of Posidonia oceanica beds at port-cros (France, NW Mediterranean): assessment of composition and long-term fluctuations by visual census. P.S.Z.N. Mar Ecol 18:157–173. doi:10.1111/j.1439-0485.1997.tb00434.x

Frederiksen MS, Holmer M, Díaz-Almela E, Núrià M, Duarte C (2007) Sulfide invasion in the seagrass Posidonia oceanica at Mediterranean fish farms: assessment using stable sulfur isotops. Mar Ecol Prog Ser 345:93–104. doi:10.1016/j.marpolbul.2008.05.020

Gacia E, Granata TC, Duarte CM (1999) An approach to measurement of particle flux and sediment retention within seagrass (Posidonia oceanica) meadows. Aquat Bot 65:255–268. doi:10.1016/S0304-3770(99)00044-3

Garcia-Rubies A, Macpherson E (1995) Substrate use and temporal pattern of recruitment in juvenile fishes of the Mediterranean littoral. Mar Biol 124:35–42

Gobert S, Cambridge ML, Velimirov B, Pergent G, Lepoint G, Bouquegneau JM, Dauby M, Pergent-Martini P, Walker DI (2006) Biology of Posidonia. In: Larkum AWD, Orth RJ, Duarte CM (eds) Seagrasses: biology, ecology and conservation. Springer Verlag, Berlin, pp 387–408

González-Correa JM, Bayle JT, Sánxhez-Lizaso JL, Valle C, Sánchez-Jerez P, Ruiz J (2005) Recovery of deep Posidonia oceanica meadows degraded by trawling. J Exp Mar Biol Ecol 320:65–76. doi:10.1016/j.jembe.2004.12.032

Guillén JE, Ramos AA, Martínez L, Sánchez-Lizaso JL (1994) Antitrawling reefs and the protection of Posidonia oceanica (L.) Delile meadows in the western Mediterranean Sea: demand and aims. Bull Mar Sci 55:645–650

Holmer M, Marbá N, Lamote M, Duarte CM (2009) Deterioration of sediment quality in seagrass meadows (Posidonia oceanica) invaded by macroalgae (Caulerpa sp.). Estuar Coast 32:456–466. doi:10.1007/s12237-009-9133-4

Klein J, Verlaque M (2008) The Caulerpa racemosa invasion: a critical review. Mar Pollut Bull 56:205–225. doi:10.1016/j.marpolbul.2007.09.043

Le Bas TP, Huvenne VAI (2009) Acquisition and processing of backscatter data for habitat mapping–comparison of multibeam and sidescan systems. Appl Acoust 70:1248–1257. doi:10.1016/j.apacoust.2008.07.010

Marbà N, Duarte CM, Cebrián J, Gallegos ME, Olesesn B, Sand-Jensen K (1996) Growth and population dynamics of Posidonia oceanica on the Spanish Mediterranean coast: elucidating seagrass decline. Mar Ecol Prog Ser 137:203–213

Mazzella L, Buia M, Gambi MC, Lorenti M, Russo GF, Scipione MB, Zupo V (1992) Plant-animal trophic relationships in the Posidonia oceanica ecosystem of the Mediterranean Sea: a revue. In: John DM, Hawkins SJ, Price JH (eds) Plant-animal interactions in the marine benthos. Clarendon Press, Oxford, pp 165–187

Montefalcone M, Albertelli G, Bianchi CN, Mariani M, Morri C (2006) A new synthetic index and a protocol for monitoring the status of Posidonia oceanica meadows: a case study at Sanremo (Ligurian Sea, NW Mediterranean). Aquat Conserv Mar Freshw Ecosyst 16:29–42. doi:10.1002/aqc.688

Montefalcone M, Morri C, Peirano A, Albertelli G, Bianchi CN (2007) Substitution and phase shift within the Posidonia oceanica seagrass meadows of NW Mediterranean Sea. Estuar Coast Shelf Sci 75:63–71. doi:10.1016/j.ecss.2007.03.034

Nizamuddin M (1991) The green marine algae of Libya. Elga publisher, Bern

Panayotidis P, Montesanto B (2001) Occurrence and phytosociology of Caulerpa racemosa in Saronikos Gulf (Aegean Sea, Greece). In: Gravez V, Ruitton S, Boudouresque CF, Le Direac'h L, Meinesz A, Scabbia G, Verlaque M (eds) Fourth international workshop on Caulerpa taxifolia. GIS Posidonie Publ, Marseilles, France, pp 334–337

Pasqualini V, Pergent-Martini C, Clabaut P, Pergent G (1998) Mapping of Posidonia oceanica using aerial photographs and side-scan sonar: application of the island of Corsica (France). Estuar Coast Shelf Sci 47:359–367. doi:10.1006/ecss.1998.0361

Pasqualini V, Clabaut P, Pergent G, Benyoussef L, Pergent-Martini C (2000) Contribution of side scan sonar to the management of Mediterranean littoral ecosystems. Int J Remote Sens 21:367–378. doi:10.1080/014311600210885

Peirano A, Damasso V, Montefalcone M, Morri C, Bianchi CN (2005) Effects of climate. invasive species and anthropogenic impacts on the growth of the seagrass Posidonia oceanica (L.) Delile in Liguria (NW Mediterranean Sea). Mar Pollut Bull 50:817–822. doi:10.1016/j.marpolbul.2005.02.011

Pérès J (1977) Utilité et importance de l'herbier de Posidonies en Méditerranée. Bull Off Nat Pêches Tunissie 1:3–8

Pérès J (1984) La regression des herbiers à Posidonia oceanica. In: Boudouresque CF, Jeudy de Crissac A, Olivier J (eds) International workshop on Posidonia oceanica beds. GIS Posidonie Publ, Marseille, France, pp 445–454

Pergent G, Pergent-Martini C (1991) Leaf renewal cycle and primary production of Posidonia oceanica in the bay of Lacco Ameno (Ischia, Italy) using lepidochronological analysis. Aquat Bot 42:49–66

Piazzi L, Ceccherelli G, Balata D, Cinelli F (2003) Early patterns of Caulerpa racemosa recovery in the Mediterranean Sea: the influence of algal turfs. J Mar Biol Assoc UK 83:27–29. doi:10.1017/S0025315403006751h

Piazzi L, Balata D, Ceccherelli G, Cinelli F (2005) Interactive effect of sedimentation and Caulerpa racemosa var. cylindracea invasion on macroalgal assemblages in the Mediterranean Sea. Estuar Coast Shelf Sci 64:467–474. doi:10.1016/j.ecss.2005.03.010

Raniello R, Mollo E, Lorenti M, Gavagnin M, Buia MC (2007) Phytotoxic activity of caulerpenyne from the Mediterranean invasive variety of Caulerpa racemosa: a potential allelochemical. Biol Invasions 9:361–368. doi:10.1007/s10530-006-9044-2

Relini G, Relini M, Torchia G (2000) The role of fishing gear in the spreading of allochthonous species: the case of Caulerpa taxifolia in the Ligurian Sea. ICES J Mar Sci 57:1421–1427. doi:10.1006/jmsc.2000.0913

Ruitton S, Verlaque M, Boudouresque CF (2005) Seasonal changes of the introduced Caulerpa racemosa var. cylindracea (Caulerpales, Chlorophyta) at the northwest limit of its Mediterranean range. Aquat Bot 82:55–70. doi:10.1016/j.aquabot.2005.02.008

Terrados J, Duarte CM (2000) Experimental evidence of reduced particles resuspension within a seagrass (Posidonia oceanica) meadow. J Exp Mar Biol Ecol 243:45–53. doi:10.1016/S0022-0981(99)00110-0

Verlaque M, Afonso-Carrillo J, Candelaria GRM (2004) Blitzkrieg in a marine invasion: Caulerpa racemosa var. cylindracea (Bryopsidales, Chlorophyta) reaches the Canary Islands (north-east Atlantic). Biol Invasions 6:269–281. doi:10.1023/B:BINV.0000034589.18347.d3

Villèle De X, Verlaque M (1995) Changes and degradation in a Posidonia oceanica bed invaded by the introduced tropical alga Caulerpa taxifolia in the north western Mediterranean. Bot Mar 38:79–87

Wilson PS, Dunton KH (2009) Laboratory investigation of the acoustic response of seagrass tissue in the frequency band 0.5–2.5 kHz. J Acoust Soc Am 125: 1951–1959. doi:10.1121/1.3086272
Acknowledgments
The authors wish to thank the Community Initiative INTERREG IIIA Greece—Italy 2000–2006 for the financial support for this work under Grant No I3101024 (Acronym: GoW). We would also like to thank Dr G. Tryphonopoulos for aiding in the biological data collection and photographs, A. Koutsodendris for his assistance during the SSS data acquisition, Professor S. Sfendourakis for his valuable comments on the manuscript and Mrs A. Mullholland for comments on the language.
About this article
Cite this article
Kiparissis, S., Fakiris, E., Papatheodorou, G. et al. Illegal trawling and induced invasive algal spread as collaborative factors in a Posidonia oceanica meadow degradation. Biol Invasions 13, 669–678 (2011). https://doi.org/10.1007/s10530-010-9858-9
Received:

Accepted:

Published:

Issue Date:
Keywords
Posidonia oceanica
Caulerpa racemosa var cylindracea

Mediterranean Sea

Colonization

Side Scan Sonar

Trawling