Abstract
Alien conifer invasions are affecting ecosystems across the globe, but until recently, reports of such invasions in South America were scarce. Pinus contorta was first established in Chilean Patagonia for erosion control caused by historical fires and cattle farming. Recently, the species has been planted over large areas for commercial purposes. It is well adapted to local conditions and is now spreading into natural areas. This study analyzes natural regeneration of Pinus contorta around Coyhaique city, Chile, to determine the spatial patterns of invasion. Five study sites were selected, four with grasslands dominated by exotic species and one site in the steppe. In each site, the plantation (seed source) was characterized using morphological attributes and density. Regeneration, density, height and age at different distances from the seed source were recorded, and ground cover was measured as an environmental factor influencing the invasion process. A comparative analysis was also conducted between the situation in Chile and other countries affected by P. contorta invasion. In Chile, P. contorta regeneration is significantly influenced by distance from the seed source. Higher densities are found close to the parent stand (up to 13,222 trees ha−1), decreasing as distance from the seed source increases. Age and height structure indicate that the invasion process is at an early stage, and this offers a unique opportunity to study the process of invasion and to monitor it over time. In order to preserve the distinctiveness of Patagonian ecosystem, decisive action is required to control invasive conifers, with P. contorta as the number one priority. Relative to control, there is much that can be learnt from the experiences of other countries, such as New Zealand.
Access options
Buy single article
Instant access to the full article PDF.
US$ 39.95
Tax calculation will be finalised during checkout.
Subscribe to journal
Immediate online access to all issues from 2019. Subscription will auto renew annually.
US$ 79
Tax calculation will be finalised during checkout.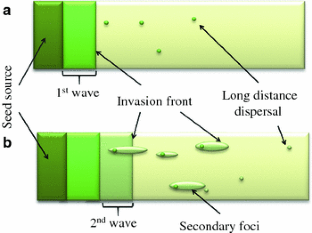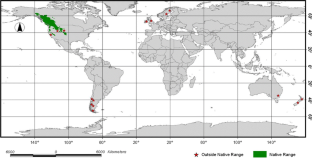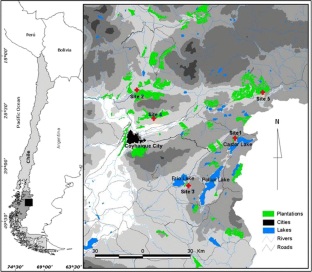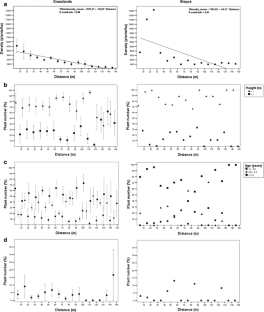 References
Benecke U (1967) The weed potential of Lodgepole pine. Tussock Grasslands and Mountain Lands Institute 13:36–43

CONAF-CONAMA-BIRF (1999) Catastro y Evaluación de Recursos Vegetacionales de Chile. Informe Nacional con Variables ambientales. Corporación Nacional Forestal, Santiago de Chile

Despain DG (2001) Dispersion ecology of Lodgepole Pine (Pinus contorta Dougl.) in its native environment as related to Swedish forestry. For Ecol Manage 141:59–61

DGAC (2009) (Dirección General de Aeronáutica Civil) Dirección Meteorológica de Chile. Climas de Chile. www.meteochile.cl Accesed 26 May 2009

Elfving B, Ericsson T, Rosvall O (2001) The introduction of lodgepole pine for wood production in Sweden—a review. For Ecol Manage 141:15–29

Engelmark O, Sjöberg K, Andersson B, Rosvall O, Agren GI, Baker WL, Barklund P, Björkman C, Despain DG, Elfving B, Ennos RA, Karlman M, Knecht MF, Knight DH, Ledgard NJ, Lindelöw A, Nilsson C, Peterken GF, Sörlin S, Sykes MT (2001) Ecological effects and management aspects of an exotic tree species: the case of lodgepole pine in Sweden. For Ecol Manage 141:3–13

Gobierno Regional de Aysén (2005) Ministerio de Planificación y Cooperación (SERPLAC XI) and Sociedad Alemana para la Cooperación Técnica (GTZ) Atlas de la Región de Aysén. Santiago, Chile

Grotkopp E, Rejmánek M, Rost TL (2002) Toward a casual explanation of plant Invasiveness: seedling growth and life- history strategies of 29 pine (Pinus) Species. Am Nat 159:396–419

Haysom KA, Murphy ST (2003) The status of invasiveness of forest tree species outside their natural habitat: a global review and discussion paper. Forest Health and Biosecurity. Working Papers. FAO, Forestry Department

Higgins SI, Richardson DM (1998) Pine invasions in the southern hemisphere: modelling interactions between organism, environment and disturbance. Plant Ecol 135:79–93

Higgins SI, Richardson DM (1999) Predicting plant migration rates in a changing world: the role of long-distance dispersal. Am Nat 153:464–475

Instituto Forestal (INFOR) (2007) Superficie de Plantaciones Forestales Región de Aysén del General Carlos Ibáñez del Campo. www.infor.cl Accesed: 27 May 2009

Ledgard N (1988) The spread of introduced trees in New Zeland's rangelands- South Island high country experience. J Tussock Grassl Mt Lands Inst Rev 44:1–8

Ledgard N (2001) The spread of Lodgepole Pine (Pinus contorta Dougl.) in New Zealand. For Ecol Manage 141:43–57

Ledgard N (2003) What's wrong with wilding trees? N Z Tree Grower 24(1):18–19

Ledgard N (2004) Wilding conifers—New Zealand history and research background. In: Hill RI, Zydenbos SM, Bezar CM (eds) "Managing wilding conifers in New Zealand—present and future". pp 1–25

Löewe V, Murillo P (2001) Estudio de ensayo de introducción de especies. INFOR. Santiago, Chile

Lotan JE, Critchfield WB (1990) Pinus contorta Dougl. ex. Loud. Lodgepole Pine. In: Burns, RM, Honkala BH (eds) Silvics of North America. USDA Forest Service and Agriculture Handbook 654(1):302–315

Mack RN, Simberloff D, Lonsdale WM, Evans H, Clout M, Bazzaz F (2000) Biotic invasions: causes, epidemiology, global consequences and control. Issues Ecol 5:1–25

Pauchard A, Shea K (2006) Integrating the study of non-native plant invasions across spatial scales. Biol Invas 8:399–413

Peña E, Pauchard A (2001) Coníferas introducidas en áreas protegidas: un riesgo para la biodiversidad. Bosque Nativo 30:3–7

Peña E, Langdon A, Pauchard A (2007) Árboles exóticos naturalizados en el bosque nativo chileano. Bosque Nativo 40:3–7

Peña E, Hidalgo M, Langdon B, Pauchard A (2008) Patterns of spread of Pinus contorta Douglex Loud in a Natural Reserve in southern South America. For Ecol Manag 256:1049–1054

Peterken GF (2001) Ecological effects of introduced tree species in Britain. For Ecol Manag 141:3–42

Rejmánek M, Richardson DM (1996) What attributes make some plant species more invasive? Ecol 77:1655–1661

Richardson DM (2001) Plant invasions. In: Levin S (ed) Encyclopedia of biodiversity. Academic Press, San Diego, pp 677–688

Richardson DM (2006) Pinus: a model group for unlocking the secrets of alien plant invasions? Preslia 78:375–388

Richardson DM, Bond WJ (1991) Determinants of plant distribution: evidence from pine invasions. Am Nat 137:639–668

Richardson DM, Higgins SI (1998) Pines as invaders in the southern hemisphere. In: Richardson DM (ed) Ecology and biogeography of Pinus. Cambridge University Press, Cambridge, pp 450–473

Richardson DM, Rejmánek M (2004) Invasive conifers: a global survey and predictive framework. Diversity Distrib 10:321–331

Richardson DM, Williams PA, Hobbs RJ (1994) Pine invasion in the southern hemisphere: determinants of spread and invadability. J Biogeogr 21:511–527

Richardson DM, van Wilgen BW, Nunez M (2008) Alien conifer invasions in South America–short fuse burning? Biol Inv 10:573–577

Sarasola M, Rusch V, Schlichter T, Ghersa C (2006) Invasión de coníferas forestales en áreas de estepa y bosques de ciprés de la cordillera en la región Andino Patagónica. Austral Ecol 16:143–156

Simberloff D, Nuñez MA, Ledgard NJ, Pauchard A, Richardson DM, Sarasola M, van Wilgen BW, Zalba SM, Zenni RD, Bustamante R, Peña E, Ziller SR (2010) Spread and impact of introduced conifers in South America: lessons from other southern hemisphere regions. Austral Ecology (in press) doi:10.1111/j.1442-9993.2009.02058.x

Wardrop TN (1964) Reconnaissance survey of the occurrence of Pinus contorta on the Waiouru Military Reserve. Forest Manual Report N° 1, Forest Research Institute, Rotorua, New Zealand p 31

Weston GC (1957) Exotic forest trees in New Zealand. New Zealand Forest Service Bulletin N° 13, Wellington, New Zealand p 104
Acknowledgments
Funding provided by FONDECYT 1070511, ICM P05-002, PFB-23 and "Proyectos Fortalecimiento CIEP". We thank Nick Ledgard, Eduardo Peña, Peter Raal, Alex Fajardo and two anonymous reviewers for their valuable inputs. This work was conducted in the Laboratorio de Invasiones Biológicas (LIB).
About this article
Cite this article
Langdon, B., Pauchard, A. & Aguayo, M. Pinus contorta invasion in the Chilean Patagonia: local patterns in a global context. Biol Invasions 12, 3961–3971 (2010). https://doi.org/10.1007/s10530-010-9817-5
Received:

Accepted:

Published:

Issue Date:
Keywords
Biological invasions

Pinus contorta

Pine invasion

Patagonia

Chile