Abstract
The rapid invasion of lionfish into the Western North Atlantic and Caribbean will undoubtedly affect native reef fishes via processes such as trophic disruption and niche takeover, yet little is known about the dynamics of this invasion. We constructed a stage-based, matrix population model in which matrix elements were comprised of lower-level parameters. Lionfish vital rates were estimated from existing literature and from new field and laboratory studies. Sensitivity analysis of lower-level parameters revealed that population growth rate is most influenced by larval mortality; elasticity analysis of the matrix indicated strong influence of the adult and juvenile survival elements. Based on this model, approximately 27% of an invading adult lionfish population would have to be removed monthly for abundance to decrease. Hierarchical modeling indicated that this point estimate falls within a broad uncertainty interval which could result from imprecise estimates of life-history parameters. The model demonstrated that sustained removal efforts could be substantially more effective by targeting juveniles as well as adults.
Access options
Buy single article
Instant access to the full article PDF.
USD 39.95
Price excludes VAT (USA)
Tax calculation will be finalised during checkout.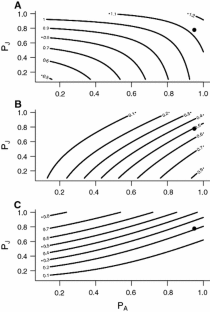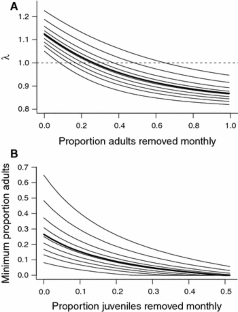 References
Ahrenholz D, Morris JA Jr (2010) Larval duration of the lionfish, Pterois volitans along the Bahamian Archipelago. Environ Biol Fish. doi:10.1007/s10641-010-9647-4

Albins MA, Hixon MA (2008) Invasive Indo-Pacific lionfish (Pterois volitans) reduce recruitment of Atlantic coral-reef fishes. Mar Ecol Prog Ser 367:233–238

Baranov FI (1918) On the question of the biological basis of fisheries. Nauchn Issled Ikhtiolog Inst Izvest 1:81–128 (translated from Russian by W.E. Ricker)

Caswell H (2001) Matrix population models: constraints, analysis and interpretation, vol 2. Sinauer Associates, Sunderland

Coleman FC, Koenig CC, Eklund A, Grimes CB (1999) Management and conservation of temperate reef fishes in the grouper-snapper complex of the Southeastern United States. In: Musick JA (ed) Life in the slow lane. American Fisheries Society, Bethesda, pp 233–242

Courtenay WR (1995) Marine fish introductions in southeastern Florida. Am Fish Soc Introd Fish Sect Newsl 14:2–3

Crouse DT, Crowder LB, Caswell H (1987) A stage-based population model for loggerhead sea turtles and implications for conservation. Ecology 68:1412–1423

de Kroon H, Plaisier A, van Groenendael J, Caswell H (1986) Elasticity: the relative contribution of demographic parameters to population growth rate. Ecology 67:1427–1431

Green SJ, Côté IM (2009) Record densities of Indo-Pacific lionfish on Bahamian coral Reefs. Coral Reefs 28:107

Jiao Y, Lapointe NWR, Angermeier PR, Murphy BR (2009) Hierarchical demographic approaches for assessing invasion dynamics of non-indigenous species: an example using northern snakehead (Channa argus). Ecol Modell 220:1681–1689

Kimball ME, Miller JM, Whitfield PE, Hare JA (2004) Thermal tolerance and potential distribution of invasive lionfish (Pterois volitans/miles complex) on the east coast of the United States. Mar Ecol Prog Ser 283:269–278

Lefkovitch LP (1965) The study of population growth in organisms grouped by stages. Biometrics 21:1–18

Lorenzen K (1996) The relationship between body weight and natural mortality in juvenile and adult fish: a comparison of natural ecosystems and aquaculture. J Fish Biol 49:627–647

McGurk MD (1987) Natural mortality and spatial patchiness: reply to Gulland. Mar Ecol Prog Ser 39:201–206

Morris JA Jr (2009) The biology and ecology of invasive Indo-Pacific lionfish. Dissertation, North Carolina State University, Raleigh, NC

Morris JA Jr, Akins JL (2009) Feeding ecology of invasive lionfish (Pterois volitans) in the Bahamian archipelago. Environ Biol Fish 86:389–398

Morris JA Jr, Whitfield PE (2009) Biology, ecology, control and management of the invasive Indo-Pacific lionfish: an updated integrated assessment. NOAA Tech Memo NOS NCCOS 99, 57 pp

Morris JA Jr, Akins JL, Barse A, Cerino D, Freshwater DW, Green SJ, Muñoz RC, Paris C, Whitfield PE (2009) Biology and ecology of the invasive lionfishes, Pterois miles and Pterois volitans. Proc Gulf Caribb Fish Inst 29:409–414

Schofield PJ, Morris JA Jr, Langston JL, Fuller PL (2009). Pterois miles/volitans FactSheet. USGS Nonindigenous Aquatic Species Database, Gainesville, FL. http://nas.er.usgs.gov/taxgroup/fish/lionfishdistribution.htm. Cited 15 Sept 2009
Acknowledgments
We thank the NOAA Aquatic Invasive Species Program, the NOAA National Centers for Coastal Ocean Science, and the NOAA Southeast Fisheries Science Center for their support of this research. We also thank D. Ahrenholz, J. Fodrie, J. Govoni, and E. Williams for constructive comments. Views expressed are those of the authors, and do not necessarily represent policy of any government agency.
About this article
Cite this article
Morris, J.A., Shertzer, K.W. & Rice, J.A. A stage-based matrix population model of invasive lionfish with implications for control. Biol Invasions 13, 7–12 (2011). https://doi.org/10.1007/s10530-010-9786-8
Received:

Accepted:

Published:

Issue Date:

DOI: https://doi.org/10.1007/s10530-010-9786-8
Keywords